Hi, my name's Victoria, and I first got into writing down things that I'm grateful for using the Two Minute Mornings journal. My first entry dates Nov. 2, 2018 (aka a gazillion years ago). Except I didn't carry the book everywhere, so I wasn't consistent.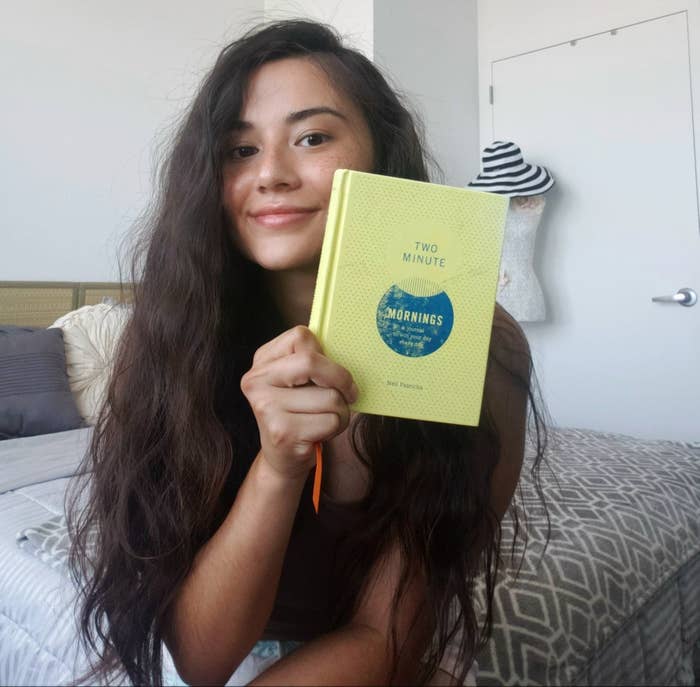 A few months ago, I began to want something that I could easily write in whenever and with less structure that would let me write a bit more freely. So I turned to gratitude apps.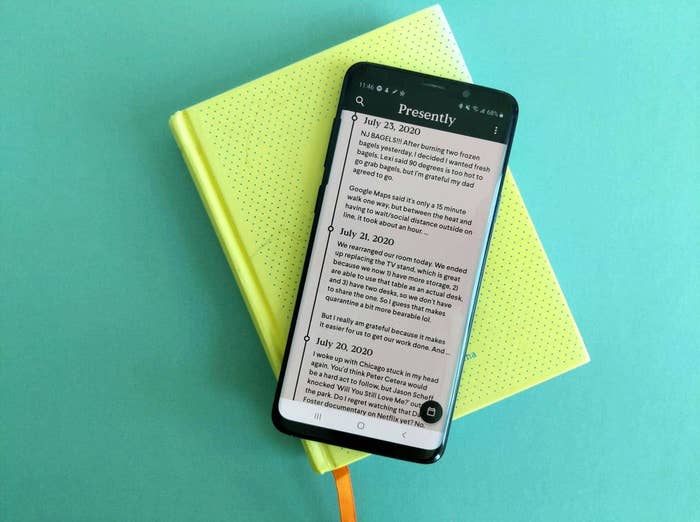 After a few months of daily gratitude journaling, here's what I've learned:
1.
Right off the bat, I felt an increase in positivity — sorta like suddenly looking at the glass half-full. By actively recognizing the good things in my life, I felt better.
2.
It was hard to break the ice at first. I hate to say it, but I was almost worried I'd 'run out' of things to be grateful for — like, how many times can jot down my family or friends or dog? Am I being too frivolous? But I realized that I needed to shift my perspective and dig deeper.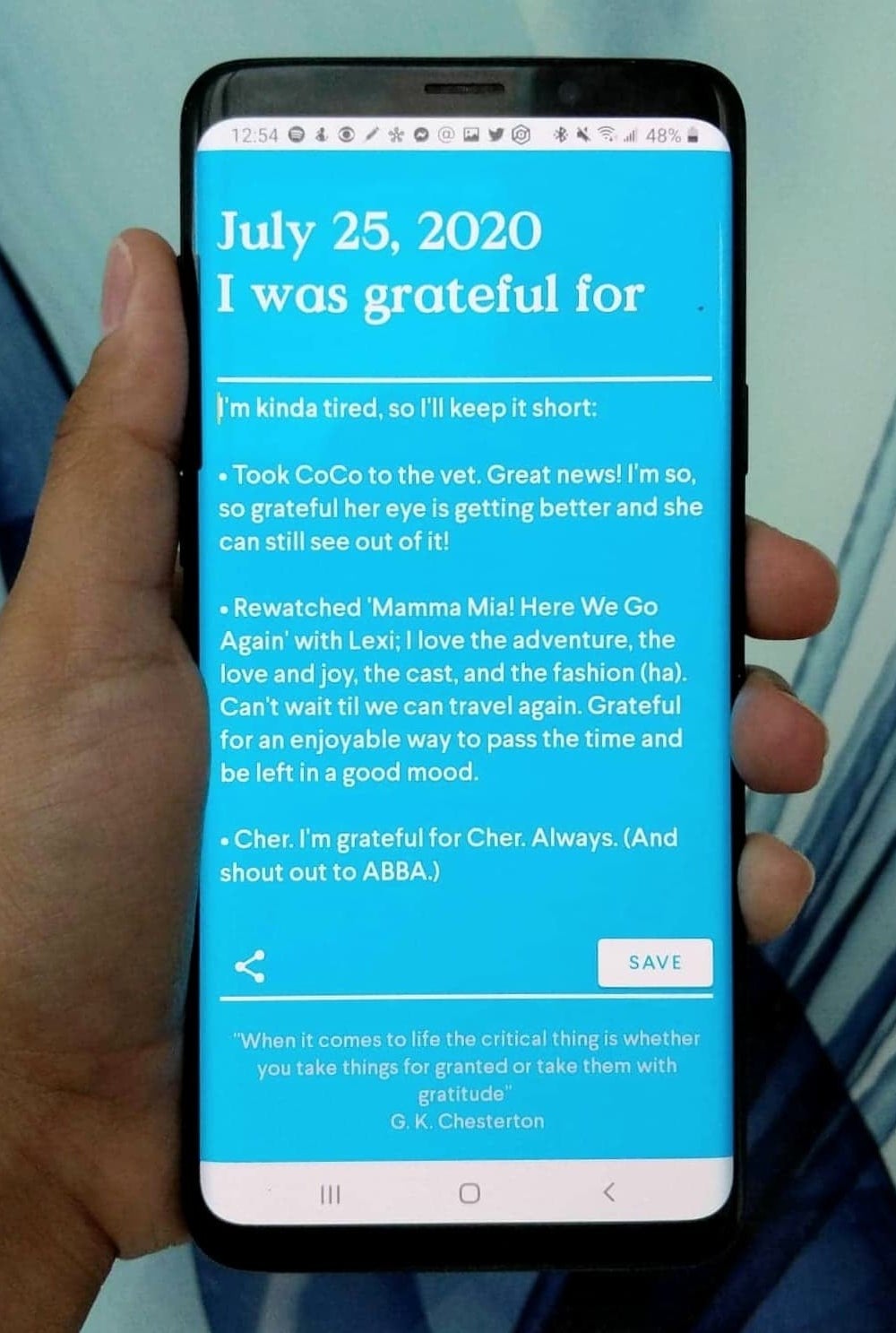 3.
Sometimes, I felt bad and sort of ridiculous. Of course I should be grateful for my home and the people in my life! Like, is it asinine for me to even have to do this whole gratitude thing at all?
4.
The act of writing down things that I'm grateful for made me feel more focused and gave me a sense of clarity — I became more aware of when I felt grateful in the moment.
5.
It made me feel more satisfied about how I spent my time. Rather than just thinking, "Sure, today was a good day, another for the books," I would replay my day in my head and pick out things that I'm grateful for (especially upon reflection).
6.
And by journaling at night, I'm pretty sure I slept so much better. It's strange, I guess it's a mental thing. But I think my mind was just clearer and more relaxed.
7.
Speaking of memories, I started to remember good things from my past, too. From childhood memories, time spent with loved ones, and cool things I did.
8.
Of course, this also really helped me appreciate the people in my life more. It's so easy to get caught up in the day to day — between work or school or exhaustion or being stuck in your head. And sometimes, we take people for granted or get so used to having them around.
9.
Two words: Less stress. In a weird way, I really think practicing gratitude helped with my anxiety, because it was a way to recognize, "Hey, everything's OK, because look at this thing to be grateful for!" and "Well, you're still kicking, so it's obviously worked out enough."
10.
Over time, practicing gratitude journaling made it easier to let go of toxic, stagnant thoughts and feelings.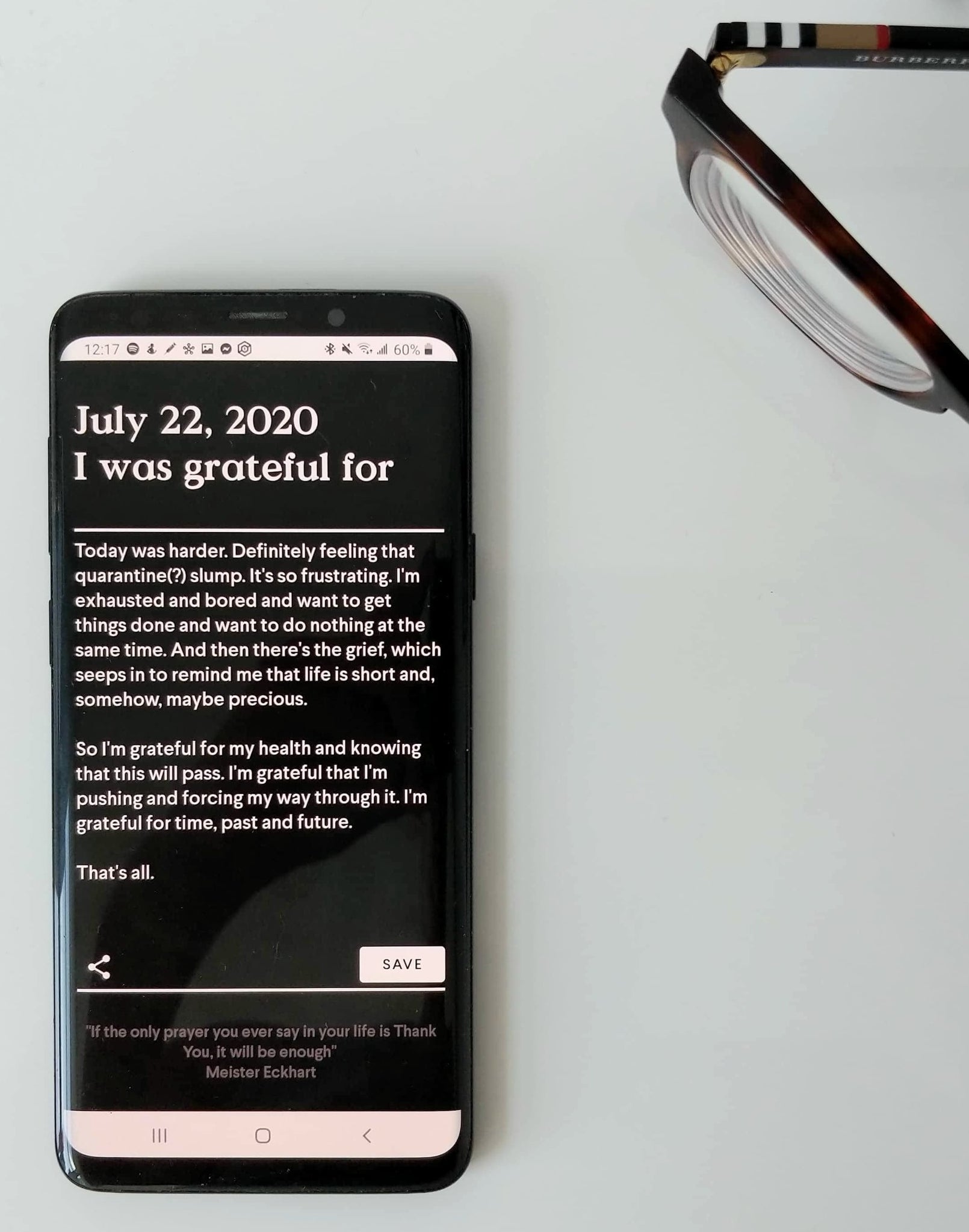 11.
My entries also help guide me going forward. If I'm feeling down, it's comforting to scroll through my old entries and remember those feelings. It also reminds me of the person I want to be and what I've learned about myself.
TL;DR — Using a gratitude app made me feel more grateful. :-D Ok, but really, as corny as it may sound, it made me feel more positive, present, grounded, and gave me a deeper appreciation of life. So, needless to say, I def recommend you try one (or whatever form of gratitude journaling) that works for you!