This Woman's Feminist Embroidery Of The "Arthur" Meme Is Truly Amazing
"Memes kind of got me and my friends through Brexit, to be honest!" Hannah Hill told BuzzFeed News.
Hill is a sewing fanatic: She began taking an interest in it at the age of 17. She told BuzzFeed: "Most of my pieces are about my identity and sexuality – they are quite biographical and kind of girly."
Hill wanted to create something spectacular. She said she loves memes, especially the popular Arthur meme, which became the inspiration for her latest design.
She said: "Memes in general can be such a great tool for communication. Memes kind of got me and my friends through Brexit to be honest!"
Hill added: "I [had] seen some hilarious examples of it [the Arthur meme], and wanted to put my spin on it. I saw @adamtots version which he redrew, and that inspired me to come up with an embroidered version."
When Hill shared her artistic meme on Twitter, it went pretty viral. Her tweet gained over 160,000 likes and 56,000 retweets. "I have mixed feelings about the fact it's gone viral," she said.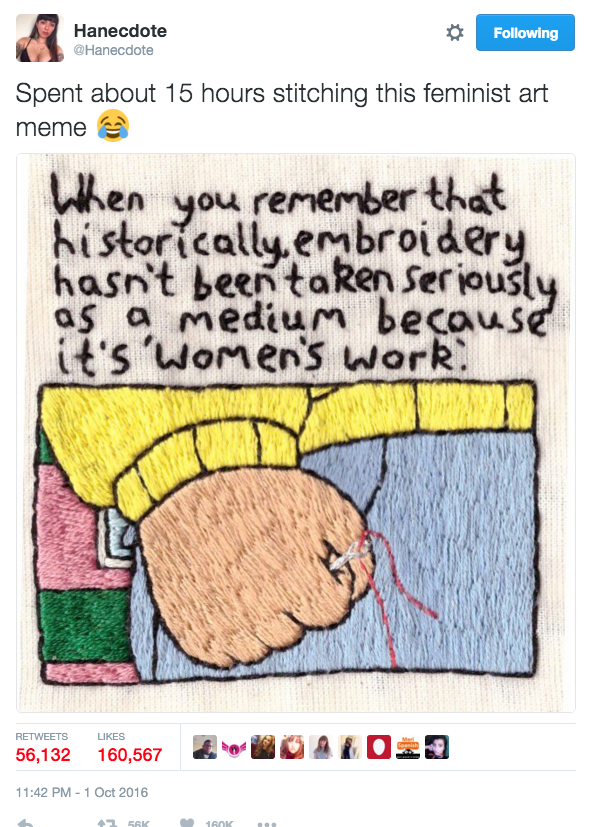 She said a small proportion of the replies had been "kind of mean and rude which does get to me."
She said she was mostly disappointed by the "anti-feminist trolls telling me I've wasted my time or making fun of me. I try to not let it bother me."
Despite the negativity, she said: "Ninety-five per cent of the attention it has received has been positive. I'm really happy with the work I put into it so that's all that matters really."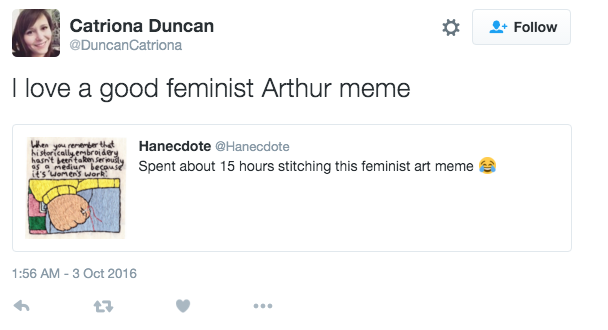 Hill said some of the reactions she'd received had been "incredible".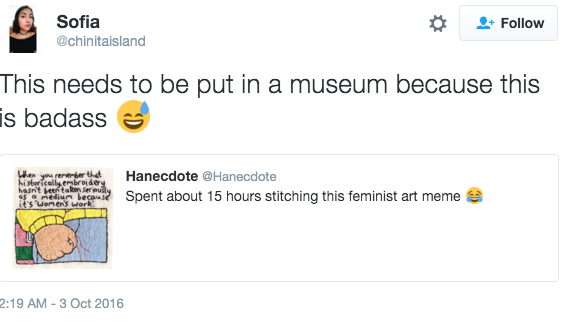 "Reading hundreds of nice comments has really validated why I made it in the first place," she said.
"I also now have way more followers who are into embroidery and/or feminism, which is only a good thing!" she added.