On Wednesday evening a black student at Nottingham Trent University shared a video that showed alarming racist chanting taking place outside her door while she was in her accommodation.
In the short clip, which has been shared over 21,000 times and gained over 655,000 views, chants of "we hate the blacks" and "fuck the blacks" can be heard.
It appears someone attempted to defend the student, who was in her room: "Leave her alone," a voice can be heard shouting in the video.

In a Twitter thread, she said she was unable to record the students say "blacks would go back to picking cotton". She said she alerted reception staff about the incident but nothing was done.
In a statement, Nottinghamshire Police said: "We've arrested two men in connection with racially aggravated public order offences following reports of a video posted at Nottingham Trent University and shared on social media.
"The men, aged 18, remain in police custody. Our enquiries are ongoing."
In a statement to BuzzFeed News, a spokesperson for Nottingham Trent University said: "We are shocked and appalled to see the video of racist chanting posted yesterday evening. This kind of vile behaviour will not be tolerated at Nottingham Trent University. Those suspected perpetrators have been suspended immediately pending a full investigation. We have contacted the student who made the complaint and are providing support to her and others affected. And we are liaising with the police about this incident.

"We value being a diverse global community, with staff and students from across the world.
"We are also working with our accommodation partner to understand why the university was only alerted to this on Wednesday evening after this was reported to them in the very early hours of Tuesday."
The student has received a huge outpouring of support on Twitter after sharing the video...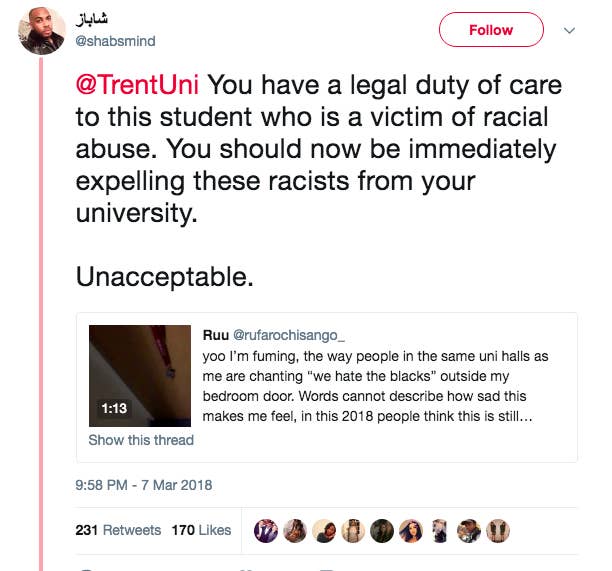 ...including from black celebrities MNEK and Lethal Bizzle.
David Lammy, the MP for Tottenham, urged the student to call the police and her member of parliament.