These Asian Friends Say They Were Turned Away From A Restaurant – But Booked A Table Over The Phone
The pair, who spoke exclusively to BuzzFeed News, are demanding an apology from Côte Brasserie. The chain said it strongly denies the allegation, saying it has a "zero-tolerance policy against any form of discrimination".
Around midday on Sunday, two friends say they were turned away from Côte Brasserie in Welwyn Garden City, Hertfordshire, because of their ethnicity.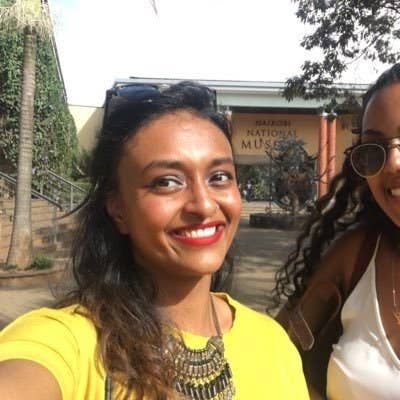 Fatima Rajina, a 30-year-old academic who works at SOAS, University of London, told BuzzFeed News that she and a friend went to grab some brunch at the popular chain restaurant, which serves French-inspired food.
Rajina said the pair were told there were no tables available, but added that she could see at least four available.
After leaving the restaurant feeling suspicious and upset, Rajina's male friend decided to call up and make a booking over the phone, using a posh English accent. Rajina said they were told that a table would be free in the next 10 minutes.
"We were in utter shock. My friend is British Pakistani and I am British Bengali. This is his first time experiencing something like this but for me, it wasn't the first time," Rajina told BuzzFeed News. "It still stings and hurts when it happens."
She said in the past restaurants have actively ignored her when she's been with black or Asian friends, but she has never experienced that when she's been with her white friends.
Rajina said the experience left her feeling that she had faced an invisible "no blacks, no Irish, no dogs" sign.
"No one will call me a Paki to my face, but this case is so unbelievably subtle and insidious. It's almost like you can't point at it, because people will think you're paranoid – that it's in your head."
Rajina said there is no doubt in her mind that "we were rejected definitely on ethnicity... it's because we are both Asian." The restaurant strongly denied the allegations.
"A white guy came up to us and said, 'Sorry, it's reservations only.' That's all he said but we saw that there were tables free, but we didn't say anything," she said. "I saw about four tables free available just from my eye line."

Rajina's friend, Nasar Rehman, told BuzzFeed News he noticed a waiter looked them both up and down with a "distasteful look".
He said: "You know that uncomfortable look you get, when someone is thinking 'What are you doing here?' – and it's not like I was dressed in a tracksuit or a balaclava, but that's the way I was looked at.
"With my job I travel all over Europe and Asia – I don't get treated like that. Côte Brasserie in Welwyn Garden City shouldn't be any different."
Rehman added that he noticed that everyone in the restaurant was white. "I never really thought of racism being an issue. It's 2018," he said.
Rehman then decided to call Côte Brasserie to ask about a reservation, sounding "as posh as I could".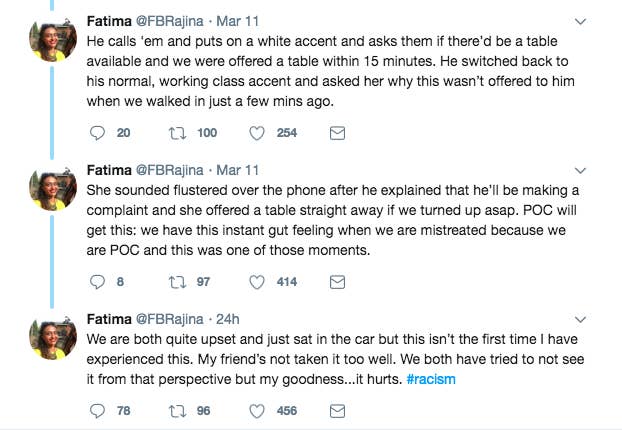 Recalling the phone call, which took place at 12:11pm, he told BuzzFeed News he said something like: "Hey there – I am calling and just want to know if there's a table available. It's Mother's Day today and I would like to know if we can come in. It's only two of us."

He said: "The lady on the phone says to me, 'We'll have a table ready for you in 10 minutes – just come in.' And I then confronted her and said, 'I've just come in wearing a grey hoodie – myself and an Asian lady. We are both of colour. Why haven't you given us a table?' Then the woman says, 'No, It's fine. Come now.' And I replied saying, 'No, I want to know why I wasn't given a table.' [Then] she got panicky and hesitant."

Shocked by the experience, Rajina took to Twitter several minutes later. "I wanted to name and shame them," she said. "I know Twitter is quite a powerful platform, but I wasn't expecting this response if I'm being completely honest with you."
Her tweet has now been shared over 2,000 times with many people showing solidarity, saying they have experienced something similar at other restaurants.
Rehman said: "The thing that scares me is if I didn't have Fatima with me – and she's obviously got a very good following on Twitter – what would happen if it was just me by myself? They'd be getting away with it day after day after day, really.
"It made me feel like there was something wrong with me."
Rajina said someone on Twitter advised her to leave a review mentioning the incident on TripAdvisor, which she did.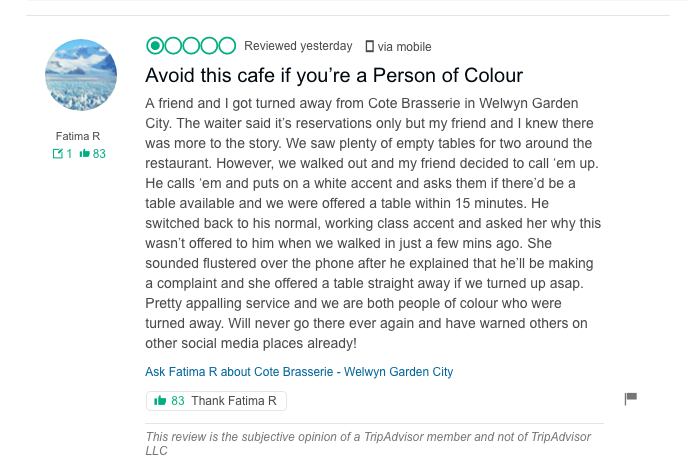 Rehman said: "We've posted on their Facebook page and we've not heard anything from them. To be honest they need to do better and train their staff properly. It doesn't matter what colour someone is, you should give them a table. This isn't apartheid South Africa where you can act that way and think it's acceptable.

"I want that no one of colour goes there and feels that way, and we've come so far – it's not like back in the '70s when our parents first came here and they were treated a certain way."
Rajina added: "Firstly I'd like an apology because I don't understand why this happened... I mean the phone conversation confirmed everything, so both of us are expecting an apology, and secondary it's pretty appalling.

"[Why not] say so to our face? 'We don't have tables ... Do you mind waiting 10 to 15 minutes?' It's bog standard in food industry to offer that option."
She added: "This is illegal under the Equality Act – the fact you rejected us on our appearance and our ethnic background, and on top of that the accent thing shows the class element."
In a statement, Côte Brasserie told BuzzFeed News it strongly denies any allegation that the friends were turned away because of their ethnicity.
"We are aware of the incident and have attempted to contact the guest, Fatima, directly since this morning," said CEO Alex Scrimgeour.
"Yesterday, on Mother's Day, we had our busiest day ever, serving a record number of guests. It was regrettable that being so busy we had to turn away a number of people who had not made a booking. We are saddened to hear that someone who was turned away felt dissatisfied as a result.
"At Côte Brasserie we are proud to be an equal rights employer, counting over 120 nationalities amongst our team members. We have a strict zero-tolerance policy against any form of discrimination, whether it be amongst our team or towards our guests.
"We strongly deny that there is a policy to refuse guests a table on any basis other than the restaurant being full. As such, we are taking this allegation very seriously and have also reached out to the guest in question to discuss the matter further."