This is 28-year-old Toni. She works as a student communications manager at Oxford University.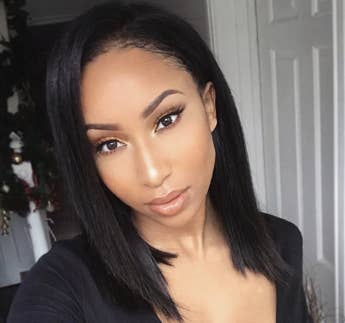 Over the weekend, Toni shared a thread encouraging young women to love their "chubby cheeks".
The thread went pretty viral and gained over 60,000 likes.
Many women appreciated her words.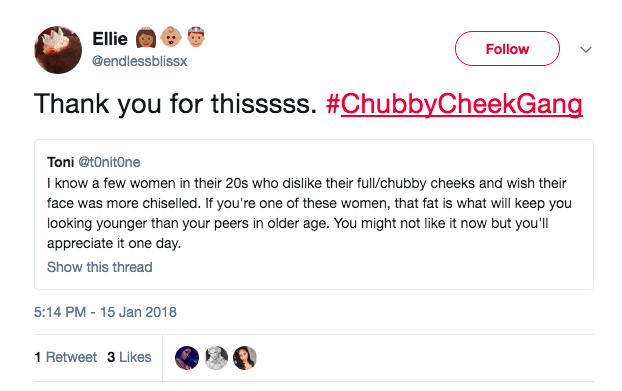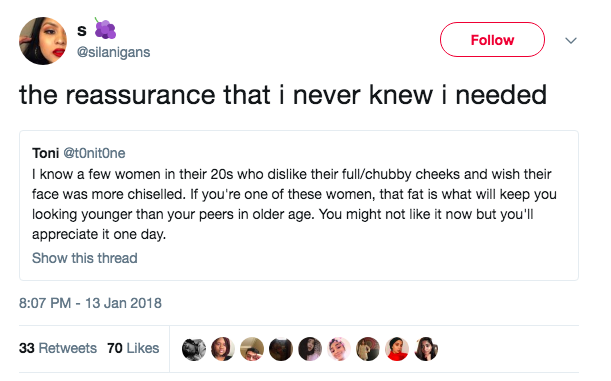 Speaking to BuzzFeed News, Toni said she started #ChubbyCheekGang after a conversation with her sister.
"My sister and I got into a conversation about chubby cheeks as they run in our family. She wished she had a slimmer face and I told her that having full cheeks was a blessing, despite what she thought," she said.
Toni added: "It made me think that there must be a few young women out there who share similar thoughts, so I wanted to let them know a full face has its benefits.
"My face was fuller when I was younger but it started to slim down around the age of 26, and that's how I knew of the chubby cheek benefits. When I had a much fuller face, I used to google what I could do to make my face slimmer, but a lot of the web literature I found suggested that cheek fat was actually a good thing."
Loads of women got involved with the hashtag.
"I'm really glad that so many women feel empowered by my thread," she said.
"It's easy to underestimate how much of an effect the media can have on our self-esteem because I'm sure a lot of people wouldn't have thought so many women were even self-conscious about their cheeks!"
She added: "It makes me so happy that women of different ages and backgrounds have come together to embrace their fuller faces, because there really is beauty everywhere!"