This is 26-year-old Rosie Reilly, who lives in Colchester, Essex. She has been searching for jobs for four months now.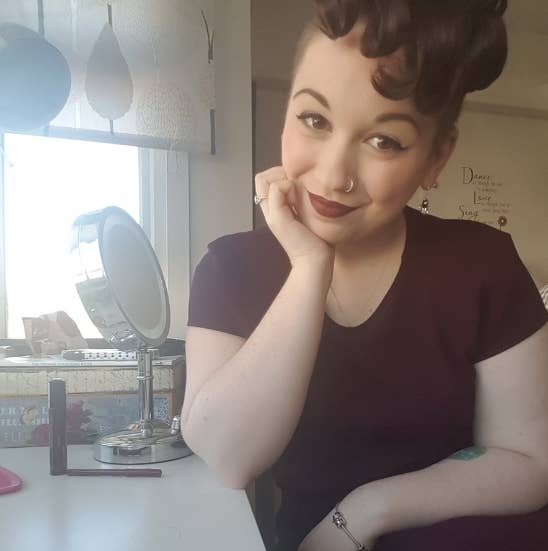 Reilly told BuzzFeed News that she went for a job interview at the Richmond branch of Boots Opticians on Monday afternoon. "I got there for my interview and I was told to take a seat and waited. The woman who was interviewing me called me in and told me to sit down. She told me to tell her more about myself. I told her about my previous employments."
Reilly said she has worked at many high street retail shops, including Debenhams, BHS, River Island, and Lush.
However, when it got to the second part of the interview process on the shop floor, Reilly was told she was not able to carry on, and was asked to come back on Thursday.
Reilly told BuzzFeed News: "The woman said: 'The second half of the interview takes place on the shop floor but you are not really dressed conservatively enough to be seen on the shop floor, so you can come back on Thursday if you like?'"
Reilly asked the woman for more clarification on what she meant by her comments. "She just gestured to my clothes and my hair."
Reilly said she told the interview: "I can have it flat down with a fringe, but she just looked at me and said I should dress in a 'conservative way'."
"It's not like I was wearing trainers and trackies," Reilly said. Her footwear is not seen in the picture below, but she says she was "wearing plain black boots to the interview, which I've worn before to interviews and got the job".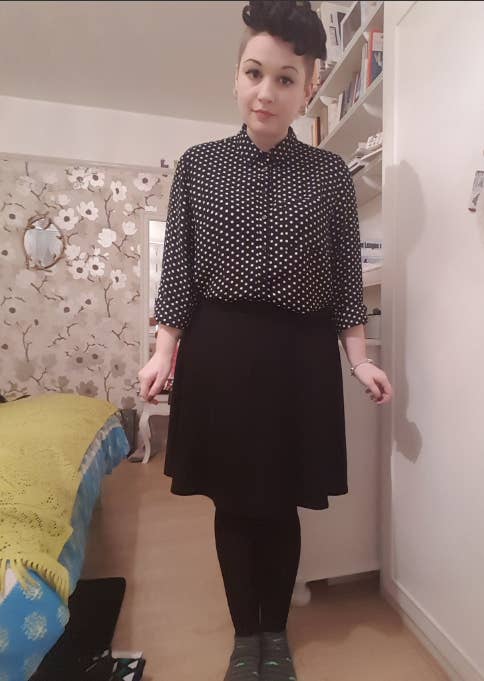 Reilly currently has the sides of her head shaven. She said: "I don't know if she expects me to grow my hair overnight. At no stage has my appearance hindered me from getting a job ... and I've had some crazy hair colours and styles. It's never been a problem."
She added: "When I go to interviews I don't cover my piercings or tattoos as it's a part of me, but if someone says you have to wear a long-sleeve T-shirt to hide the tattoos because it's uniform or remove piercing for hygiene then that's fine."
Reilly left the shop feeling very upset. "I was pretty much bawling my eyes out on the way home," she said. She declined the offer to come back on Thursday: "I'm not doing that, I don't want to work for a company like that who will say something like that … that will stop an interview based on how I look."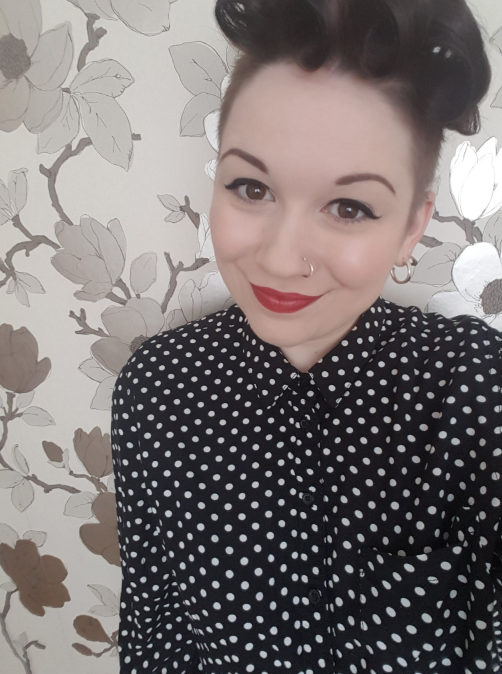 "As you naturally do when you have a bad experience, you take to Facebook or Twitter," she said. Riley's tweet gained over 1,500 retweets.
"The support has been amazing," she said. "There's been zero negativity – just love and support, which has made me happy. People say I've inspired them."
A Boots Opticians spokesperson told BuzzFeed News: "We're disappointed to hear about the candidate's experience in her interview and we are investigating the matter further."
Reilly said Boots have since responded, stating they were "sorry to read of her experience" and invited her to a follow-up meeting. Reilly said she will not be attending.