This Student Union Called Out Jason Derulo For Not Performing At Its University And "Keeping The £20,000 Fee"
A sabbatical officer said the singer's no-show was a big deal on campus.
Keele University Student Union has called out Jason Derulo for not performing at the university back on 30 January 2016. It claims it paid £20,000 for the singer's appearance fee, which it hasn't got back.
The union has produced a video, which features all of its sabbatical officers: Tom Snape, Jeff Wiltshire, Aysha Panter, Sam Gibbons, and Megan Harrison.
In the short clip, Snape says: "Hi Jason, good luck tonight [at Sounds Like Friday Night] on the stage. When you get a chance, can you pay us the 20 grand you owe us?"
The video, posted on Twitter today at midday, has over 100 likes and 100 retweets.
People have been praising them for calling out the singer over the apparent mix-up.
Snape, who is the union development and democracy officer, claimed to BuzzFeed News that Derulo did show up to Keele University on the day he was set to perform but didn't appear at the show, and it's unclear why.
He said the video was a way to get Derulo's attention, since the hashtag #SLFN [Sounds Like Friday Night] was popular.
Snape said: "Our contract wasn't directly with him but through a chain of several agents. The contract that we had was with a particular agent." He said he'd received legal advice that it would be difficult to get the money back.
Snape said he wasn't at the event when a member of the union had to tell students that Derulo would not be performing, but he saw it all over social media. He said tickets were refunded. Tickets were sold at £22 for the public and £20 for students.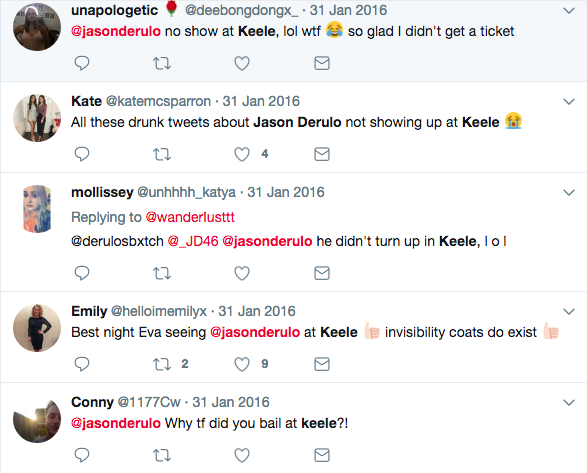 Here is a poster advertising the gig: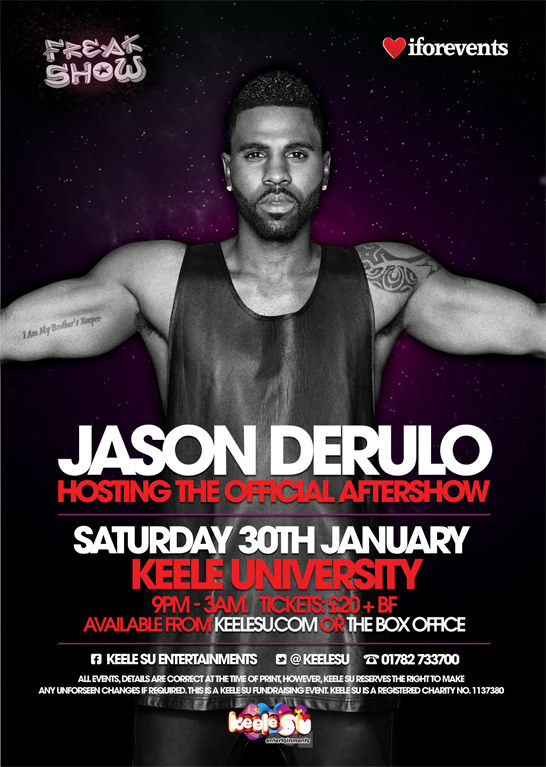 Snape said Derulo's no-show was a big deal on campus, "to the point where during our student election people put posters up of him".
It's basically a meme on campus, he said.
"We want Jason Derulo to acknowledge [what happened]. In an ideal world, we would get that money back," Snape said, adding that he hoped other student unions wouldn't have the same experience.
A spokesperson for Derulo declined to comment.