This Woman Created A Billboard Promoting Natural Hair To Empower Black Women
"It's not just a trend – natural hair is here to stay," Lekia Lée told BuzzFeed News.
This is Lekia Lée, from Romford, Essex. She's mother to 11-year-old Siira and is also the driving force behind a billboard campaign in London encouraging black women of all ages to rock their natural hair with pride.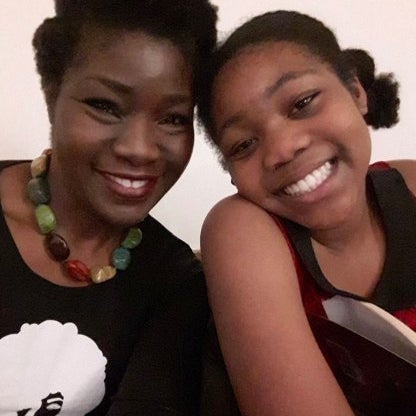 Lée particularly wants to celebrate 4C textured hair, which she says "isn't seen as beautiful by the mainstream". Lée says she constantly praises natural hair at home but doesn't see this happening in the outside world, which she feels is damaging for young black girls like her daughter.
She told BuzzFeed News that the main reason she wanted to bring the billboard to life was to empower Siire, who has always been natural. "The billboard challenges the narrative of beauty and promotes diversity and counters underrepresentation," Lée said.
"She has once received a comment saying that her hair isn't normal. When she was younger, about 3 years old, she'd compliment random black women's hair at the bus stop or library and their hair would always be weaves or wigs. I just don't want her to think this is the only way to have beautiful hair."
The 49-year-old said UKBillboards let her have the space in West Kensington for two weeks for free.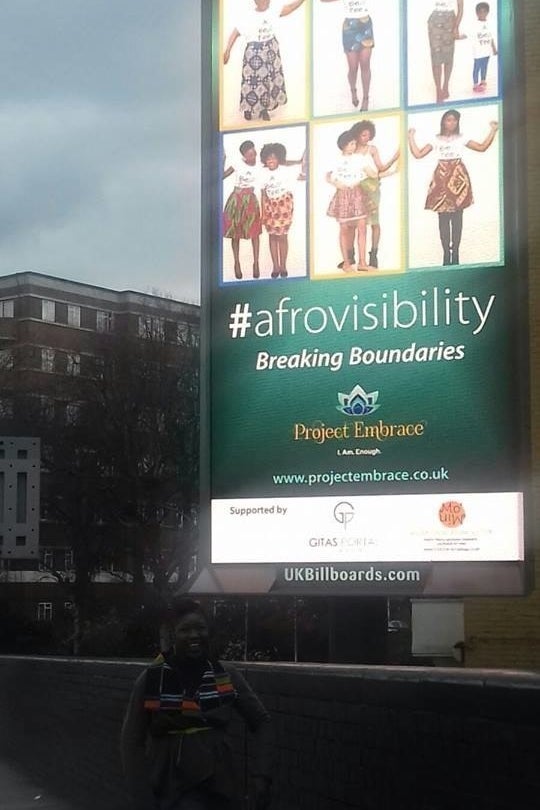 "Initially I wanted to write an open letter to the big brands asking them to be more inclusive and be more diverse. ... But I thought, Why don't I do a billboard? ... So I called up UKBillboards and explained what I wanted to do and I was lucky enough for them to give it to me for free for two weeks," Lée said.
"When I first saw the billboard, I was completely and totally excited. I was in tears. I've been working on this for a couple of years. I am so excited to see it come to fruition."
She added: "[Society makes] us feel anxious about our hair, skin color. ... So this is to empower black girls."
The former journalist says she has had natural hair for 17 years and has seen attitudes change towards it: "From when I went natural in 2000 to now, it's different. Now there's YouTube and now there are [natural hair] products in Boots."
She added: "It's not just a trend – natural hair is here to stay."
However, Lée said she has noticed discrimination towards 4C or kinky hair even within the online natural hair community. "In the natural hair community, when they want to promote 'nice' and 'good' textured hair it's always 3A-3C hair. It's never 4C hair [that is] seen as being beautiful, and that's the hair I have."
Lée aims to work on further projects to promote diversity, especially within natural hair, and hopes to run the billboard campaign again next year. "I don't think one billboard or two for a few weeks is enough to make an impact but it's something," she said.
Rachael Sealy, 29, a content creator behind natural hair platform UKafrolista, told BuzzFeed News: "This billboard is so important because it creates a visual representation of a different narrative of beauty."
"There is an even bigger pressure to have the 'good hair' type in the natural hair community, which tends to be a looser curl," she said. "Having a visual representation of black women with a tighter, kinky, and a more coil-y hair texture helps to inspire, encourage, and empower those who feel their hair isn't good enough or as beautiful as others. Type 4 hair textures are usually the black sheep of the natural hair community, and that needs to change."
YouTuber and small-business owner Laila-Jean Washington, 28, told BuzzFeed News: "I absolutely love this billboard and I have to say it's long overdue! I hope this will be the beginning of real tangible change when it comes to seeing ourselves represented in mainstream media."
"For years we were made to believe that straight hair equated not just to beauty, but to elegance, to success, and to class," she said. "Slowly but surely we are shifting paradigms and right now, representation couldn't be more important.
"As more and more black woman begin to embrace their natural hair, we are paving a way for the younger generations. To see people that look like them represented in all avenues is so fundamental. From billboards to boardrooms and TV screens to classrooms."