There are 13.3 million disabled people in the UK, but there are no statistics on how many have an "invisible" or "hidden" disability – the term used for a condition that isn't visibly apparent when you meet someone.
People with conditions like fibromyalgia, Lupus, ME, or mental health problems face a unique range of challenges.
Accessing services, or simply getting understanding from other people, can be harder without obvious signs such as using a wheelchair or a cane, and changes to disability benefit assessments have been accused of overlooking those with invisible illnesses.
Five people in the UK who live with hidden disabilities told BuzzFeed News what the experience means to them.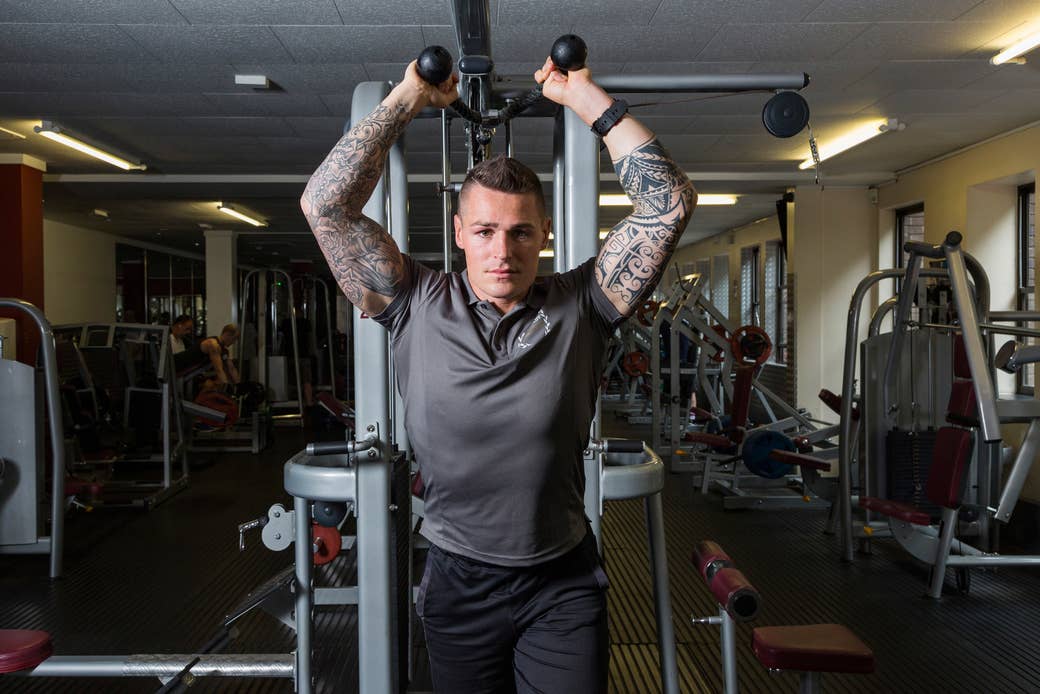 James Sutliff, 35, from Syston, Leicester

People can sometimes be surprised when they find out that James Sutliff has a disability. "They can sometimes be a little shocked," he says, "which is understandable as my disability isn't evidently visible, and because I keep myself in good physical shape, I think this can be quite shocking for some people."
Four years ago, Sutliff's life changed dramatically when he was diagnosed with dystonia, a movement disorder that causes muscle spasms and contractions. Sam, his wife of eight years, now often has to translate for him as his condition has slowed and affected his speech.
Sam, 30, says: "Dystonia is a [neurological] dysfunction disorder and it's quite rare. It can affect people in different ways. The way it affects James is that he can't move his hands properly, and obviously his speech. I often help him with phone calls, especially to the bank."
After four years of being passed around between different doctors, the couple still didn't know why Sutliff's symptoms had occurred. But an Atlantan doctor who specialises in dentistry recently told them that Sutliff's dystonia was brought on by a split in his jaw, which which was irritating his nerves. The doctor believes Sutliff was born with a slightly deformed jaw and that it was aggravated when he started playing semiprofessional rugby.
Because Sutliff's disability is invisible, the pair often hear ignorant comments in public. "We heard this woman say, 'He is a good-looking guy, but shame about his speech,'" Sam says. "I don't think they realised I was his partner."
Sutliff says the most challenging thing about learning about his disability was having to quit his job as a plumbing engineer, because using his hands was a vital part of the job. He was earning a good wage.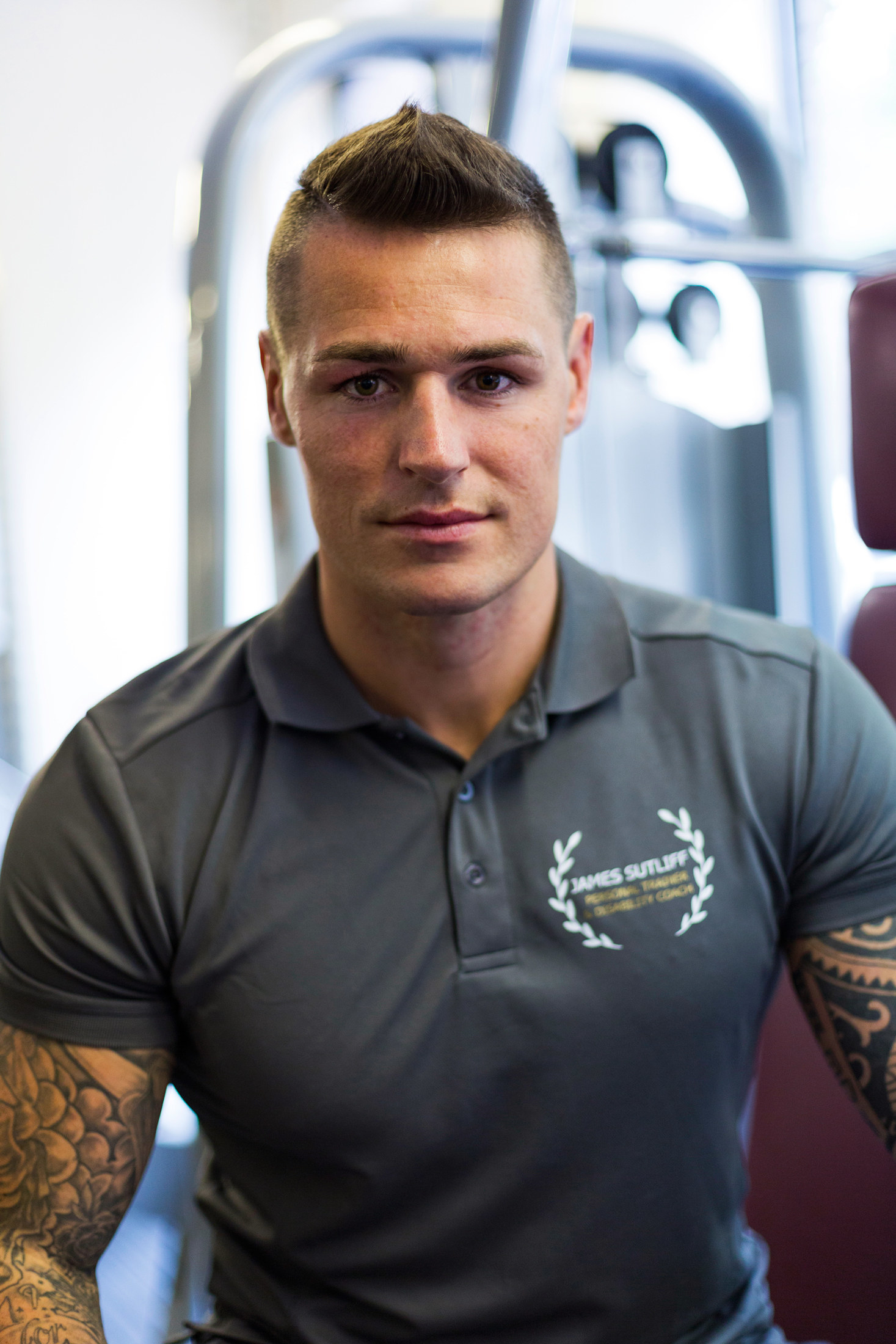 He also had to quit rugby. "I found that really hard," he says. "The constant knocks and tiredness was making my symptoms worse."
He now works as a personal trainer, specialising in helping people with disabilities. He's also a part-time model.
Sutliff has built a significant social media presence by openly talking about his life with dystonia and sharing his personal training sessions to his 16,000 Instagram followers.
"Tattoos and muscles doesn't tell my story," he wrote in one recent post. "Never judge a book by its cover, not all disabilities are visible."
He feels "lucky" not to have received much negative treatment due to his disability. "There have been a couple of instances," he says, but I think this sometimes has a lot to do with lack of education in society. I strongly believe there needs to be more education and awareness from an early age."

Sutliff's positive mindset is evident when BuzzFeed News meets him at the gym. He's there most days and is popular, chatting to visitors around him who have no trouble understanding his speech. "I don't want sympathy – I try to make the best of my situation," he says.
He adds: "I just take my time when talking to my clients. I slow down my talking to make it easier for my clients to understand. I also illustrate what I want them to do."

While working out himself, Sutliff uses wrist straps to help him. "They keep my wrists in a stronger position. Without them my hands and wrists become weak and limp. I know I put a lot of pressure on to my hands but I want them to do the work. Helping them to become stronger." He aims to one day open his own gym to serve people with disabilities.
The gym is "where James shines", says Sam, who believes Sutliff gets more job satisfaction than ever from his new role. His work extends far beyond physical training, she says: "James trains with a young boy who has autism. His mother says he has improved dramatically. He never used to leave the house but with James he feels so comfortable. His mum says James' lessons are priceless."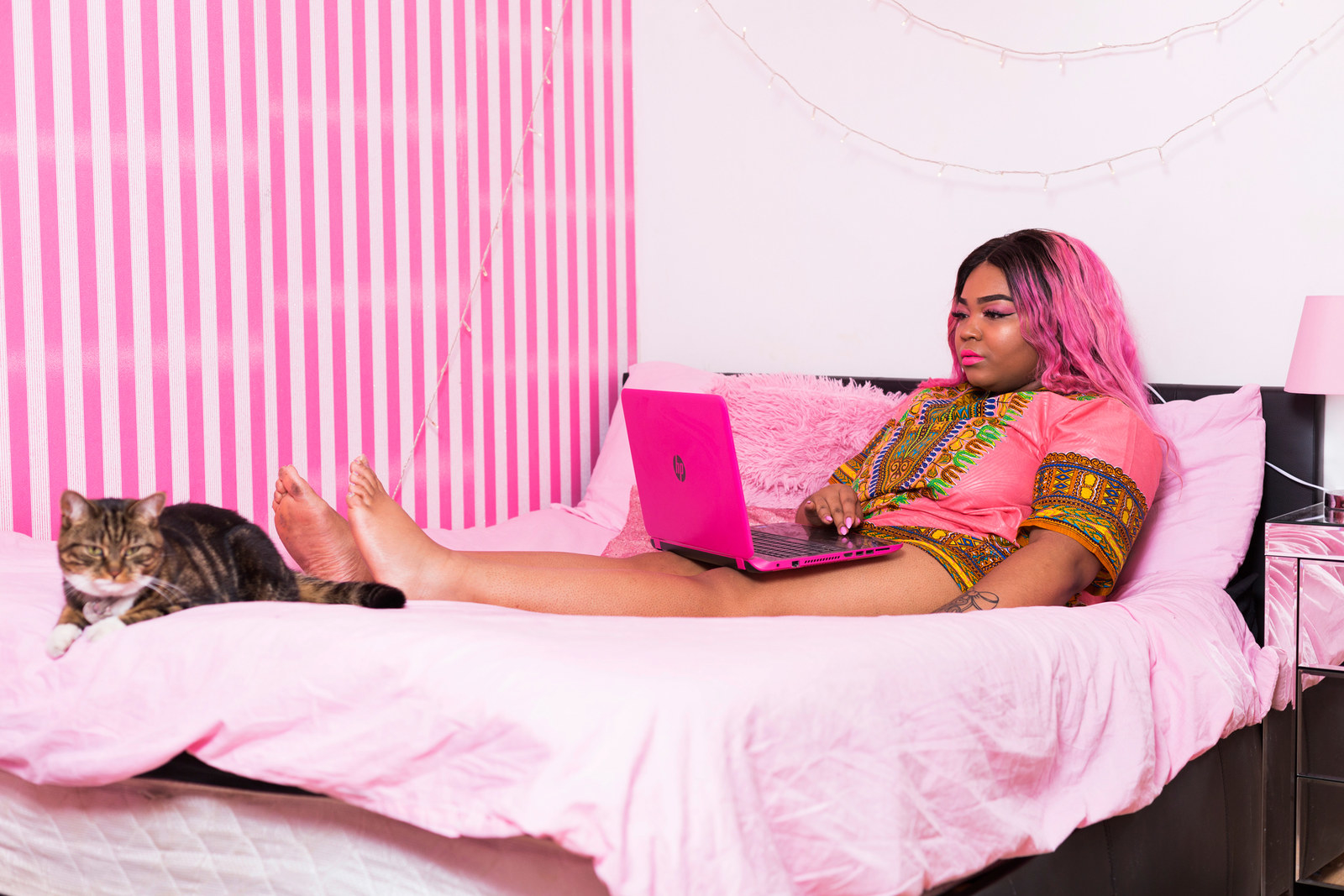 Kayela Damaze, 25, from Bermondsey, London

Two years ago, Kayela Damaze went to the gym. The next day her bones hurt, but she thought she was experiencing the regular soreness anyone might get after a workout. But the tiredness and the aching pains didn't go away, and developed into something unbearable. At the time she was 22, and worked in retail.
"The main thing is the pain of swollen feet, and painful joints, like my knees," Damaze says. "My left side of my body is tender literally 24/7. Sometimes I can't walk properly and have to limp around the house." She went to the doctor and was diagnosed with fibromyalgia, a long-term condition that causes pain all over the body.
Her mother, who suffers from carpal tunnel syndrome, which causes pain in the hands and fingers due to nerves being compressed in your wrist, hates seeing her youngest daughter in agony, and often wants to hug her to comfort her. But for Damaze, physical affection can bring on more pain: "She loves to give me big hugs, but now she sees how I am before she reaches out."
Fibromyalgia has affected Damaze's mental stability and her memory. She had to stop wearing certain perfumes because they would make her nauseous.
As her pain and tiredness increased, Damaze had to quit her job. She's now found a new passion: making YouTube videos about fashion styling from home. "I don't style anyone except myself," she says, adding that she's proud her videos have been covered by the likes of Dazed and the online magazine Gal-dem.
"Styling is something I've always wanted to do, I even studied fashion at college." Her videos suit her lifestyle as, due to the pains in her body, she finds herself at home a lot. "I am indoors a lot, so I thought, I might as well give this YouTube thing a go. A lot of people have been telling me I'd be perfect for it."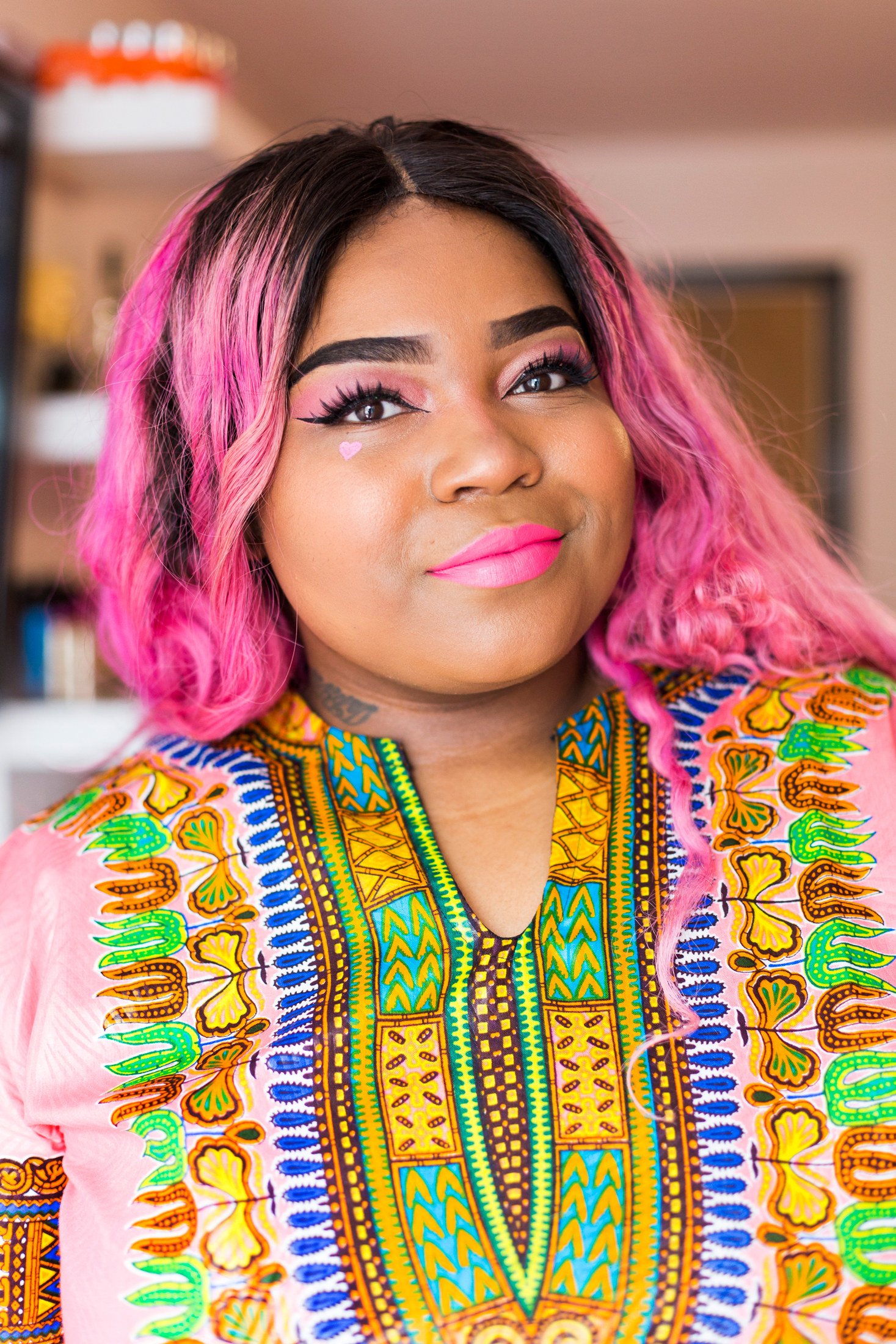 She has had more than 4,000 views since starting on YouTube in January, and loves filming videos about hair, fashion makeup, and her bright pink room. She says the colour pink gives her solace.
"I started to overcome my depression and frustration … by using the colour pink as my refuge. It genuinely helped me to be happy. I felt so much joy in being head-to-toe in pink, so I applied it to my daily routine in hope that it'll save me. And as crazy as it sounds, it did."
Damaze also has obsessive-compulsive disorder. "My thought process is very planned, I can plan things from a year from now, such as outfits. I feel like I have to do it for my own sanity and for peace of mind."
She goes on: "OCD really makes me more vulnerable to losing my mind when something goes unplanned. I mentally cannot cope, especially if it's important to me. So I often have panic or anxiety attacks."
Damaze tries her best to keep occupied by recording her YouTube videos but she can often feel lonely, she says. "It happens daily and I've been trying to fix and fight it. When the weekend comes and I've got no plans because I don't have many real friends at the moment, I lose my head because I need an escape but there's no one to do it with."

She wishes the darker side of OCD was talked about more often. "There's the intrusive thoughts and paranoia of something bad happening to you. I think I am going to get murdered or someone going to rape [me], especially when I'm in public."

A friend recently told her that they thought OCD was "made up". "At the time, it didn't hit me what she was saying but only a couple days after, I felt hurt," she says.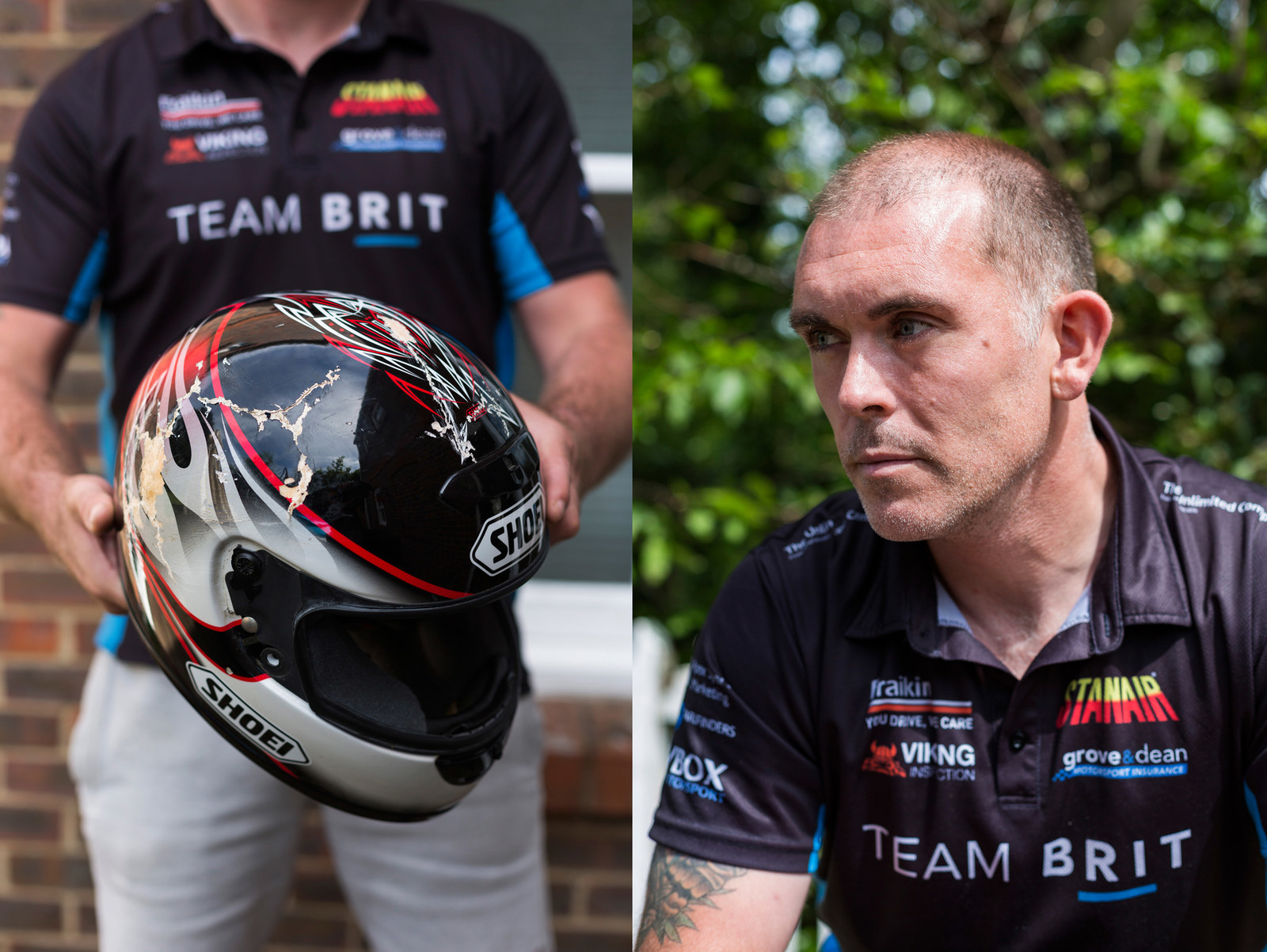 Warren McKinlay, 35, from Braintree, Essex

Warren McKinlay wanted to join the army while growing up, after seeing his uncle do the same thing. At 19, he pursued his dream and became a recovery mechanic in the force, serving in places like Bosnia and Germany, where he travelled with his wife Sarah. But in 2005, McKinlay sustained a life-changing brain injury in a motorbike accident. He collided with a tree at 60 mph. "I broke my back [and] pelvis but it's the head that takes the longest to recuperate," he says. He has since had depression.
For 18 months after the crash, he also suffered from Cotard's syndrome, nicknamed "walking corpse syndrome", a rare delusion that made him think he was dead. He believed he had died in the accident, and for a time refused to eat because he felt he had no need for food.
Now McKinlay works with Team Brit, a motor racing team made up of veterans who have sustained serious injuries. They visit schools to talk about their experiences. "I tell kids, this is why you should wear your helmet," McKinlay says, looking down at the one he wore during the accident. "This saved my life. I wouldn't be here without it."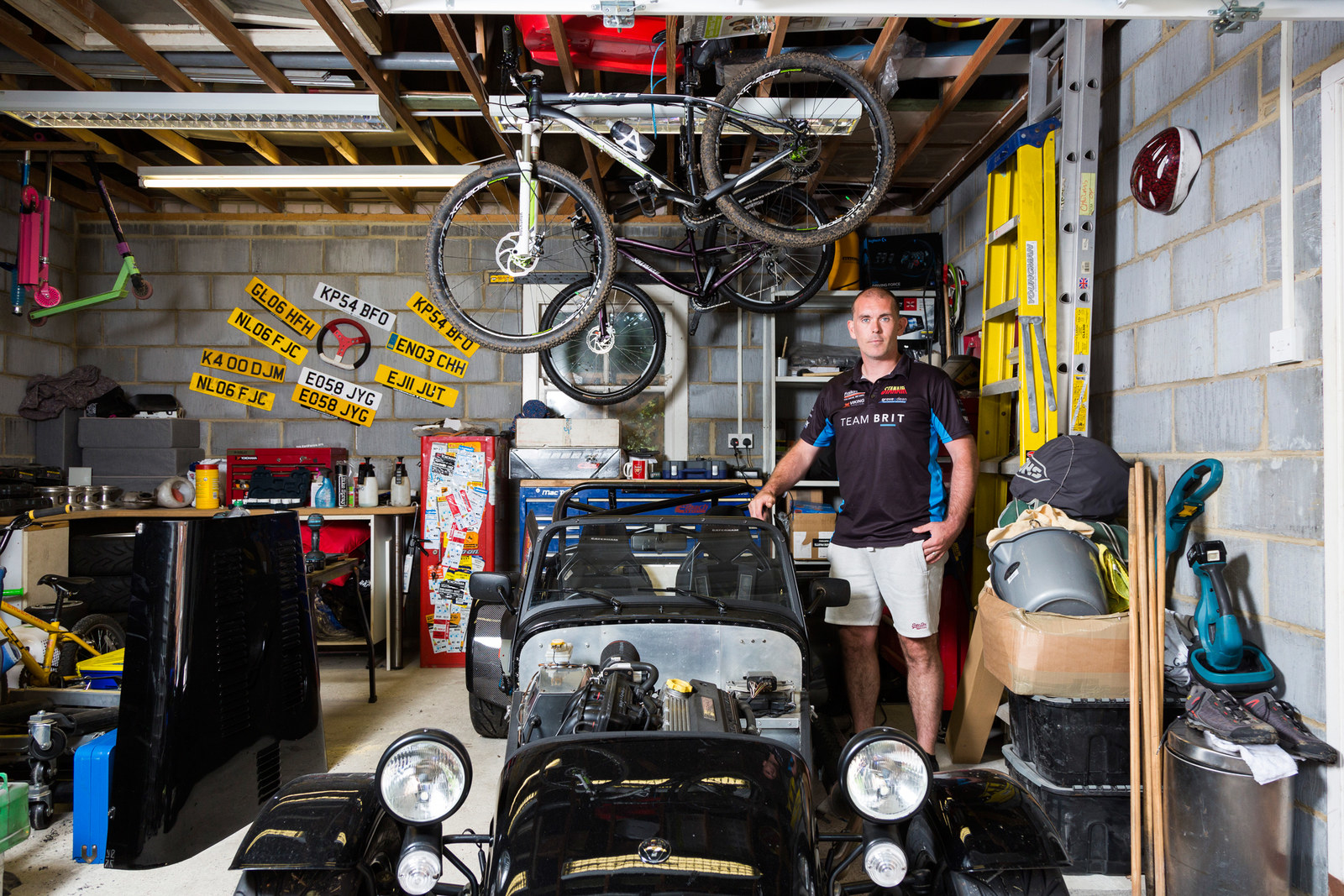 McKinlay lights up when he shows us his Caterham Seven Roadsport sports car. "I love the feel and the adrenaline – there's nothing quite like it." He says being a part of the racing team has helped him in his recovery. "It's given me something to care about. It's like the army, you know? Having that camaraderie and that bond."
Due to his head injury, McKinlay has stopped working. He was worried what people would think about this. "People make judgments – I used to worry what people were thinking about me because I don't work, and it's not because I do not want to work because I have tried. I even opened a family-run mechanic business with Sarah but I let it become too much of a stress for me. I felt I was letting people down."

McKinlay has a poodle called Ralph. "Sarah takes him for a walk," he says. "I want to go every morning but sometimes it's a bit difficult to get the day going."

One of the hardest challenges he's faced since the accident is with depression. "It's been very hard. I've turned to alcohol but now I go walking. I've walked myself out of so many bad situations. It gives me time to think."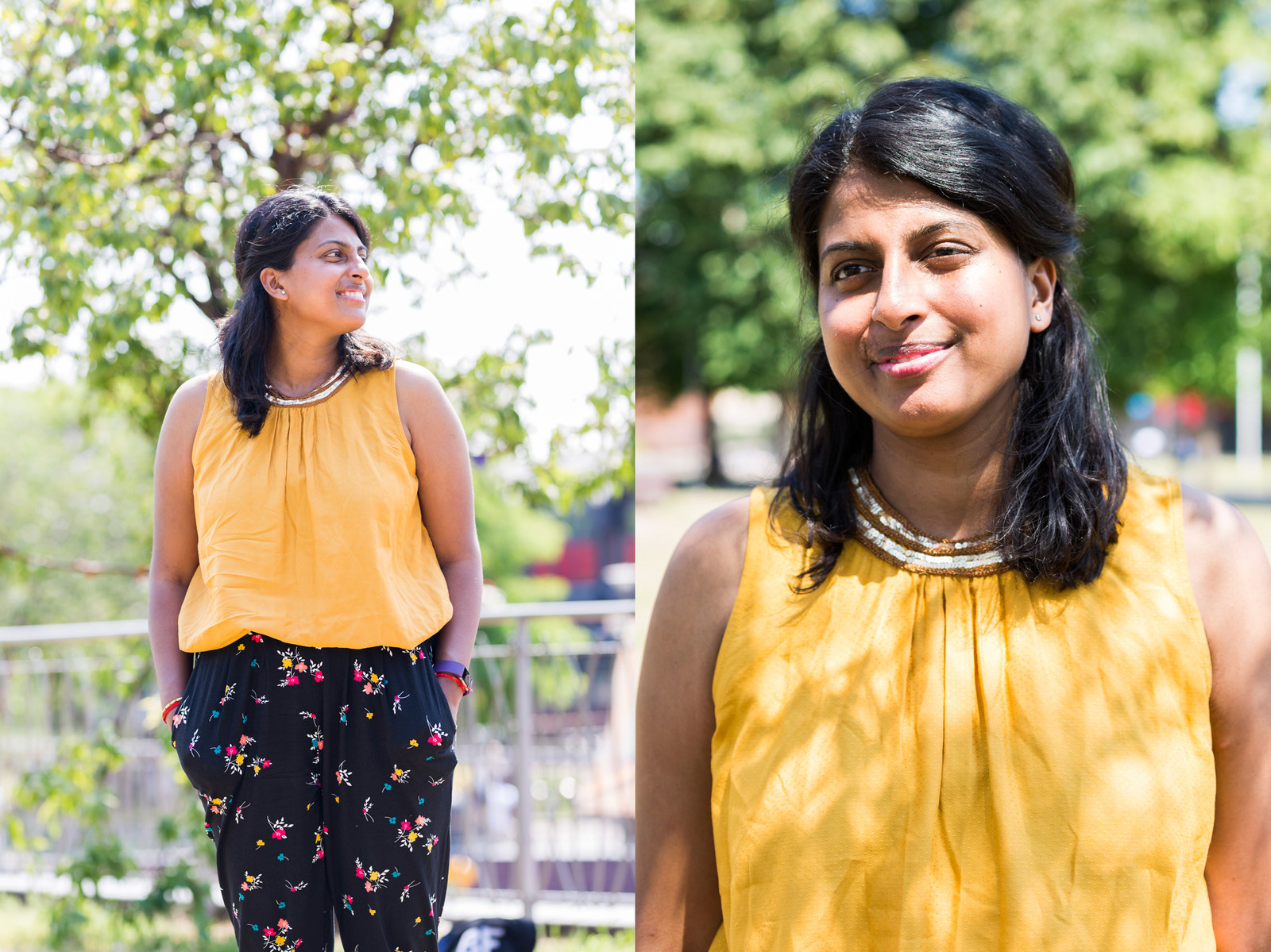 Banu Godfr, 22, from Walthamstow, London
In 2015, Banu Godfr was diagnosed with stage 4 lupus. "How many stages are there?" she asked the doctor. "Five," the doctor replied. "I had a breakdown after that," she says. "It was a rough year."
Lupus, a chronic autoimmune disease, cannot be seen, but Godfr feels it every day. Her symptoms consist of fatigue, "moon face" – when your face becomes more rounded due to fat deposits – weight gain, extremely sensitive skin, and headaches.
"You have to learn how to pace yourself," she says. "So I take precautions about how long I stay out in the sun, and making sure I get enough sleep. If I do these well then the day will go fine. But it gets harder during the colder months because of the joint aches. So it almost ruins the whole day [if] you haven't paced yourself properly."
Her sensitive skin means she has to be cautious in hot weather. "I have to wear sun block on the coldest days, because the UV affects me and gives me more fatigue than average person. Sometimes I don't go out when it's too hot – I have to wear a hilarious amount of sun block."

Godfr is in her second year of university, studying biological sciences. None of her fellow students knew about her disability initially. "I would miss bucketloads of uni and no one would know why," she says. "I didn't want people to be giving me special attention as I was already seeing doctors, and my family knew. I want to keep that part of my life … separate to the part of my life where I have to get up and take medication and do hospital trips." But eventually she told some friends, who were very supportive.
The relentless pain and medication has affected Godfr's mental health too, she says: "When I wake up the first thing I have to do is take 12 pills of steroids and two kidney tablets, and another pill I have take for the rest of my life. That's the first thing I see even before breakfast or before I see anything. But I try to keep a positive mindset."
Godfr doesn't let her disability hold her back. When we meet her by her favourite coffee shop, she says she plans to go travelling. "Hopefully after university I can do some more charity work for people suffering with autoimmune diseases," she says.
She also tries to raise awareness of lupus among the people she comes into contact with. "I guess I'm just proud of myself accepting the stages I've got to go through," she says.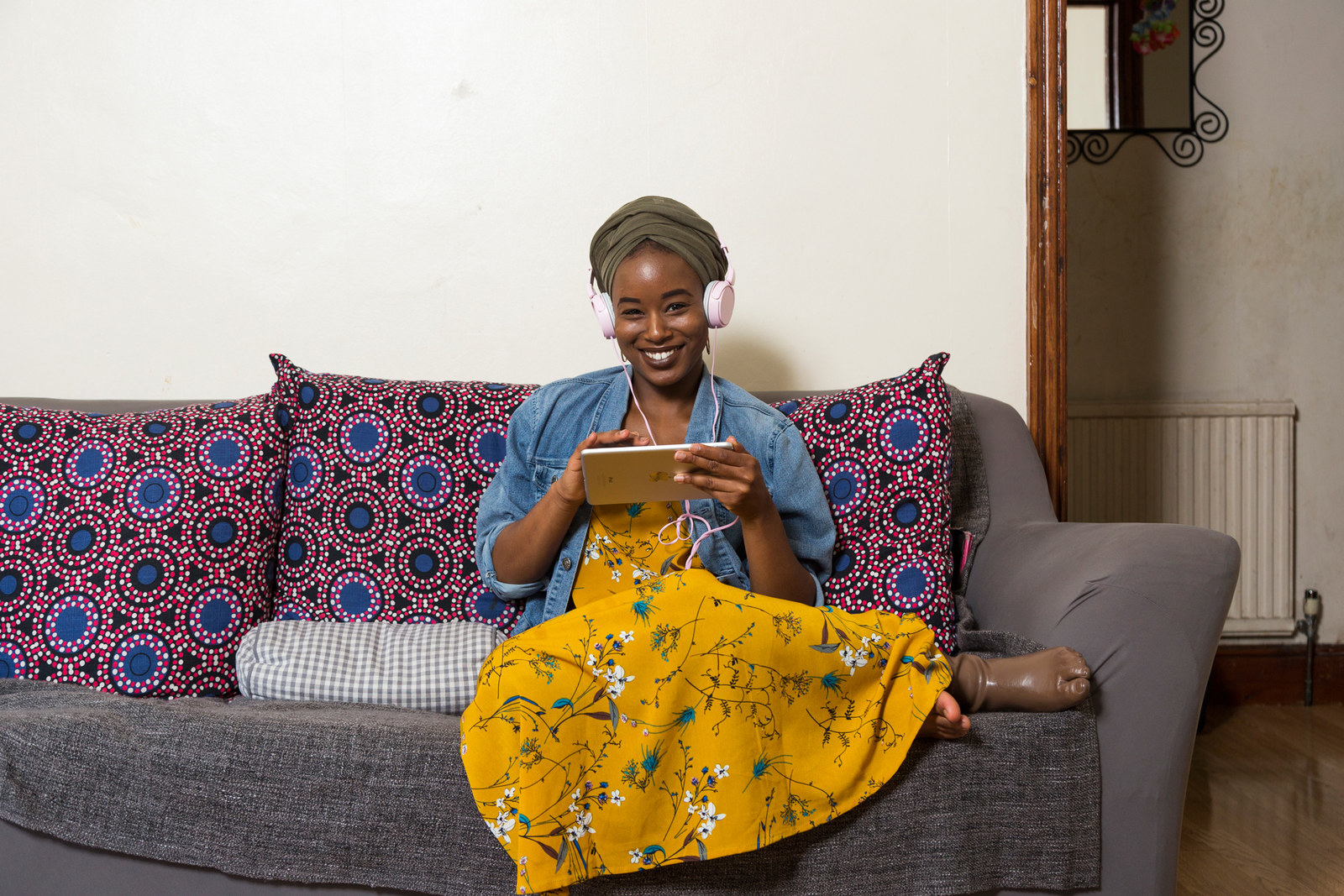 Aisha Rimi, 23, from West Drayton, London

Before Aisha Rimi was a year old, she was in a car accident where the vehicle's tyre hit her leg. Soon afterwards she got her first prosthetic leg, which she learned to walk with.
She remembers a rare moment in her childhood when her prosthetic was visible. "When I was 13 years old, I went to swimming lessons in the new area my family moved to [Cambridge]. I was put in a class with 7-year-olds and they all swam away from me – some kids cried hysterically [when they saw my leg]. I've never experienced anything like that. That was the first time I was made to feel like a freak."
Most people in Rimi's life are supportive of her. She currently works as an administrator at a university in London, and has a badge to wear to let people on the tube know she may need to sit down. But people rarely offer her a seat, as her prosthetic leg isn't obvious. "I have the badge, but it doesn't work," she says. "People tend to look me up and down but they'll look away."
This became more difficult after Rimi got a new prosthetic in March. "It was so painful when I was wearing it, I had a lot of blisters, so sitting down on the train would help a lot."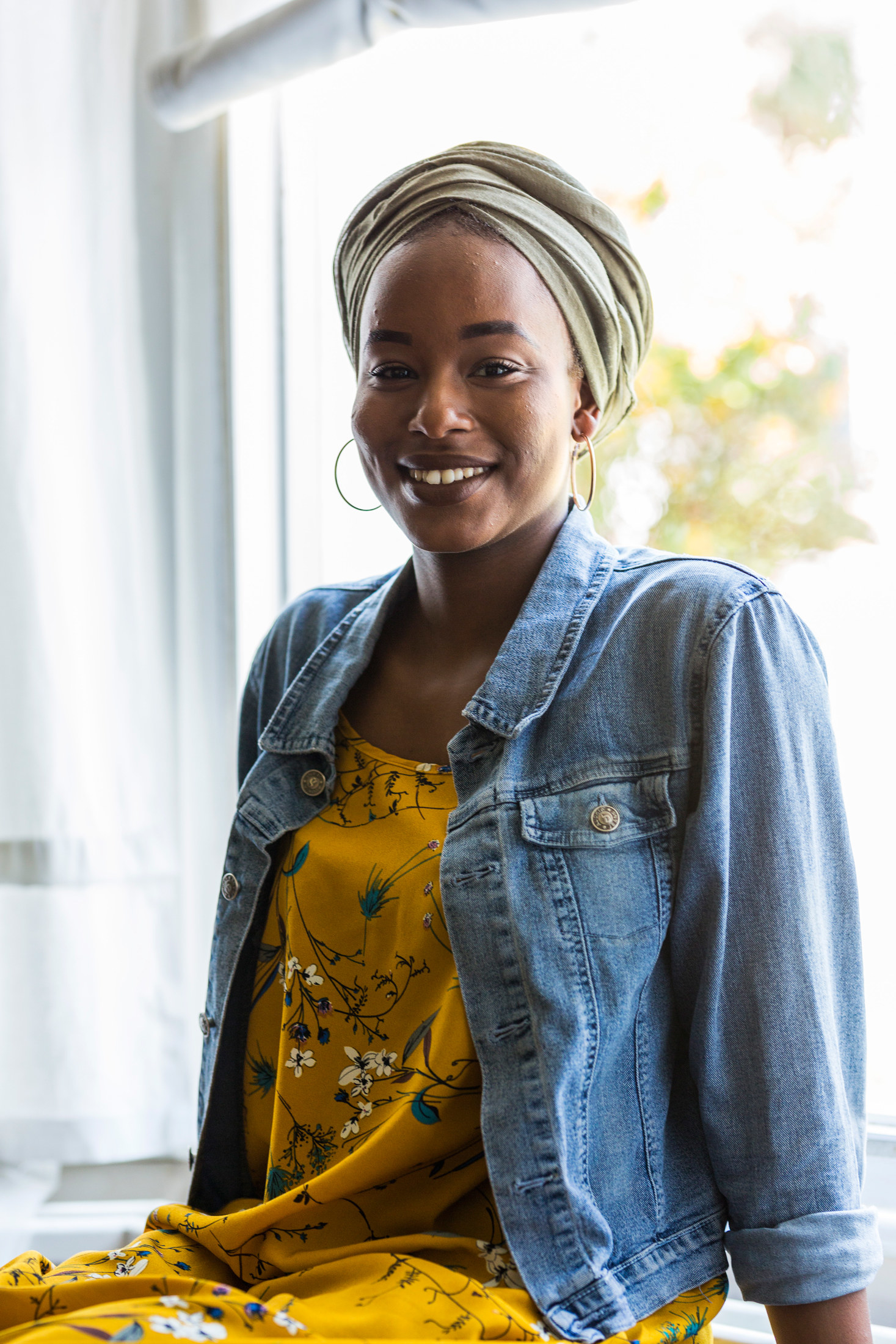 She says her prosthetic leg "affects me every single day, influences everything I do, from when I step out the door. If I have seven minutes to get the train or if I am going to someone else's office for work, I have to plan: Do I take the stairs or the lift?"
Rimi loves being independent. She has lived alone in Paris for seven months and Berlin for three months. She has a passion for writing and posts on her blog about her dealings with religion and race, and her experiences travelling and living abroad.
The proudest thing she has accomplished to date, she says, is graduating from Queen's Mary University of London with a 2:1 in French and German. "I worked really hard and there were many times I really thought I wasn't going to be able to get the grade I wanted, but I did it."