This Gay Man Responded To A Cruel Tweet About Him In The Best Way
"They are fragile with their masculinity and they can't accept the fact men like men, but it's 2017! Get over it."
This is 19-year-old Trayvon Dickerson, a freelance makeup artist and waiter from Texas.
Dickerson told BuzzFeed News he has been doing makeup for about three years now, and hopes to grow his talent and also become a role model for others. "I want to be an inspiration to the youth because of the homophobia towards [the] LGBT community. We don't get the recognition we deserve," he said.
Dickerson went pretty viral when he showcased his looks on the #BlackGaySlay hashtag that was popular over the past few days.
On Saturday, someone used a picture of Dickerson without his permission on Twitter. "Ya son come home from college like this, crying asking you to accept him, what you doing?" the tweet said.
Dickerson said, "I've seen people make these same tweets with other LGBT kids." But, he said, this was the first time it had happened to him and he refused to take it lightly. So he delivered a flawless clapback: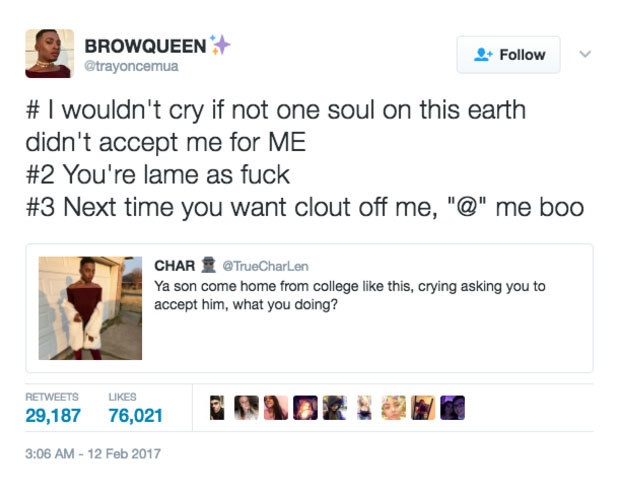 He believes that people voice negativity like this because, "they are fragile with their masculinity and they can't accept the fact men like men, but it's 2017! Get over it."
"I am me and the only person who has to deal with me is me," he said. "Everyone in my family supports me wholeheartedly." He added: "Why are you bringing homophobia and negativity to this area?"
Dickerson said he found out about the tweet because his friends mentioned him on Twitter. "I felt he dragged me down in that tweet. I don't understand why he is asking others about me. ... He never asked people to use my picture or my identity for the tweet."
Dickerson's response to the troll received over 76,000 likes and 29,000 retweets. "I didn't expect my tweet to go so viral. It's a sensational feeling."
Many people who didn't even know who Dickerson was defended him on Twitter. "There's not a lot of people in this world that would step forward and show support, so everyone who did — they are so amazing and I love them," he said.
Dickerson added that "discrimination is a big deal in America. People can really hate you for being you."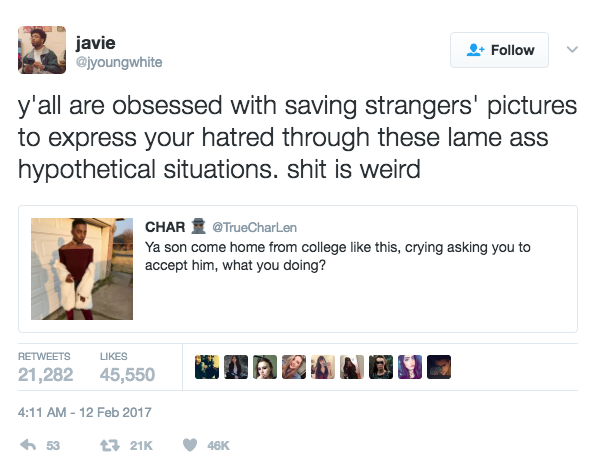 Keep on slaying, Trayvon!