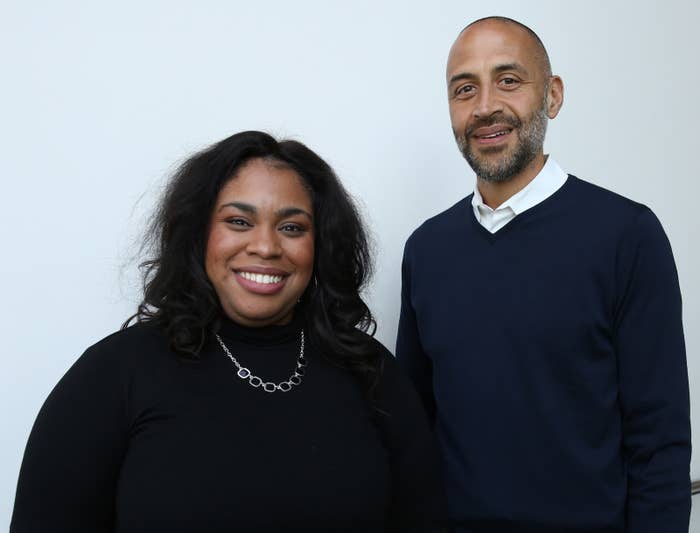 A bestselling author of young adult fiction has criticised the lack of diversity in the publishing industry, saying it was unacceptable that black children are more likely to find books with a truck or an animal as the main character than one who is a reflection of themselves.
American writer Angie Thomas made the frank statements during an event in London on Tuesday as she promoted her book The Hate U Give, which is based on true events in the Black Lives Matter movement and tells the story of a teenager shot dead by a police officer.
"Publishing does have a diversity issue," she said. "It's easier for a young black boy in America to pick up a gun than to find a book where the main character is a young black boy and that's a problem."
Thomas, referencing a 2015 study, added that "African-American children will find it easier to find a book with the main character is a truck or animal than themselves. That's a problem."
"We need diverse books," she said.
Thomas was invited to speak to an audience of about 200 young people by Matthew Ryder, London's deputy mayor for social integration, social mobility, and community engagement, and City Hall's youth-led peer outreach team.
Her debut novel, whose fans include The Fault in Our Stars author John Green, has been credited with continuing conversations around the Black Lives Matter debate with a younger audience in the wake of high-profile police killings of black people, including 12-year-old Tamir Rice. According to the website Killed by Police, US law enforcement has already killed more than 300 people this year.
"We have a sustained problem in America and I've heard it's happening here too," Thomas said. "When officers take off that uniform they're no longer a 'blue life' – I can't take my black skin off. I wanted this book to explain why we say those three words."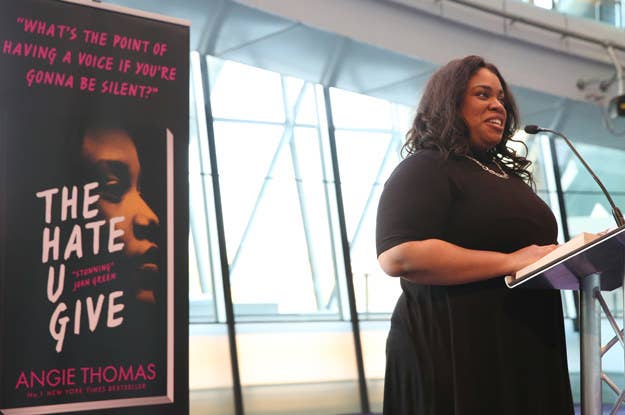 Thomas also addressed the now-pulled Pepsi commercial that featured model Kendall Jenner as an activist at a protest handing a can of the soft drink to police officers in riot gear.
Though Pepsi apologised and later dropped the campaign after the brand was accused of trivialising police brutality and extrajudicial killings, Thomas said faux pas like that could be avoided if there was more diversity within the creative industry.
"Maybe if there were a diverse panel, maybe two or three of us saying no, maybe that wouldn't happen," she said.
There had, however, been progress in some areas, Thomas said. She told BuzzFeed News: "My advice to black authors would be... not to worry about that [publishing industry's lack of diversity]. They are noticing that they have a problem and they're looking for us now."
In March, BuzzFeed News spoke to book publicists and black authors who are breaking new ground in Britain, where a study found fewer than 100 books published in 2016 were written by authors who aren't white.
Thomas, who is on the New York Times's Young Adult bestseller list, continued: "There's a stereotype that black books don't sell and an underlying problem that black kids don't read. I just prove them wrong."
"I just hope this shows publishing to put some money behind black books," she added. "I am seeing changes and I hope in five years there will be books with black kids, Latino kids, LGBT kids."
Ryder, a leading human rights lawyer and one of the UK's few black QCs, said in a statement: "The Hate U Give shines a spotlight on racism and community division in the US. It is a real privilege to have Angie Thomas share her thoughts with us here in London.
"One of the best things about London is its diversity, but there's no doubt that one of the most complex challenges we face is how we ensure all of our communities are integrated. It's vital we listen to our young people about their experiences to help us understand the challenges they face and how we can ensure they fulfil their potential."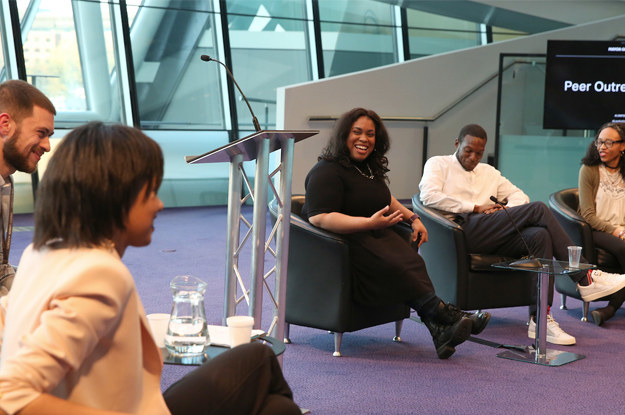 Kelsea Sellars, one of the managers at the peer outreach team, told BuzzFeed News: "The team from [British children's publishers] Walker Books and some others in the publishing world have since said that the conversation last night shows them that they really need to pull their socks up when it comes to having black people in all areas of the publishing world.
"They did say that some of the points raised made them feel awkward and guilty, but I'm happy that their global MD was there to see there are engaged young people doing badass things, with a new perspective. I know some business cards were exchanged after, so for me that was true success."