Patricia Bright has become one of the first black British YouTubers to reach the one million subscriber milestone.
Over the past eight years that the 29-year-old has been creating beauty and lifestyle videos, she has had a huge impact on her viewers. BuzzFeed News spoke to five of her subscribers.
1.
Sarah Oladokun, a 20-year-old from London, started her own YouTube channel after being influenced by Bright. "She's had a great effect on my life as an inspirational black female, who loves to inspire and encourage people, which is something I love doing."
Oladokun said Bright is "kind of like our YouTube big sister for black British girls". She is especially fond of Bright's advice videos. "Watching her grow all these years just makes me so happy, it's like I've been part of her journey into becoming a woman," she said.
2.
17-year-old Jojo Watson, a YouTuber from London, has met Bright three times in person. "She's such a sweet humble person – had the pleasure to meet her and she deserves everything that's coming to her," he said.
He said: "She's like another mom to me," and said her videos had taught him about "jobs" and "university". Watson added: "I've been subscribed to her channel since she had 100,000 subscribers... I'm so proud of her hitting one million, she deserves it."
3.
Not only is Bright a successful YouTuber, she is also an entrepreneur as she owns a hair line called Y-hair. Jennifer Tshibamba, a 20-year-old student midwife from Croydon, London, said: "Patricia inspires me and makes me feel like I can become an independent black woman."
Tshibamba said she appreciates how authentic Bright is. "She comes across like a big sister or cousin you never had. I love how she shows off her African side". She said she loves to watch Patricia's "sit down chit chats – [her] 'grab a cup of tea moments'".
"I also like her fashion videos too. I just love her dress sense," she added. "She empowers women! I just find her so down to earth and real."
4.
Olivia Odubanjo, a 22-year-old blogger from London, said: "I've grown up with her. It's so refreshing to see a successful black British woman in that space. It's like a 'Hey, we're here and we're brilliant!'".
"Patricia has remained completely unapologetic in being herself throughout her YouTube journey," she said.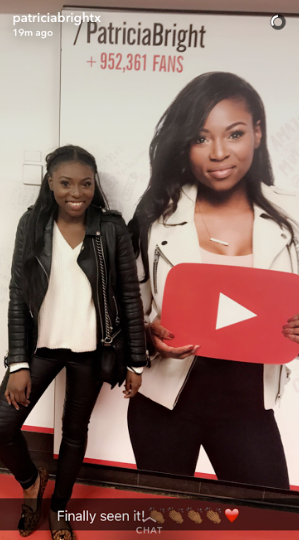 She added: "Patricia hitting one million subscribers is really a testament to hard work and not giving up on your goals. She's really paved the way for more black British bloggers to come through".
Patricia has been a part of many successful advertising campaigns, including with L'Oréal, MAC Cosmetics and Lookfantastic. "She's built a phenomenal brand and it motivates me to stick at what I'm doing," Odubanjo said.
5.
22-year-old Lizzie Loves, a YouTuber from London, said: "I've been following Patricia's journey from the beginning all the way to now which gives me hope as a woman but more importantly as a black women, that I, too, can be successful and break boundaries, stereotypes and more".
"She inspired me because she showed that you do both! You can love beauty, fashion and general girly things but still be really into business and education and get your money," Loves added.