For most young people in the UK, going to university is the first time that they'll leave home and live independently. It's often also the first time they'll pay for their own accommodation. The average weekly rent in halls last year was £146.73 per week, according to the Accommodation Costs Survey, while living in private accommodation set renters in England back an average of £184 per week in 2015/16.
BuzzFeed News spoke to five students studying in places from Plymouth to Edinburgh, and ranging from freshers to those in their final year, to find out what they are paying for the place where they live and how it shapes their university experience.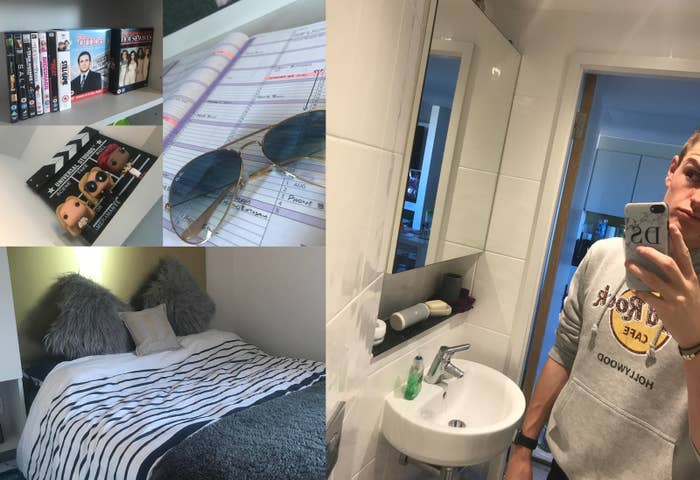 Daniel Sim, Queen Margaret University, Edinburgh
Rent: £705 per month
Daniel Sim spent his first two years of university commuting from his family home to his campus in Edinburgh. But the 21-year-old wanted to experience more of the social side of university, so this year he's moved into a studio flat in private student accommodation. He'll be renting it for his third year at Queen Margaret University, studying events management.
When he was commuting, Sim said, he saved a whole heap of money. Now he's living in a £705-a-month studio flat, which includes its own bathroom, kitchen facilities, and living area. "I live in private halls for university students. I know it's not cheap… I've seen the ones that are cheap, and this may sound snobby, [but] you can tell," he said.
He added: "My flat was finished being built in June, so I was the first person in it and I am completely happy. I feel at home and the security is second to none." He said the halls include a swimming pool, cinema room, pool table, and football table.
He opted for a studio flat because "I like my own space and I don't want to clean somebody else's mess in a flat." The flat is fully furnished, including a TV. It is a 10-minute train or bus journey to campus.
His student loan would be enough to cover his accommodation, he said, but "my mum and dad are covering my accommodation fees and my loan is going into an ISA with low interest." So because he won't have access to that money, Sim will also be working part-time at PC World to support himself while at university.
"My flat is quite stylish and modern. Everything is brand new, quite fancy, decorated well, and comfy. I can see my entire street out my window. I was originally going to get a flat that I could see the sea [from] but that was taken, but my view isn't so bad," he said.
Sim said he prefers his studio flat to his room back home because now he has a double bed. "I'll spend most time in my room because it's a studio; it has everything. There's a common room and I am quite a social person, so I reckon I'll dine in there every now and again." The flat has enough space for Sim to study at home too.

He added that he really likes Edinburgh because "Where I come from we don't have a gay scene, but the gay scene here is much better for me. It's a part of the reason I moved here. There's lots of clubs and bars here."
Sim said his flat has really exceeded his expectations about student accommodation. "I love my studio, I love the security of the place. I feel safe here. There's a few issues, but I'd expected there to be as it's a new build. There's a shower leak – it's in the process of being sorted. I can still use it to shower but it's just leaking on to my laminated floor."
He added: "There were a few marks on the wall but that's noted so I don't get charged when I leave. The Wi-Fi is hellish – I will get my own router, or use an internet cable."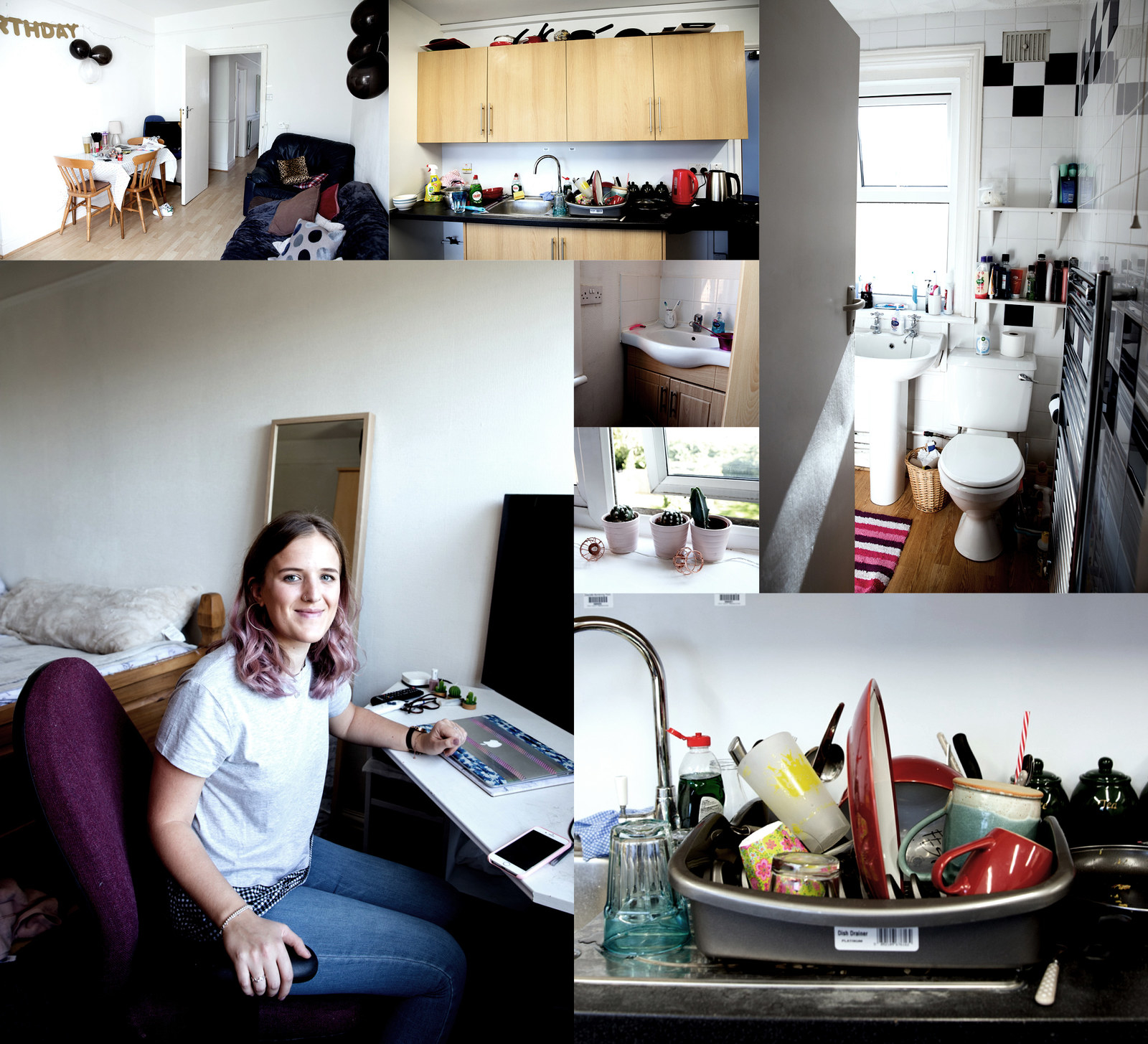 Grace Russell, Bournemouth University
Rent: £390 per month
For 21-year-old Grace Russell, location played a big part in deciding which university to attend. The second-year retail management student said: "I wanted to go somewhere smaller. I didn't really fancy a city university. I like the idea of a town one, and price was a big deal for me, I definitely wouldn't have gone to London, purely because I just wouldn't be able to afford it."

Russell decided to move out of her hometown in Buckinghamshire, two hours away from Bournemouth, and she is happy with her decision. "Reflecting now and looking how much loan I get from the government, I definitely wouldn't have been able to afford [to study in a big city] because my loan doesn't even cover my bills at the moment, and that's why I have to work."
She lives with five of her friends in a terrace house off campus, which she said is "good fun". She prefers it to her last year spent living as a fresher on the Bournemouth campus, where accommodation costs an average of £596 a month. Russell pays £390 a month for her accommodation now, and also splits the bills with her flatmates. They divide up water, gas, electricity, and internet fees using a site called Split the Bills, adding up to £50 a month each.

Russell's house is a 25-minute walk from campus. She has a car, which she finds handy for travelling to work, but unfortunately cannot drive to campus as there are no parking spaces. "We have uni buses in Bournemouth but I tend to drive into town."
She doesn't feel she is getting value for money in her current house. "In my opinion, for Bournemouth our accommodation is quite expensive but what I am paying is pretty much average. Last year I paid £370 but £70 bills, so I am paying the same but my room and the kitchen is smaller. What landlords get out of us is a lot considering there are five of us paying £390 a month."
Russell plans to use their house for parties and pre-drinking socials during freshers' week. In attempt to make her room as comfy as it is back home, she brought along her TV and her body pillow. "It's the size of me and fluffy and soft. I spoon it when I have a nap – I couldn't not have it here."
She said her house is "quite cosy and the rooms aren't huge but we each get double beds with plain white walls, a wardrobe, and a desk". She added: "Our landlord was quite nice and gave us little things like plates and forks, which they don't usually do or have to."
"My room is definitely smaller than my room back home, not as cosy, and the bed is not as comfy and I can feel the spring – and not much storage, which is an issue. I prefer home," Russell said. But on a positive note, "I have a full view of my garden out my bedroom window."
"I will be spending most of my time in my bedroom or my flatmates' rooms, even though downstairs in the living room is the more communal place. It's quite cold there – I don't think our heating is working properly but I will call our landlord about it."
She added: "The sofa in the living room is horrible, it's brown leather and it's thin and broken, the armchair is broken ... There's a tiny desk but I will probably go to university to study."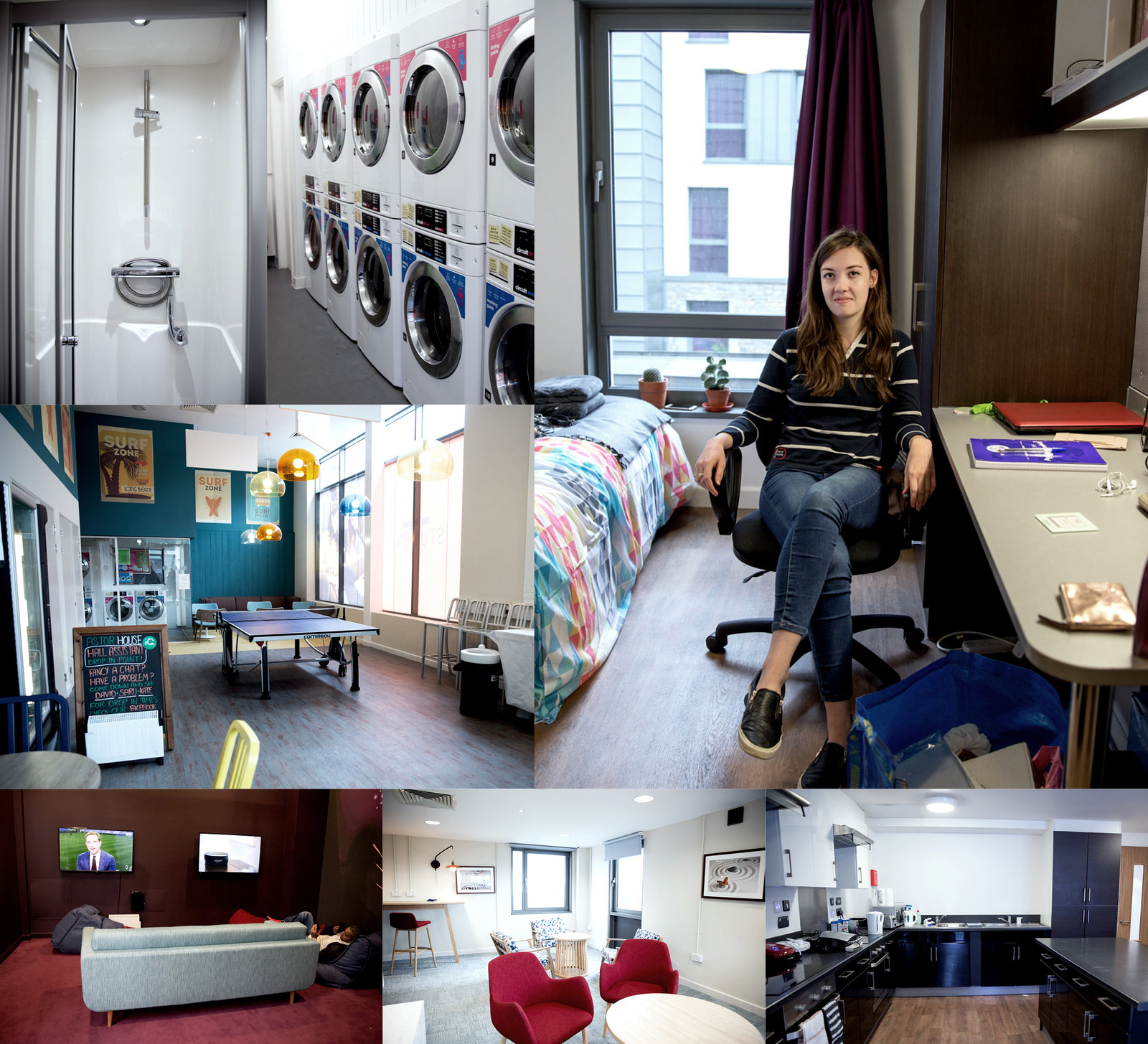 Lauren Goldson, Plymouth University
Rent: £540 per month
Lauren Goldson, who is 19 and from Bath, is really looking forward to starting university and joining societies. She's taking financial economics at Plymouth and will be paying £540 a month for her on-campus accommodation, which is in a privately owned hall that is overseen by her university. Her rent is a little above Plymouth's on-campus average of £532 per month, while off campus the average spend is £470. Goldson will be living in a flat with eight other students; in her little room she has an ensuite and will only be sharing the kitchen and lounge area. The price of her accommodation includes Wi-Fi too.
Her flat will be a 10- to 15-minute walk from campus, which she is happy about, and five minutes away from town.
She said: "I think I am getting quite good value for what I am paying." But she does think students are charged a lot of money for their accommodation and doesn't think it's a fair system. Goldson initially wanted to go to the University of Kent, and while looking for accommodation prices she noticed that it was a lot more expensive than Plymouth – which she suspects is because it's close to London.
She said Plymouth is more suited to her because: "I used to live in Cornwall, so I knew the area a bit and I like the fact that it's down by the beach. I didn't really want to go to a massive city."
Goldson said her student loan will cover her accommodation fees. "I am lucky my student loan covers my accommodation, but as I am only reliant on my loan I am probably going to get a job as well."
She said her room is modern and stylish, but it's not decorated – though it does come with a standard pin board. Goldson has made her room as homely as possible. "I brought a few of my photo memories from home, and my cactus," she said.
Her room at university has much more storage than her room in her family home in Bath. "It's nicer than what I expect typical uni accommodation to be like. It's the same size as my room back home and ensuite, which is nice, and [has] a ¾ double bed, and I only have a single bed back home."
Goldson reckons she'll spend most of her time in the communal kitchen and her bedroom. "For the first night, people are coming round to our flat. I think we will be going out throughout the week."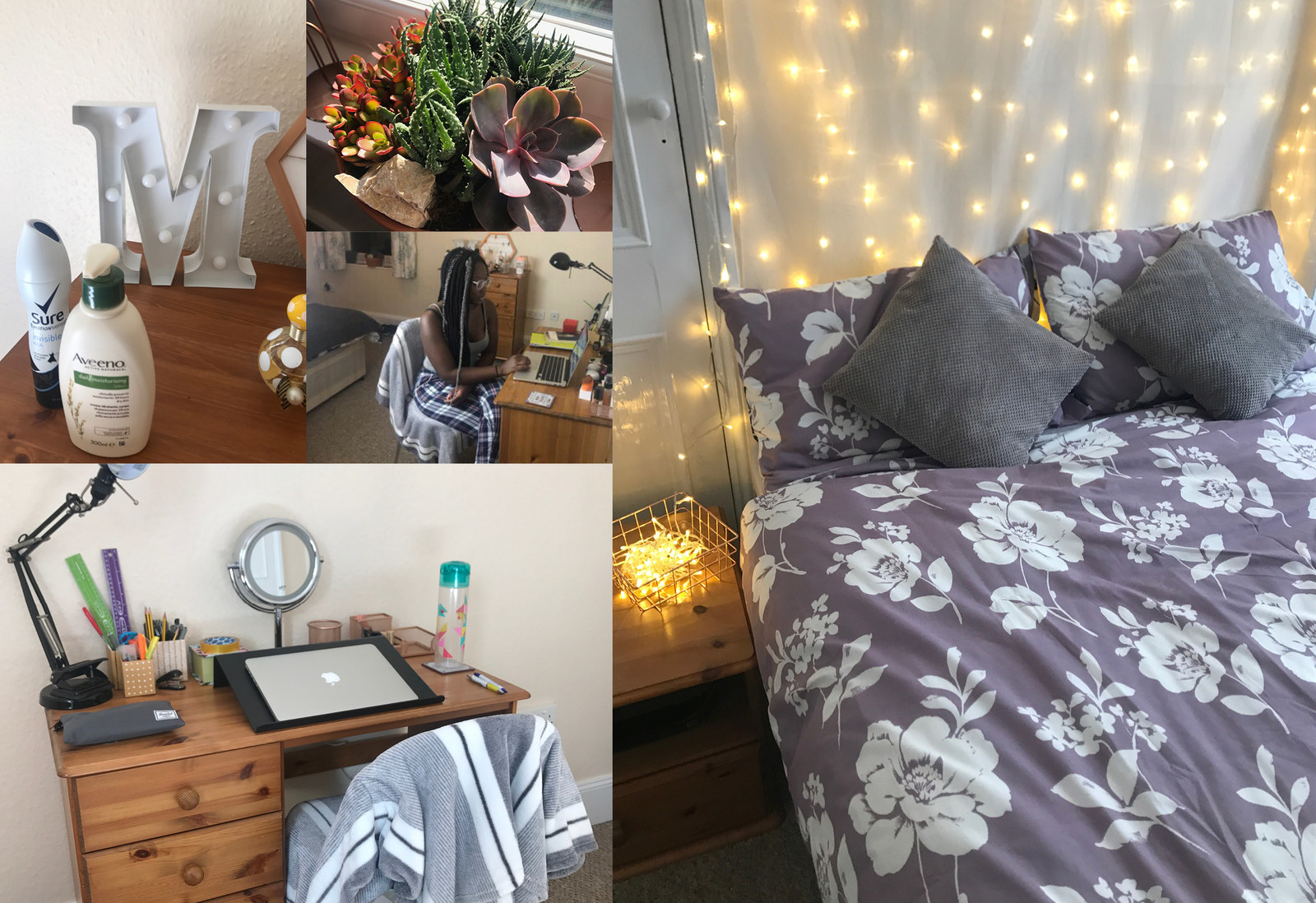 Moesha O'Donkor, University of York
Rent: £320 per month
"My room is definitely worth the money and I am lucky I have the biggest room," Moesha O'Donkor told BuzzFeed News. "That's great because I do YouTube videos – this leaves me space for my camera and stuff that takes up a lot of room."

O'Donkor pays £320 a month, including bills, for a terrace house with two other students at the University of York – a lot less than York's average on-campus accommodation cost of £548 a month. Her house has two bathrooms, one with a bath, and a communal kitchen and garden patio. O'Donkor said: "The kitchen is small but we didn't mind too much because our rooms are so big and the patio has a nice feel to it."
She studies English and said her campus has nice bars and restaurants, but her house is 15 minutes away from town, which is a bit further from food shops than she'd like. So she turns to online food shopping as it's more convenient.

Last year, when O'Donkor was a fresher, she was really excited to move into halls but after she'd spent some time staying in a small room with an ensuite for £540 a month, she said, she didn't love the social side of it and thought it was "very, very expensive".
She said she and her flatmates are keen to make their new place feel homely and not like a "typical student house". She has brought fairy lights with her to make her room look warmer.
O'Donkor was awarded an £800-a-term accommodation bursary from her university, which she puts towards her rent. It means she doesn't feel she needs to work part-time. "I am lucky to get an accommodation bursary from York and I also get a maintenance loan as well, but obviously I have to pay that back." She said she saves the rest of the bursary for her travels home to London, as it can be expensive at £100 for a last-minute train booking.
She said there's enough space for her to study in the house and her room has a desk. "I guess it's quite cosy, but it wasn't in the best condition when we first moved in: Some things needed updating, like mould and damp, but our landlord sorted that out."
"The furniture is wooden, it's not too super old. It's how I'd imagine student accommodation to be. You often hear it's not very nice, but I think ours is quite decent," she said.
"We have a nice view from our windows. We can see the other side of houses on our terrace street," O'Donkor added. "My room at home is bigger and more me. It has little quirks from over the years. I live in London [outside of term time] so I find it quite strange here – I am used to noise and traffic. I like both places for different reasons."
Emily Drew, King's College London
Rent: £800 per month
Emily Drew grew up in Cornwall, where she said it's a 45-minute drive to get to anywhere. So moving to central London for university this year has been a major change – especially financially.
"I didn't realise it would be so expensive," she said. "The price is completely unbelievable in London. In Cornwall you can easily get a bungalow or a semi-detached house [for the same amount]. Up here the room is absolutely tiny for the price – it's an ensuite room and a shared kitchen with seven or eight people."
Drew will be studying French with English and her course includes a year abroad, which is what really sold it to her. She is paying £800 a month for her student accommodation, which includes an ensuite room with a single bed, desk, and wardrobe. Though it's pricey, her rent is significantly lower than the average on-campus accommodation at King's College: £1,064 a month.
Drew said she didn't have many options when it came to her housing. "When you apply for accommodation you don't get a choice in where you stay on campus: There's three [sets of student accommodation for the uni] around London and unfortunately mine is a 45-minute walk from campus. But there are tubes, which are easy to use.
"I could have rejected it but that'd meant there would be a chance that I'd wouldn't get another accommodation offer. It was annoying."
Despite the price, Drew is grateful that she'll be studying in a capital city. "The opportunity to live in the middle of London is good enough for me. [The university does] have to fit around hundreds people in a small space. A 19-year-old living in the middle of London is not going to be glamourous."
Describing her new pad, she said: "It's a bit cosy, yellow, and outdated but for student accommodation in the middle of London, what can you expect?"
Drew said she thinks the Wi-Fi in her accommodation is "pretty bloody good" – "But I guess that's because I'm from Cornwall where you can't even get signal in my kitchen."
She said her room back home is double the size of her ensuite room, but she's determined to make her university room as comfy as possible. "I might as well, as I will be living here for a while, rather than letting it be like a hotel." For decoration, she has brought some souvenirs she's collected while travelling.
Her student loan covers her accommodation fees, but Drew said she may get a job to fund other necessities and her social life. Back home in Cornwall, she was working part-time; she is hoping to do the same in London and feels more hopeful of finding something as London has more opportunities. She heard from other students that the careers fair had some great jobs going and she'll check it out shortly, she said.
"Freshers' week was decent but the events were too crowded – the bar was, like, six to seven people deep, so we actually had more fun at pre-drinks," she said. "We went to an event that wasn't freshers-related, which was way better and much cheaper the other night."