Stormzy Called Out Theresa May And The Daily Mail At The Brits And Here's Why It's Significant
Shortly after winning his second award of the night, the musician performed a politically charged rap in which he criticised the PM over Grenfell, cussed the Daily Mail, called out media bias and inequality, and then saluted a new generation of British talent.
By now you'll know that Stormzy won his first two Brit awards ever at a ceremony in London last night. He walked away with British Male Solo Artist and British Album of the Year for his debut album, Gang Signs & Prayer, which was released in February last year.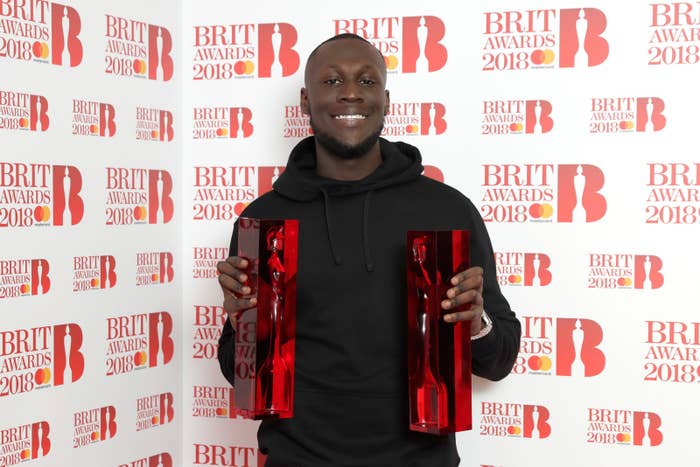 Shortly after receiving his award for British Album of the Year, the 24-year-old closed the show with a performance of two of his biggest hits, "Blinded by Your Grace" and "Big for Your Boots". In between those two songs, however, he also made a political statement with a powerful freestyle.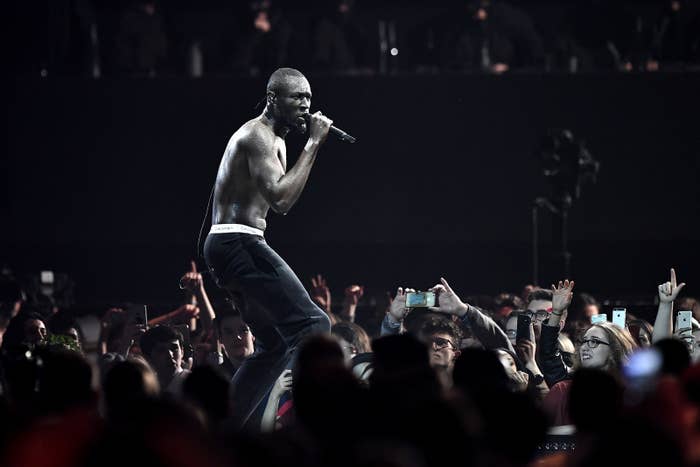 In it, he directly addressed the UK prime minister: "Yo, Theresa May, where is that money for Grenfell? Oh, you thought we forgot about Grenfell?"
In the aftermath of the Grenfell tragedy, May was heavily criticised over her response to the fire, which claimed 71 lives.
In response, a spokesperson for No. 10 said the PM was "absolutely committed" to supporting survivors.
Then Stomzy called out the Daily Mail. The star has repeatedly criticised the tabloid for writing negative stories and using his name to help sell the headline. Here are some of the stories he has taken issue with:
But as well as calling people out, Stormzy used the rap to give a shout out to the actor Daniel Kaluuya, who won BAFTA's Rising Star Award on Sunday: "I see my people on the telly, I feel alive. Jourdan Dunn up on billboards I feel the pride. And Daniel Kaluuya won a BAFTA I could've cried."
And then he gave special thanks to his sisters and his mum for their positive influence on his life.
People pointed out that Stormzy's win and epic performance were pretty poignant because three years earlier, he came out on stage with Kanye West at the Brit Awards in a year when the show was criticised for not being diverse. Stormzy was later referred to as a backup dancer by fellow artist J Spades.
Stormzy hit back at the insult in his popular freestyle "Shut Up": "Couple man called me a backup dancer. Onstage at the Brits, I'm a backup dancer. If that makes me a backup dancer, the man in your vids [is a] backup dancer."
And last year, Stormzy performed at the Brits – but alongside his friend Ed Sheeran. He missed out on British Breakthrough Act in 2017, which was won by Rag'n'Bone Man.
This year, however, he stole the show, gave everybody something to talk about, and took home two awards.
Read part of Stormzy's freestyle here:
Yo, Theresa May, where's that money for Grenfell?
What, you thought that we forgot about Grenfell?
You're criminals! And you got the cheek to call us savages
You should do some jail time, you should pay some damages
You should burn your house down and see if you can manage this
MPs sniff coke, we just smoke some cannabis
So don't get me for this, so be woke
This year I am dishing out Ls for free smoke
You tell us that we're thugs, I try to bust a myth
But someone tell the Daily Mail that they can suck my...