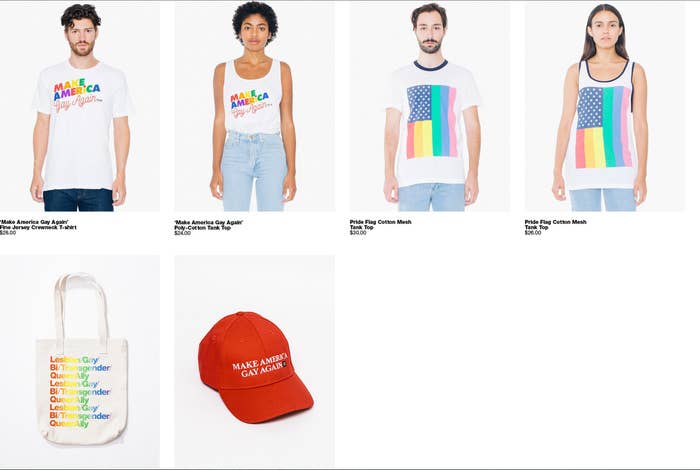 On its website it described the collection as "styles that stand for acceptance".
However some people are annoyed with the brand for using the term "ally" on its LGBTQ tote bag. The criticism began when American Apparel posted this picture on its Instagram account.
People described it as "horrible".


The identification term "ally" describes straight and cisgender people who support the LGBT social movement. They want to help the LGBT community achieve equality by fighting homophobia, biphobia, and transphobia.
However there are straight people who are heavily involved in the movement but don't use this identification.
In the acronym LGBTQIA, "A" most commonly stands for "asexual", but also terms such as "aromantic" and "agender". It is less commonly used for "ally", as American Apparel has suggested on its tote bag.
Asexual describes someone who is not sexually attracted to anyone. Aromantic describes someone who is not romantically attracted to anyone. Agender describes someone doesn't identify as a man or a woman.
Reaction to the bag continued on Twitter. YouTuber Tyler Oakley has tweeted about it.
Some users discussed GLAAD's campaign #GotYourBack in comparison with the American Apparel tote bag. In 2015 the media monitoring organisation published a post to clarify that #GotYourBack does not exclude asexual, agender, or aromantic people.
People used #GiveItBack to express their thoughts on the tote bag.
Others were annoyed because they said Pride Month should not celebrate straight people who support the LGBT social movement.
While some feel American Apparel's use of "ally" says a lot about how asexual people are perceived.
American Apparel tweeted this statement regarding the controversy.
But this didn't do much to calm people down.
BuzzFeed News contacted American Apparel but the firm declined to comment further beyond the statement posted on Twitter.