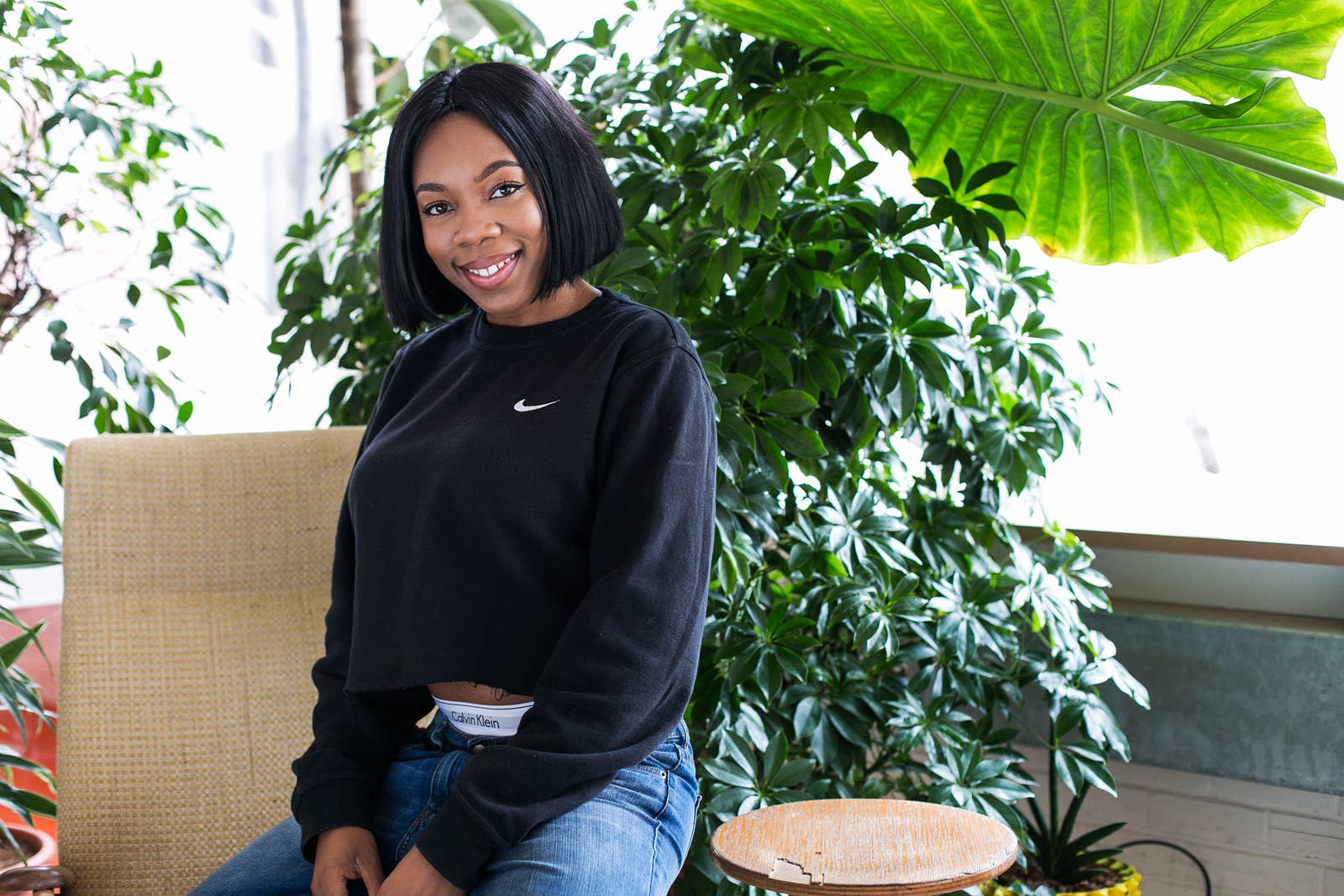 Alexis Oladipo is a fashionable woman. She rocks up for our interview at her ultra-modern office space in Shoreditch, east London, wearing a black, cropped Nike jumper, jeans, and Calvin Klein briefs. She's here to talk about her startup food business, Gym Bites, which has absolutely skyrocketed in the three years since it was founded.
However cool her life now might seem, the 29-year-old is happy to admit her journey from a 16-year-old sales assistant at Selfridges to having her range of freshly prepared, healthy meals sold on its shelves 13 years later has been far from "glitz and glam".

Through it all, though, one thing that remained constant was Oladipo's desire to work for herself.
During her shifts at the high-end department store she often found herself wondering what it would be like to be the boss and not the hired hand. "The owner [was] probably on a private beach while I'm just slaving away for minimum wage," she says. "But I was starting to realise my potential."
Listening to her talk, it becomes clear that in every job she worked, whether her heart was in it or not, Oladipo was prepared to give it her best shot. After graduating from university, she wanted to pursue a career in fashion but application after application was rejected.

Aged 23, inspired by the bestseller Rich Dad, Poor Dad by Robert Kiyosaki, which encourages financial independence, Oladipo "began to take control of my thoughts and what I could be. You know, really go for it and make something of myself".
So she decided she would just go it alone and become a freelance stylist. "You see, I learnt that if you can't get a job, create one – and that's what I did," she says.
Oladipo secured consultations with stars like Mel B and Iggy Azalea and held meetings at Tom Ford. "If you're going to start anything in life you can't do it half-hearted," Oladipo says. Business was OK and she was making the right connections, but her passion was waning and a freelance income was unstable.

Eventually the media and communications graduate took a job as a cleaner at an investment bank in the City, getting up at the crack of dawn in order to make ends meet. "It wasn't ideal and I felt ashamed," Oladipo says.

It was the start of a period of depression, she said. She went through a painful breakup, had problems with her health, and lost a lot of weight. There were times she felt useless. Mental illness wasn't a common topic of discussion in the Nigerian community she grew up in, but today she is happy to talk about it to let people know it is nothing to be ashamed of.
"I learnt that if you can't get a job, create one – and that's what I did"
Oladipo recalls being ridiculed by her peers on social media for working as a cleaner, but this only inspired her to want to do better. "I knew I wanted to own my own business," she says. "I was driven by my hurt and anger by the people who mocked me... I will never be someone's entertainment."

She also had her faith. "I held on to Christ and ever since I gave my life to him, my life has gone from height to height."

The other turning point was being introduced to the Prince's Trust, a charity that helps young people get into jobs, training, or education.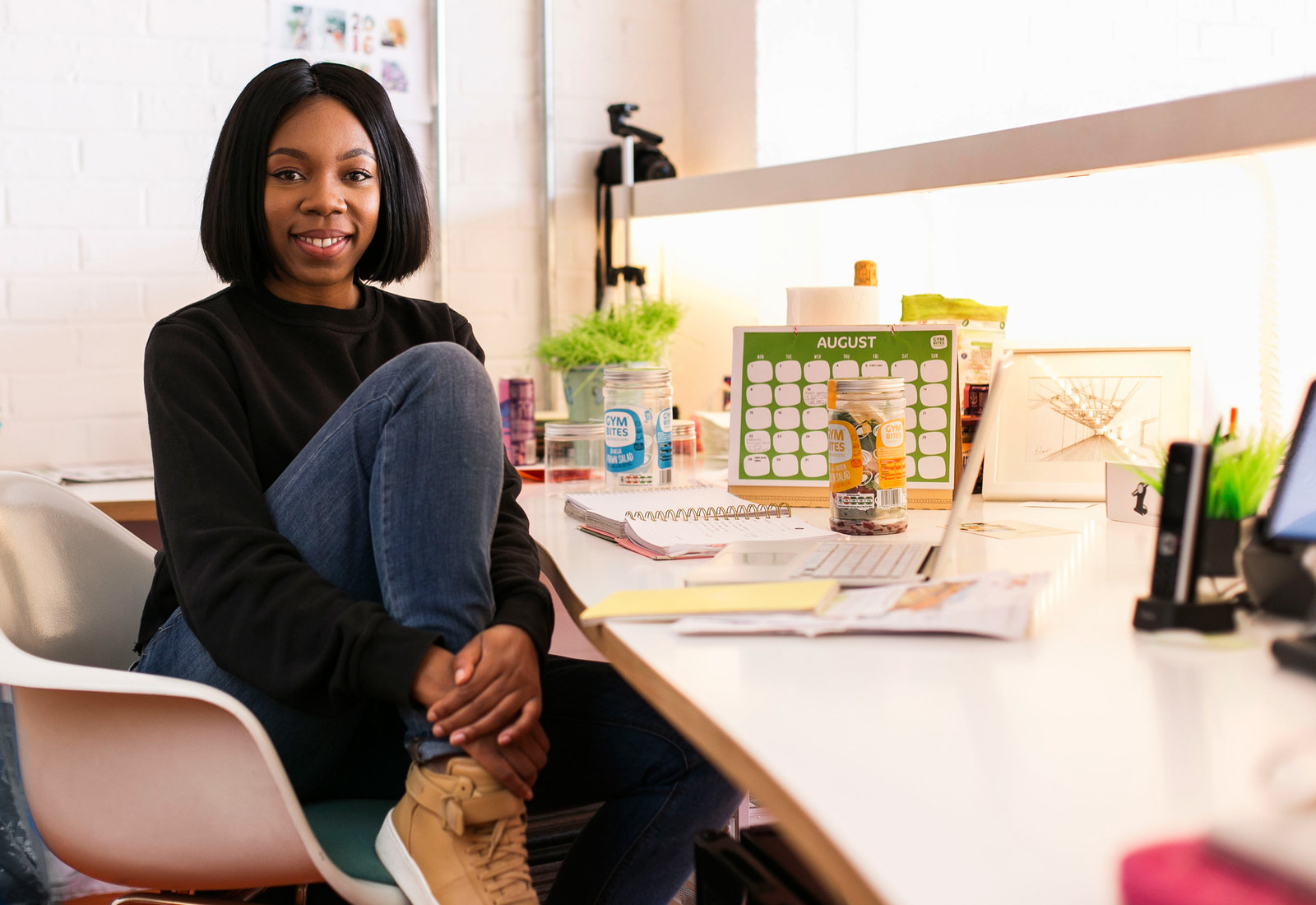 Oladipo said the trust allowed her to explore different types of business ventures and develop her ideas. "I changed my business plan four times," she says, "but I knew that I wanted to make something that fills a gap in the market. I've always been a food fanatic and people have always told me to be a chef."
That was when she created Gym Bites, a food service for people who want to eat healthily but are on the go, using a £3,000 grant from the charity, which also assigned her a millionaire mentor. "All the salads out there are boring. I wanted to put the fun back in healthy eating," she adds. "I didn't receive much encouragement from my friends to start my food business but my mentor was keen about it."

Gym Bites come in handy jars stuffed with wholesome ingredients, like prawns, spinach, broccoli, seeds, and quinoa, flavoured with fresh herbs and spices. In 2015, buyers from Selfridges stumbled upon the company's Instagram page and started having their own conversation in the comments saying they'd loved the product and wanted to stock it the food hall. The rest is history. "The power of social media is amazing," says Oladipo, who would advise other young entrepreneurs to use it to their advantage.

"Don't box yourself in to what black people are 'expected' to do."
Since then, Oladipo has been featured in Coach magazine and this year is shortlisted for the Precious Awards Young Entrepreneur of the Year. Last month, she spoke on a Women in Food panel that took place at the Shard in central London.

Oladipo said she is "annoyed" with the lack of representation in the food industry. "There isn't enough black food bloggers being endorsed by brands. Why is this? Why are most food bloggers and chefs white?" she asked.

For her, defying stereotypes is a motivation. "I wanted to make a product that when people google it, they'll be like, 'What? This is a black Nigerian girl from Hackney? Not a white, grey man worth millions of pounds?'" She adds: "Don't box yourself in to what black people are 'expected' to do. Don't let this world tell you that you can only do so much. Forget about your skin tone – I'm just as equal as Sally over the road with blonde hair. The world is your oyster."
It's these kinds of message she shares with the young women she mentors. She also can't say enough nice things about the Prince's Trust, but she has some shrewd advice too: "Everyone I spoke to about Gym Bites, I made sign a nondisclosure [agreement]. You have to protect yourself and your business."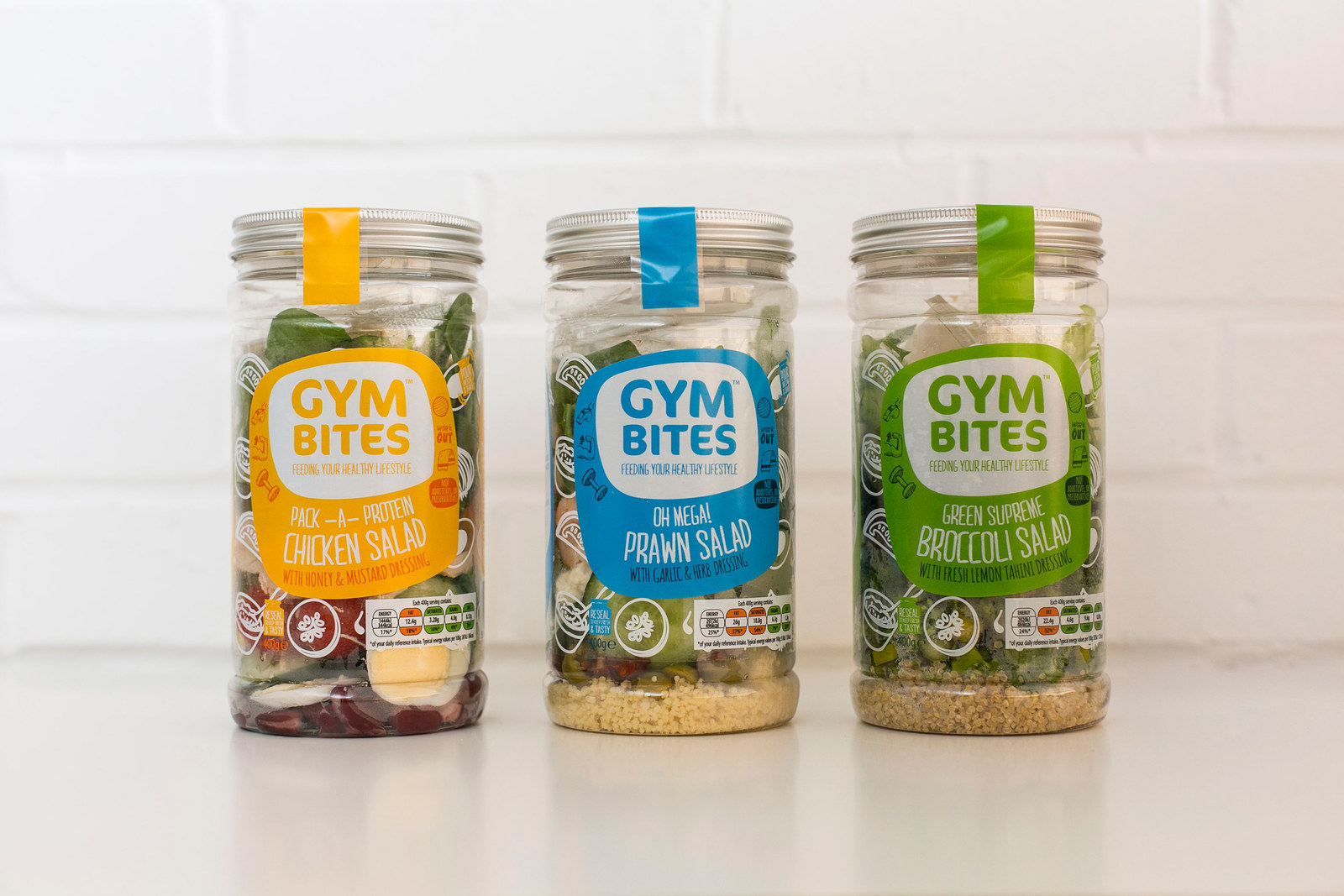 She warns young aspiring business owners to "only tell people who will help your business because someone else could turn around and do it quickly if they have the funds". She also admits that entrepreneurship is not for everyone and it can mean taking a "mental bruising". "It can be very hard. You have to psych and motivate yourself up every day."

One of her biggest inspirations, she says, is her mum. "I've always grown up knowing I want to pay my bills and my mother's bills," Oladipo says. "She deserves it for raising me and my sister."

She also admires women like Ericka Pittman, the vice president of Sean "Diddy" Combs' company Combs Enterprises, and Michelle Obama. "I love what she has achieved… not because she is the wife of the President but simply for the fact that she is her own individual," she says. "I find that inspiring and motivational."

As for Oladipo, encouraged by the "amazing" response to Gym Bites, she has plans to go nationwide and then global, and build her own legacy. "We want to make it something everyone needs," she says. "People are amazed that I don't have a factory and that I have done this myself… I've received so many lovely tweets."

She praises the likes of German discounts supermarkets for shaking off their no-frills image to become big players on the high street. "They're doing well now and before no one wanted to shop there. People wanted to go to Tesco and Sainsbury's and now everyone's looking at Aldi and Lidl," she says. "I'm not worried about how long it's taking; I know it's going to be something everyone will love and appreciate."