Singer, makeup mogul, and general badass Rihanna joined the Global Partnership for Education as its first-ever ambassador in September 2016.
She takes the role pretty seriously and for a while now she has regularly called on world leaders to ask them what their plans are to help fund education in the parts of the world that need it most.
She's called on leaders from Australia...
...Germany...
...and now the UK. In a tweet, Rihanna asked prime minister Theresa May and development secretary Penny Mordaunt if the Department for International Development would donate £380 million to help prioritise education for girls.
People are seriously loving Rihanna's foray into British politics:
Some people were a bit cheeky: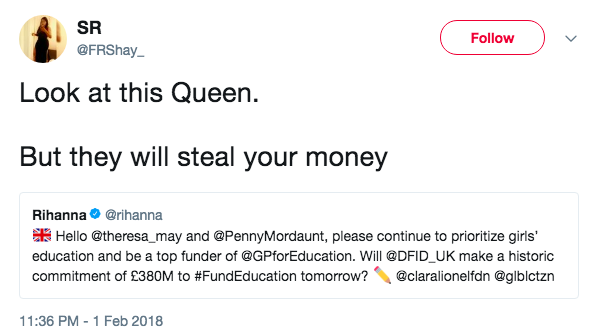 Rihanna4PM.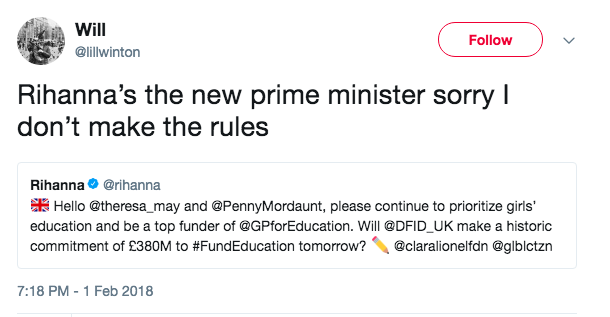 Unsurprisingly, the Department for International Development will not be donating the sum Rihanna asked for – even if she is Rihanna. However, Mordaunt will announce the UK is increasing its contribution to the Global Partnership for Education from £50 million a year to £75 million.
In a statement, Mordaunt said: "All children deserve a decent education to make the most of their talents and to help lift themselves and their countries out of poverty – building a more prosperous and more stable future for us all."
Looks like there are no comments yet.
Be the first to comment!