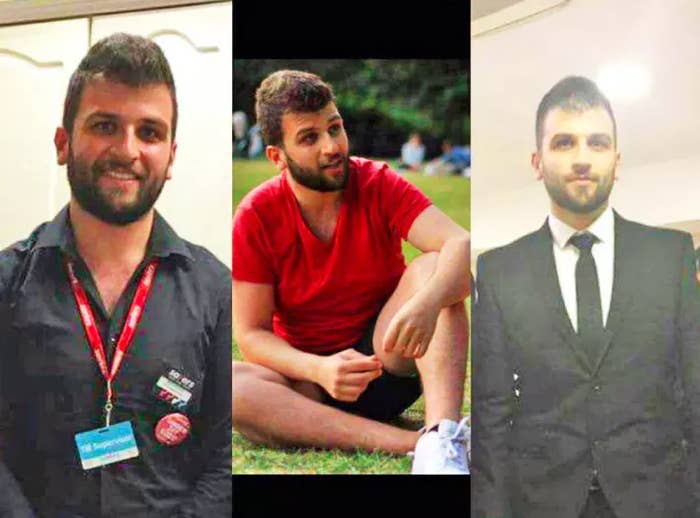 A 23-year-old Syrian refugee, Mohammad Alhajali, became the first named victim of the Grenfell Tower fire on Thursday morning.
A petition has been created calling for the Home Office to grant emergency visas for his parents, who still live in Damascus, so they can visit the UK to attend his funeral.
Their son Omar survived the fire and has given a moving interview in which he describes his final conversation with his brother.
The petition, created by Mohammad's friend Mirna Ayoubi on Change.org, had over 13,000 signatures at time of publication.
The petition claims that Mohammad's parents had not seen their son in five years.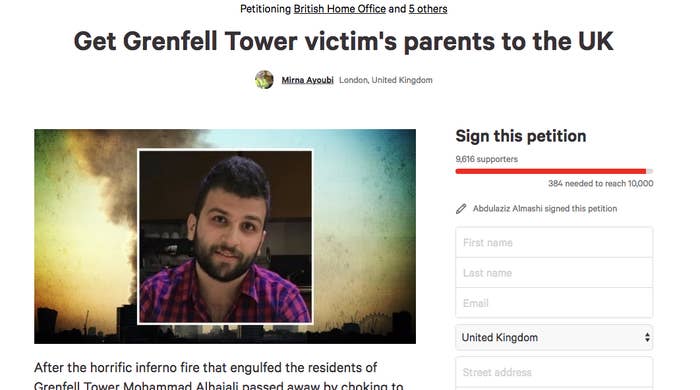 Ayoubi, a 26-year-old design manager, became friends with Alhajali after meeting through the Syrian community in London.
She told BuzzFeed News: "Everyone was giving donations and I was one of them, clothing, bedding, etc. But when it comes to the people who have been hurt the most – the family members – food and clothes are not going to replace a lost family member, so you feel helpless.
"So I thought the only way Omar would feel less confused or hurt is if his parents could come down and stay with him."
Ayoubi said she is in contact with Omar and that he is "really, really excited" by the petition.
"I think we can put pressure on the Home Office to approve it," she added.
He told BuzzFeed News: "I can't imagine that we as a community have to campaign to get the government to issue a visa for Mohammad's family."
He added that he wished prime minister Theresa May and home secretary Amber Rudd "would have a thought about Mohammad's mother and how she feels".
A Home Office spokesperson said: "We have established processes in place which allow us to consider visa applications outside the Immigration Rules on compassionate grounds.
"We are in contact with Mr Alhajali's family and will offer any assistance we can to help them obtain the necessary travel documents they will require in these terribly sad circumstances."