Online Abuse Will Now Be Taken As Seriously As Face-To-Face Hate Crimes, Says CPS
"This will change the way people view online abuse," Newham councillor Seyi Akiwowo, who was targeted by racist trolls, told BuzzFeed News.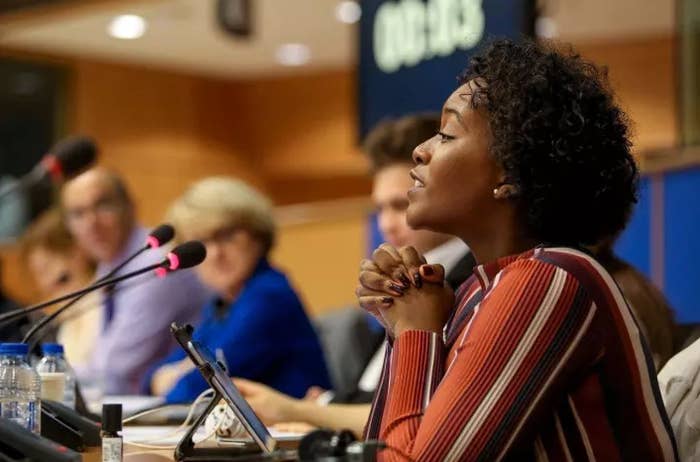 The Crown Prosecution Service (CPS) today committed to treat online hate crime as seriously as offline offences, while taking into account the potential impact on the wider community as well as the victim.
It has published new public statements explaining how it will prosecute hate crime and support victims in England and Wales. They confirm that those who experience online abuse on the basis of their ethnicity, religion, disability, gender, or sexuality will be treated the same as victims of the same crimes offline.
The CPS said it was making the change "in recognition of the growth of hate crime perpetrated using social media".
In 2015/16 it completed 15,442 hate crime prosecutions, the highest number it has ever recorded.
Earlier this year, Seyi Akiwowo, a councillor in the London borough of Newham, was targeted by racist trolls after her speech on refugees went viral. She told BuzzFeed News at the time that she was shocked by the number of racist comments she received online, such as "Who's this monkey?", messages saying she should "lynch herself", and messages calling her "Harambe's cousin".

A day after she received the abuse in February, 26-year-old Akiwowo from London created Glitch, an online community that works with young women and girls to end online violence. "This was my response to the abuse I received," she told BuzzFeed News. She said the biggest highlight has been talking to young people at Festival of Education in June.

Commenting on the CPS's statement, Akiwowo told BuzzFeed News: "I welcome the fact that the CPS is going to take online abuse as seriously as face-to-face crime. For so long people who are victims of online abuse are just told to ignore or switch off Twitter. We are told 'it's just words', but I strongly disagree. These are words that you have to internalise and it can affect your well-being."
She added: "I hope this increases reporting of hate crimes and people think it's worth reporting to the police."
She said she has seen as a noticeable increase in online abuse since the EU referendum, and the growth of far-right movements.
"We are finally seeing a modernisation of our laws. This will change the way people view online abuse," she said.
Although Akiwowo welcomed the new statements, she criticised the hashtag the CPS is using to raise awareness of the campaign and ask people to share their experiences: #HateCrimeMatters.
"For so long the #BlackLivesMatter movement had to fight to justify its place. I think they could have used another hashtag that doesn't include 'matters'. The CPS is closely associated with the police; this hashtag may make people of colour feel uncomfortable."

She also hopes that there will be a wider campaign surrounding the CPS's decision. "There's a lot of posters and adverts regarding new law changes – for example, driving and drinking. I hope we see the same here."
For the first time, the CPS statements also acknowledge that victims of biphobic hate crime – crime against bisexual people because of their sexuality – have different experiences and needs to victims of homophobic and transphobic offences.
Alison Saunders, the director of public prosecutions, said: "Hate crime has a corrosive effect on our society and that is why it is a priority area for the CPS. It can affect entire communities, forcing people to change their way of life and live in fear.

"These documents take account of the current breadth and context of offending to provide prosecutors with the best possible chance of achieving justice for victims. They also let victims and witnesses know what they should expect from us.
"I hope that, along with this week's campaign, they will give people the confidence to come forward and report hate crime, in the knowledge that they will be taken seriously and given the support they need.'"