This is Sarah Manzanares, a 17-year-old from Aurora, Colorado. Manzanares told BuzzFeed News she has been diagnosed with Hodgkin lymphoma, a type of cancer.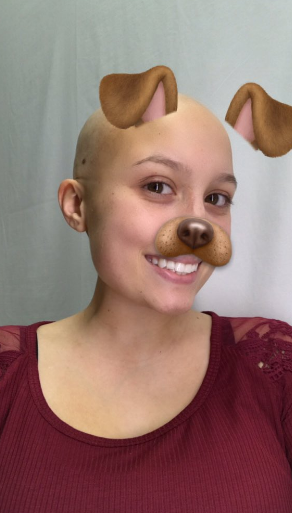 Manzanares is pretty talented at makeup and has posted beautiful selfies of herself on Twitter, which gained more than 170,000 likes because she looks terrific.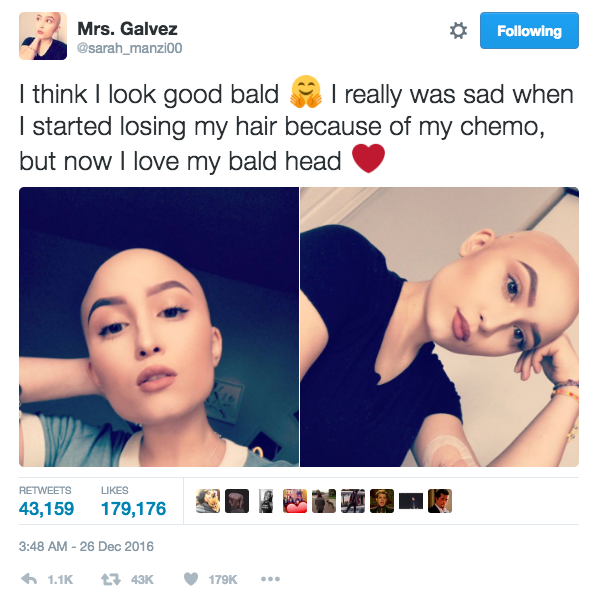 Of course, many others agreed.

Manzanares said she felt "SO FREAKING happy" when her selfies went viral. She hopes they will help little girls "who are just as sad as I was and can look at my picture and maybe get a different perspective of cancer".

But because people are trash, Manzanares received some horrible messages and one in particular made people really angry. Manzanares said she felt "hurt" by the comment.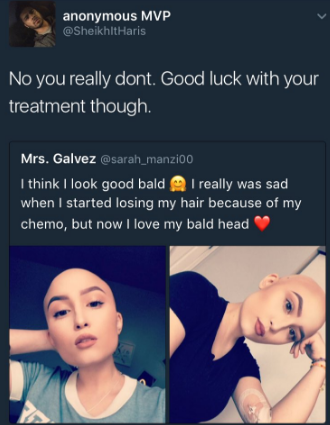 People quickly jumped to defend Manzanares after seeing the horrible remark. She said she is appreciative of the "thousands of good tweets I get from all these kind and loving people".
"One of the worst things I have seen on this site", one of her supporters tweeted.
"She didn't even ask for your opinion," another said.
Manzanares said she is really touched that other cancer patients and survivors have been reaching out too.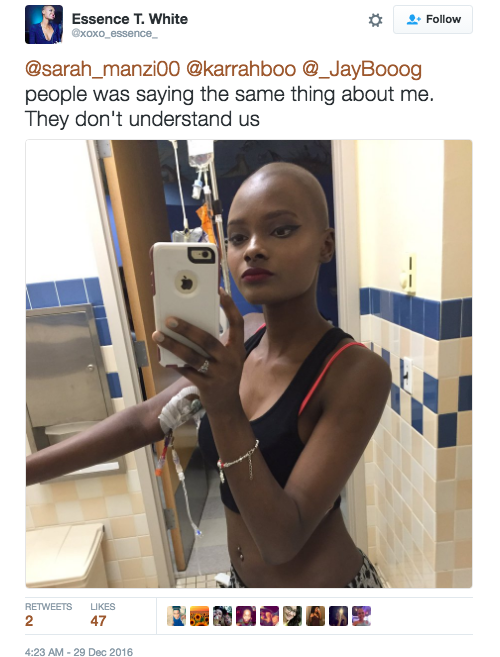 "Stay strong and keep slaying," a cancer survivor told Manzanares.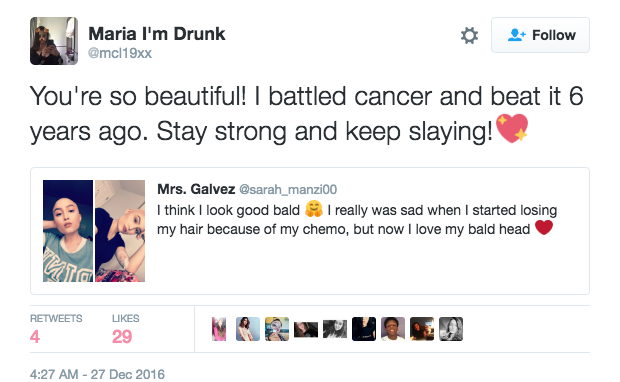 Manzanares said she was so grateful for their love and support that she feels she "owes them something". "I decided when I raise enough money, I'm going to start a makeup channel for cancer patients on YouTube, and that's how I'll repay them," she added.
She said the channel will include "tips and tricks from chemo nausea to [coping with] depression".
Manzanares really wants her experience to help raise awareness so people think twice about posting hurtful comments.
"Cancer doesn't end your story, it only starts it, but you get to finish it," she said. Keep slaying, Manzanares. ❤️