Channel 4 News presenter Jon Snow delivered the 2017 James MacTaggart Memorial Lecture at the Edinburgh International Television Festival on Wednesday 23 August.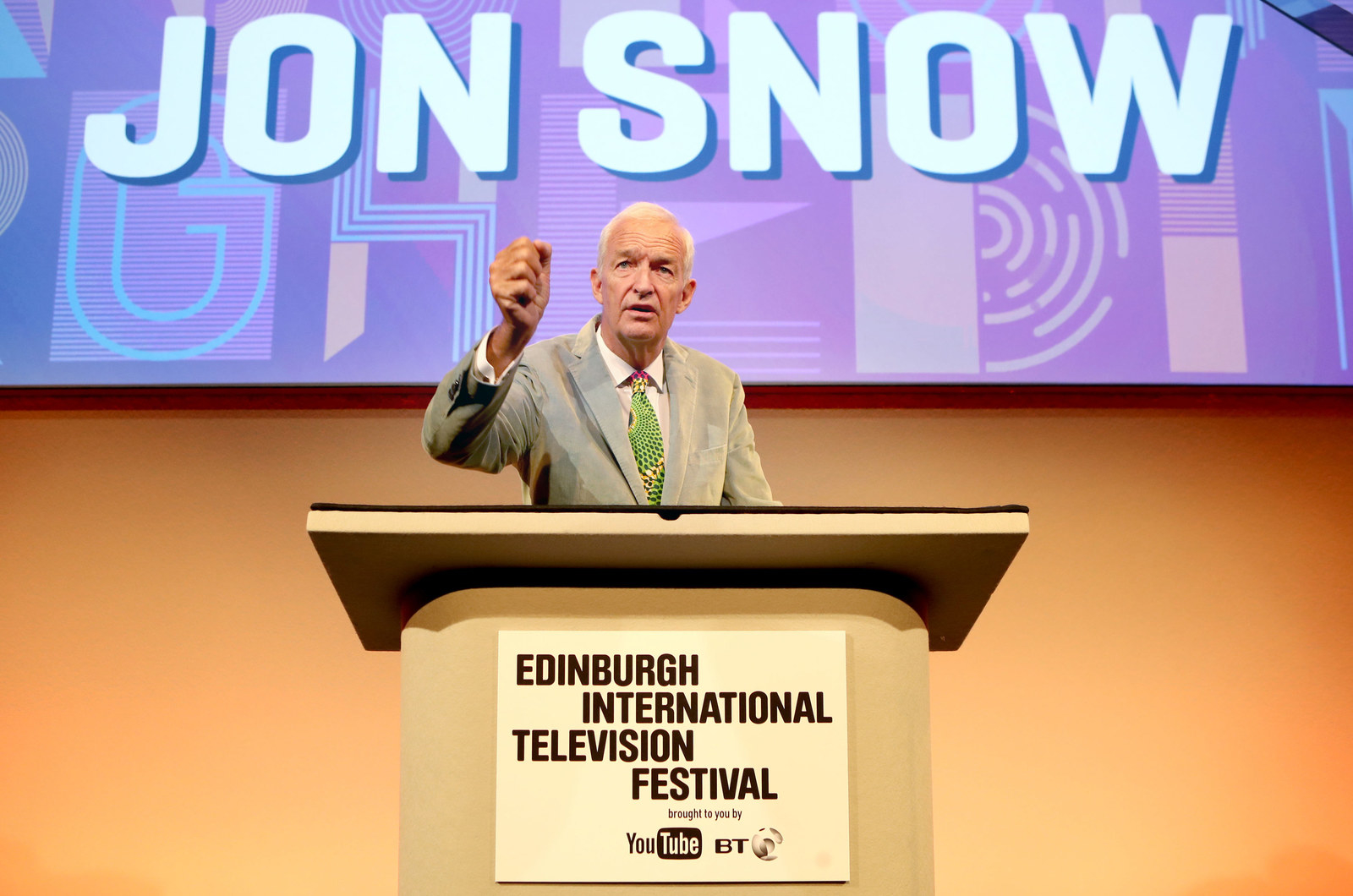 In his speech, which has been viewed almost 900,000 times on the Channel 4 News Facebook page, Snow used the Grenfell Tower fire to illustrate a lack of diversity in the British media.
"Grenfell speaks to us all about our own lack of diversity, and capacity to reach into the swathes of western society with whom we have no connection," he said.

Snow said he was "haunted" by his own link to what happened at Grenfell.
He told the audience how he and Bill Gates were judging a school debating competition in London this April.

The winner of the competition was 12-year-old Firdows Kedir, who Snow later found out had died in Grenfell Tower.
Snow described her as a "confident" girl who used language beautifully.
He went on to say: "Firdows has been described as 'the most intelligent, wise and eloquent girl'. I was fortunate enough to witness that first hand, and since then I often think what she might have become. Could she have prevailed over the fractures in our society, and succeeded?"
On Facebook where his speech has been shared more than 10,000 times, people praised Snow and said he'd be an amazing prime minister.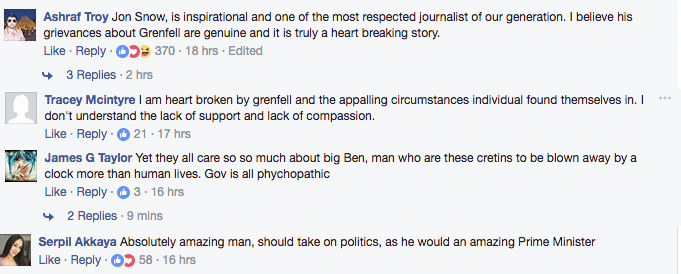 Snow said that after spending time reporting on Grenfell he had come to know a number of the survivors and spoke to them regularly.

Speaking of how the survivors have been perceived, he said they are "so casually written off as nameless migrants, scroungers, illegals and the rest." But as he said about Firdows, "the tower was full of talent."
"The wonderful and talented Khadija Saye, who died with her mother, on the verge of a major breakthrough as an artist, or community leaders like Eddie Darfan who surived the inferno, but who wrote that warning blog on Oct 20, 2016," he said.
In a rebuke to the media, he said: "We, the media, report the lack of diversity in other walks of life but our own record is nothing like good enough."
Snow said he was urging "everyone and anyone in this room with the power to do it: give individuals who work with and for you the space to do something, anything, in the wider community we are here to communicate with."
Many others applauded Snow and described his speech as "heartbreaking but so wonderful".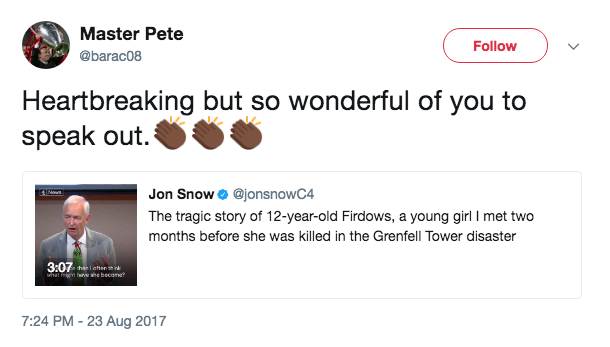 However, some people criticised his speech.
But the speech was also commended by Labour MP David Lammy, who was friends with Khadija Saye and spoke about Grenfell passionately.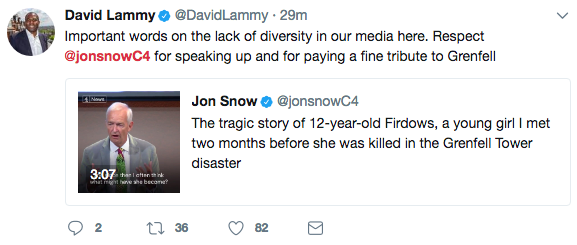 You can watch the full speech here.