This Woman Gave Her Great-Grandma A Really Fleeky Makeover
Yaaass, Doris!
Meet 18-year-old Taylor Trimble from Texas. She's a full-time student and a makeup artist.
Trimble told BuzzFeed News she has been doing other people's makeup for about a year now.
A few months ago, on Mother's Day, Trimble and her auntie visited her great-grandmother Doris at her nursing home. She ended up doing Doris's makeup, while the auntie did her nails. And doesn't Doris look fabulous?
Trimble said she was inspired by someone else who did their grandmother's makeup.
"She hasn't worn makeup in years," Trimble said. "She kept blowing her nose and wiping her eyes while I was trying to put the makeup on, so it was a bit of a challenge."
She said Doris loved her makeover, "You're going to have me around all the younger men!" Doris said. She especially liked how Trimble did her eyes – "The copper eyeshadow was a hit," she said.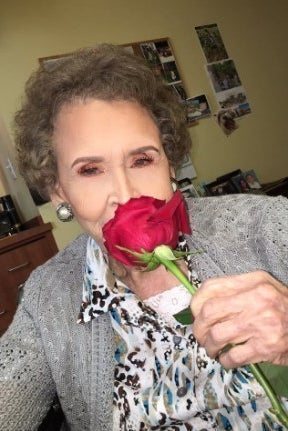 Trimble shared her gorgeous "great glam-ma" on Twitter and everyone is seriously loving Doris's beat face. Her tweet has gained over 2,600 retweets and over 7,500 likes.
Some people legit can't cope with amount of glam Doris has graced us with.
"I loved everyone's reaction! Nothing but kind words!💞" Trimble said.
Doris = goals.