This Guy Putting His Sleeping Girlfriend's Bonnet On Is What True Love Looks Like
AJ Woodson told BuzzFeed News: "It's the small stuff that matters the most."
When AJ Woodson, a 21-year-old student and member of the Air Force Reserves from Greensboro, North Carolina, noticed his girlfriend, Tiana Harley, had fallen asleep without her trusty hair bonnet, he knew he had to do what any good man should: put it on for her.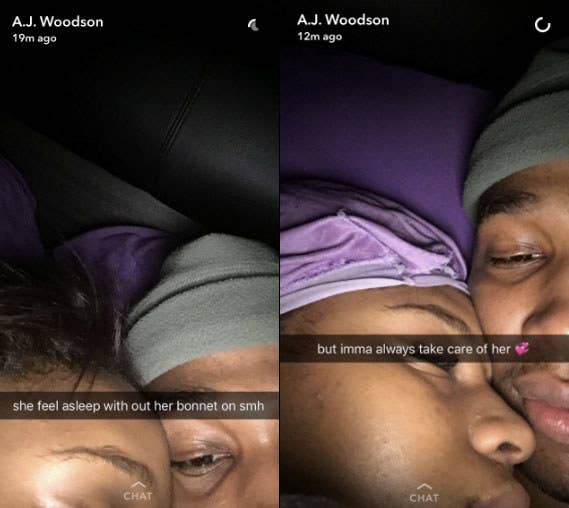 Harley, an18-year-old student from North Carolina, told BuzzFeed News: "When I found out he put my bonnet back on I was happy because it shows that he actually pays attention and knows I wear it to keep my hair from getting messed up. He knows I would be upset if I woke up and my hair was messy."
She added that Woodson is always a thoughtful partner: "Sometimes he picks me up out of the bed in the morning when he sees that I'm sleeping in too late and takes me to the bathroom to get my day started and he takes me to get my nails and my toes done... He's just really sweet."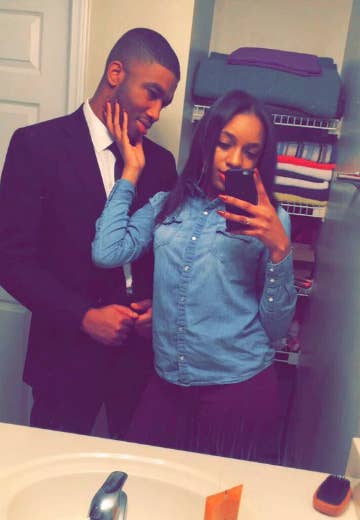 When Woodson's friend posted his Snapchat on Twitter, it gained more than 8,900 likes and over 7,100 retweets. "It was pretty exciting to go viral," Woodson told BuzzFeed News.
But Harley said: "I don't think that it's necessarily goals... I just think that it's what you do when you love someone and appreciate them and that's what people in relationships should do."

Woodson added: "I mean, it's cool and stuff that people think that it's goals. It's the small stuff that matters the most."

People feel very emotional over Woodson's kindness.
When asked if the pair would get matching hair bonnets, Woodson said: "Lol yeah, I probably would".