Daniel Radcliffe Fangirled Over The "Stranger Things" Kids And They Freaked When They Found Out
So much fangirling.
Millie Bobby Brown, Gaten Matarazzo, and Caleb McLaughlin from Stranger Things appeared on the Radio 1 Breakfast Show with Nick Grimshaw this morning. Here they are being cool AF as always. 🔥
Daniel Radcliffe was on the same show yesterday and he told Nick Grimshaw that he's a huge fan of Stranger Things and the kids and he freaked out when he was told they'd be on the show the next day.
And in return, when Millie, Gaten, and Caleb found out about Radcliffe's love for them, they were shocked. So much fangirling is happening RN.
"I've watched all of Stranger Things," Daniel Radcliffe told Nick Grimshaw.
"They are on [the show] tomorrow," Nick Grimshaw revealed.
Daniel's voice raised: "OH MY GOD... OKAY... Can you, like, tell them that I think they're amazing?"
He continued to praise the young actors: "As a person who started out acting really young, how are they so good? I wasn't that good when I was a kid... How are you that good at acting when you're so young?" He ended his fangirl moment by predicting that the kids will be much better than him when they get older.
The following day the Stranger Things cast listened back to Radcliffe's comments. In unison, Millie, Gaten, and Caleb said, "Oh my God". "That's so nice! ... He said 'I wasn't very good when I was younger'... He was Harry Potter! Let's just review," Millie said.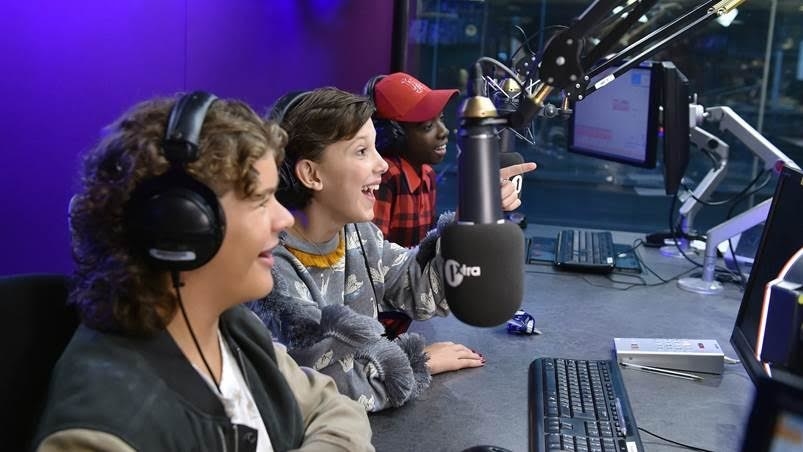 So it turns out literally everyone is a fan of the Stranger Things kids. Never stop being awesome, guys.