Stand Up to Cancer has again joined forces with YouTube for its latest campaign, called #StandUpWithYT. Many high-profile British YouTubers are involved with the project.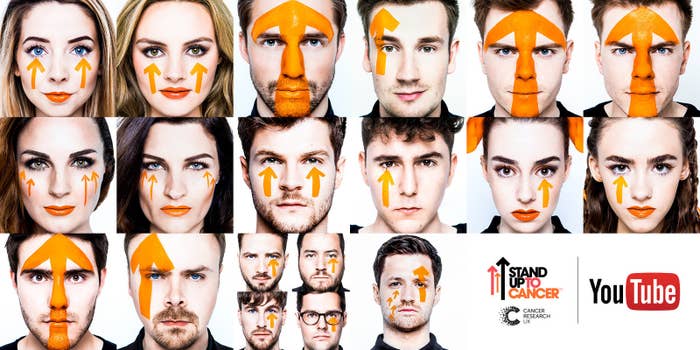 The charity is working with popular YouTubers such as Zoella, Alfie Deyes, Dan and Phil, Caspar Lee, and Joe Sugg for "a 1,000-hour fundraising mission". The campaign launched with a series of portraits by photographer Linda Blacker and there will be a livestreamed YouTube event on Saturday 15 October.
However many people, especially UK-based YouTubers and bloggers, were unhappy with the campaign.

Of course, people started to take the piss.
"YouTube is so whitewashed," said one Twitter user.
Others pointed out that the lack of diversity extended beyond race.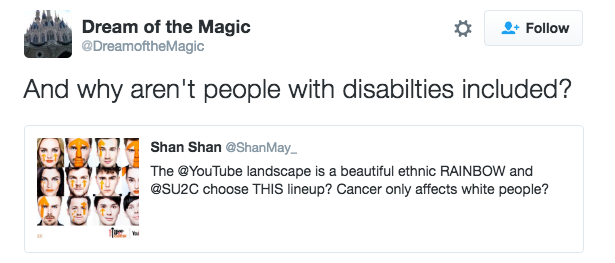 Fitness YouTuber Scola Dondo posted a video response to the campaign in which she said "they missed out a huge demographic by not getting any other ethnic minorities involved". She also said if those involved were more diverse it would raise more awareness.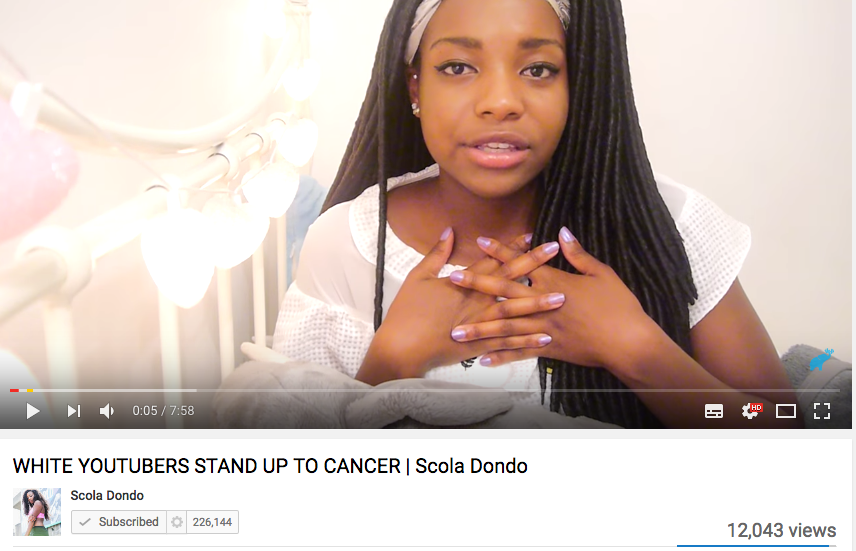 The 21-year-old from West Sussex told BuzzFeed News: "I would like to see more inclusion... YouTube can do a lot for that. It always feels like people of colour are always left out... It's so important to have representation."
The YouTuber felt the blame did not lie solely with the charity, saying it was symptomatic of a more "deep-rooted" problem: "I see these YouTubers doing many campaigns and it's always the same ones."
Dondo said cancer within the black community needed to be discussed because some people believed it wasn't an issue for them "because you don't see it" in the media.
Dondo said several members of her family have had cancer, adding: "It's sad to see that there wasn't any diversity on the campaign. It's also meant to raise awareness. I am also worried people may not want to get screened for [cancer] because they simply don't know it exists."
Blogger and student Shannon Alexandra told BuzzFeed News that the campaign was indicative of "the fact YouTube is so whitewashed".
The 21-year-old blogger from Sheffield said she watches many of the YouTubers involved in the project and had nothing against them participating in the campaign, but was upset with the selection process. "It doesn't feel inclusive to me," she said.
She added: "It's not only racial diversity." Hair and dress size also needed to be more representative, Alexandra said.

"You don't see you anyone who is a cross-eyed blogger. You don't see anyone who is of an Asian ethnicity or black ethnicity," she said. "The whole point of the campaign is to unite but I don't get that vibe.
"It's frustrating. I have been ... blogging for many years and I'm not getting as far as people who are slim and white. It's frustrating when a big corporate [company] like YouTube is not including everyone."
People have also compared the campaign with L'Oréal Paris's #TrulyYours campaign, which received praise for its inclusivity.
Following the criticism, Stand Up to Cancer appears to have made its roster more diverse. The charity has added YouTubers such as Chanel Ambrose, Lizzie Loves, Scola Dondo, FushionofCultures, Dina Tokio and Anchal Seda to its lineup.
Dondo said: "I think it's really, really good but there is always going to be that thing of awkward thing that we are obviously being involved because we kicked up a fuss about it. But regardless of that... it's about the cause and it's going to be great to have more diverse people involved because it means more of us can help."
The YouTuber said she welcomed the charity getting in touch to apologise and explain the situation. Dondo said she was told the charity uses agencies to source talent who may not have a diverse enough range of people on their books. "This is why it's a deep-rooted problem," she added.
A spokesperson for Stand Up to Cancer told BuzzFeed News: "Stand Up to Cancer with YouTube is a campaign that unites the YouTube community to beat cancer and transform lives.
"We have been, and we still are, approaching creators from across the community to get involved. Linda's photos launched the campaign and featured some of the most well-known faces from YouTube, but there's lots more activity to come."
They added: "We're delighted that creators from diverse backgrounds have agreed to get involved with 1,000 hours of fundraising from now until October. Their support is going to be invaluable in encouraging everyone to stand up together against cancer."