11 Super-Cool Things You Didn't Know About The Brilliant Simone Biles
She's such a badass.
by
,
1.
Simone loves Snapchat filters, just like you and I.
2.
She has a MAJOR crush on Zac Efron. I mean, you can't blame her.
And he's been showing her love during the games. Ship!
4.
As you can imagine, she's protective of her babies (her Olympic medals).
5.
Pizza is everything for Simone. Same, tbh. "It doesn't even matter if I don't win a self-gold, after every meet I have pizza," she said. "Pepperoni pizza."
6.
Her coach Aimee Boorman said: "It takes her no more than three days to achieve a new skill, [for] many athletes it takes them years."
7.
She is 4"8'. "I'm very small but I'd like to say I'm powerful," Simone says.
9.
She missed out on prom but she's not too sad about it: "Well yeah I missed prom, but I've been to three world championships and they won't like ever get to say that."
10.
Simone is SO awesome that she's has been invited to be on Pretty Little Liars. Could she be team A? 👀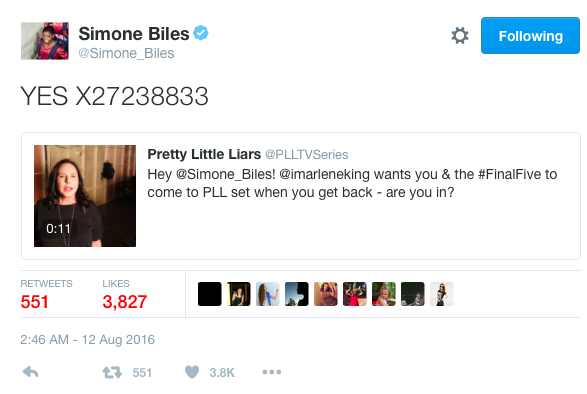 11.
She has a move named after her called "The Bile". "Some of my guy friends try it but they never land it and they get really upset," she said.