This is Becky, a 28-year-old student from Hampshire. She recently went dress shopping online at Asos.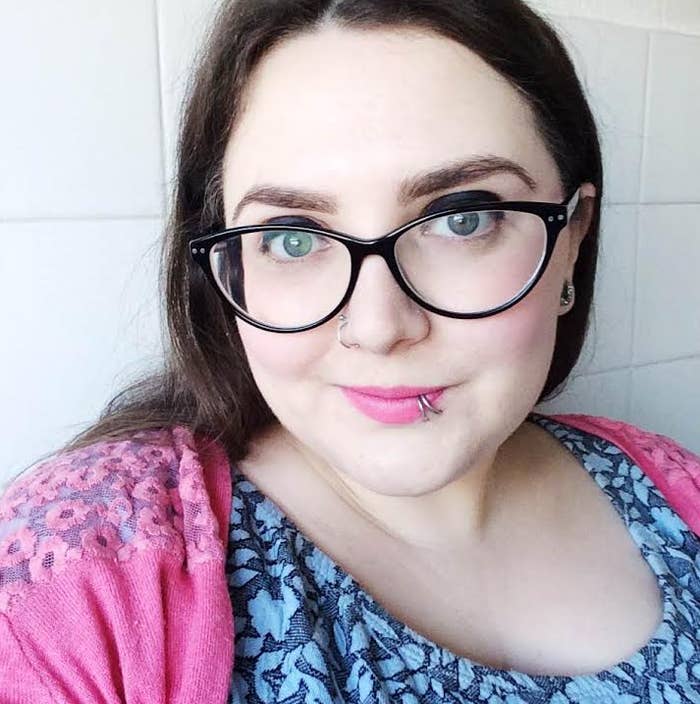 While browsing the Asos website, Becky, who declined to give her last name, told BuzzFeed News she spotted a black Boohoo dress she liked in its plus-size range but noticed an almost identical version in a "standard" size cost £10 less.
The difference between the two is a few inches of extra fabric on the hemline of the slip worn underneath the maxi mesh dress.
"I really liked [the dress] and noticed it was £35 and I thought it was a really good price," she said. "Then I spotted the standard dress listing below, which was £25 instead."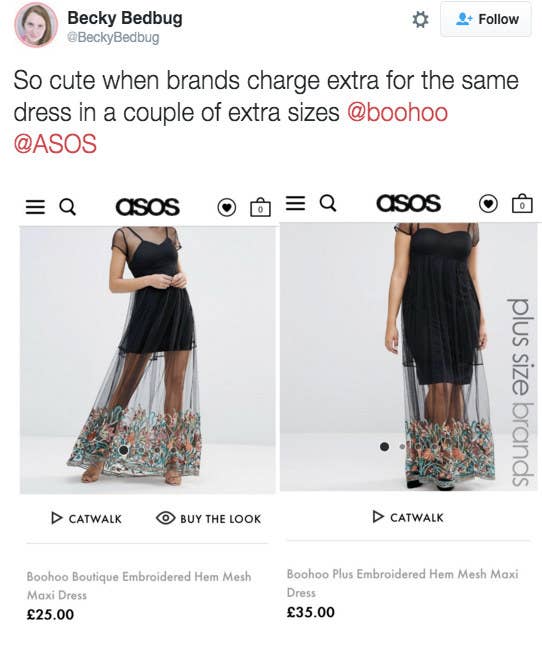 Other people expressed their opinions on the matter.
Some people were unhappy with the longer length on the plus-size dress: "Can't us fatties show any leg above the knee?" asked one Twitter user.
Charging more for plus-size items is an "incredibly outdated practice", Becky said.
It appears the plus-size dress has now been removed from both the Asos and Boohoo websites.
Becky initially thought it was solely an issue with Boohoo until she searched Asos's own plus-size range for a dress. "I noticed the same thing happening. Another dress was £10 more expensive in the Curve line than it is in the standard or, strangely enough, tall ranges," she said.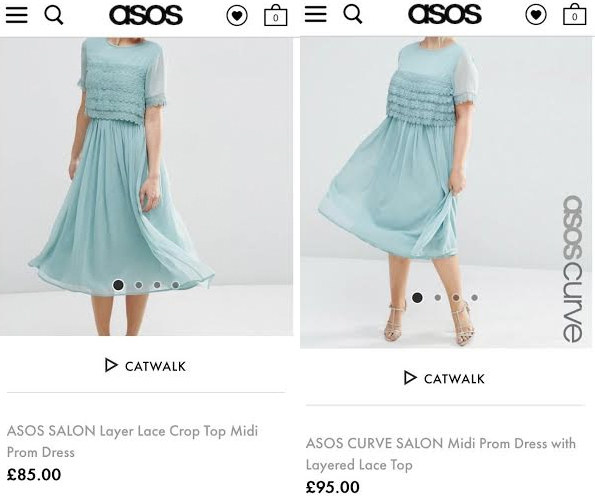 "I notice that they've quietly changed the prices so they're the same."
"As much as I understand there is an argument for the cost of extra fabric, I don't understand why there needs to be a sudden dramatic price increase at a size 16," she said. "Why aren't petite ranges cheaper?"
Becky also raised the issue of Asos's last controversy, in which the company described a size 16 model as "plus-size".
"At the moment, Asos seem to be doing everything they can to alienate their plus-size clientele, which is just really disappointing all round," she said.
A spokesperson for Asos told BuzzFeed News: "We are absolutely committed to stocking the same items at the same price wherever we can with our own ranges, and if discrepancies are ever brought to our attention we will amend the pricing.
"We also encourage the brands we stock on Asos to have the same approach and aim for matched prices where possible. In this case we have had to follow Boohoo's pricing strategy."
Like Becky, Sophiemay Bird is a regular Asos shopper. The 23-year-old from Manchester also noticed the price difference on the Boohoo dress.
She told BuzzFeed News she was on the hunt to find a mesh dress she had seen on Instagram.
When she finally found the dress she noticed that it was out of stock in size 14, so she opted for the plus-size version in size 16. "I noticed it was £10 more expensive and they had made the slip insert longer," she said. "I thought it was ridiculous."
"Girls over a size 14 deserve to wear a sexy dress and show off their legs if they want," Bird said.
She said Boohoo should offer multiple versions of the dress in case some shoppers preferred the longer hemline.
"Charging girls over a size 14 more for a dress that isn't even the same is disgusting," she said. "It's awful and they've definitely lost business from me. I won't be buying from them again until they rectify this."
A spokesperson for Boohoo told BuzzFeed News: "At Boohoo, customer satisfaction is our utmost priority and we take customer feedback very seriously."
The firm said it had immediately responded to the query and is in direct communication with the named Twitter users.
"Boohoo prides itself on designing garments to suit all shapes and sizes and we constantly update our offering to provide our customers with latest fashions and trends," it added.
The firm did not respond to claims it had pulled the plus-size dress off its website.