A Woman Created An Exhibition That Embodies Black Girl Magic
Bee Tajudeen, curator of the Black Blossoms art exhibition, wanted women to leave the show with their "heads a little higher".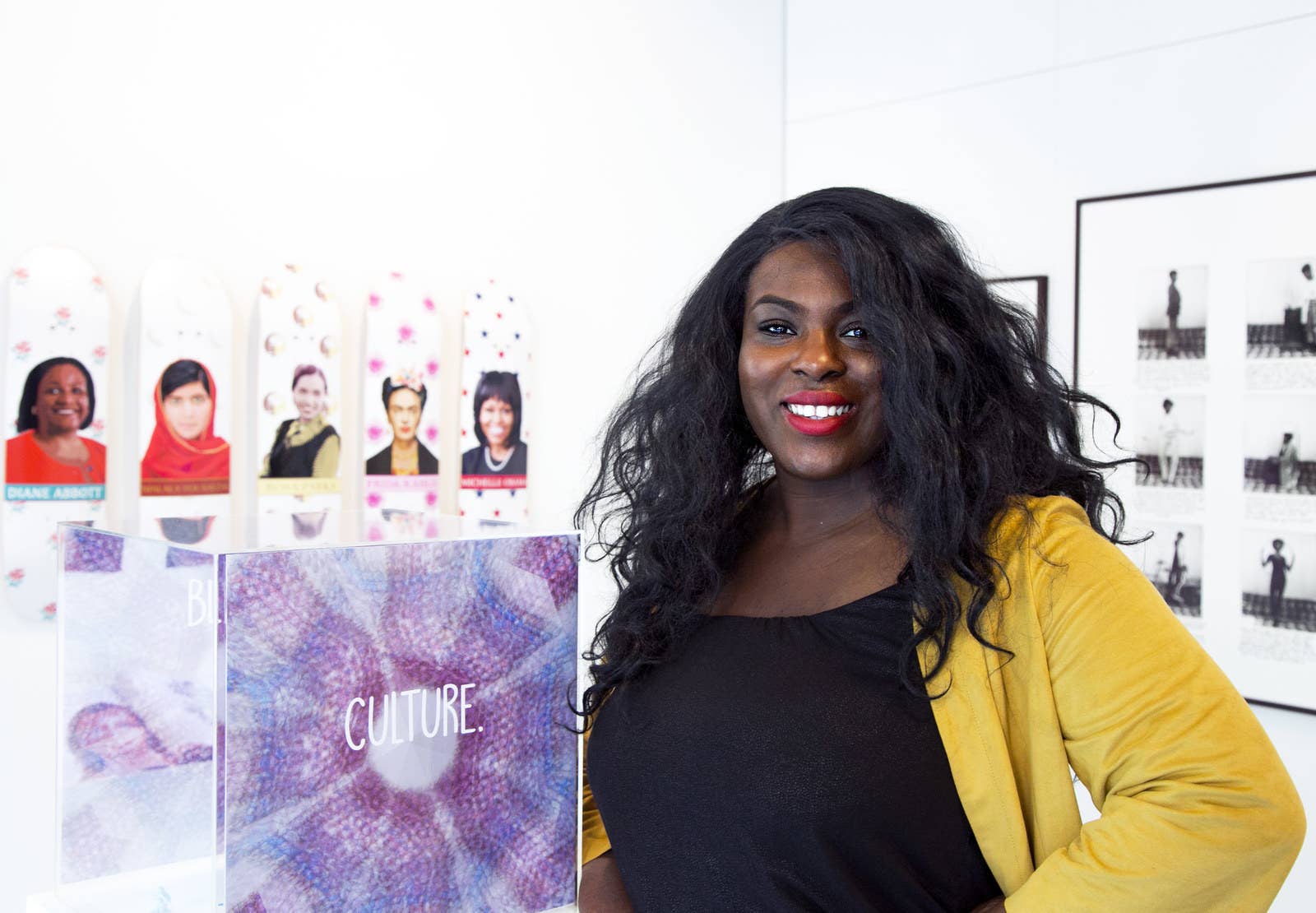 When Bee Tajudeen was growing up in London, she never went to art galleries or exhibitions. They just didn't feel like spaces that were open to people like her.
Now aged 27, she is on a mission to make sure others don't feel that way. First stop: Create a platform where black art can be seen and celebrated. This is what led to the formation of Black Blossoms, an exhibition highlighting the voices of black women.
Tajudeen told BuzzFeed News she created the exhibition because "it's important to showcase our narrative in a variety of ways and in a safe space". She put out an open call for submissions last year and was "blown away" by the entries.

The inaugural showcase ran from 11 July to 2 October at UAL Showroom, University of the Arts London, Holborn. Tajudeen said she purposely scheduled the show to finish just as Black History Month started to make a point about celebrating the black experience throughout the year.
Despite her decision, Tajudeen acknowledged Black History Month's importance: "I have a daughter who is 7 years old and they are going to be learning a lot that month.
"From my understanding, Black History Month happens in October, right when the kids go back to school, so the kids get a sense of confidence from the start of the year. We need to talk about our realities and experiences [today] because tomorrow they will be history."
And so while the exhibition has closed, the artists who were involved in Black Blossoms have formed what she describes as a "community" and "a family".
"I feel privileged to have worked with them," Tajudeen said. "The artists tell me how many opportunities they have received because of Black Blossoms. They trusted me to display their work in such a tender way. I am so proud of them and I love them so much."

One of the artists, London College of Communication graduate Francesca Cozier, told BuzzFeed News she enjoys creating art that embodies feminism and race issues. Her Black Blossoms submission, "W.O.C", was also her university final piece, a film that highlights the "lack of representation in the media" for women of colour.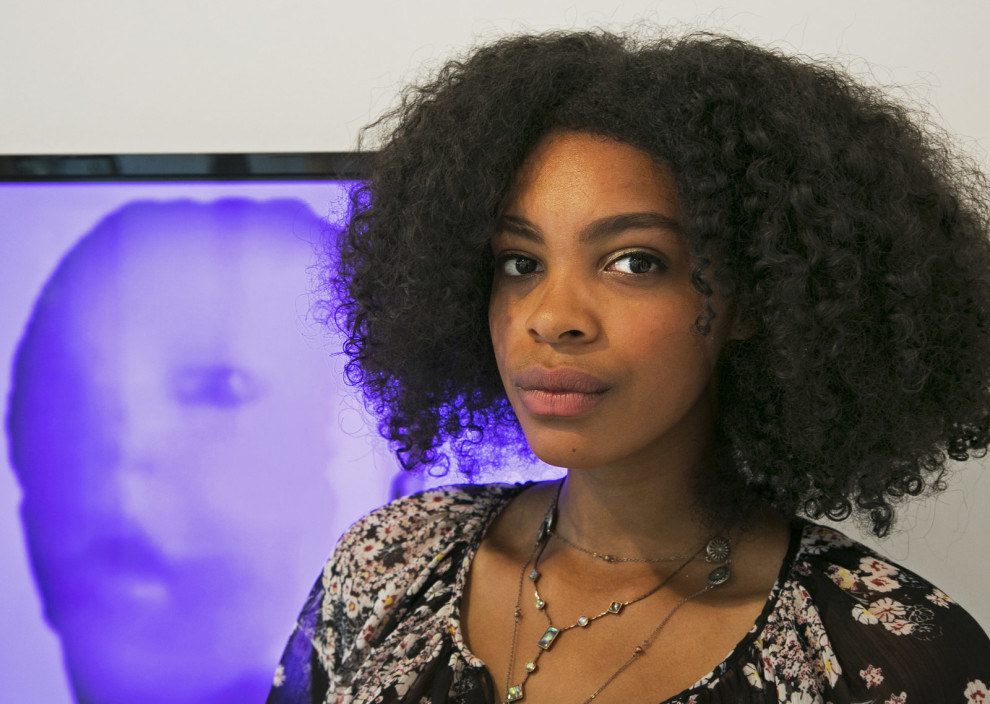 Recalling the main inspiration for her piece, the 22-year-old said that when she was in school, "One of my friends said, 'Why is your hair so frizzy? ... You should straighten it a bit better.' I've seen it happen to my sister, who is five years younger than me, … which makes me think, When are things going to change?"

Cozier said her piece is relevant because "black schoolgirls are being told that their hair isn't professional. This made me think it was really time for me to talk about it."

Cozier chose footage of American actor and model Blake Lively to feature in her film because "people talk about her being one of the most beautiful women alive. She's blonde, beautiful, tall, and slim. What about everyone else?"

Shani-Louise Osei, a 23-year-old Central Saint Martins graduate from London, told BuzzFeed News her piece "Woven Womenhood" represents her perception of black feminism. "I started weaving wool into this copper mesh," she said. "I felt other people's opinions were woven into my structure."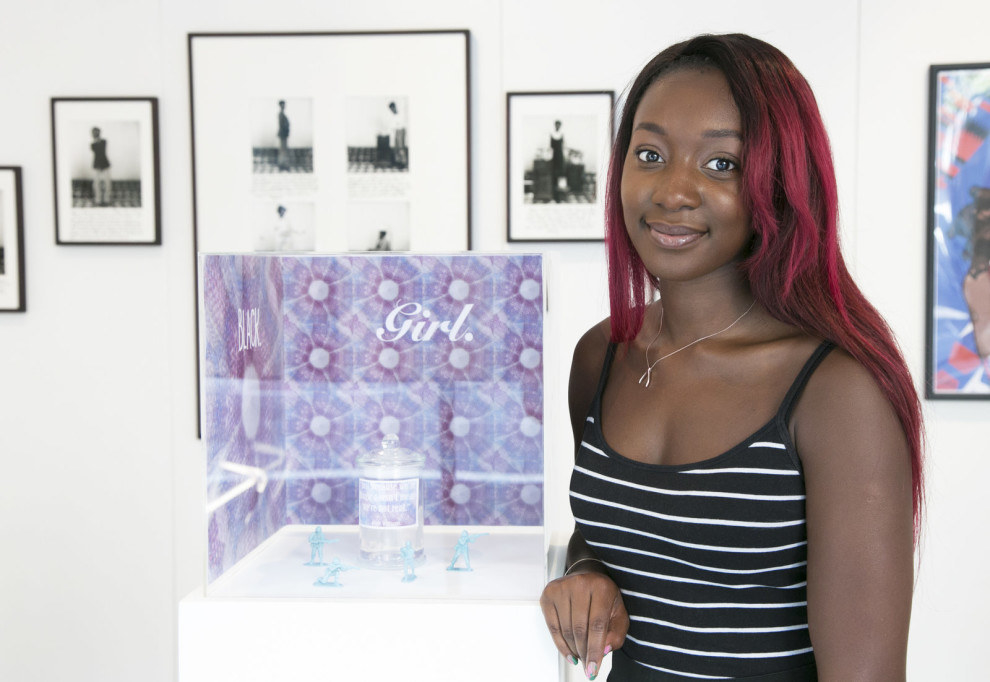 Osei's intention was to create something one might interpret as "harmonious" on the outside, supported by a soft colour palette, but the piece also includes a glass jar surrounded by toy soldiers. Stuck to the jar is a note referencing the actor Jesse Williams' BET Humanitarian Award acceptance speech with the words: "Just because we're magic doesn't mean we're not real." Osei felt it was important to highlight this because "it represents what's currently happening in the media: injustice, police brutality, black people dying".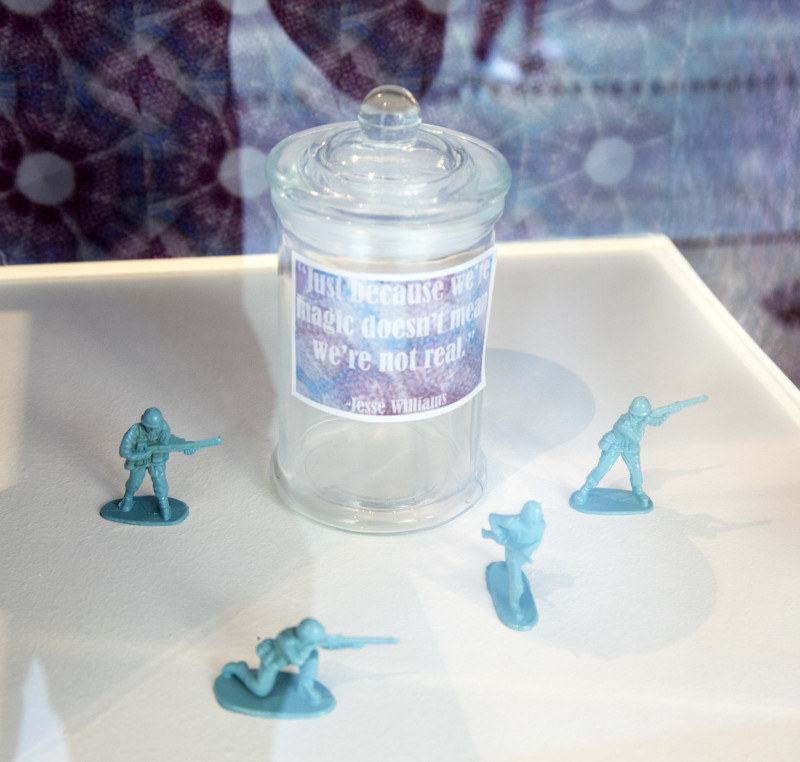 She added: "Black people overcome these issues through self-confidence, and that kind of encapsulates my opinion on black feminism.

"The little toy soldiers are guarding the 'magic'. In a way, they are policing someone's identity and holding it down."
When asked what the phrase 'black girl magic' means to her, the artist said: "I see it every day. I see it when my friends are giggling. When we are free. This whole exhibition is black girl magic. When black women who are comfortable in themselves are able to support somebody else so that they can get to that point too, to me that is the essence of black girl magic."
Azarra Amoy, 27, from London, told BuzzFeed News art had always been in her family, but it wasn't until 2014 that she started to turn it into a career after living in Bangkok, where she was doing a job she didn't enjoy. "I knew it was time to do something I am passionate about it and see how far it will take me," she said.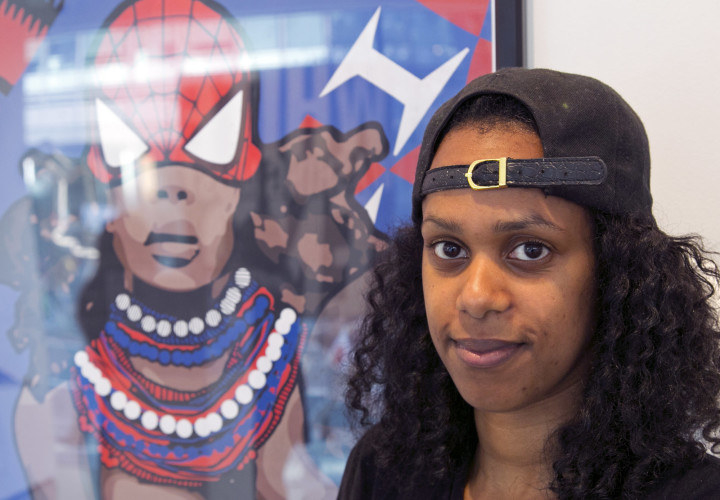 "I have a slight fascination with Spider-Man," she said. "In the film [Spider-Man, 2002] there's a quote: 'With great power comes great responsibility.' When I think of that I automatically think of my mum. I wanted to create something that represents the power of my mum and the power of black women and the struggle that we go through and things that we do that people take for granted."

Amoy advised young black artists to network, never "compromise on your vision and what you want to create", and "stick to your instincts".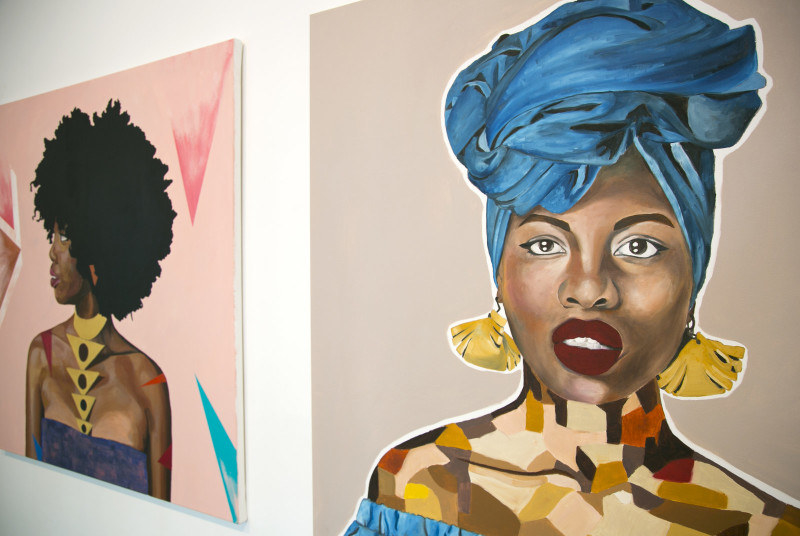 Tajudeen, the curator, said she wants to see "black art really normalised". "By default you should be able to go to Ikea and get pictures of cornrows on bedsheets like Habiba Nabisubi's work," she said. "... It's about commercialising it without exploiting the artist."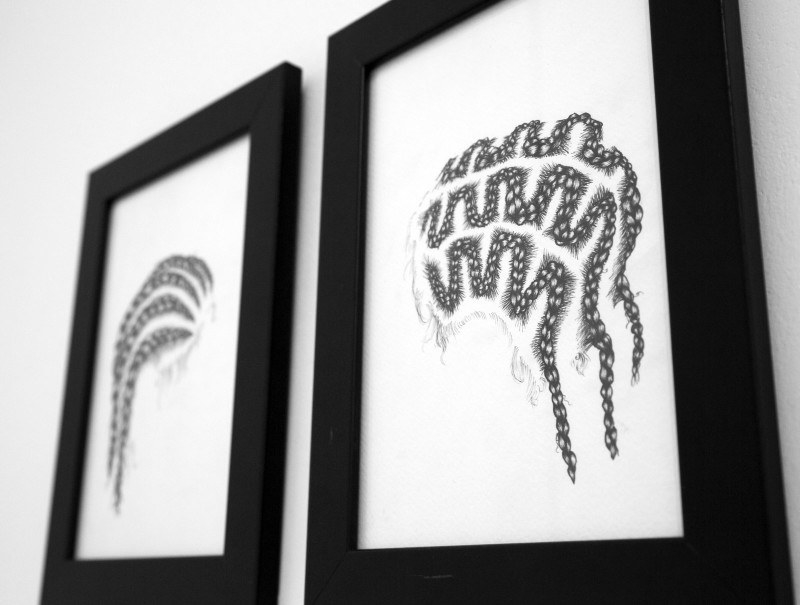 By "black art", Tajudeen said, she means "art created by black women and black men".
Tajudeen said the feedback she has received has been "humbling". "When black women come in here [into the exhibition], there's a sense of sorority. I look at black women's faces and I just sit there and see how black women are interacting with the art. I want them to leave with the feeling, I can walk out this room with my head a little higher now." She added: "I wanted black woman to go into this space and feel emotional and, like [the singer] Solange once said, 'We built this.'"
Tajudeen was also left moved by the social media posts of those who visited the exhibition. "Someone said on Instagram something along the lines of, 'This exhibition has opened a narrative of black women for us,'" she said.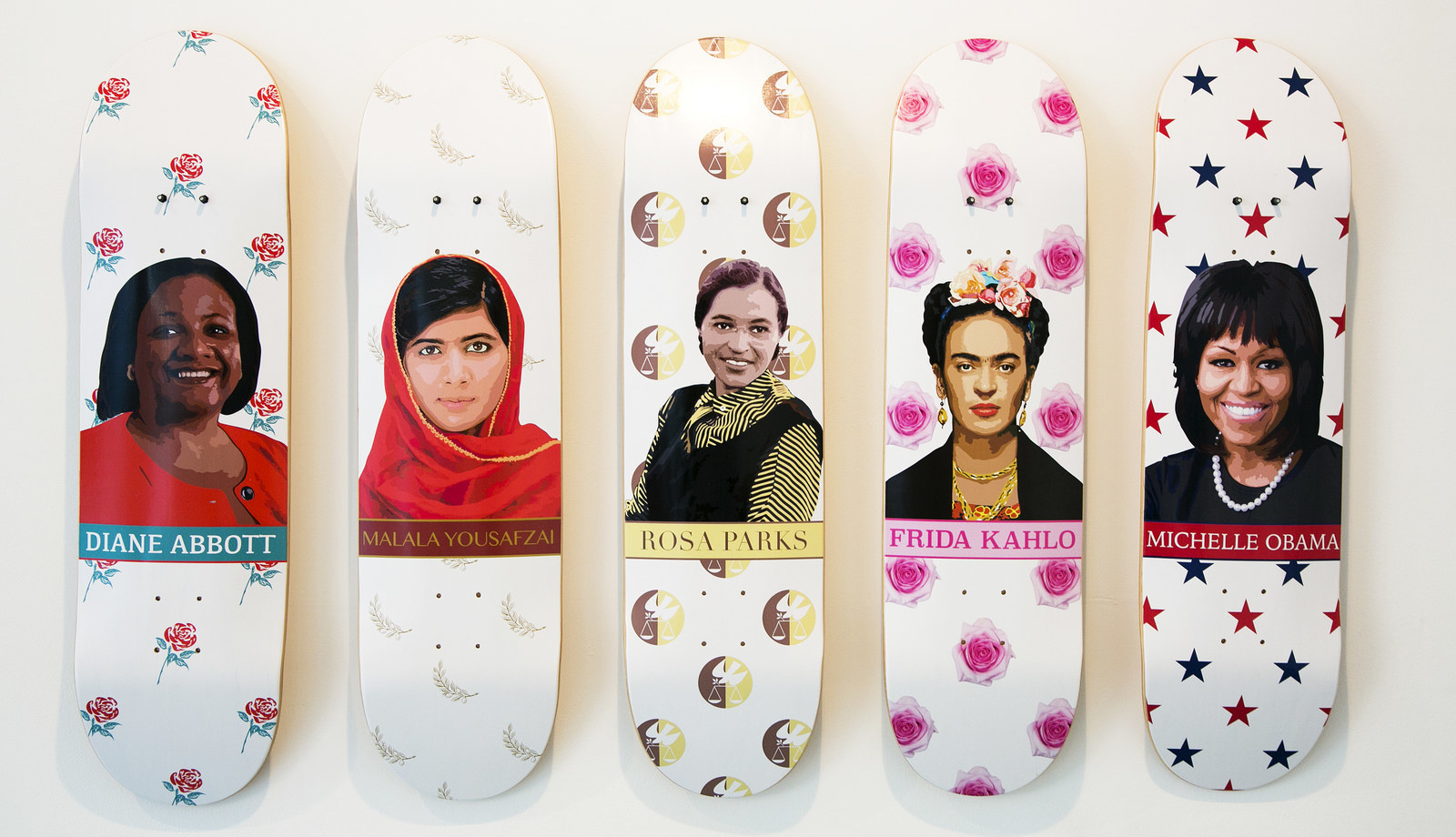 Tajudeen said she "always had an eye for good artwork" – she previously organised two Black History Month exhibitions in 2013 and 2014 and while studying public relations at the London College of Communication found herself inspired by art created by fellow students.
Her next goal is to launch Black Blossoms Label, through which will she manage artists. "I definitely want to be the black woman black women come to for art," she said.
Tajudeen would also like to see more money from organisations like the Arts Council, which has an investment programme to develop diversity in the arts, being allocated specifically to black artists.
"We need communal studios for black artists," she said. "You can change the world through art – it tells a story."