6 UK Businesses With Black Owners You Need To Check Out Right Now
The hashtag #UKBlackOwnedBusinesses has brought some of Britain's freshest black entrepreneurs to our attention.
Last weekend, people began sharing links to black-owned businesses with the hashtag #UKBlackOwnedBusinesses.
The hashtag was started by two professional women from London who promoted it on their Twitter account @UKBlackOwned.
People were introduced to black-owned businesses they'd never heard of.
The creators of UKBlackOwned told BuzzFeed News: "Black business owners tend to be marginalised and underrepresented, while their potential consumers have no idea these businesses exist."
"Some black business owners offer goods and services tailored to African-Caribbean needs," they said, "while others offer goods and services that are suitable for everyone."
The creators hope to create a "user-friendly, and intuitive website to serve as a comprehensive online directory for a wide range of businesses".
BuzzFeed News spoke to six black entrepreneurs who participated in the #UKBlackOwnedBusinesses hashtag.
1.
Aaron Wallace owns a barbershop called Shear & Shine in Croydon, south London. This year the 28-year-old launched a line of products for men of colour called Shear & Shine Grooming.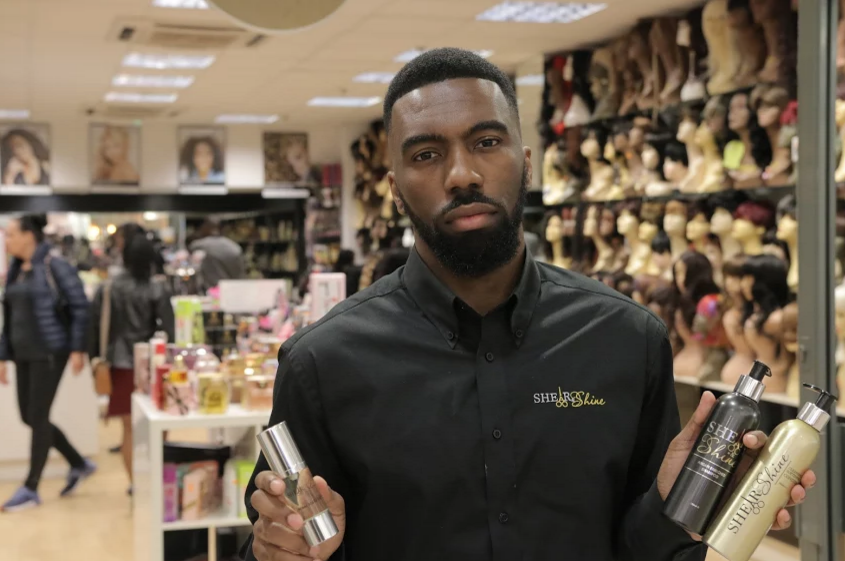 Wallace said he wanted to improve the perception of black barbershops and "provide a service that is high in quality".
"We have a booking system, which our customers really appreciate as they are able to plan their day knowing that their chair will be waiting for them at the time they requested without having to wait for a long time," he said.
#UKBlackOwnedBusiness is important to Wallace because "it provides a much needed feel of community spirit amongst black entrepreneurs and challenges the negative stereotypes often associated with our men and women".
He added: "It's very encouraging to see there are other black business owners like me who are trying to build something and are diving into the world of entrepreneurialism."
2.
Mara's Cakes is a small bakery business specialising in cupcakes that was founded by Shamara Campbell, a 21-year-old from Essex.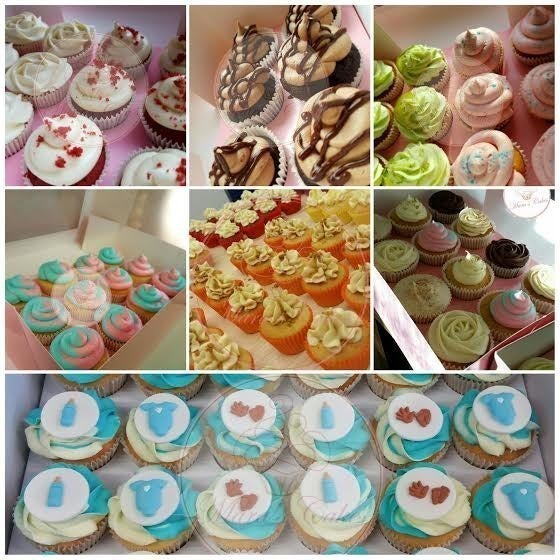 Campbell said the hashtag was important because "as a community I feel that often there are so [many] negative things and we don't really come together and work together to build each other up that often".
She also said the hashtag not only helped promote her own venture but also made it easier her to find businesses she could collaborate with in the future.
Kanjere said she started her business after struggling to find bras that catered to her size.
"When I started the business I was advised by another black entrepreneur not to actually post up my picture to avoid people identifying my skin tone," she said. Kanjere decided not to take the advice. "I believe I am good at what I do, race does not matter. I am proud to be a black business owner and Mymilla has opened up so many opportunities for me to meet amazing people of all different races."
The 24-year-old said that #UKBlackOwnedBusinesses is vital because many black-owned businesses are not "celebrated". She also said she has discovered several companies through the hashtag that she will be connecting with soon.
3.
AleroJasmine is a UK-based handmade-clothing line started by 21-year-old student Aasiyah Abdulsalam, from London.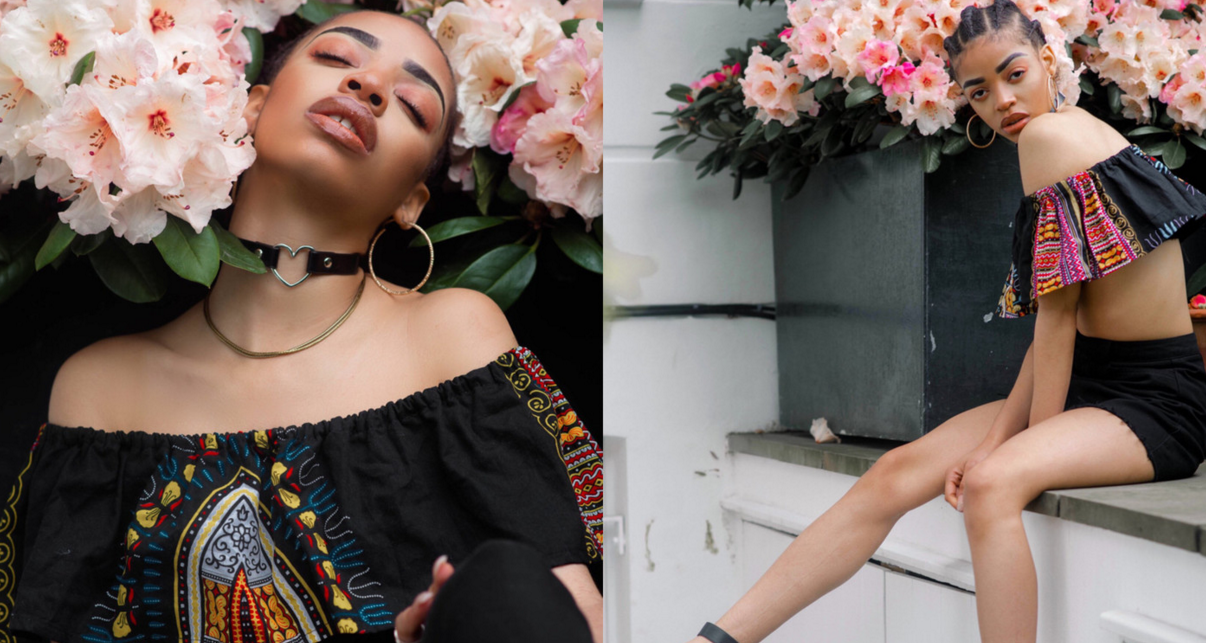 Abdulsalam said that although she studied economic geography at university, she has always taken an interest in fashion. She started her business by selling T-shirts which she had recycled on Depop, an app for selling clothes, and then used the money to purchase her first yard of fabric for AleroJasmine.
#UKBlackOwnedBusinesses "allows me to engage with people in the community in a constructive positive environment", she said.
4.
New Maroons is a business that specialises in greeting cards with a Caribbean influence. It was created by 28-year-old Kieron Haughton, a designer from Cheshire.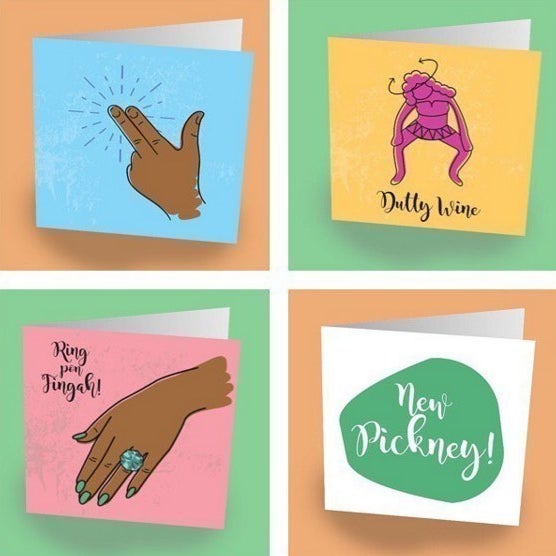 Haughton said there aren't enough cards or gifts in gift shops and supermarkets that represent the the black community.
He said the influence for New Maroons was the story of the Jamaican Maroons – enslaved Africans who escaped their colonial masters.
Not only has the #UKBlackOwnedBusiness movement given New Maroons exposure, the designer said he's also received valuable feedback.
He said the initiative was a "great idea by UKBlackOwned". "There is a healthy number of black entrepreneurs throughout the country with interesting ideas that I can support too," he added.
Haughton hopes to get his work in gift shops and supermarkets in the future.
5.
Sarah Owusu is an artist from London who sells her different styles of work on Owusuism.com.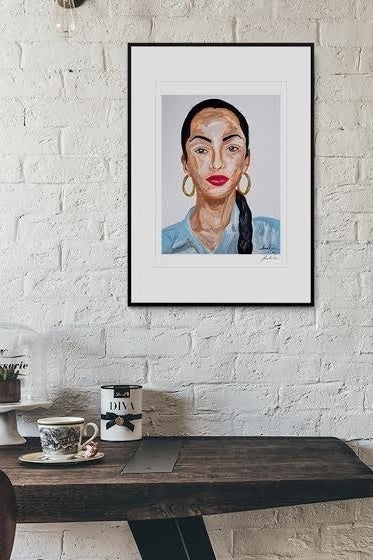 Owusu said: "Painting is something I have always done since I was a young child but I officially registered my company as a business in 2015."
She has faced struggles as a black entrepreneur, saying that some people don't take her seriously as an artist. "I'm often asked the question, 'So apart from your art...career wise, what do you really want to do?' Which often insinuates that painting cannot be a real or respected career choice."
The artist says #UKBlackOwnedBusiness is "very important and something I take very seriously because I strongly believe that until we support and continue to build our own companies as a people, we will always be controlled, and will always remain the [biggest] consumers with the strongest buying power of everything, yet we own very little."
Disclosure: The author of this piece was at university with Shamara Campbell.