1. OK, let's do this. This is going to be great.
2. OK, how do I do this?
3. What if I made Hogwarts? People do that, right?
4. How hard can it be?
5. Oh, wait, that looks hard.
6. I'm going to build a house out of cookies. I'm crazy.
7. Architects are crazy.
8. How do you build stuff? I should've spent more time with my Legos.
9. FOCUS.
10. OK, so Hogwarts is out. Let's just do a house.
11. But not just a house. It needs to be better than that.
12. Maybe I should just buy the easy out-of-the-box kind.
13. No, you're better than that.
14. Just draw a house. It'll take you, like, ten minutes.
15. OK, more like ten hours, but there, see? You have a blueprint.
16. How tall does it need to be?
17. Fuck, I need to use math.
18. God, angles.
19. I'm actually using the Pythagoras Theorem.
20. I want to kill myself.
21. You win this round, math teacher.
22. OK, so if the house is this tall… that means… it should be, like… this long. Right?
23. No, that looks stupid.
24. OK, this tall, and this long.
25. THIS IS TOO HARD.
26. OK, it's not that hard.
27. God, angles.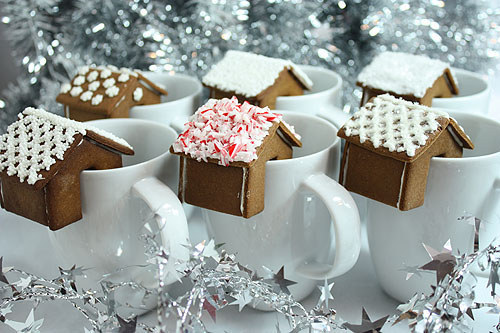 28. Right, gingerbread dough.
29. Why are all of these recipes different?
30. I just want the best one, Google.
31. WHY DO ALL OF THESE HAVE BAKING POWDER?! THAT DOESN'T MAKE ANY SENSE.
32. Why am I doing this?
33. *crying*
34. I DON'T KNOW HOW MANY BATCHES I NEED. GOD.
35. None of these are going to be even.
36. Fuck, this is literally going to take me all day.
37. I JUST SPENT LIKE A HUNDRED FUCKING HOURS CUTTING YOU INTO THIS SPECIFIC SHAPE. CAN YOU JUST STAY IN THAT SHAPE? PIECE OF SHIT DOUGH.
38. Ow, ow, ow, hot, hot, hot.
39. Damn, these are yummy.
40. I'm going to eat all this dough.
41. That blog said all the cut-offs are great to serve as snacks to family and friends. LOL.
42. No, I'm sorry, I need all the counters. For my gingerbread house. Well, I don't know, order a pizza.
43. OK, assembly.
44. I don't trust my house to hold with only icing as glue.
45. Melting sugar is scary.
46. What if I touched it?
47. DON'T TOUCH IT DON'T TOUCH IT
48. Careful.
49. Careful.
50. Careful.
51. I SAID CAREFUL THAT WAS NOT CAREFUL FUCK
52. OW
53. OW
54. OW OW OW OW OW
55. Wait, how do I get the final wall on? I only have two hands!
56. Okay, that doesn't look too bad.
57. I mean, it's standing.
58. Kinda.
59. Decorating! This is the fun part.
60. This icing is too thin.
61. This is too thick.
62. Why yes, I AM going to spend an hour individually gluing each little roof tile on.
63. OK, no I'm not.
64. I'm so efficient, look at me.
65. I should build houses.
66. For a living.
67. Icicles! Out of icing! I'm a genius.
68. Take that, Martha Stewart.
69. Next year, I'm totally making Hogwarts.