We Tried Temporary Lipstick And Eyeliner Tattoos: The Cute, The Weird, And The Crusty
Here's what lips accented with leopard, glitter, and the trusty old American flag look like in reality. With bonus cat eye action!
In theory, lip and eyeliner stickers are a really novel idea.
Getting an effect like the one above with traditional lip products would be nigh on impossible for anyone other than a dedicated makeup artist. So companies like Violent Lips have created appliqués that come in all sorts of interesting patterns, like technicolor florals, ombré oxblood reds, and flag motifs.
Many also make eyeliner stickers in statement shapes and colors, like glittery cat eyes and extreme winged styles. The idea is that it's a more precise way to get a bold look without mismatching your pesky liquid liner on each eye.
Both of these products apply like temporary tattoos, which got me wondering about their actual performance. I employed the help of a few intrepid BuzzFeed staffers to help me find out what happens when you put weird plastic all over your face in the name of BEAUTY.
This is what the lip ones look like fresh out of the packaging. Clearly, they're big enough to accommodate most mouth sizes.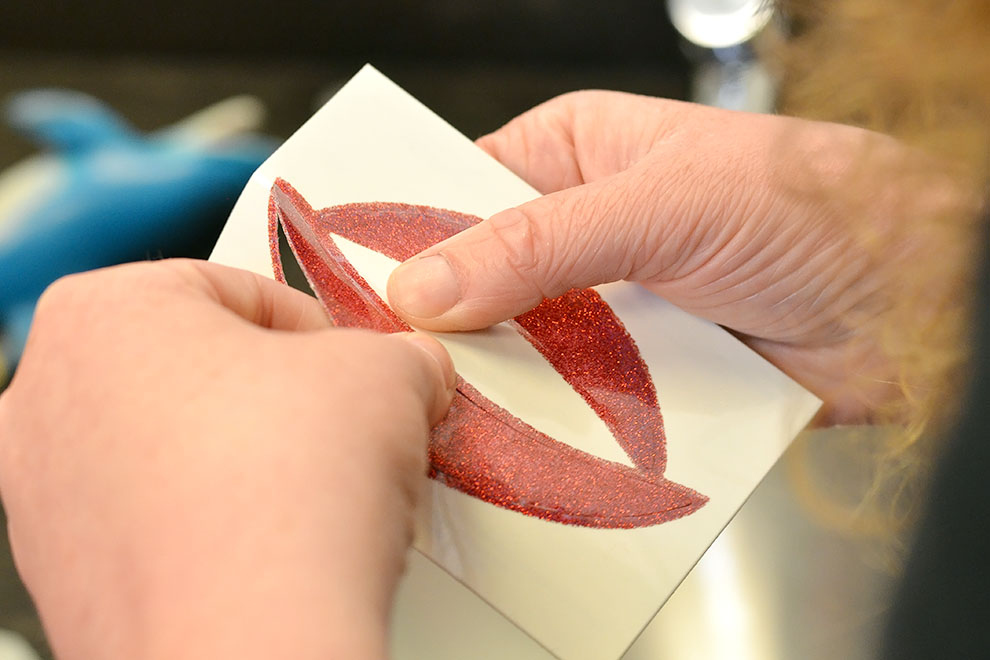 After punching them out of the packaging paper, you cut off the excess paper around your own lip shape.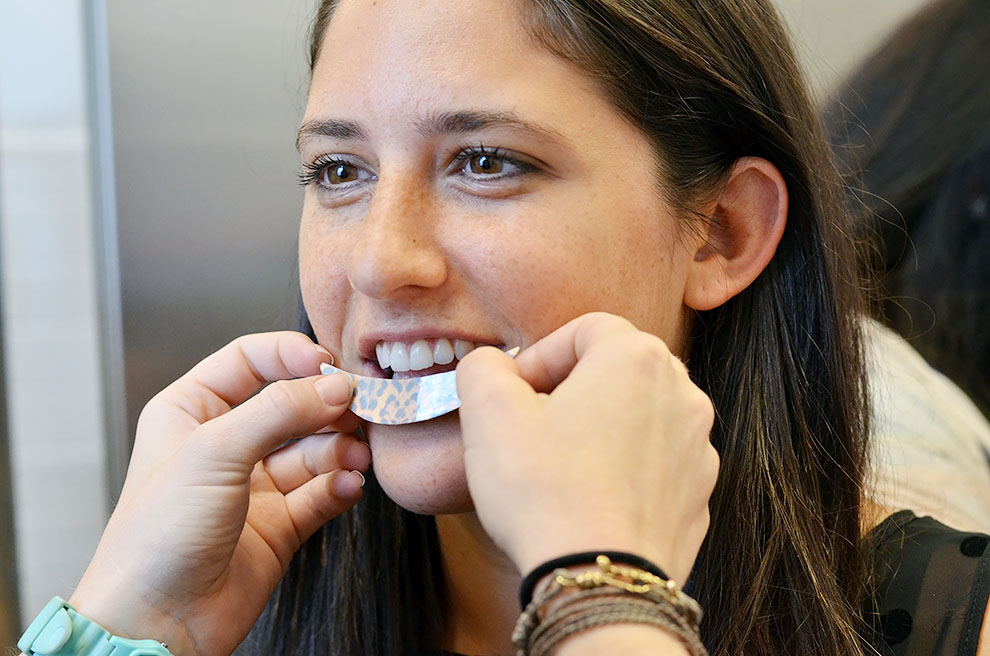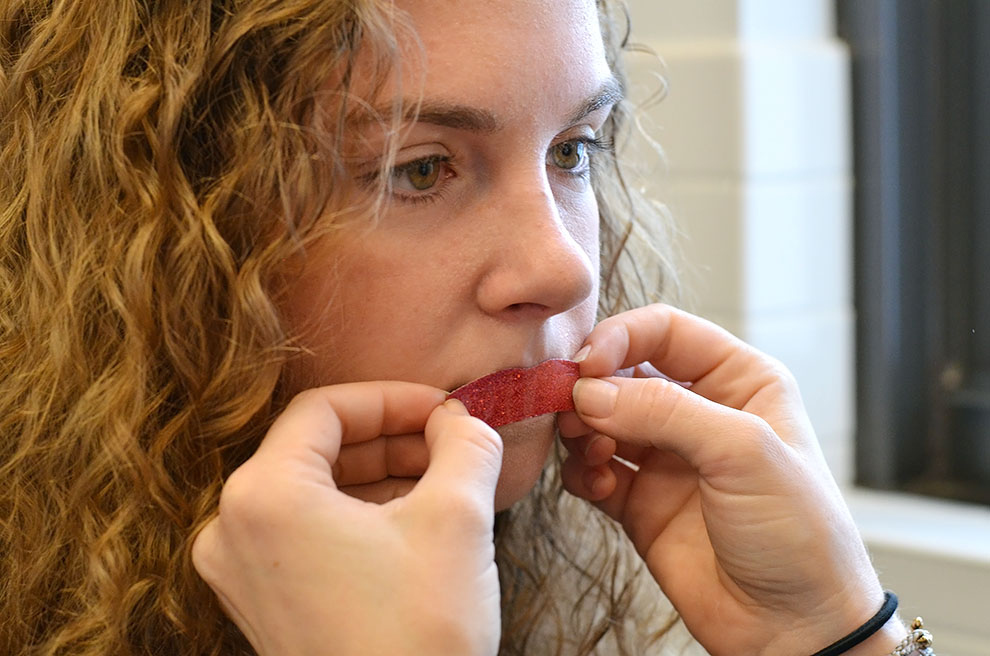 Then, like regular temporary tattoos, you wet a paper towel and use it to press the tattoo onto your lip. The eyeliner ones work the same way, but you don't have to shape them quite as precisely.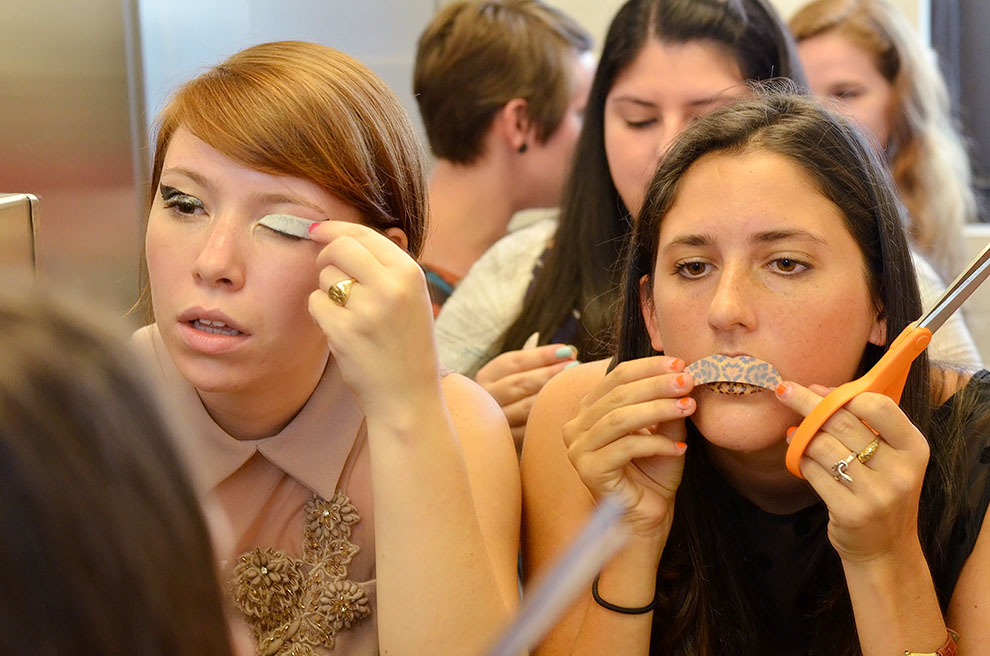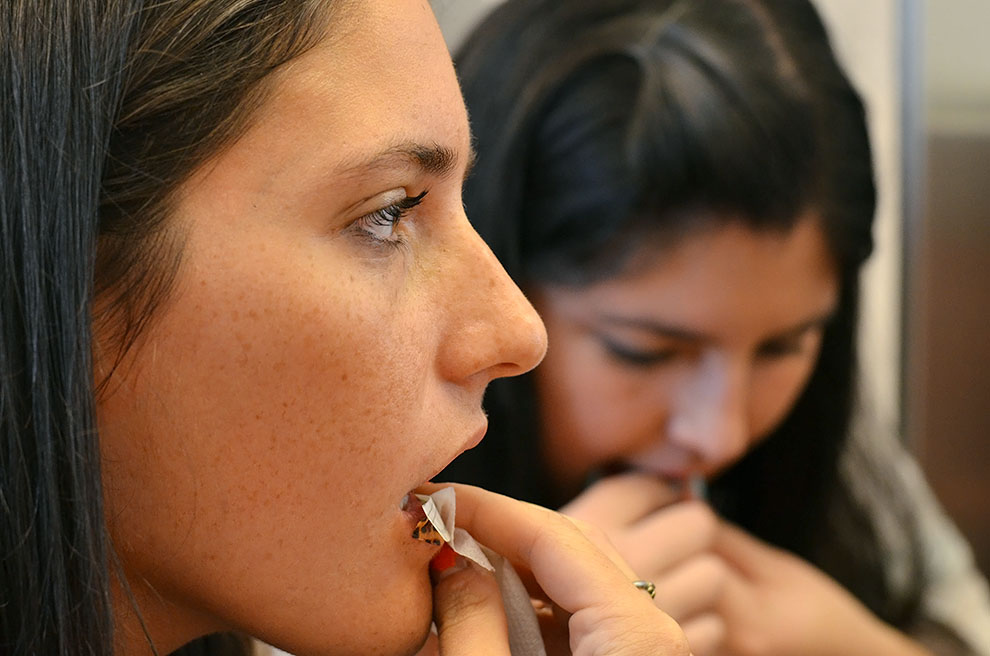 Here's what they looked like on our fabulous models, along with some testimonials.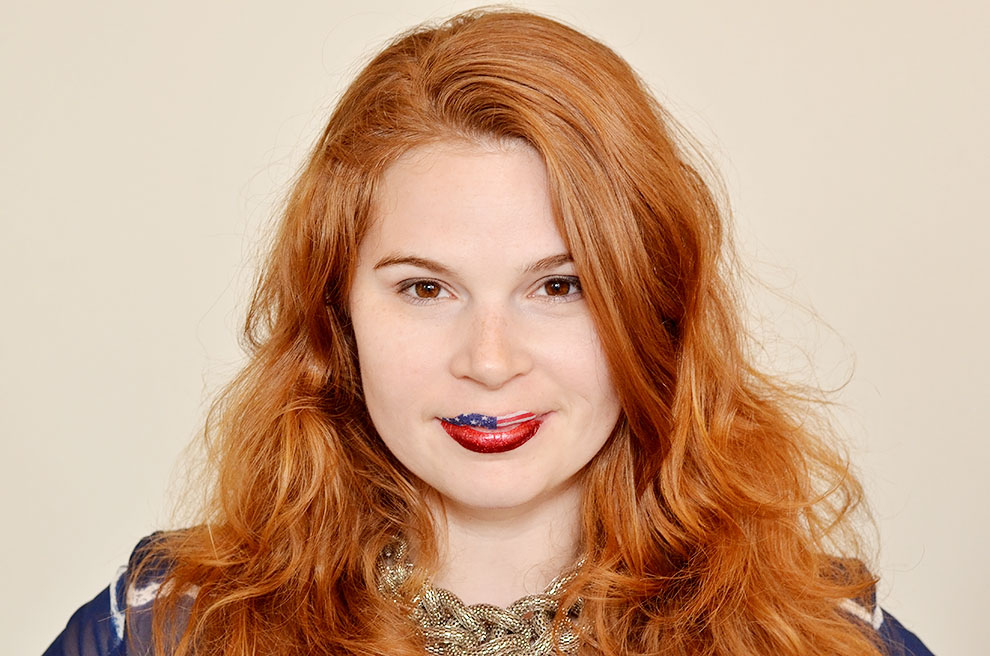 Chris, who mixed a stars 'n' stripes upper with an ombré glitter lower, pulled these off real well. Here's what she had to say about it:
"Applying these was easy for me, but cutting the tattoo to the size of my lip took some crafty skills. I also applied Chapstick and drank though a straw, and that wasn't so bad, but my lips feel dry and it feels weird to smile and talk."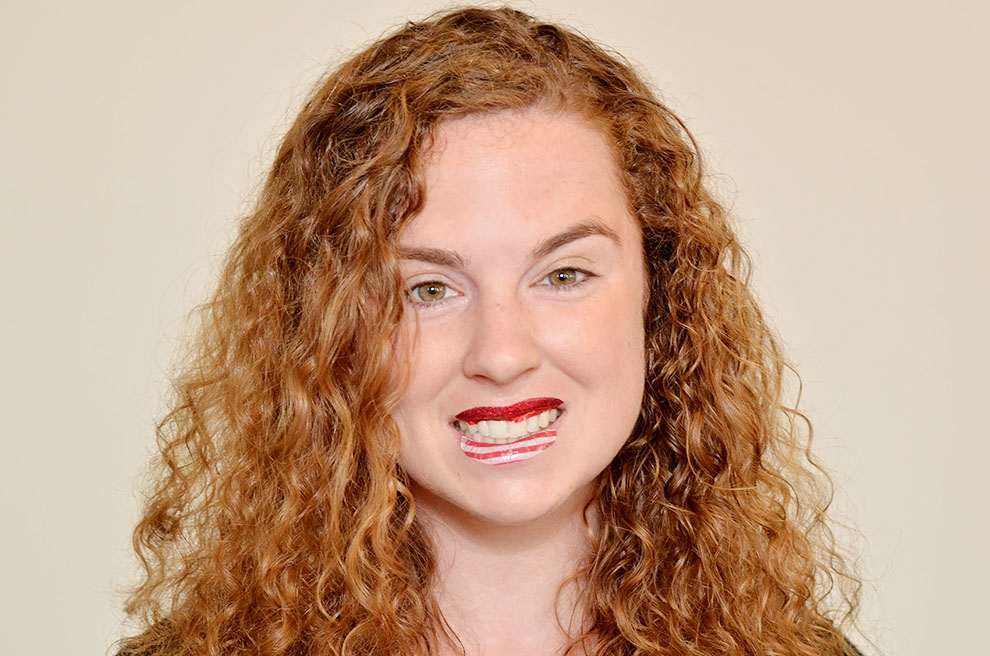 Ellie did the inverse and looked like a cute candy cane. Her thoughts were as follows:
"These are DIFFICULT to apply. I would wear these to a football game if they made team ones, or on Halloween. They're not really something I'd wear out for a normal occasion. They feel like plastic lips."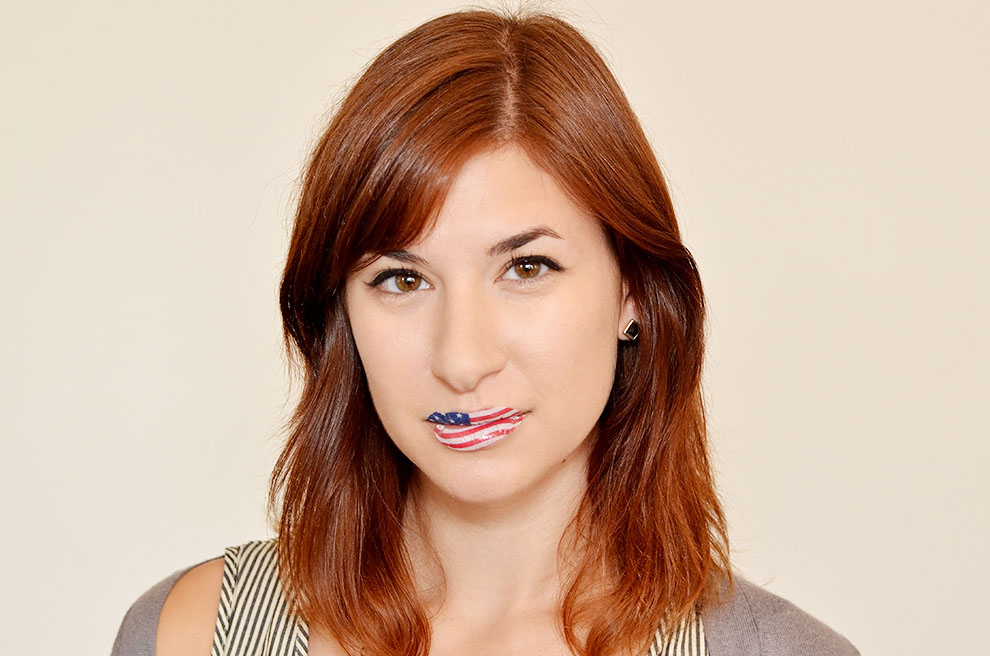 Alanna also found their wearability lacking, but was too patriotic to care that much:
"It seems basically impossible to eat/drink/emote/talk while wearing them, but I liked how smooth and vibrant they were; they turned out looking exactly as they did on the tattoo itself. And I'm always happy to showcase my LOVE OF AMERICA on my face."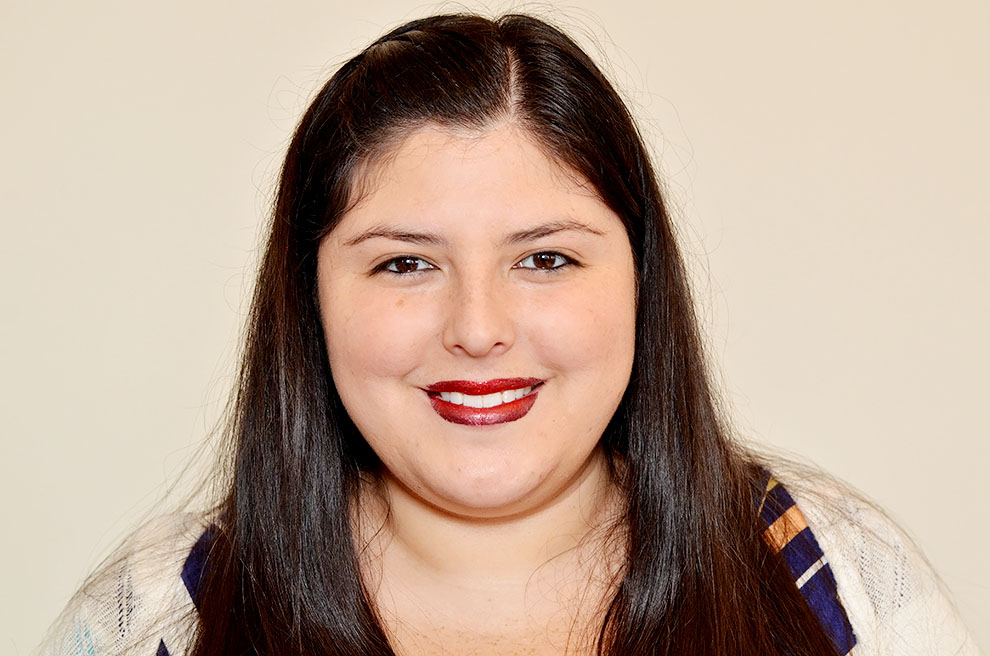 And Arielle's aren't actually that crazy, right? I appreciate the dark, liner-ish shading on the outside of the sticker. Here's what she thought.
"I think it's hard to properly fit your lips, especially since everyone's shape is different. I would consider wearing these to a club, fashion event, or a Halloween party."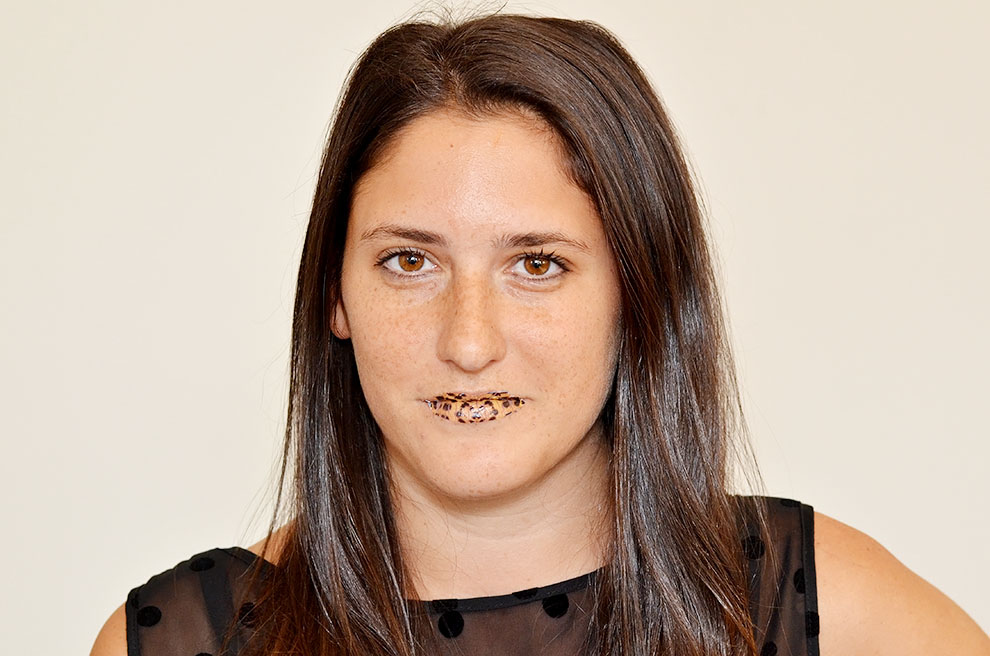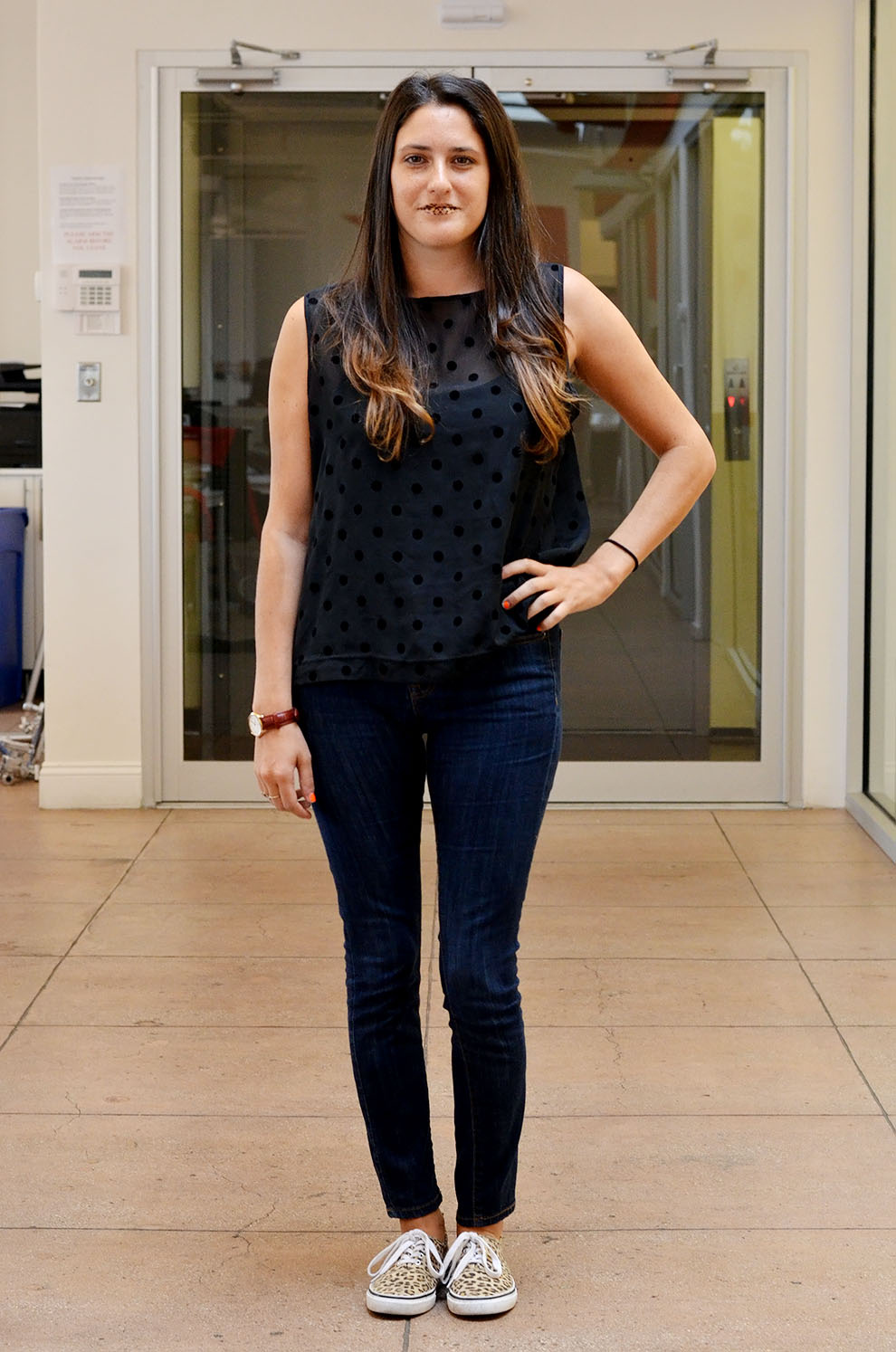 Everyone was genuinely awed by how cool Lauren's looked on her, including Lauren herself...for the most part, anyway.
"I actually love how they look, just wish they were more food-proof/realistically wearable. DO NOT EAT WITH THESE LIPS ON. When you eat, it starts to peel in little chunks, and it's very hard to decipher whether you have food on your lips or it's the tattoo. In the middle of my meal, I had to use the bathroom to wipe the tattoo off because I was paranoid that there were crumbs all over my lips."
Sexy!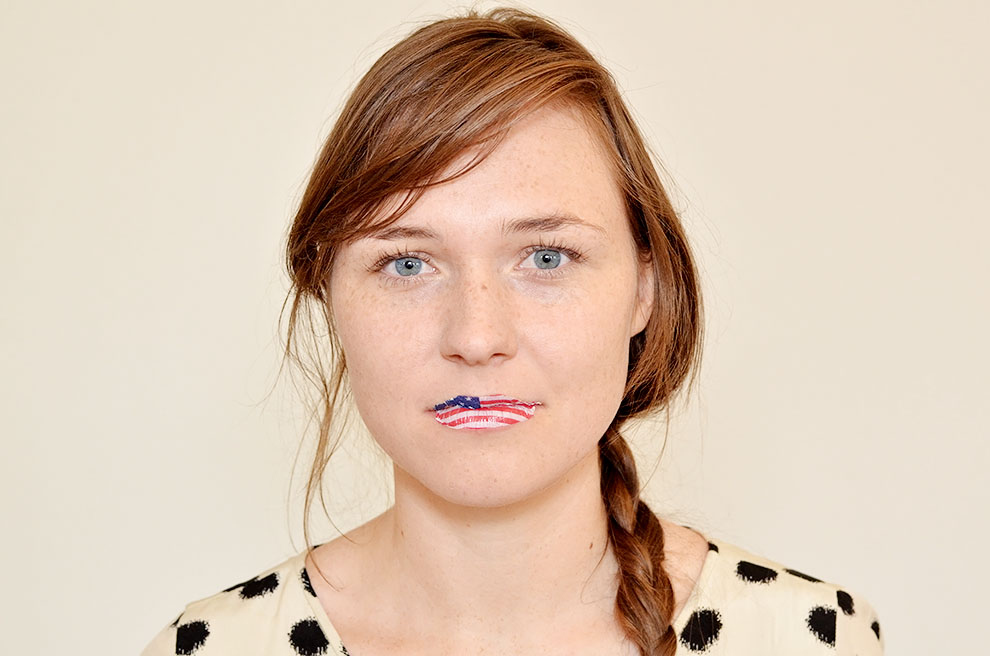 Chelsea agreed with Lauren in regard to not being able to ingest the food or water all humans need to stay alive, which is probably not such a great quality in a cosmetic.
"I actually thought they were off my lips after drinking water and they're still there, but they're kind of broken. They feel a little like dry skin and I had a hard time talking at first — it felt like talking just after getting braces."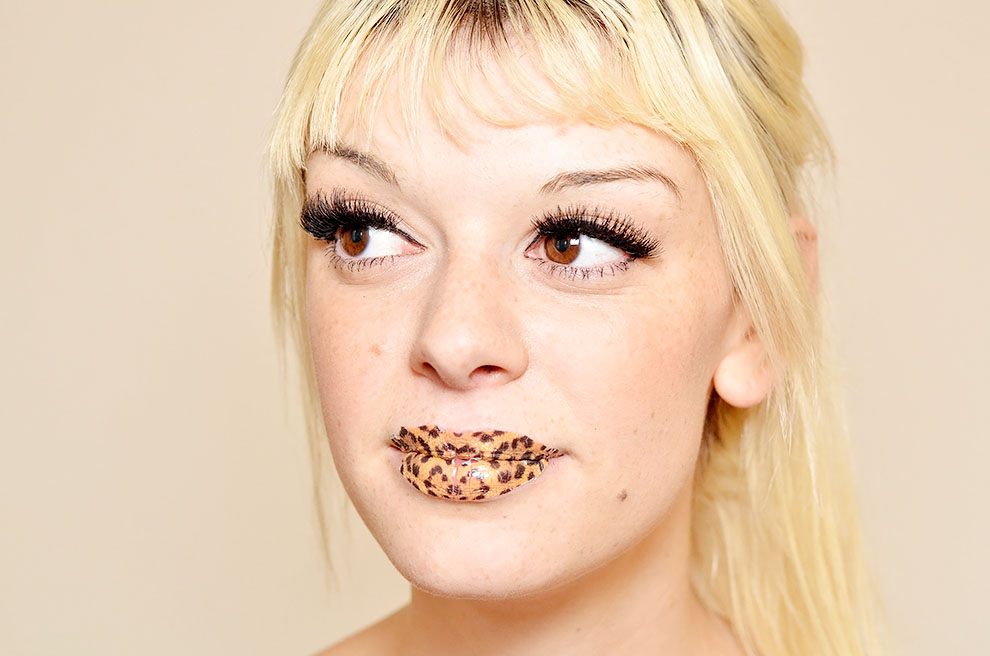 As for me, I definitely should have picked a pattern that washed me out less than the leopard ones did, but I was happy with them nonetheless. As a person who hasn't been seen in public without fake eyelashes on since c. 2007 AND is a fan of lipstick in colors from every letter of ROY G BIV, I relish having artificial-feeling and -looking things on my face. So I was real into these weird stickers. I would wear them a lot if I weren't so terrible at cutting the strips in a way that convincingly fits my lips.
The liner stickers were a bit less unwieldy. I suspect they'd look good with false eyelashes and a more dramatic smoky eye than the minimal makeup our models wear to work.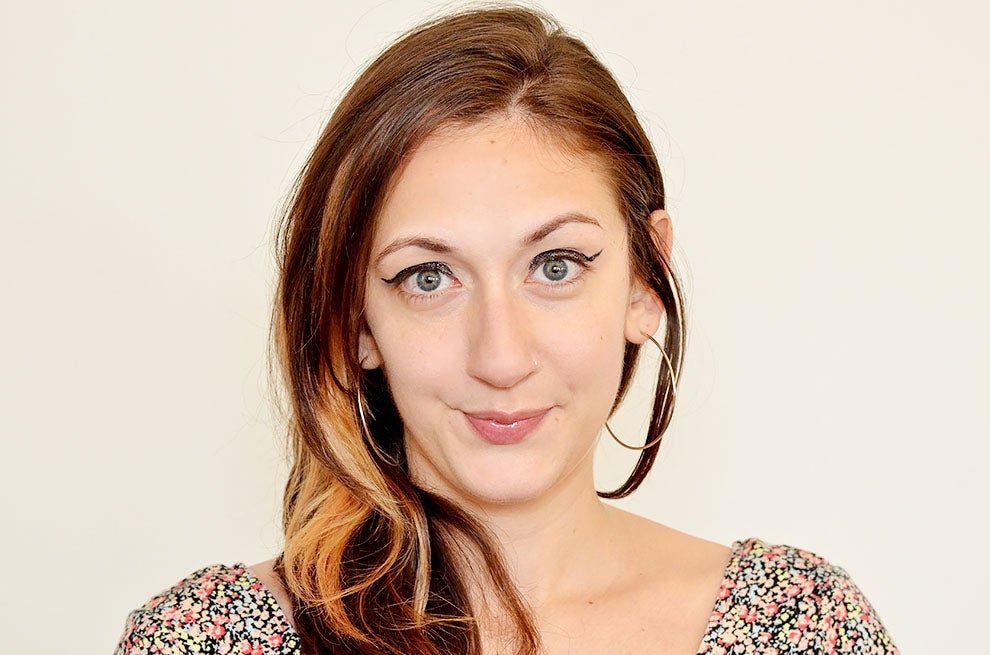 Emmy's take:
"These eyeliner stickies were a breeze! I do winged eyeliner every day anyway, so I might use the smaller size during the day, but I'd save the more dramatic size for a night out. You're definitely aware that they're there, but you kind of get used to the feeling after the first five minutes."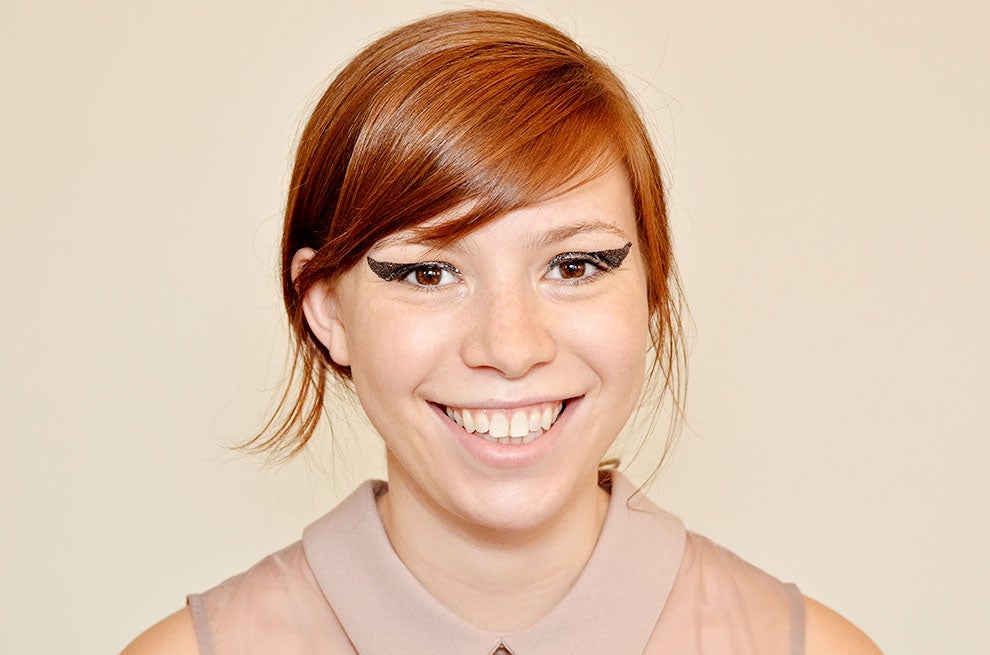 Lili's impressions:
"They were pretty easy. Once I actually read the instructions, it was really fast. If I used them again, it would be totally simple. I chose the most intense one, which I would probably wear to a party or a bar. I was able to blink, so that was good."
And the way this model styled her liner stickers is a flawless way to add "old Hollywood" glamour to any daytime makeup routine.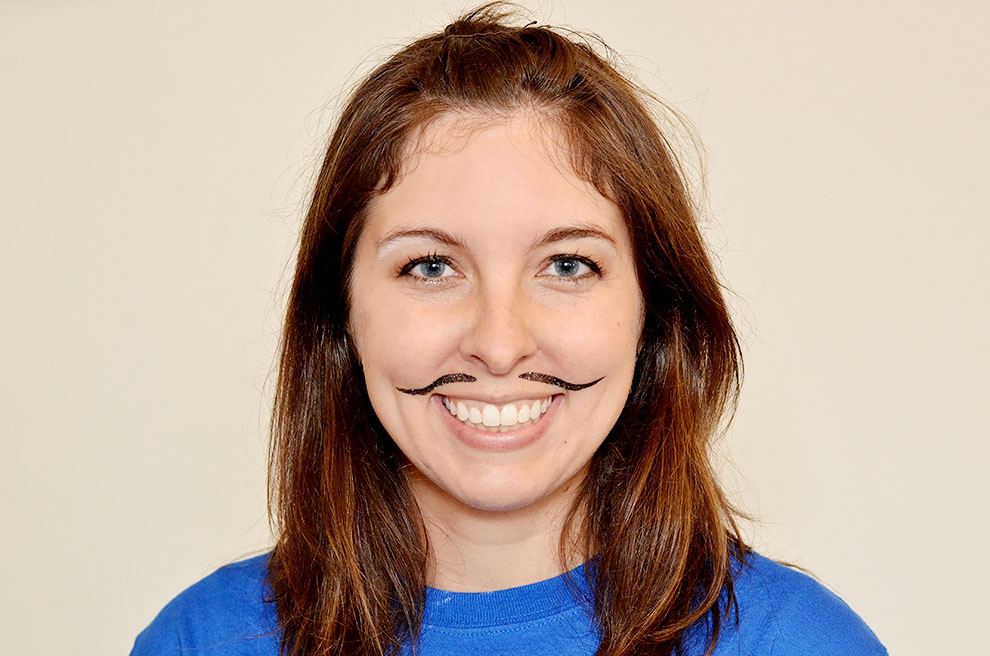 Jessica is confident her innovative look could work for business and pleasure.
"My ersatz mustache went on super easy and stayed on well. I think the glitter gave it a little something extra. I would probably only wear it IRL to a costume party or a meeting with [BuzzFeed Editor-in-Chief] Ben Smith."
How did the lip stickers hold up after an hour of regular wear? Well, uh...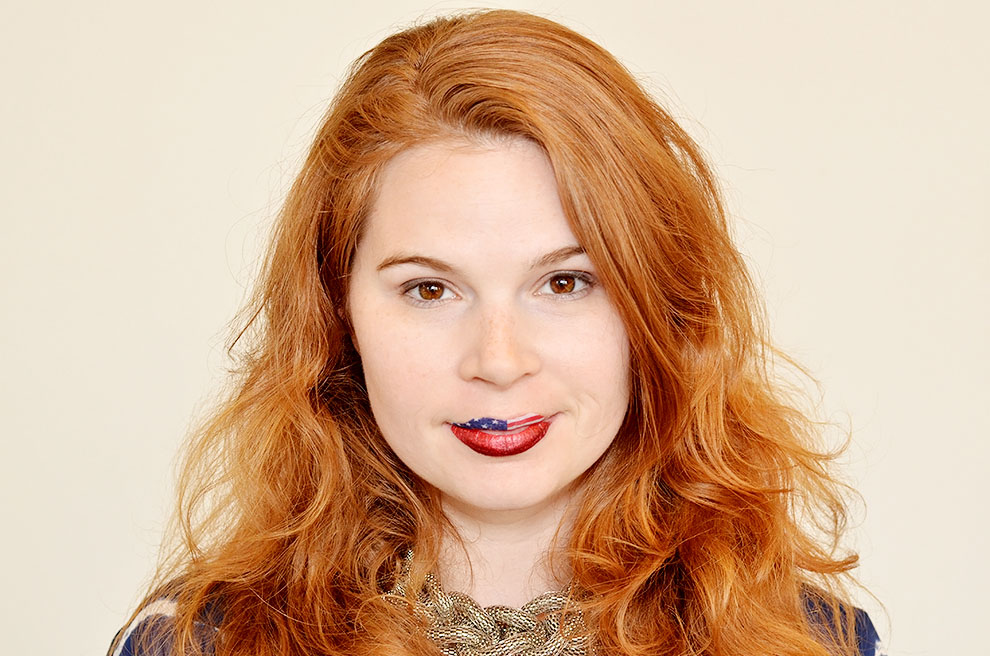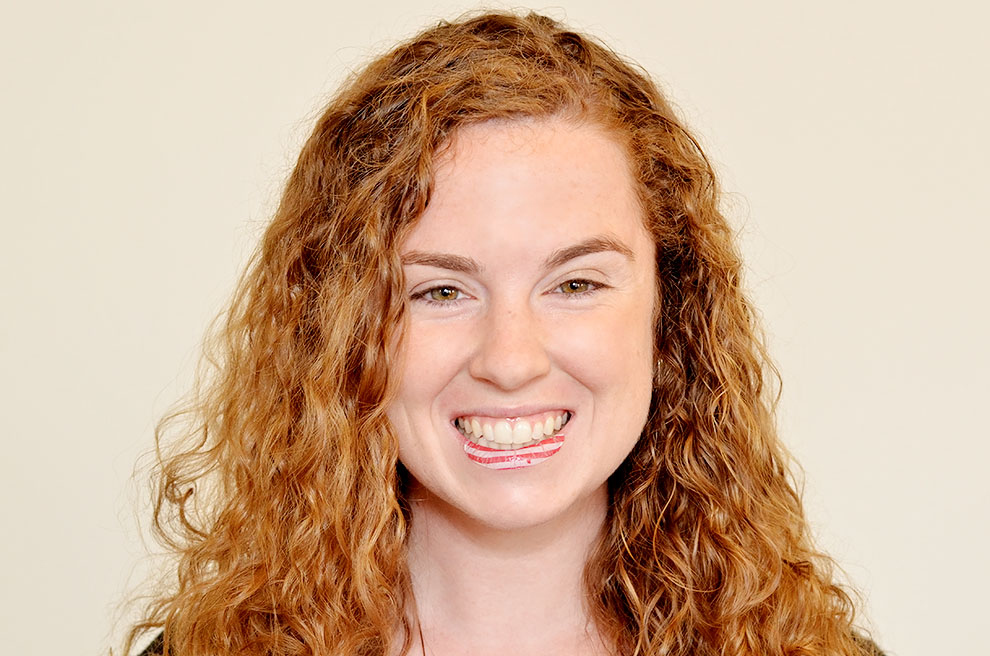 Also, not decently at all!
SO! What have we learned from all this bold experimentation?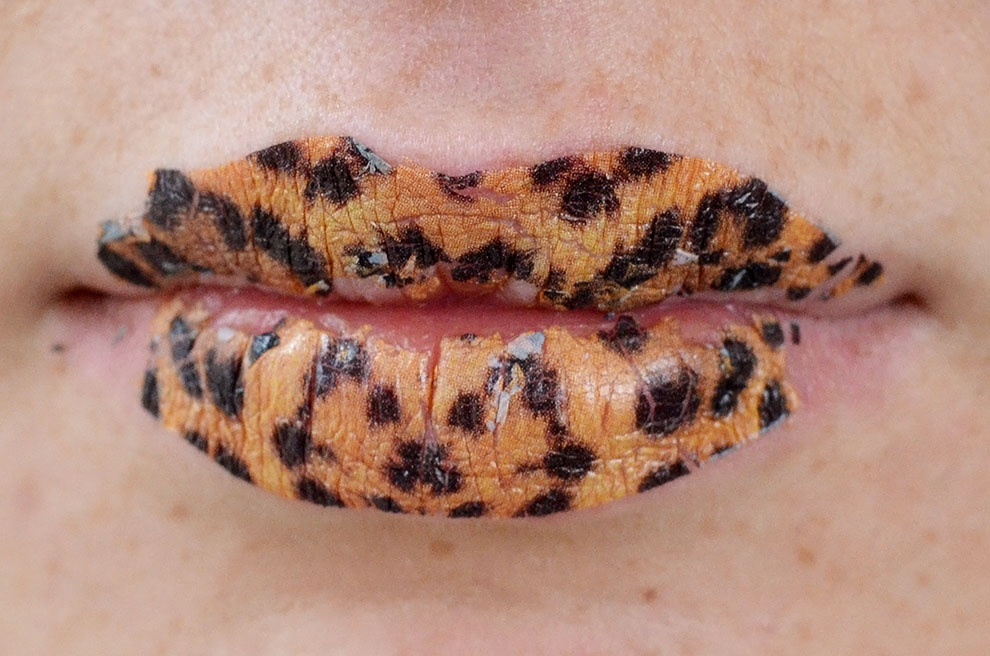 Lips: If you're the kind of person who is OK with your normal human movement/speech impeded for the sake of desertlike, crumbling Novelty Lips that last for an hour tops and are considered by most to be appropriate only on Halloween, all of which I totally fucking am, you might want to invest in some lip appliqués. Otherwise, you should probably stick to boring ol' Revlon.
Eyes: Attach some strange black triangles to your face for ~BEAUTY~ if you like, but maybe disguise the starkness of their edges with more liner, maximal lashes, and some strategically applied eyeshadow. (Come on, no one expected these to look "natural" in the first place.) Or, of course, wear them as a faux glitter mustache. The choice is yours!