A Dallas-area mother, Lana Massey, was kicked out of Legoland Discovery Center in Grapevine, Texas on Sunday, April 22, according to the Dallas Observer, which is owned by Village Voice Media. Her alleged offense: a racy Tinkerbell tattoo.
Massey recounted her experience on the Church of Body Modification forum. She says, "After 10 minutes of play time with my [eight-year old] son, I was approached by Melanie, and was promptly escorted out of the main area while she proceeded to tell me that I was being asked to leave and offered a refund due to a customer complaint about my tattoos." Melanie, being the Legoland employee cited in the Dallas Observer story.
Some are saying that Legoland was well within their rights to ask Massey to leave. Is this censorship taken too far? Or does Legoland, a self-proclaimed children's attraction have the right to ask customers to leave if a company employee disagrees with something on a customer's person like an offensive t-shirt or in this case, an offensive tattoo? Nowhere in Legoland's Important Information tab does it warn about the potential to be dismissed from the premises due to offensive items. However, Massey states on her Facebook profile page that Legoland does have a policy in place in regards to expulsion for an offensive t-shirt, but not a tattoo. How do you think Legoland should have handled the situation, especially when the grounds for dismissal was due to a complaint from another customer? In case you forgot, Legoland is a children's attraction.
Massey says the ink is original artwork from the 1940s. It's like Lisa Turtle once said, "Is art art? Are we art?"
Use your imagination. Let's just say Tink is using the light switch to light herself up. LET'S JUST SAY.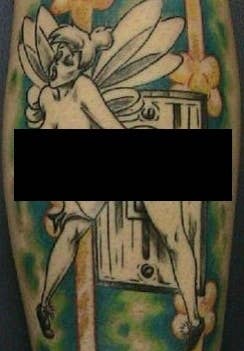 Massey posted several tattoo photos on the Church of Body Modification forum under her initial entry, yet she failed provide a photo of the tattoo that is getting all of the Internet's attention. In fact, Massey tells the Dallas Observer that the Legoland employee "didn't specify any particular tattoo" as the reason for her dismissal. Was it just the sum of her tattoos that offended one customer at Legoland?
Over on her Facebook profile page, Massey leads us to believe that the employee who asked her to leave Legoland was morbidly obese.
The Dallas Observer provided the photo above on their website, which is censored here. Ironic, for a story of this tale.
Ironically, the Lego corporate Twitter account asked if they could this share this tattoo on their intranet the day after the Dallas Legoland incident.
This isn't the first time a patron was asked to leave an amusement attraction in the Dallas-Fort Worth area. In 2010, a gentleman was refused entry to Six Flags Over Texas over an allegedly offensive arm tattoo and jewelry.
Two weeks ago, a Utah mall asked one man decked in high heels to leave the shopping center for "looking too gay," and another individual to leave due to visible tattoos.
One has to wonder: How would Petunia have fared in all of this?