This post has not been vetted or endorsed by BuzzFeed's editorial staff. BuzzFeed Community is a place where anyone can create a post or quiz.
Try making your own!
Lamar Odom Leaves Dallas In Lakers Gear
He really knows how to show 'em!
Reports out of Dallas-Fort Worth Airport spot Lamar Odom catching his commercial flight back to Los Angeles today. No Khloe in sight. The Kardashian made her appearance at LAX two days prior.
A source aboard the same American Airlines DFW-LAX flight says the former Dallas Mavericks player was wearing a purple and gold Lakers Championship shirt with an image of the Larry O'Brien trophy on it. His Lakers NBA Championship ring graced his right hand. No word on whether or not he was still wearing his wedding ring. Stay classy, Lamar.
UPDATE: New photographs emerged since this story was originally posted. You can find them here and here. Hat tip @zaccrain.
Lamar, naturally, kicked it in First Class, and chose to board the plane before anyone else. Typically, celebrities wait to board the plane last after the cabin is full.
According to the same source, Lamar Odom didn't really show any emotions, and even took a few minutes to play with the source's infant son.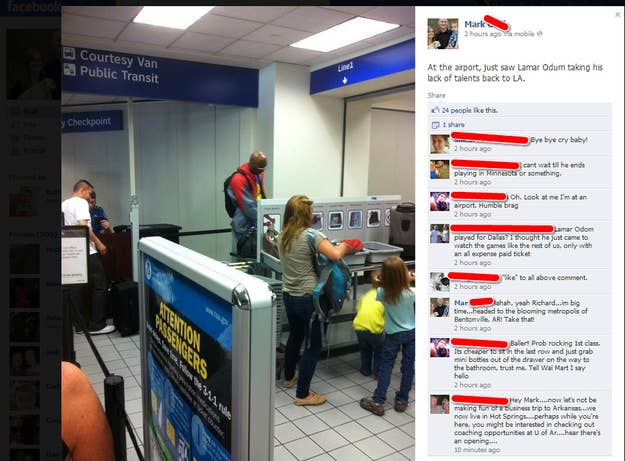 Since this story "aired," people have been weighing in on which Lakers Championship shirt Lamar is wearing.
It appears the Lakers Championship shirt in question is, in fact, from Lamar's own clothing line, Rich Soil.