Homemade Oatmeal Cream Pies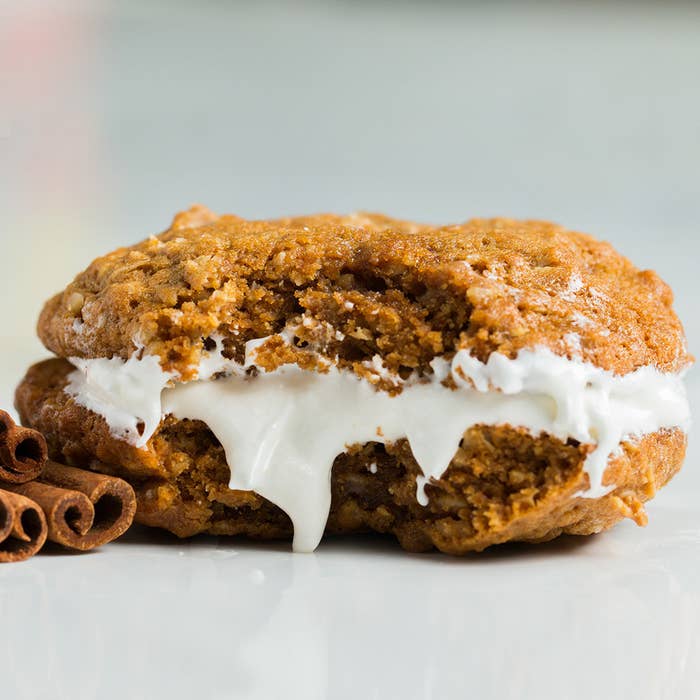 INGREDIENTS
COOKIES
1 cup light brown sugar, packed
1 cup butter, melted
⅓ cup molasses
1 teaspoon vanilla extract
2 eggs
2 cups flour
1 teaspoon baking soda
1 teaspoon cinnamon
½ teaspoon salt
2 cups old-fashioned or quick oats
FILLING
½ cup butter, softened
1 tablespoon milk or heavy cream
1 teaspoon vanilla extract
1 cup marshmallow fluff
PREPARATION
1. Preheat the oven to 350ºF/180ºC.
2. In a large bowl, mix the butter and brown sugar until well combined.
3. Add the molasses, vanilla, and eggs, and whisk thoroughly.
4. Sift in the flour, baking soda, salt, and cinnamon. Mix until just combined.
5. Add the oats and mix until incorporated. Be careful not to overmix the batter or it might result in tougher cookies.
6. Using an ice cream scoop (or about 2 tablespoons), scoop out cookies onto a baking sheet lined with parchment paper, leaving about 3 inches between each one.
7. Bake for 7-9 minutes. The cookies will still be very soft, so be sure to let them cool thoroughly.
8. While cooling, make the filling by beating the butter, milk, vanilla, and marshmallow fluff until well combined.
9. Once the cookies are cooled, put a spoonful of the filling on one cookie and sandwich with another. Repeat until all the sandwiches are made.
10. Enjoy!