Aarón Sanchez came by Tasty to make some DELICIOUS chorizo meatball sliders! Don't forget to watch Aarón as a judge on the new season of MasterChef premiering Wednesday, May 31 at 8/7c on FOX.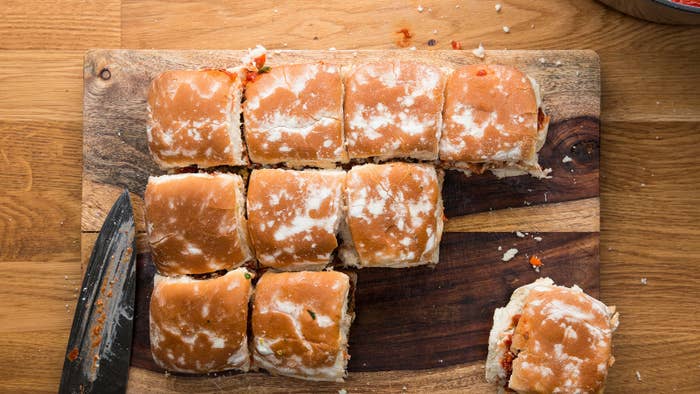 Get the recipe for these Chorizo Meatball Sliders!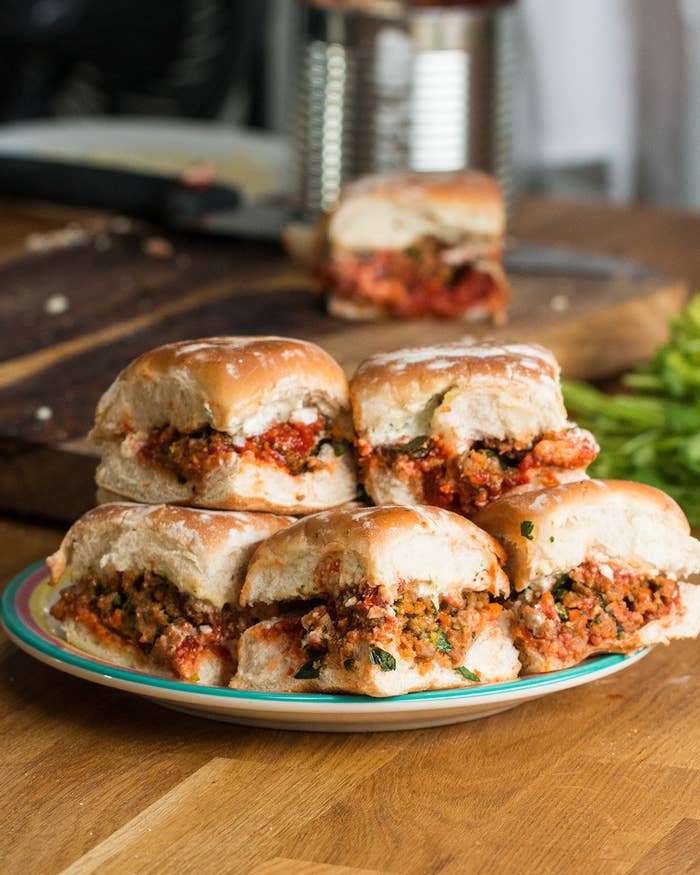 INGREDIENTS
½ cup panko breadcrumbs
1 pound chorizo
½ cup veal or beef stock, divided
¼ cup roasted and diced poblano peppers
½ cup minced carrots
½ cup chopped white or yellow onion, divided
6 tablespoons grated Cotija Cheese
1 large egg
1 large egg yolk
¼ cup chopped fresh cilantro
¼ cup chopped fresh parsley leaves
1 teaspoon salt
½ teaspoon ground black pepper
3 tablespoons olive oil
6 garlic cloves, chopped
1 28-ounce can crushed tomatoes
3 chipotles in Adobo
12 slider buns, split horizontally
Cotija Cheese, for garnish
For the Jalapeño Aioli:
1 cup mayonnaise
6 tablespoons green jalapeño sauce, or more to taste
10 mint leaves
Salt and pepper, to taste
PREPARATION
1. Preheat the oven to 350°F/180°C.
2. In a pan over medium heat, lightly brown the chorizo for about 5-7 minutes to cook out excess fat (it does not have to be cooked through).
3. Remove the chorizo from heat and drain any excess oil.
4. In a medium bowl, mix the chorizo, breadcrumbs, ¼ cup of stock, poblano peppers, carrots, ¼ cup of onions, Cotija cheese, egg, egg yolk, cilantro, parsley, salt and pepper.
5. Use your hands to roll the mixture into approximately 12-16 golf ball-sized meatballs.
6. Transfer the meatballs to a baking sheet and bake for about 20 minutes.
7. In a dutch oven or heavy-bottomed pan over medium heat, add oil and sauté remaining onions and garlic until fragrant and translucent, about 5 minutes.
8. Add the can of tomatoes and remaining ¼ cup stock. Tip: Adding the stock into the empty can will ensure you don't waste any tomatoes that may be left behind.
9. Add the chipotles in adobo and simmer about 5 minutes.
10. Add the meatballs, cover with lid slightly ajar, and simmer for about 30 minutes until the meatballs are cooked through.
11. While simmering, combine mayonnaise, jalapeño sauce, mint, salt, and pepper in a blender or food processor. Pulse until combined.
12. Cut the slider buns in half. Spread the Jalapeño Aioli on the top half.
13. Remove meatballs from skillet and place one on the bottom halves of each roll, then drizzle with some of the tomato sauce and sprinkle cheese on top.
14. Sandwich the tops onto the meatballs and serve immediately.
15. Enjoy!