Kate Hudson made an appearance on Late Night with Seth Meyers on Tuesday, and it was a family affair...sort of.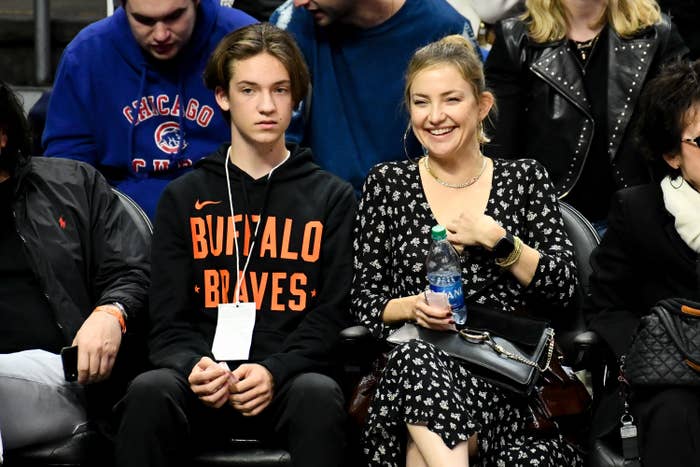 The late night host asked Kate about her 17-year-old son, Ryder, who has taken up a hobby of teasing his mom about her wellness brand online.
The actor has her own fitness clothing brand called Fabletics, and she regularly posts wellness tips and products on her Instagram account.
Seth Meyers put together a reel of footage for Kate of her son's best moments poking fun at her. You can check out Ryder's impression of his mom at 6:45 in the video below.
"Hi guys, Kate Hudson here," Ryder said in the video. "I know you know me because you follow me, I'm so funny."
Kate couldn't help but agree that her son's impression of her was spot on.
"Yeah, I'd say it's fairly accurate," she shared. "He's also deeply funny. Ryder — I mean, he's clearly gonna probably follow in the footsteps of the family."
She continued, "And I would say he's probably the funniest in our family. So, this is like every day for me. Nobody makes me laugh like Ryder, and he just constantly makes fun of me."
Kate opened up earlier this year to Today about what it's been like to raise three young kids in quarantine.
"The reality is that there are days that are great and there are days that I have to remind myself to be grateful," she shared. "I never thought in a million years that I'd spend a year in one place. When you have so many kids, sometimes you have those moments where you're hiding in your bathroom going, 'Please, please, get me out of here!'"
Well, it looks like they at least found a way to have fun together. Even if it is at her expense!
Ryder clearly has some big shoes to fill in the entertainment industry, but from the way he had me laughing from that video, I'd say he's gonna be just fine.