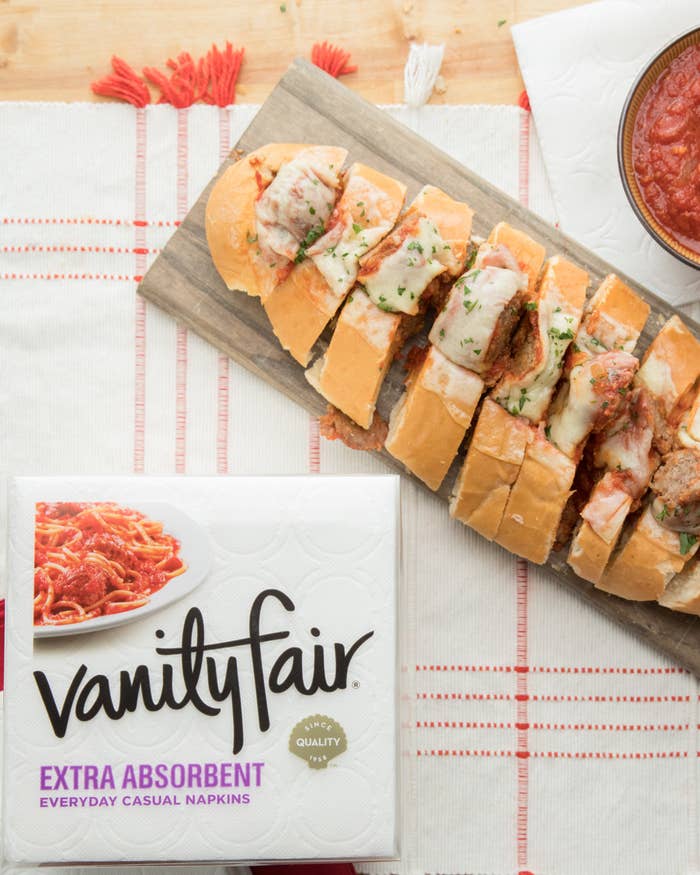 INGREDIENTS:
Marinara
1½ teaspoons olive oil
½ yellow onion, chopped
2 cloves garlic, minced
1 (28-oz) can crushed tomatoes
2 teaspoons salt
½ teaspoons pepper
Meatballs
½ cup breadcrumbs
½ cup milk
1 egg
½ cup grated Parmesan cheese
2 teaspoons salt
½ teaspoon pepper
1 pound ground beef
Garlic Bread & Assembly
4 cloves garlic, minced
1 teaspoon salt
6 tablespoons butter, melted
1 large loaf soft Italian bread
5–6 slices provolone cheese
1 tablespoon minced parsley
PREPARATION:
1. Marinara sauce: In a large saucepan, heat the olive oil. Add onion and garlic, then saute for 5 minutes, until translucent. Stir in tomatoes, salt, and pepper. Simmer for 10 minutes, stirring occasionally. Set aside, but keep sauce in saucepan.
2. Garlic bread: Stir garlic and salt into the melted butter. Cut out the center of the loaf of bread, pulling out the soft middle with your hands, to form a boat. Save the bread scraps to use for breadcrumbs. Be sure to leave enough bread at the bottom to soak up the butter. Brush the inside of the boat with the garlic butter, covering all areas.
3. Preheat oven to 350ºF. Place loaf directly onto an oven rack and bake for about 10 minutes until edges are crispy (place a sheet tray on a rack below the bread to catch any drips or fallen pieces).
4. Meatballs: In a small bowl, stir together breadcrumbs and milk, then set aside. In a large bowl, whisk together egg, Parmesan, salt, and pepper. Stir in ground beef and wet breadcrumbs. Combine well, but do not overmix. With oiled hands, roll the meat into golf-sized balls. Heat a skillet with a drizzle of olive oil. Brown meatballs on all sides, then remove from pan. Put marinara sauce back on the burner and bring to a very light simmer. Once simmering, place meatballs in marinara, cover, and simmer until meatballs are cooked through, about 7–8 minutes.
5. Fill bread boat with the meatballs. Spoon some of the marinara on top. Drape slices of provolone over the meatballs and place back in the oven to melt the cheese, about 5 minutes (this time have the loaf directly on a sheet tray). Remove from oven and sprinkle with minced parsley.
6. Slice into handheld pieces and serve immediately with extra marinara sauce on the side for dipping.