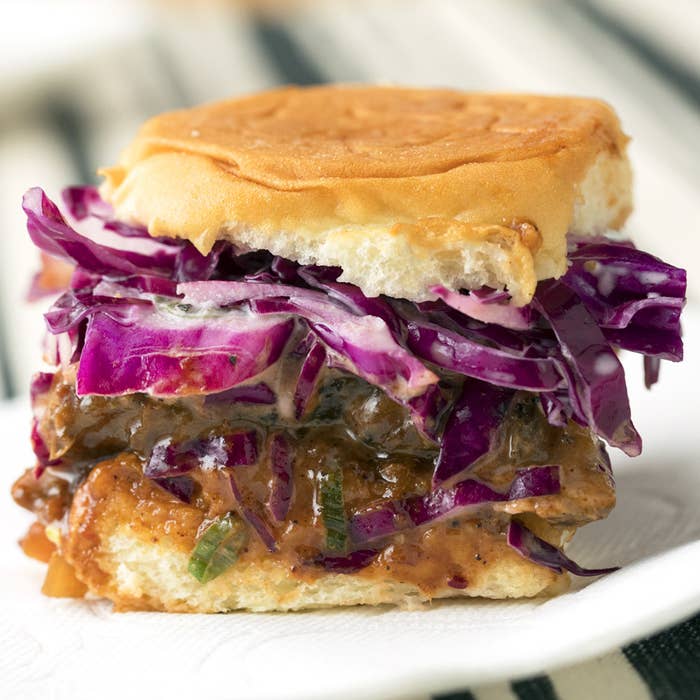 INGREDIENTS:
3 pounds baby back ribs
12-pack Hawaiian-style rolls
Barbecue Sauce
1 tablespoon vegetable oil
½ onion, minced
1 garlic clove, minced
½ cup tomato paste
½ cup apple cider vinegar
½ cup honey
¼ cup Worcestershire sauce
¼ cup soy sauce
½ cup hoisin sauce
1 tablespoon chili powder
1½ teaspoons cumin
Creamy Cabbage Slaw
½ head red cabbage, shredded
3 green onions, thinly sliced
⅓ cup mayo
1½ tablespoons apple cider vinegar
½ teaspoon salt
¼ teaspoon pepper
PREPARATION:
1. Preheat oven to 275ºF. Rub ribs with a little olive oil and sprinkle generously with salt and pepper on both sides. Wrap ribs in aluminum foil and cook in the oven for 4 hours, until tender.
2. While ribs are cooking, make the barbecue sauce. In a saucepan, heat the oil. Add onion and garlic, then saute for 5 minutes until softened. Add in the rest of the ingredients and whisk well to combine. Let simmer for 10 minutes, whisking occasionally. Set sauce aside.
3. To prepare the slaw, combine cabbage and green onions in a bowl. Add the mayo, apple cider vinegar, salt, and pepper. Toss well to coat. Refrigerate until ready to use.
4. After 4 hours of cooking, unwrap ribs and let cool for a few minutes. Flip ribs over so the bones are showing. Carefully pull out each bone. The bones should release easily (if they don't, continue cooking ribs). Brush both sides of the now-boneless rack generously with sauce. Return to the oven and cook for 20 more minutes. Remove from oven, and slice rack in half.
5. Keeping the Hawaiian rolls attached to each other, slice rolls in half so that the top comes off in one sheet. Spoon a layer of sauce on the bottom half of the roll. Place the rib rack halves onto the bun. Spoon another layer of sauce on top of the ribs, then place top sheet of rolls on top. Serve!