Imagine running on a treadmill and the only possible way you can breath is through a straw. A few hours into the Death Zone, the living starts to deteriorate, human body is literally dying. Humans still urge to go there, struggle with each breath, trade their entire life just for a brief moment on the Highest Point on the Earth.
As you surpass the human levels of physical and mental attributions, you are more than just a person, you are an experience.
Over 4000 people have summited Mount Everest since it was first conquered in 1953 and over 250 have perished trying to reach there. Everest doesn't want to be conquered. At least not easily. But you can do it.
"How? " I wondered.
"What it takes to climb the World's Highest Peak?"
And " Why? Is it worth what it is?"
Over 600 hours of research, countless number of movies, documentaries, blogs and sleepless nights later, I could finally scale the mighty Everest on paper. As I compiled the information and the experiences, I realized; Everest is more than just an expedition.
Note: I have borrowed paragraphs and sentences from various sources, to bring out a comprehensive article. Sources have been duly credited.
WARNING: THIS ARTICLE CONTAINS GRAPHIC IMAGES OF DEAD BODIES
QUICK FACT | Eric Larsen became the first person to tweet from the summit in 2010.
What the f*ck is Death Zone ?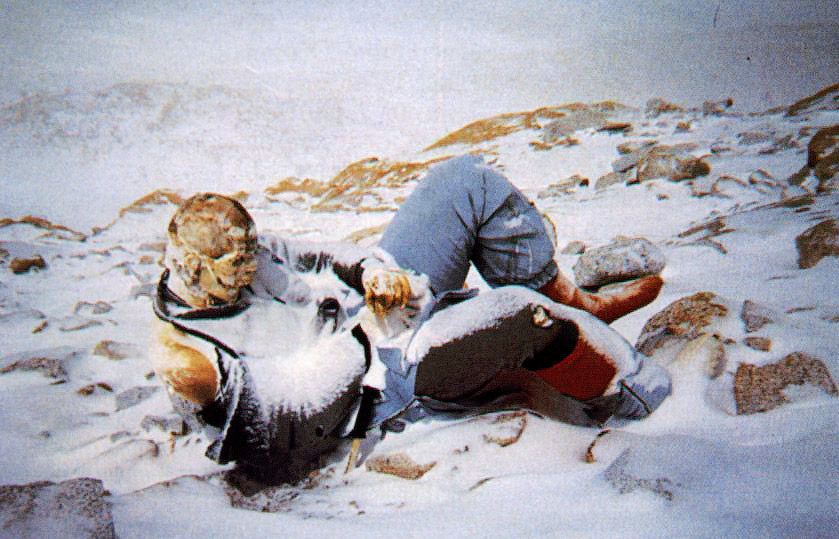 An open graveyard, a place replete of possibilities ready to snatch away your scarce breath, Death Zone is a nightmare that no one can possibly relate to, unless you've actually been there.
It is an eclectic mass of grayness where survival is meager and life is counting its last breaths.
Frosty, thin and crisp air pricking all over the body heaped with heavy layers. Ghastly white acres covered with snow showing absolutely no sign of horizon. Breath-rate dropping down, energy exhausted and blood thumping out of the heart like never before, while a human will be on a verge to give up, a mountaineer won't!
Death Zone is where human ethics cease to exist. If you set your foot in the Death Zone, it'll do its best to straight-up murder you. If you are unable to walk, you are dead. If you see a fellow climber who is unable to walk, seeking your help, there's nothing you can do. There is a limit to what can physically be done when in Death Zone. This is where moral boundaries become very fuzzy. That's why all the dead bodies in death zone can't be recovered.​
Human body is not meant to survive over an altitude of 8000 meters. There is 1/3 rd of oxygen that there is at sea level, humans are used to breathing air at sea level could only be there for a few minutes before they became unconscious. Yet some super humans have climbed the Everest without supplemental Oxygen. Reinhold Messner was the first one to do it in 1978 along with his partner Peter Habeler and did it solo in 1980. He is also the first person to climb all the 14 Eight Thousanders without oxygen.
Sherpas – The Unsung Heroes of Mount Everest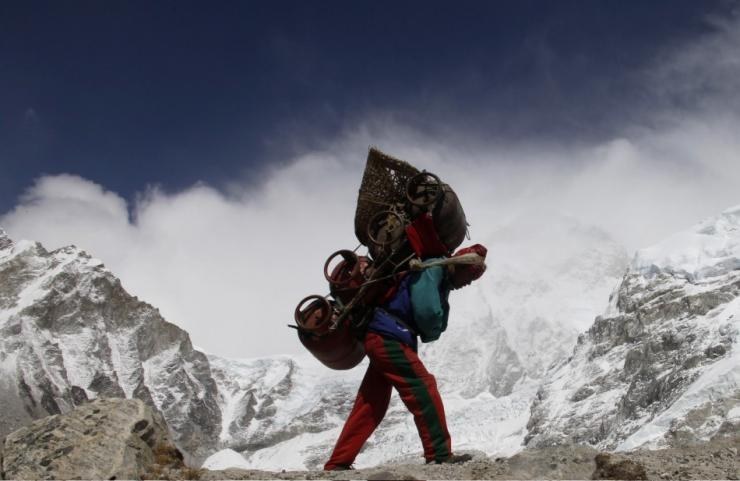 Your true friend in this stupendous expedition; Sherpas are more than just the tour guides. While you take serious efforts for the climb, Sherpas are the under-rated experts of mountaineering that will climb the mountain with ease that one can't imagine.
They do all the hard work making the climb a tad bit easier. Fixing ropes, carrying heavy loads and cooking at the base camps are the primary tasks of any Sherpa. They melt the snow on the path, haul the ice and prep the climbers ensuring the oxygen regulators are set.
They are the ones who help the climbers in emergencies. They are the last saviours you can rely on.
What is the best season to climb?
The best time to climb Everest is in the Spring, April - May. For a few weeks in May, the jet stream lifts north of the Himalayas, greatly reducing average wind speeds and the chance for precipitation at the top of the mountain. Climbers call it "the window".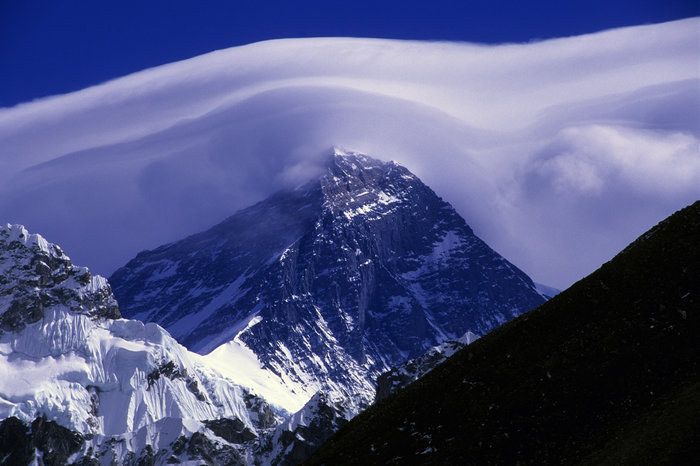 How long does it take to Climb Everest?
The entire climb takes six to nine weeks. The first week is used to arrive at base camp with a trek from Lukla for the south or a drive from Katmandu or Lhasa on the north. Next you spend three to four weeks going up and down the mountain to establish camps with food, fuel and oxygen. The average time from arriving at Base Camp to reaching the summit is 40 days. On most climbs it is the Sherpas who are doing the heavy carrying so you are acclimatizing your body to the high altitude. However you are still carrying a 20lb to 30lb pack with personal gear. The acclimatization process cannot be rushed. The summit push is about one week and then another 4 to 6 days to get home.
The Big Question: How much Does it Cost?
Climbing Everest is a pricey affair and can cost you anything between $35,000 to over $100,000 depending upon the facilities you are looking for.
Alan Arnette's blog gives a lovely breakdown of the costs as follows:
Training: $5000-$35000
Prepping for your trek begins way before you even plan your trip to Kathmandu. Plan ahead as the mountain demands both strength and stamina from you. Cardio training is imperative. So is getting a professional to help you get your legs into shape. To climb the Everest you need to be in the Everest shape.
Climbing Permit: $11000
Other Climbing Fee: $7000-$15000
You'll have to pay for the Nepalese liaison officer, med-team support, waste-disposal, the Khumbu Ice Doctors fee, weather forecasts, etc.
Oxygen: $3700
97.1% of all Everest climbers use bottled oxygen. Let's be presumptuous and assume you will too. You'll need atleast five bottles of oxygen ($2750 in all), an oxygen mask ($500) and an oxygen regulator ($500).
Gears + Tents: $7000-$10000
Personal Sherpa + Sherpa's Oxygen + Sherpa's Gear: $6000 + $3000 + $1000
Your Sherpa won't carry your gear other than temporary assistance, but will be by your side for every step of the way. The sheer psychological reassurance this provides is well worth the cost.
Everest Base Camp Cook and Assistant: $3000
Food and Water: $3000
Sherpas, porters and yaks are they only way food gets up the mountain. They must be paid. The price of food thus gets more expensive the higher up you go.
Travelling (From home to Everest Base Camp) Cost: $3000-$6000
Flights, yak, porters – pretty much everything related to getting your gear up to Everest Base Camp.
Miscellaneous (Tips, Wi-Fi, Cell Phone, Med-Kit): $5000
Sure, Everest has 4G coverage now, but that doesn't come cheap.
Not a place to save money, eh?
QUICK FACT | There Are Over 200 Bodies on Mount Everest and They're Used as Landmarks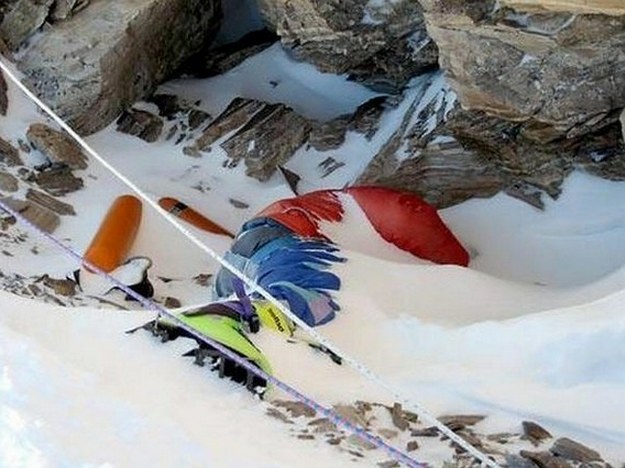 What are the ways to climb?
There are 3 ways you can plan your climb:
a) Plan your own expedition. (Expert Mode)
b) Join a logistics-only expedition. ( Intermediate Mode)
c) Join a fully guided team. ( Regular Mode)
What are the climbing styles?
There are two types of mountain climbing styles.
1. Expedition Style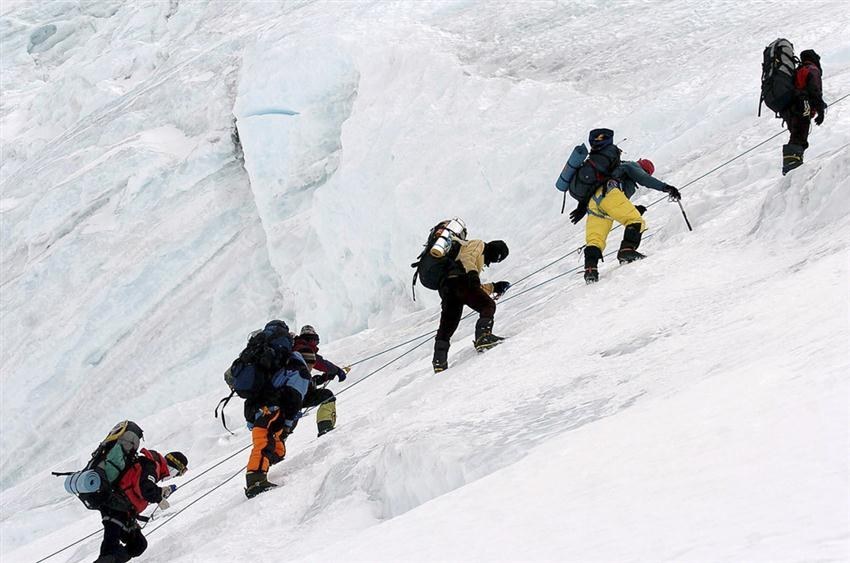 2. Alpine Style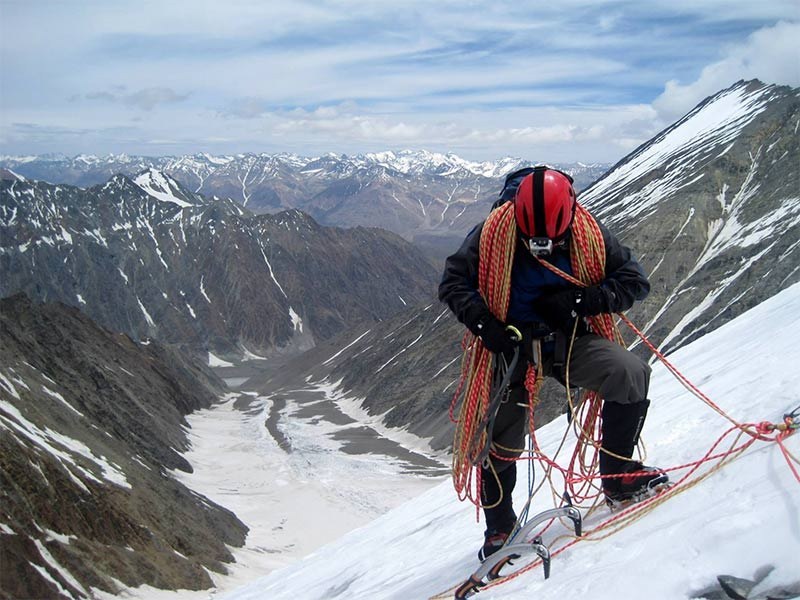 QUICK FACT | Traffic Jams ( that's right)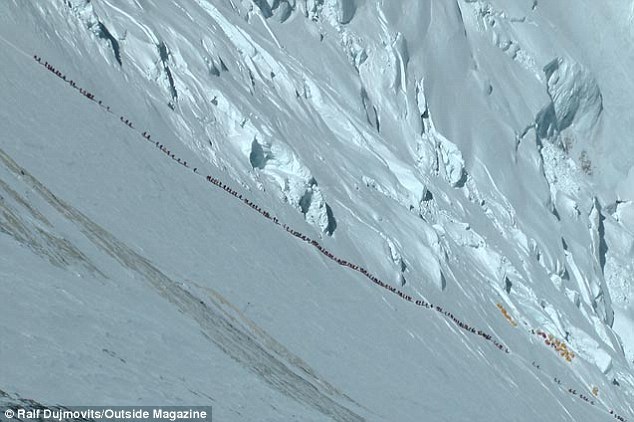 Routes to Summit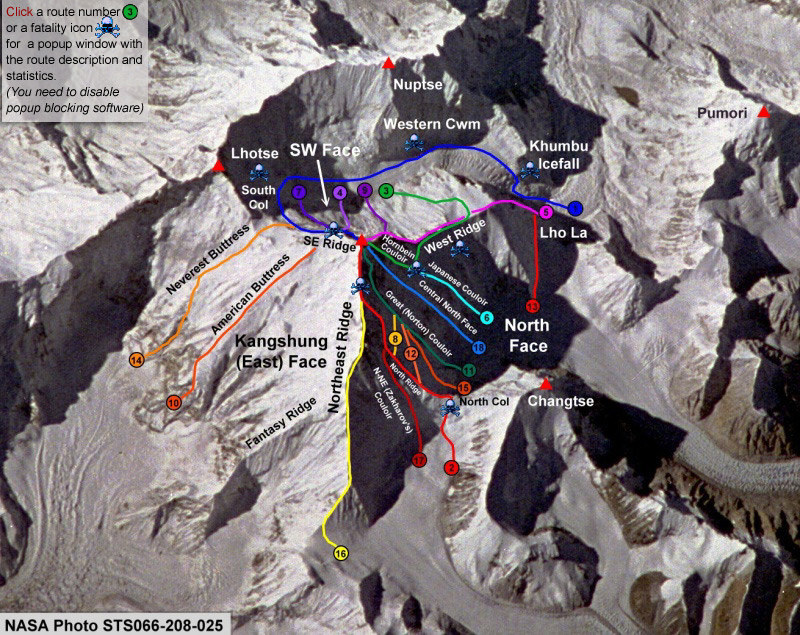 There are around 18 defined routes to reach summit. However, SouthEast Ridge route(Blue Line) and North Col route(Red Line) are most popular.
3D view of South Side and North Side of Mt. Everest
Trek to Everest Base Camp
Lets talk about getting to Everest Base Camp. The trek is an important rite of passage and preps you for the increasingly difficult atmosphere. We are taking the most popular Southeast Ridge route. In 1953, Sir Edmund Hilllary and Tenzing Norgay took the same route. Each of the following jaunts takes a day. You may spend more than a day at a spot to acclimatize. Before embarking on the journey to Lukla you can take a pitstop at Kathmandu.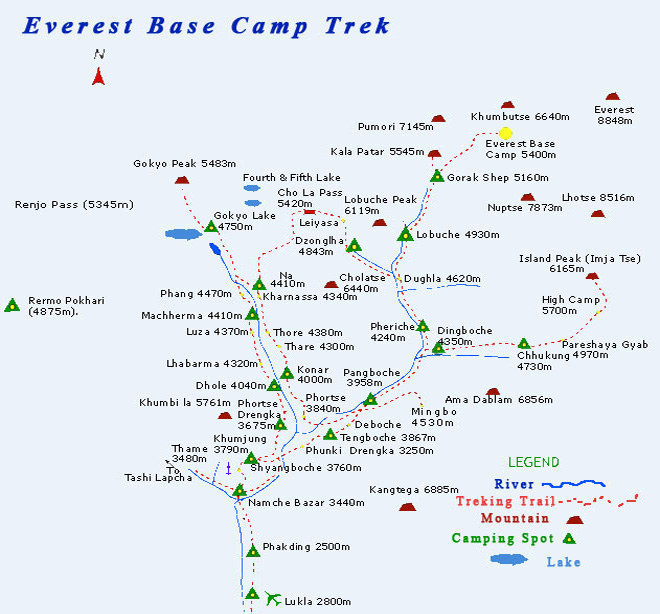 Kathmandu to Lukla (2860m)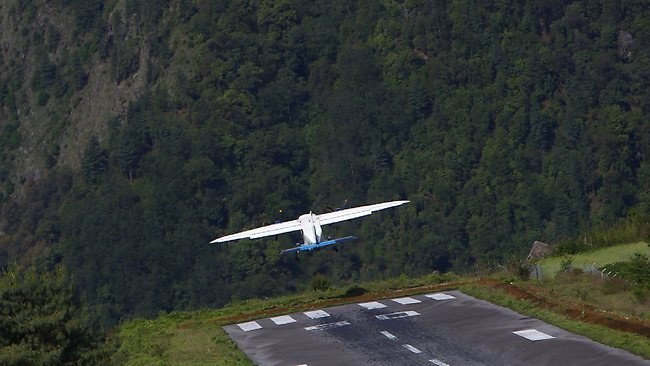 Lukla has its own airport, so you're going to fly in, probably on Tara Air, or Agni Air. Now, remember, all along the trek, there are sights to see, souvenirs to buy, food to eat. Partake freely! And always remember to be well stocked on water.
Lukla to Monju (2835m)
Trekking north for 13 kilometers is a good way to warm up. It can take you anywhere between 4 – 6.5 hours, depending on how often you stop. The route is easy enough to make out – there are always people streaming up and down it. Chat with returning trekkers!
Monju to Namche (3440m)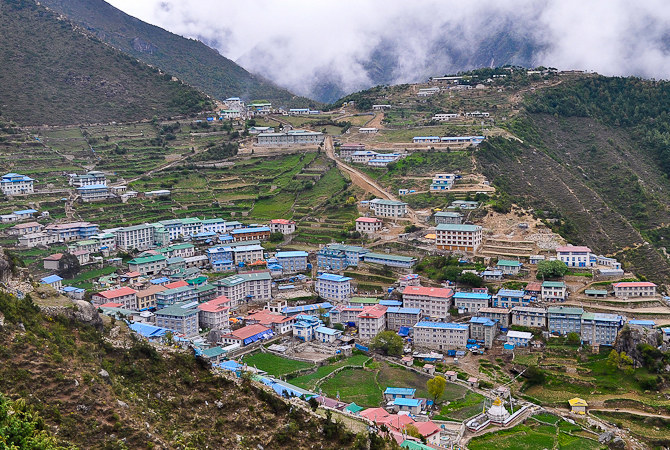 You'll want to stock up on water, maybe even a few light eats. There are no stops on this route and it's a steep ascent that lasts 5 hours. You start acclimatising to the altitude here, so plan to spend a day or two. Namche has a neat bazaar, you can explore it on your stay. Visit the nearby villages of Khumjung and Thame and admire its scenic sights
Namche – Pangboche (3985m)
Though not much more higher, the air begins to noticeably thin on your way up. Take this part of the trek easy, especially the steep climb up to Tangboche. Now, while you can stop here, another hour's walk will take you to beautiful Pangboche, which is really the best place to spend the night. Though you don't cover much ground, it can take you 5 – 6 hours to walk this portion of the trek.
Pangboche – Periche (4371m)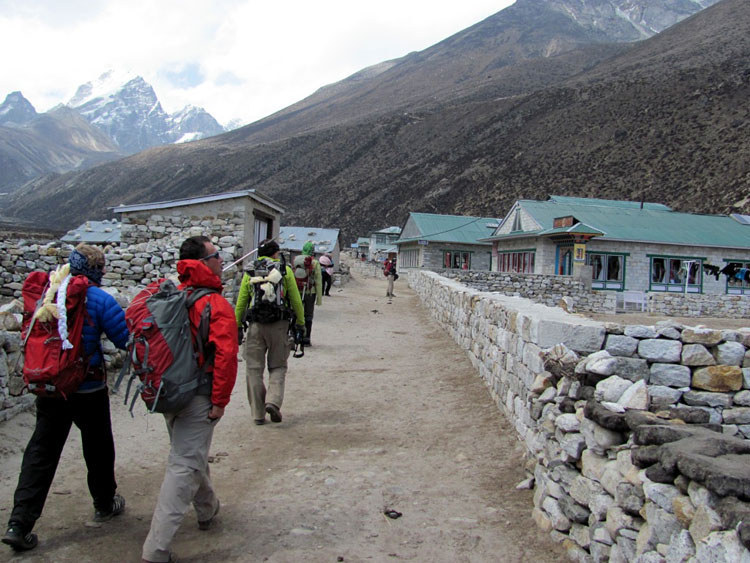 The ascent up to Periche isn't easy, but it's not deathly steep either, and can be done in 3 hours. Altitude sickness starts becoming noticeable at this point. If you start feeling unwell, trek back to Periche if you can, and spend another night there. You obviously haven't acclimatized. Don't push it. If you're fine, DON'T press ahead to the next town. The main purpose of this long-winded trek is gradual acclimatization. Tour the town if you want.
Periche – Lobuche (4930m)
You'd think you'd be getting used to the ascents by now, and are surprised where you aren't. Blame the thinner atmosphere. Lobuche is merely a lodge and not much more than that. Not much to do in town, but it's always fun to chat up the other tourists.
Lobuche – Gorak Shep (5164m)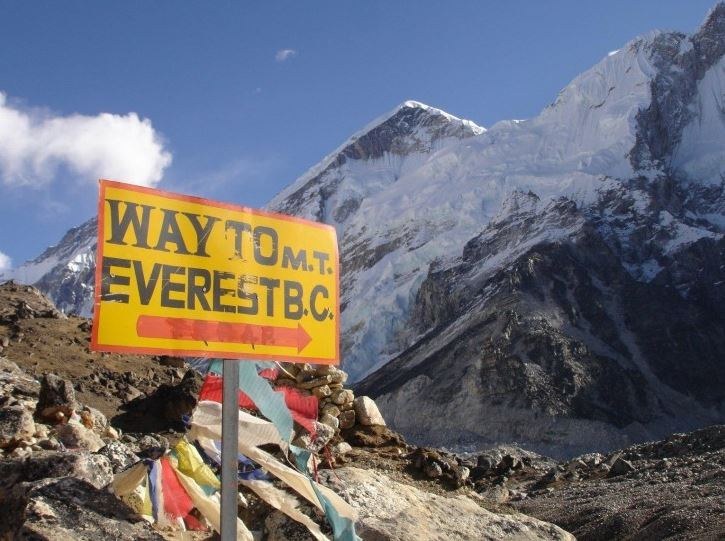 The ascent isn't so bad – just over 200 metres – and the trek's main purpose is to get you used to walking in the ever-thinner air. There are three lodges here. And this is the last stop of your trek before you move on to the Everest Base Camp.
Welcome to the Everest Base Camp (5380m)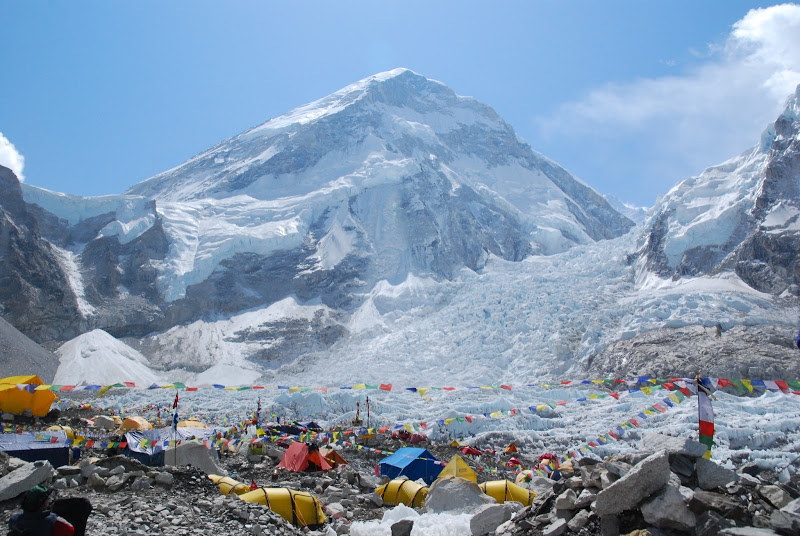 On average, you need to spend 6 weeks here getting used to the thin air. Spend time with the other climbers, swap stories, learn from the Sherpas, meet the mavericks, compare gear. The only way to pass time up here is with by interacting with fellow climbers or you could carry a Kindle, which, if kept warm, might just work. Meanwhile, the Ice Doctors (Sherpas setting up ladders in Khumbu Icefall) are at work.
TL;DR
Detailed explanation of Trek to Everest. Now at the Everest Base Camp.
Base Camp to Camp 1 (5943m)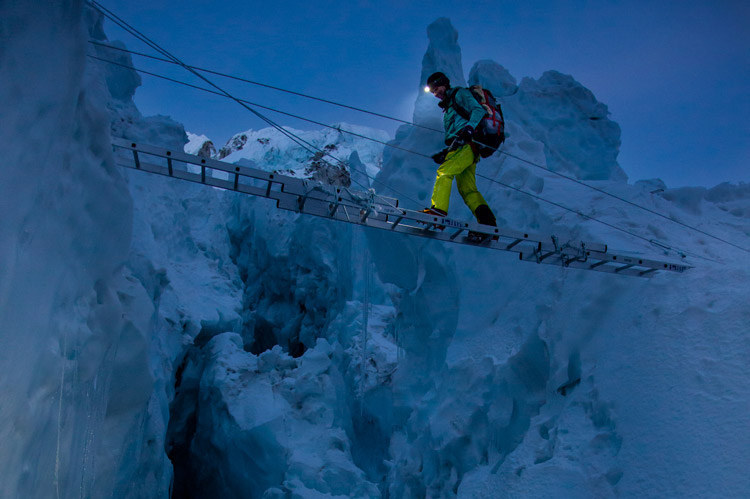 As you set out from the base camp for camp 1, you have to get past Khumbu Icefall. The most dangerous part of the climb is immediately on you. They call it the Icefall because it's a moving glacier, ever-shifting and more treacherous than Cypher from The Matrix. Tons of falling ice sounding like popcorn snaps off and plunges at the unwary climber without any warning. This is the time when Sherpas check out the Ice-fall to see the best way around it. By the time you're ready to climb, the ropes and ladders have been strung up.
You'll usually do this climb in the night, because the daytime heat means the ice is moving faster; it's unstable. It's about 2000 feet of crevasses and seracs (house-sized blocks of ice looking for the merest excuse to tip over)
An hour long hike will take you to Camp 1, and your first view of Everest.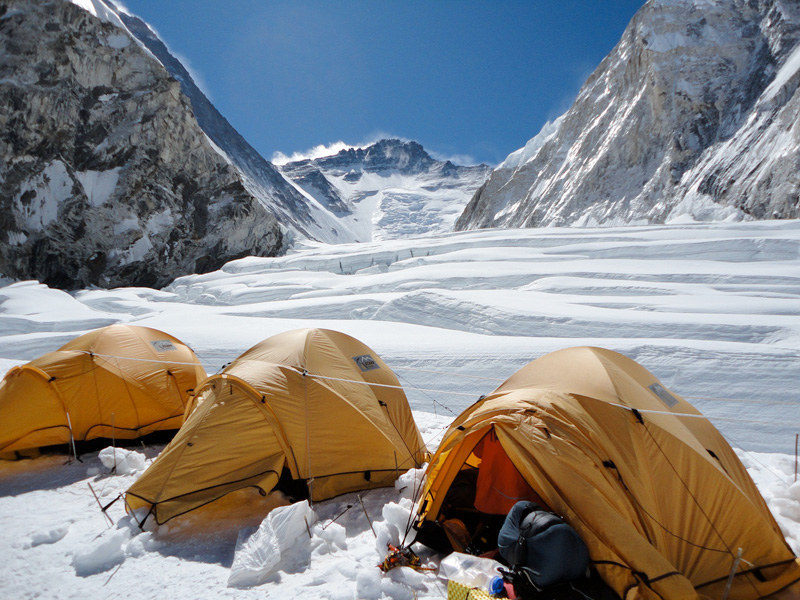 Camp 1 (5943m) – Camp 2(6400m)

It takes about 6 hours of climbing to reach here. Once you do, you'll have to spend a night here for acclimatization. The next day, you're off to a relatively short walk and ascent to the Western Cwm (a glacier valley) and Camp 2. For some, this is the most hated part of the trek, for two reasons:
Temperatures are usually 30 degrees Celsius here, and sometimes 37. Sounds unbelievable, I know, but it's true. The Cwm has little to no wind, and you need wind to cool things.
Plus, the sun is reflecting off the snowy faces of three different mountains here: Everest, Lhotse and Nuptse.
There are crevasses galore, seen and unseen and the best of climbers have fallen in.
This is where you start becoming mentally exhausted. Camp 2 is at the end of a steep rock gully.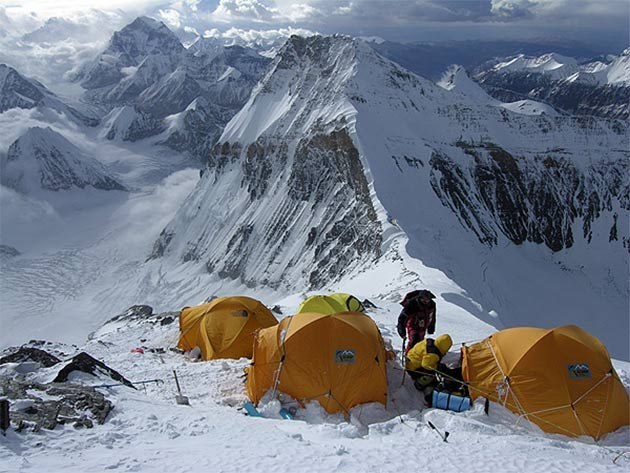 Camp 2 – Camp 3 (7162m)
Now Everest begins to grill you for real. The Lhotse face is next and you're going to climb it twice – first to acclimatize, and then to actually climb to the summit. It's a gigantic and steep wall of ice and rock. Camp 3 is actually ON the Lhotse face. You have to be clipped onto the rope line all the time, even at Camp 3, or there's a real danger of just rolling off and dying. It's happened.
Also, 'Camp 3s' are set up wherever there's a flat enough space on the wall… and this changes from year to year. The last leg of this climb is exhausting. You're utterly dehydrated.
But the views… wow!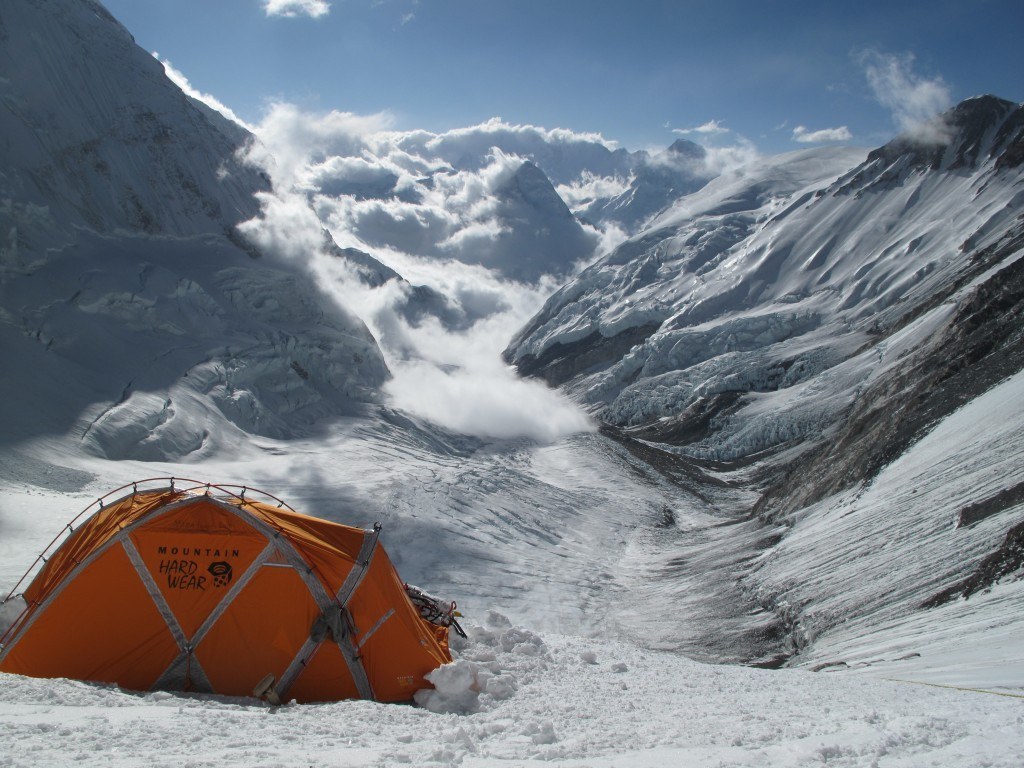 Camp 3 – Camp 4 | South Col (8016m):
This is where you start using the oxygen bottles. The altitude has you in a state of near-permanent exhaustion no matter how much you rest. Plus, this is another spot where it can get horribly hot.
It's 150 feet of anvil shaped black rock, ice and snow, and it's straight up. At this point, the psychological toll is intolerable.
You climb it because you must. Once you cross it, you walk till you're on South Col, Camp 4. It's a huge field of snow, and there are more tents here than you care to count.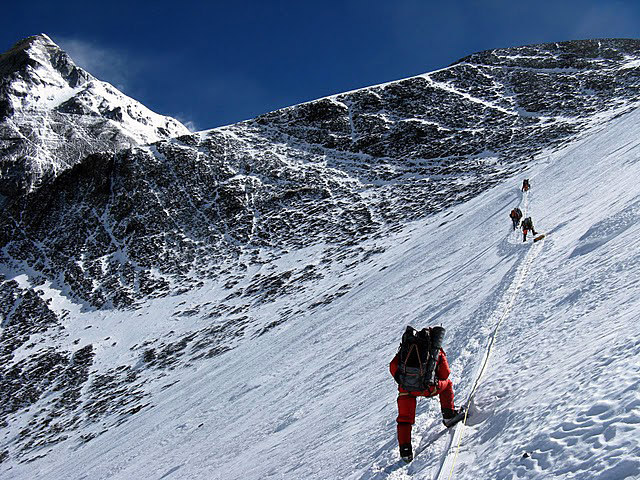 Camp 4 – Balcony:
Now you are in the Death Zone. You cannot stick around for more than 2-3 days. That's all the time you have to make your bid for the summit, nearly a full kilometer above you.
Around midnight you'll set out, and begin to climb the Triangular Face, a ridiculously long activity. It's the kind of climb you wish you could switch off your brain for, let the rhythm of your hands and feet pull you up but you can't. You have to be ultra-careful of what your hands are doing. You start worrying that what if the climb goes on forever and you'll run out oxygen or that someone as tired as you, who's above you, is going to fall onto you.
It takes 6 soul-crushing hours to get to the Balcony.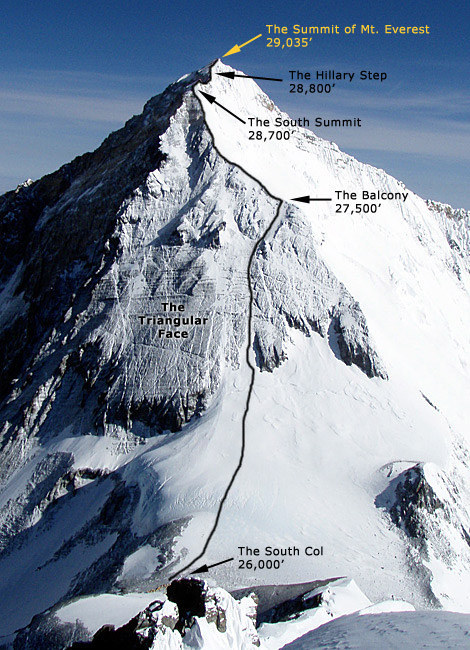 Balcony – South Summit (8690m):
A little drink, a little food, a new oxygen bottle and then it's another 5 hour climb. Remember, you've got to get to the summit AND back, in a single day. This part involves irritating steep jumbled rocks and MORE TRAFFIC. Which means more hanging around halfway up a mountain.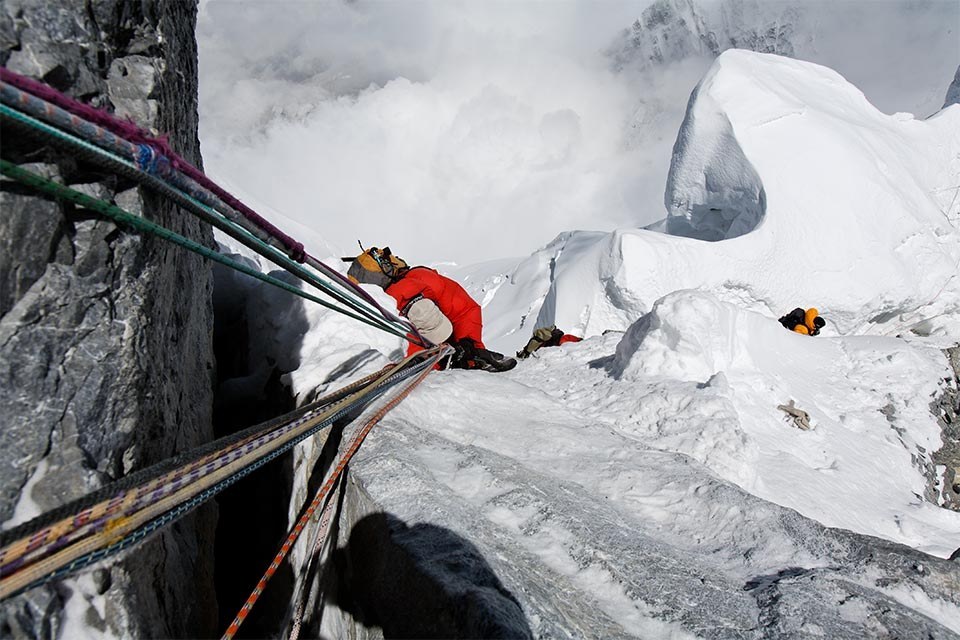 Summit Fever
Everest is a seductress. The closer you get to its summit, the more you want to be there. The summit fever gets on you and you are pulled towards the summit with a force you can't imagine.
It casts it magnetic spell over you and most of the mountaineers claim, this is one of the best motivations they have during the final moments of their expedition.
The uglier side of this is the risk involved. The turn-around time (the last hour you can leave the summit and start your descent) is 2 pm and more often than not, the climbers ignore this critical time frame. They continue to ascend which involves a lot of danger. But there is little they could do to beat the Summit fever.
South Summit – Summit (8848m):
You have to cross a ridge, the Cornice-Traverse, and the Hillary Step. A mis-step on the Traverse can send you plunging 2400 meters down. The Hillary Step, a 40 foot rock wall, comes next. And then irregular terrain that's very irritating to climb.
Finally you're at the summit! It feels grand, sure. But you've only got 30 minutes, because you need to get back.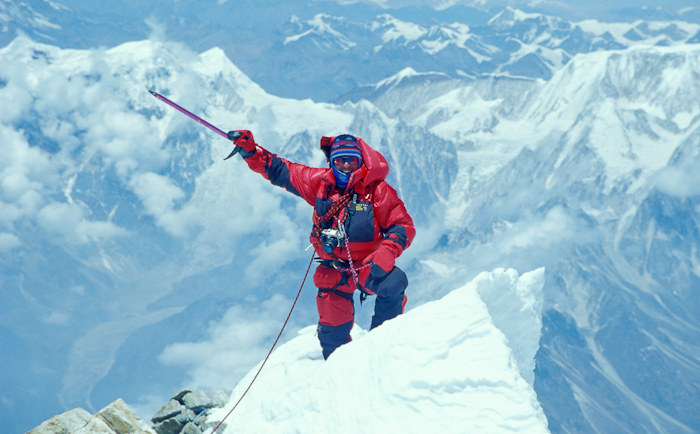 Getting to the top is optional. Getting down is mandatory. - Ed Viesturs
The Descent
Have you experienced the feeling of emptiness after an accomplishment that seemed unreal and unachievable? The empty vastness of Mount Everest fills every inch of your soul. The dramatic panorama highlighting the cluster of mountains that seem larger than life and the fortitude of being on top of the world; the climb to Mount Everest is a poetic saga of one's vigorous efforts.
And the most difficult part is unfortunately not over yet!
QUICK FACT | Descent is more dangerous than the ascent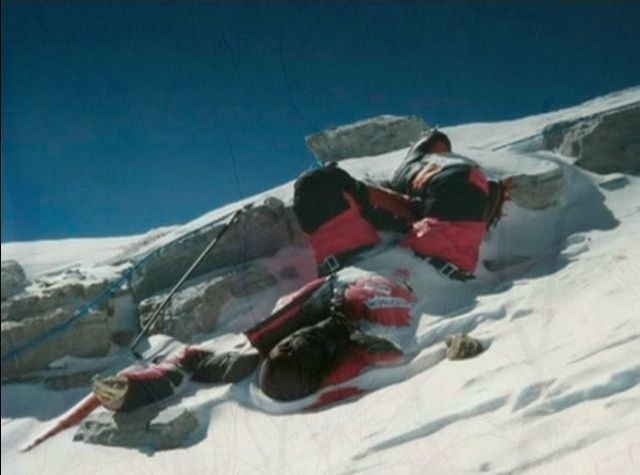 The descent is the most tantalizing, bewitching and dangerous journeys in the Everest Expedition. Tired body, unyielding nature tormenting your mental wellness and a fatal climb down the summit makes it harder. The traffic of up-climbers is another unavoidable hurdle in the journey back home.
But you've got to do it. You've got to go back to where you belong, feel the warmth of life and rest your head on the familiar pillow thinking about your conquest, You Deserve it!
Because, even if you descent the Everest, it dwells deep inside you, for lifetime.
North Col Route
Here's what you need to know: It's harder, colder, windier
a) There's no chance of a helicopter rescue.
b) You spend more time at higher elevations
c) Loose rock faces.
d) On the plus-side: lesser traffic, and you can drive up to the advanced base camp.
Closest to the Stars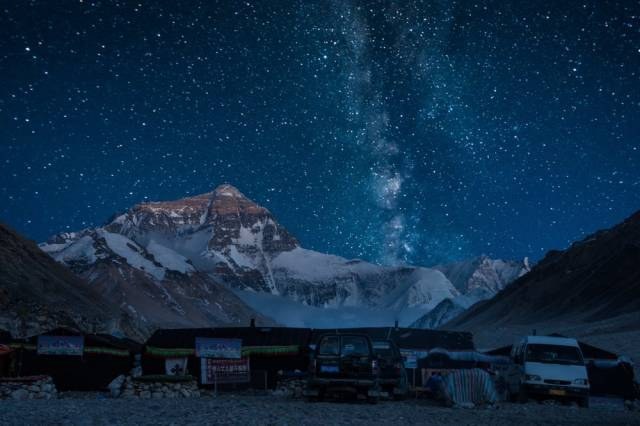 Legends of Everest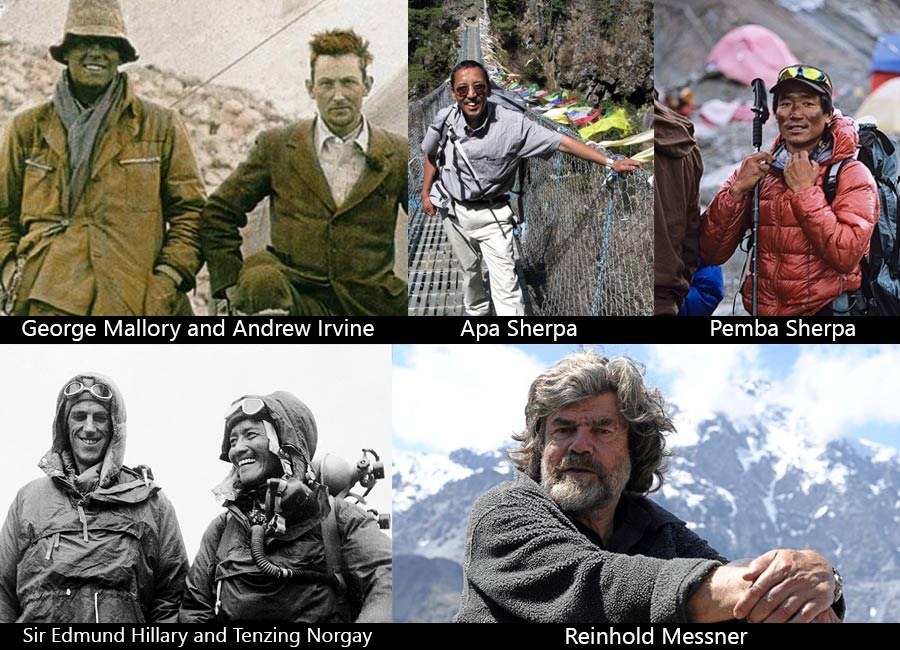 These people have pushed the human limits to set the benchmark for other to follow. You must know about them.
George Mallory and Andrew Irvine: Took part in the first three British expeditions to Mount Everest in the early 1920s. Whether Mallory and Irvine reached the summit of Everest before they died remains a subject of speculation and continuing research.
Sir Edmund Hillary and Tenzing Norgay: First recorded climbers to reach the summit of Mount Everest on May 29, 1953.
Reinhold Messner: The first climbers to reach the summit of Everest without bottled oxygen, a feat that some doctors thought impossible since the air is so thin and that climbers would suffer brain damage.
Apa Sherpa: aka Super Sherpa, He sum­mited Everest a mind-boggling of 21 times before his retirement in 2012. This record is matched by another Sherpa named Phurba Tashi.
Pemba Sherpa: Speed Record climb from base camp to the summit in 8 hours, 10 minutes, gaining 11,325 feet on May 24, 2004 (Ideally takes 3 weeks, with acclimatization). If this record is to ever be broken it will take a super-human effort indeed.
Arunima Sinha: The first female amputee to climb Mount Everest. *feels*
Everest Disasters
Even Everest hasn't been able to sustain the wrath of nature. There have been devastating disasters that not only shook the icy walls of Mount Everest but also had a huge setback on the future of climbers.
There were three disasters on Mount Everest that are considered deadliest ever:
1996 disaster: Took Place on 10th and 11th of May, 8 people were caught in the blizzard and died as they were attempting the Summit. This also included Robb Hall, the head guide and 5-time summit climber, Scott Fischer and Beck Weathers. The disaster and the expedition is described in the book 'Into the thin air' by Jon Krakauer, who was a survivor of the disaster. Recent IMAX movie Everest is based on these events. A total of 12 people died that season.
1996 Everest Crew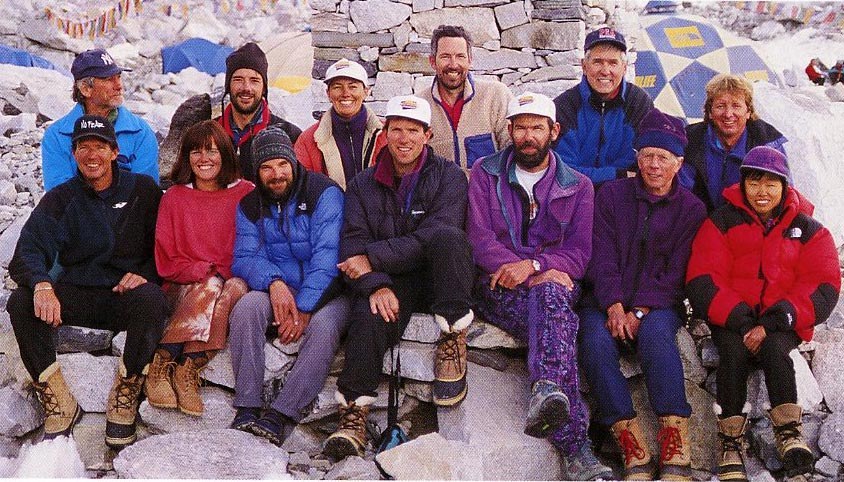 April 2014 disaster: 16 Sherpas died in this disaster and only 13 of their bodies could be recovered. The Sherpa community refused to climb for the rest of the year in the memory of the victims and as a protest to the very little compensation paid to the victims by the Nepal Government.
April 2015 disaster: Considered the darkest year for Mount Everest, 2015 saw a death of 19 climbers caused to the avalanche that was triggered by the Gorkha earthquake that hit the country of Nepal on 25th of April.
QUICK FACT | Circle of Death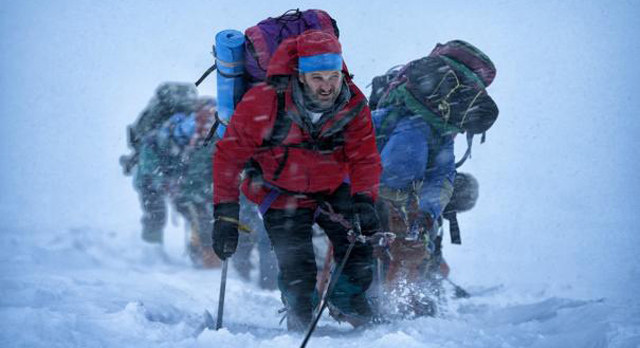 Serious Litter Problem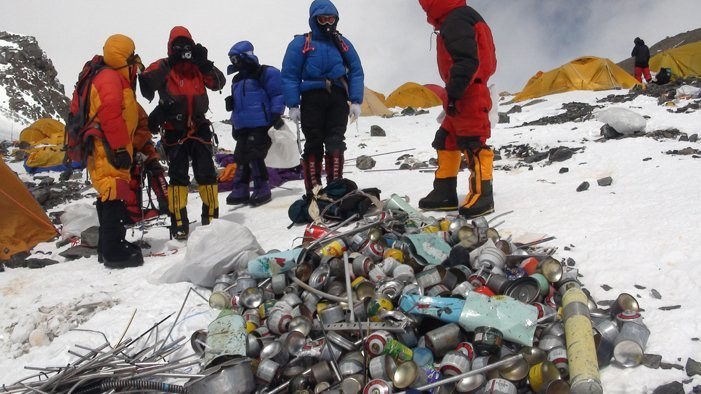 What changes with the New Law?
Nepal faced a devastating earthquake in April 2015 and consequently, the government of Nepal has imposed few new laws for Mount Everest climbing.
According to the new laws, Novice climbers are not permitted to climb the Everest. That is, only the climbers who have climbed mountains higher than 21,000 feet (6,500 metres)are permitted for the expedition.
Also, disabled climbers that would have to be carried up the mountain will not be permitted, but the disabled climbers who can climb the mountain themselves can get permit.
People under the age of 18 and over the age of 75 will also not be granted the permission.
This move is being welcomed by the climbers community as it improves safety and lessens overcrowding.
QUICK FACT | Records that won't be broken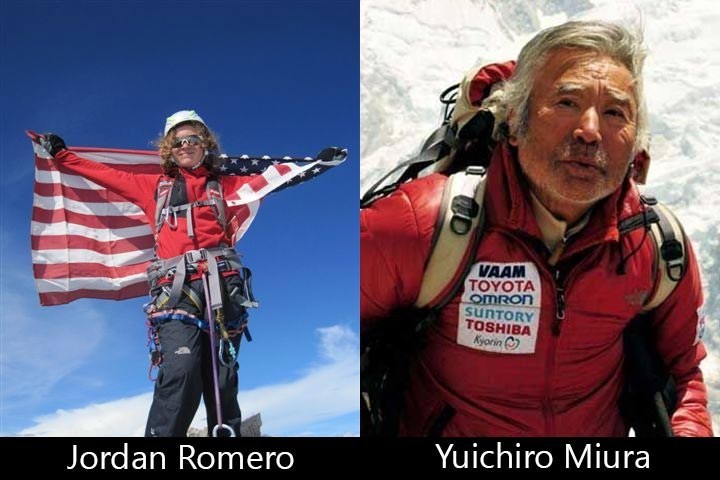 What Now?
It has been 62 years since man first conquered the peak of Mount Everest and 2015 will be the year when the Everest will be not be summitted.
In the last 41 years, this is the first time that no one will climb Mount Everest(1974).
May be, this is the time when the mountain wants some personal space!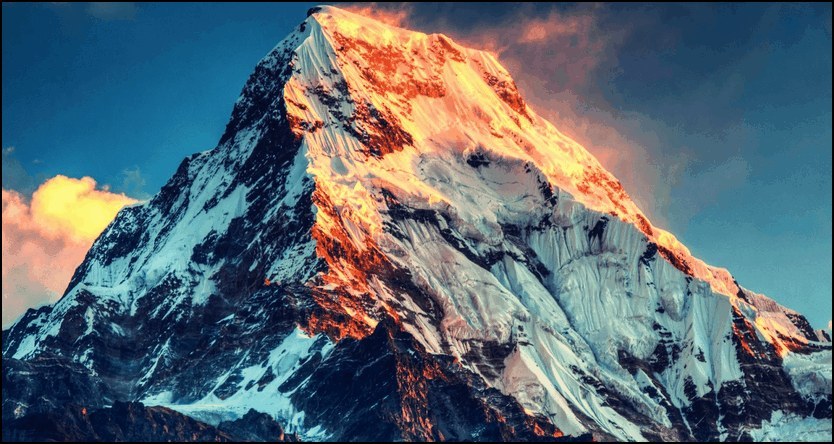 Climbing Mount Everest is one of the most captivating challenges that you can take up. Facing your inner demons, discovering yourself as you ascend the mountain, repellent negativeness gripping your mind and you still don't give up; the mountain resonates within you and you become a reflection of the mountain.
We have a counted number of breaths in our life; make sure each one of it counts.