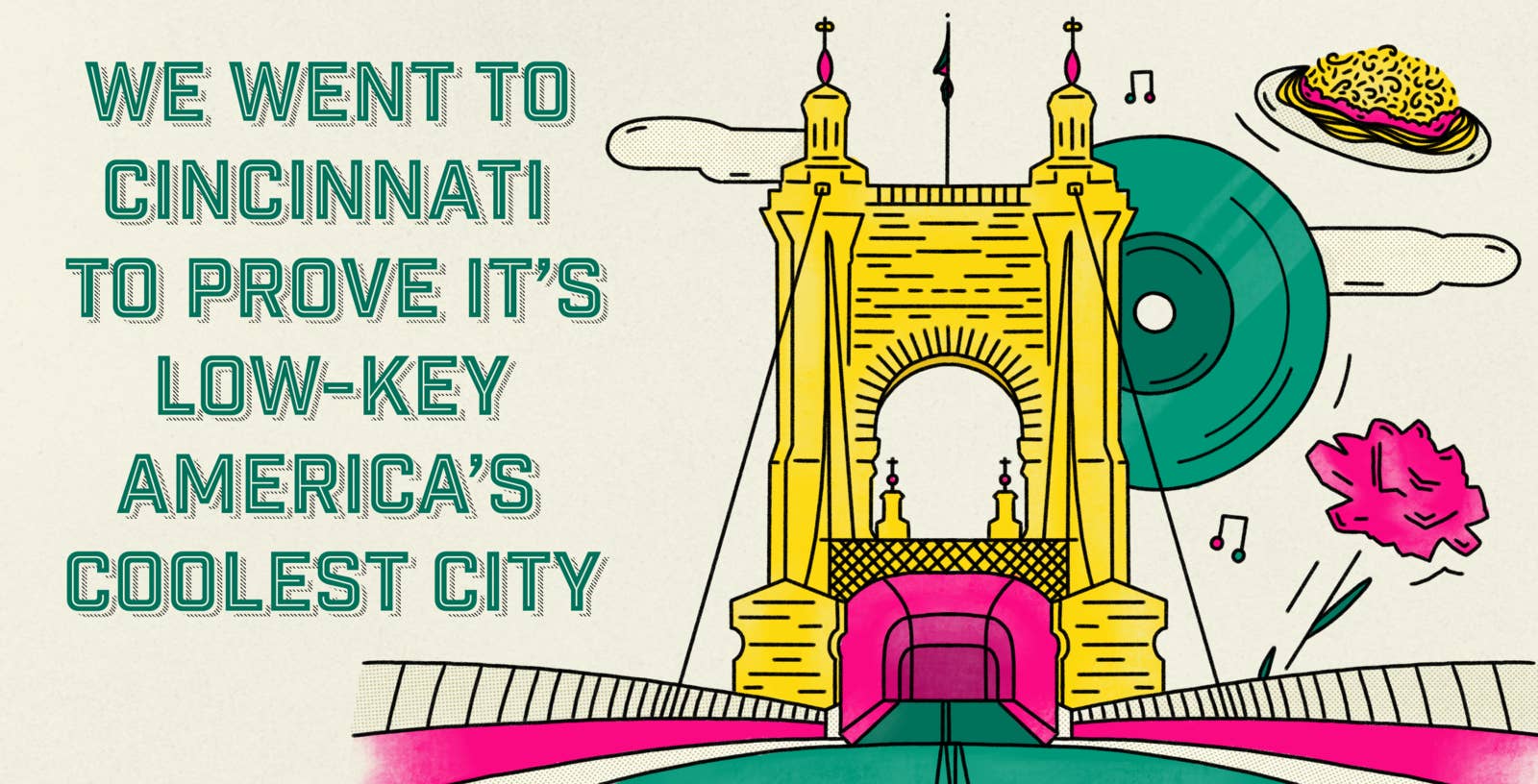 It's noon, and Dana and I have just landed in Cincinnati from NYC on a balmy July afternoon. As soon as we plopped into the backseat of our cab, I rolled down the window. Not just because it was hot but because I wanted to fill my lungs with the Midwest summer air I knew so dearly.

Ohio is sandwiched between our home states — mine, Indiana, and Dana's, Pennsylvania — and though both of us were so close to Cincinnati for so long, neither of us had ever visited. For both of us, though, it was a city we had always wanted to experience at some point.
What we would come to find is that we should have made the trip sooner. Cincinnati has so much to offer: it's a place where you can satisfy your inner foodie, scout impressive local art, and bask in the beauty of nature all in the same day. Here's what we got into during our whirlwind three days exploring seven unique neighborhoods of Cincinnati.

In what outsiders might see as a pretty typical Midwest neighborhood, we found two Cincinnati gems that are worth your consideration.
We were pretty drained after a long morning and afternoon of flight delays, and Melt Eclectic Cafe, a laid-back lunch spot serving up Cincinnati comfort food and healthy, colorful greens gave us the fuel we needed for our first day in the city.

The food was great, and I immediately learned Cincinnati dining establishment waitstaff and restaurant owners alike make certain you feel welcome. I don't know how many times we looked up, covering our mouthfuls of food to assure our waiters that, yes, we were doing OK. Midwest hospitality, amirite?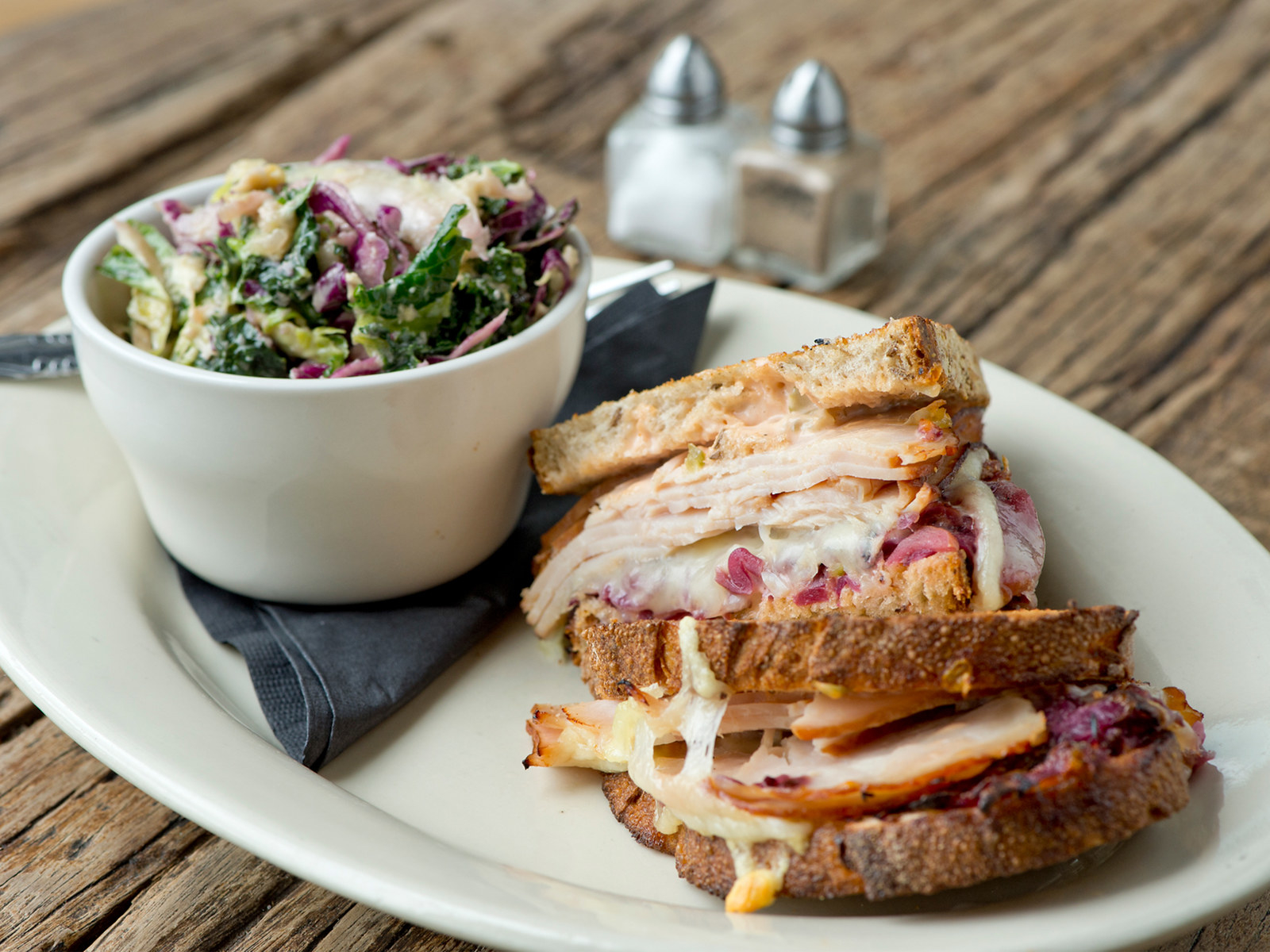 Crate-digging is my favorite pastime, so a stop at Shake It Records on Hamilton Avenue was a must. Owned by brothers Darren and Jim Blase, Shake It Records has been slinging records, books, CDs, and more for almost 20 years, but it actually started as a label in 1978.
"I was running the Shake It label out of my mom's house, creating and sending records out by mail order," co-owner Darren Blase divulged.
The Blase brothers have a clear passion for music, and that reflects in their store. Its interior is splayed with T-shirts, posters, and other music memorabilia spanning genres and generations. As far as Shake It's inventory goes, you can find it all: classic and obscure releases, old and new, from heavy metal to Afrobeat.

I chatted with Darren and Jim about the local music scene, artists who stopped by the store while in town for a show, and some of the bands and singers the Blase brothers themselves have worked with over time, and I was taken aback by how cool this place and its owners turned out to be.
Before we left, Dana and I picked up some books and records, and the owners were nice enough to send us home a record from the Shake It label (which I gave a spin once I was back in NYC — my roommate and I give it our highest marks!). I'd call Shake It Records an essential visit in Cincinnati, whether you're a music snob or still finding your groove.


From sports to grub to shopping, a surefire way to find a good time in Cincinnati is to head downtown.
It was time to head downtown for dinner, but it was super hot, so Dana and I decided to hang out for a while and sip on something cool and refreshing. We stopped by Rooted Juicery, whose bright, clean atmosphere matches the healthful juices and foods on its menu. I went for a concoction with vanilla, cashew milk, and blue majik (basically, spirulina), and Dana had an iced matcha. Both were super refreshing and woke our systems right up, and I would be remiss not to mention how pretty these drinks were. You could probably build an entire social media aesthetic around one of them.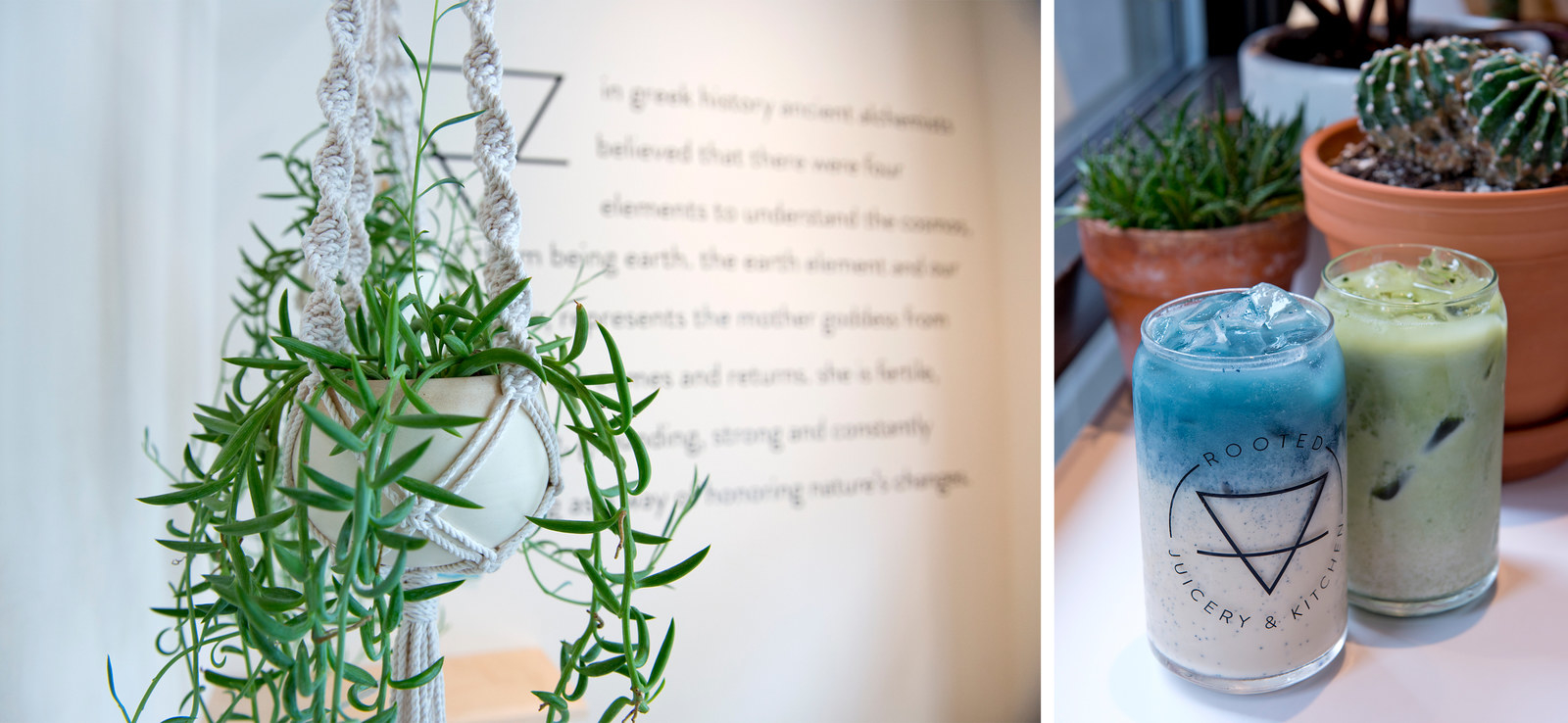 After we were done hangin' at Rooted, we walked over to Zablong for a pizza experience I can genuinely say I've never had in the Midwest. Zablong's menu is full of unique pizza creations, but you're totally at will to design your own pizza masterpiece, and they assemble it right in front of you, from crust to toppings.
Its downtown Cincinnati location has outdoor seating, and since it was a gorgeous day, we grabbed our pizza and went outside to dig in and get some sun.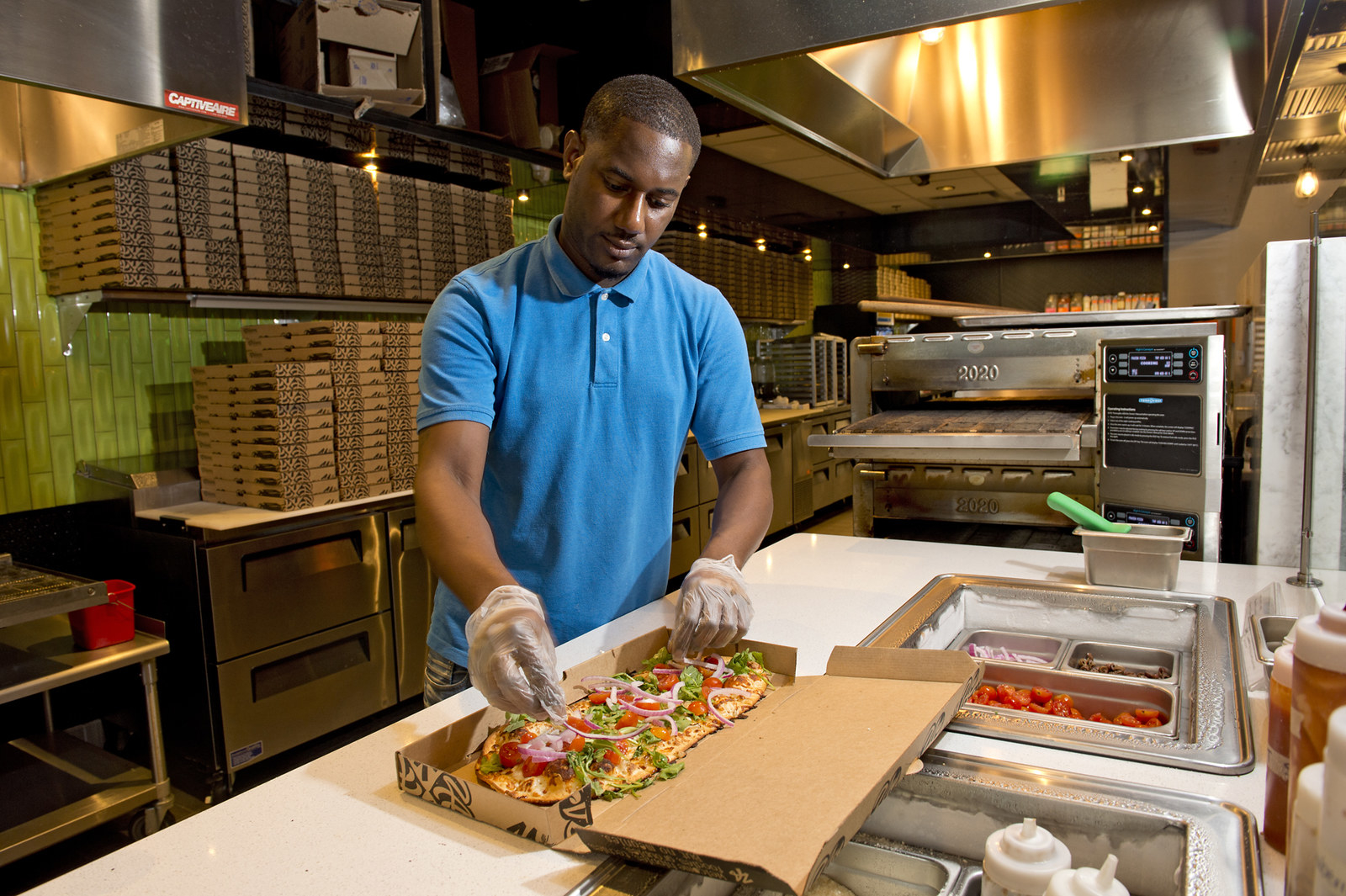 John A. Roebling Suspension Bridge
We ended our day with a trip to the stunning Roebling Bridge. Dana and I were truly scandalized to find out that this bridge was the blueprint for the iconic Brooklyn Bridge, which I think Cincinnati gets major cool points for. It was less crowded than it would be on the Brooklyn Bridge, especially during that after-work rush hour, but it was just as cool.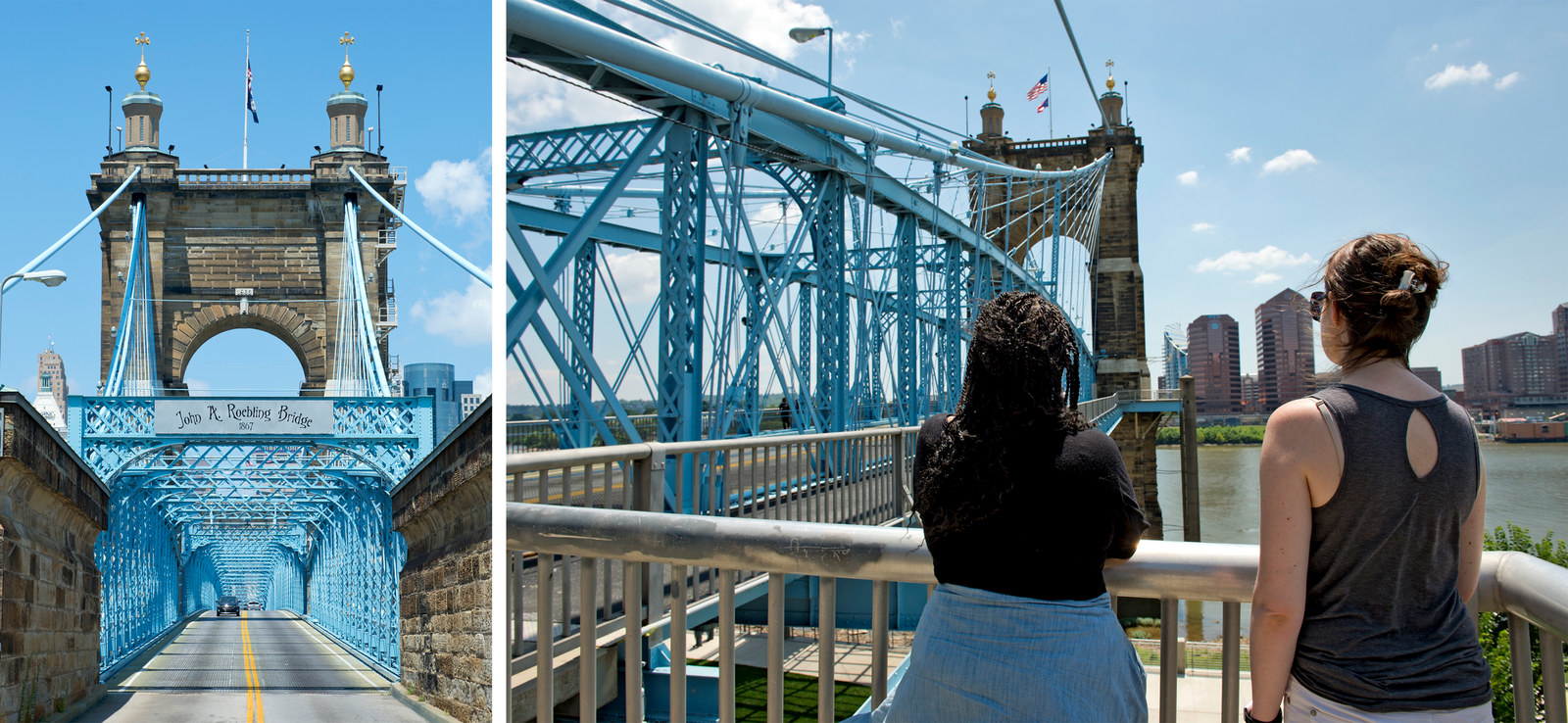 After breakfast, we decided to check out the historic Findlay Market. On our way there, our photographer and de facto tour guide, David (who has lived in Cincinnati for over 20 years now), filled us in on how essential this visit really was.
"Just about everyone goes to Findlay Market. You can get everything there," he insisted, and Dana and I found out he wasn't kidding.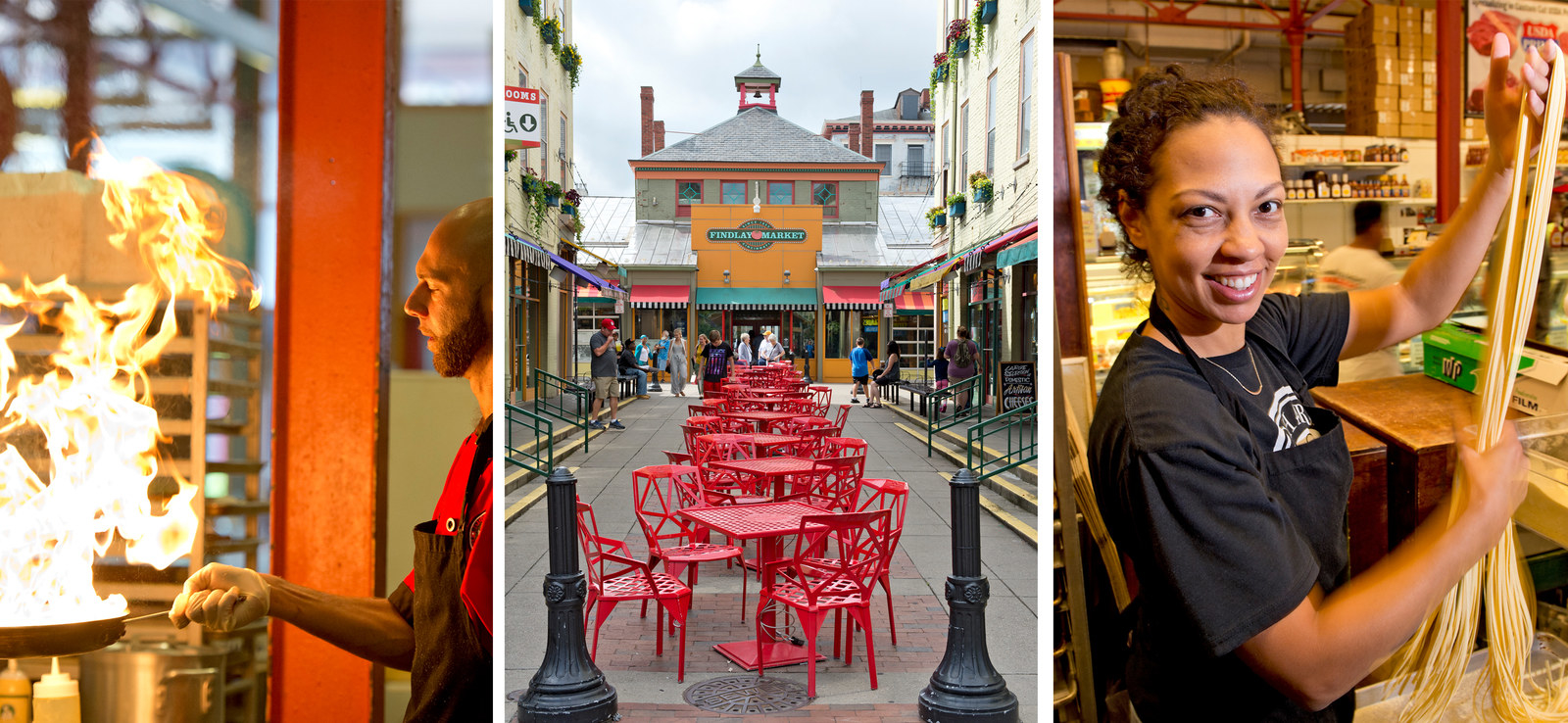 Findlay Market supplies Cincinnati with a titanic range of fresh fare from local businesses. You can come here for fresh, locally sourced produce, flowers, meat, and other groceries; buy a unique pair of earrings; or check out one of its many restaurants for a quick bite, from pho to pasta.

Hyde Park might be known for its elevated vibe, but this neighborhood has managed to uphold spaces with that down-home Cincinnati integrity despite an otherwise posh attitude.
We experienced some of the cool new spots making waves in Cincinnati's restaurant scene, but an undying part of this city's personality is its down-home establishments that have been mainstays in different neighborhoods. With this in mind, we started our second day in Cincinnati with a visit to The Echo.
Around since 1945, The Echo is the kind of diner where waitstaff greet their customers by name and barely have to scribble down orders. When we got there, we only scoured the menu for a few seconds before we were urged to "please, please, please!" try the Red, White, and Blueberries, a croissant French toast with homemade whipped cream and, of course, blueberries. We obliged. The meal tasted as fresh and homemade as was promised, and we were totally charmed by the old-school-diner sentimentality.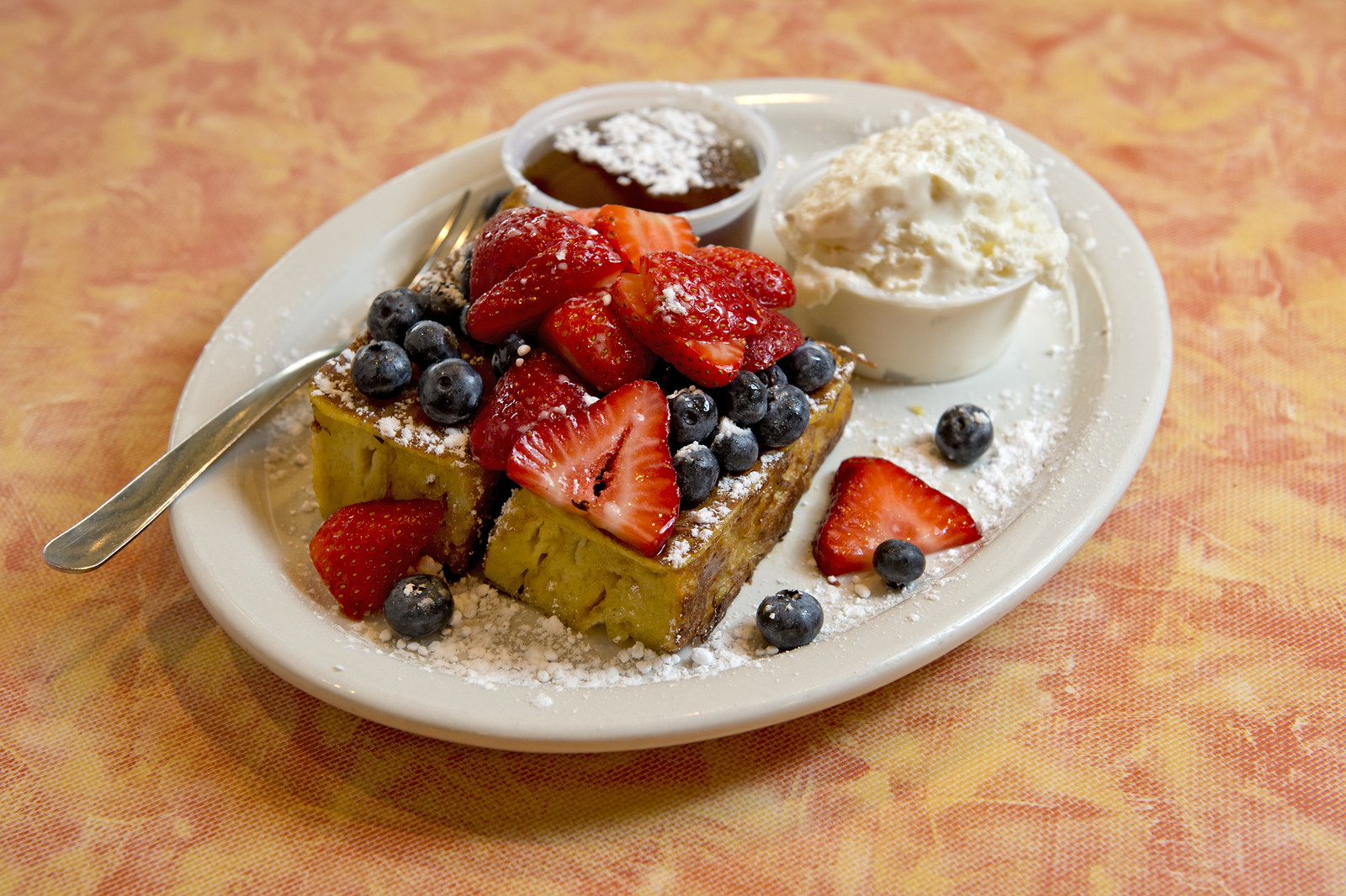 Full of hip restaurants and cheeky shops, the historic Over-the-Rhine district is as cool as LA or New York City but with that warm Cincinnati hospitality we came to love.
Our first stop in OTR was Senate, a modern, casual eatery with a menu of fancy hot dogs the likes of which Dana and I had never seen before. Served in massive buns, Senate's gourmet dogs are piled high with toppings like guac, potato chips, and fried eggs — and trust me, after just one, you'll practically have to be rolled out of there.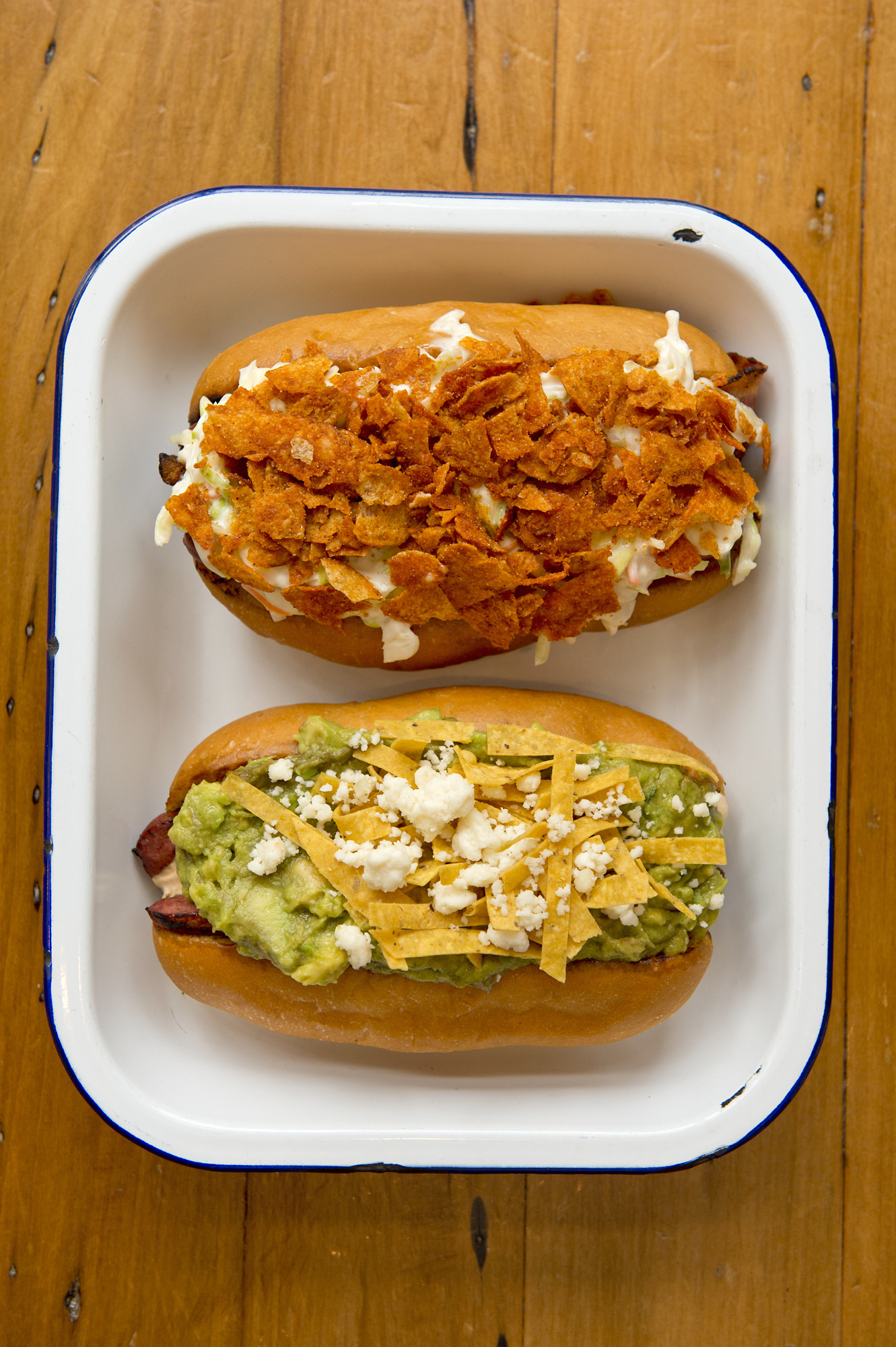 A really great candle is one of the best things you can own, and customizing candles to our exact preferences at The Candle Lab was an opportunity we couldn't pass up. We chose our blends from a massive wall of fragrances (over 120!!!), which I thought would be kind of overwhelming, but the staff helped us identify what type of scents we tend to gravitate toward. I ultimately decided on a sweet, refreshing blend of morning dew, agave, and jade, and Dana went for a blend of grapefruit, mint, and chardonnay. This is also a great place to go if you're looking for a unique gift for your mom or significant other (just make sure you pay attention to the scents they actually like!).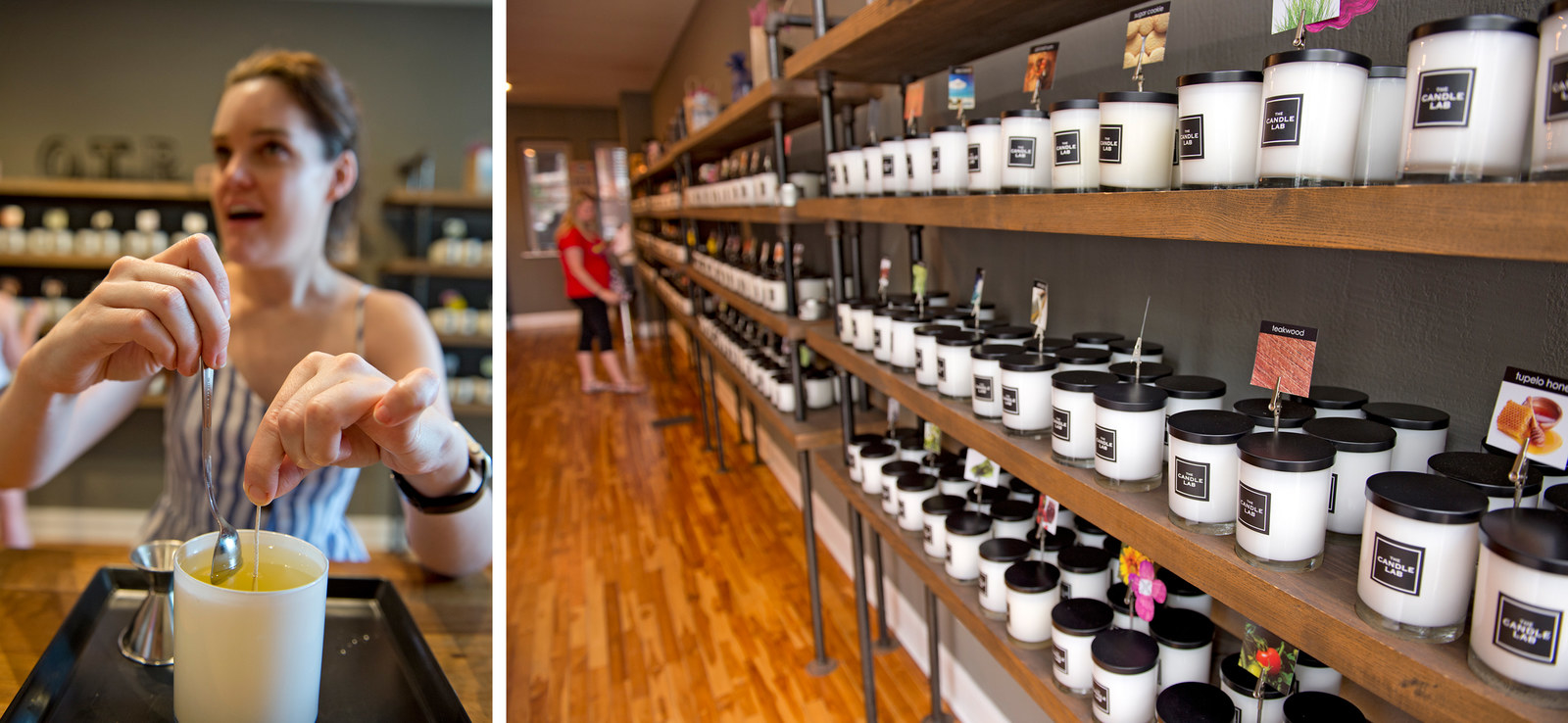 The candles needed some time to solidify, so while we were waiting, we walked over to MiCa 12/v (I had a total "ohhhhhhhh" moment when I realized it was on 12th and Vine), a super-cute indie boutique. Something I really appreciate about Cincinnati is its impressive supply of local art and handicrafts, which MiCa 12/v proudly vends. You can find cheeky greeting cards, leather-bound notebooks, handmade earrings, edgy home decor, and deluxe fragrances. If I had the luggage space, I would have picked up a rug or seven.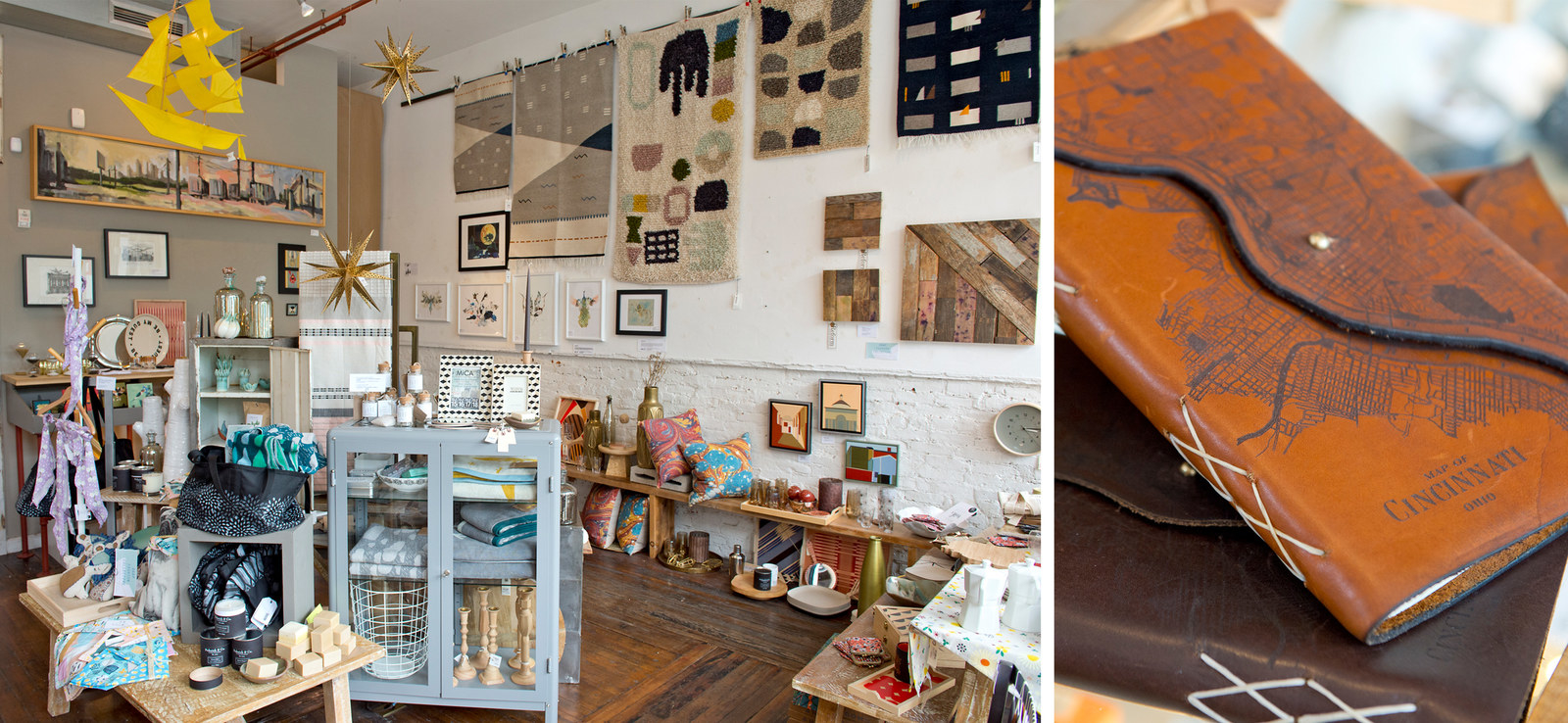 It's a scientific fact that street food is the best food. For dinner, we went to Quán Hapa, where we got up close and personal with Asian street food and got to experience it while watching anime on two flatscreens in the restaurant.
Everything was super fresh and flavorful, and to say this place was cool is an understatement.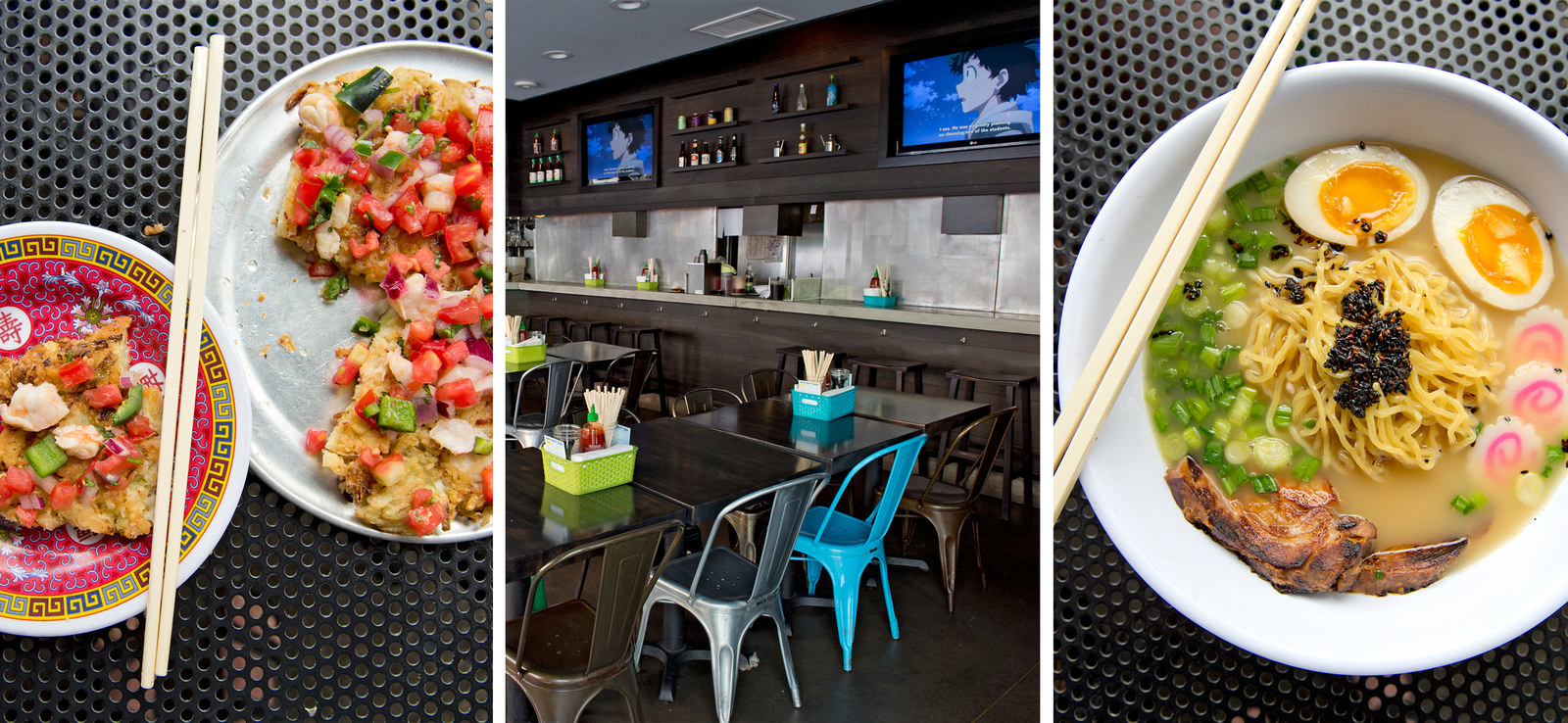 It was time to wrap up our day, and we knew we couldn't come to Cincinnati without trying some ice cream from Graeter's, so we made a quick stop at their OTR location.
Graeter's has been producing its French Pot ice cream for an impressive 148 years, and a little girl being near tears at her favorite flavor being sold out (strawberry, from what I overheard) is indication enough of how they've been able to last so long. It's great ice cream, and this was the perfect way to wrap up day two in Cincinnati.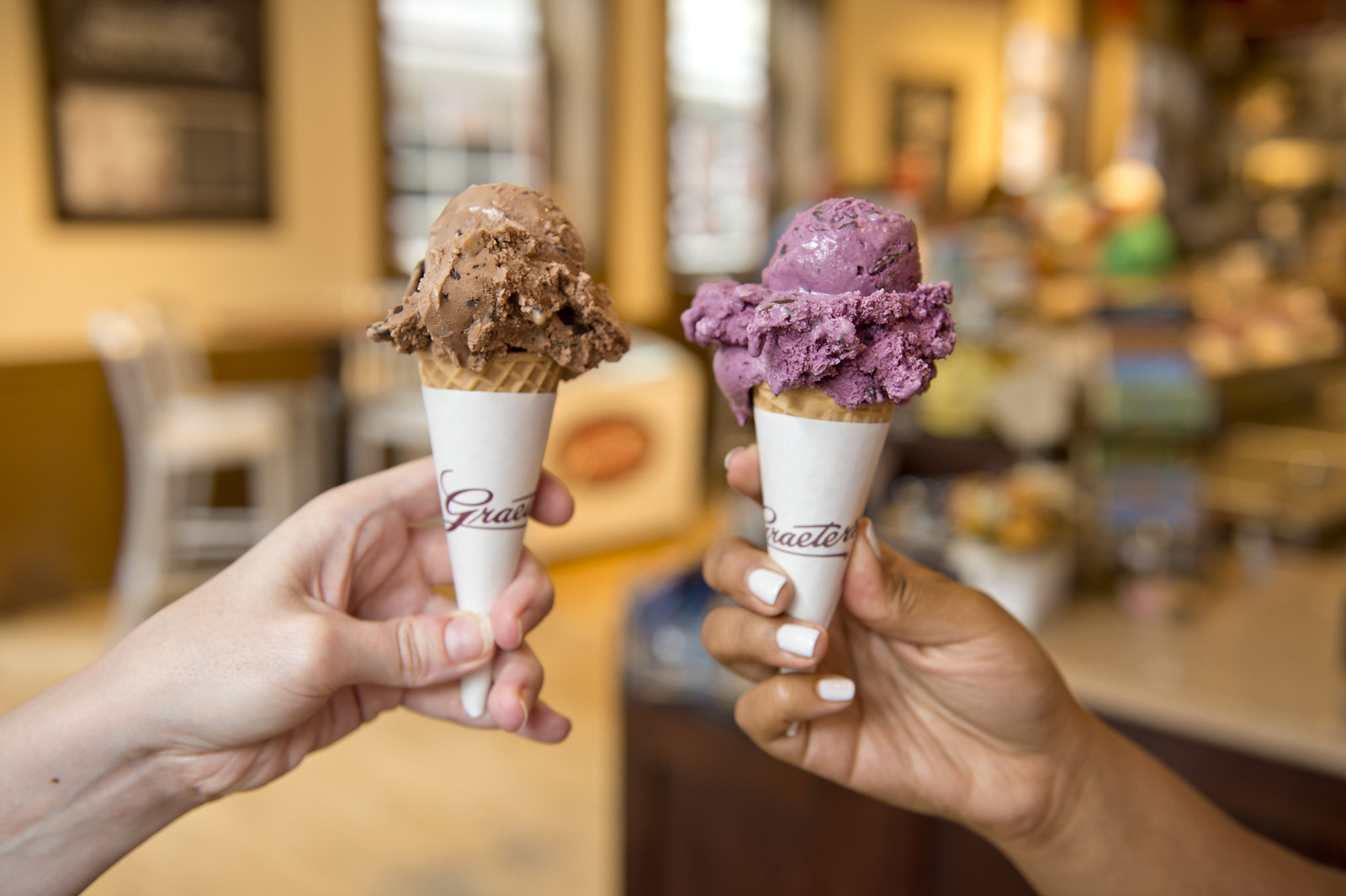 In a word, Mt. Adams is eclectic. Both modern and retro architecture greet you as you wind through the hills, and charming small businesses lure you in with beautiful boutique clothing and good food.

We woke up bright and early to grab breakfast at Bow Tie Cafe. Dana and I were obsessed with this place; it's bright, sunny, and cheery, with free dog treats and a staff that makes you feel like you're eating at a friend's house. For breakfast, we were treated to a cappuccino that knocked out any sleep that was still in our systems and fresh waffles topped with strawberry, which tasted like breakfast and dessert all in one.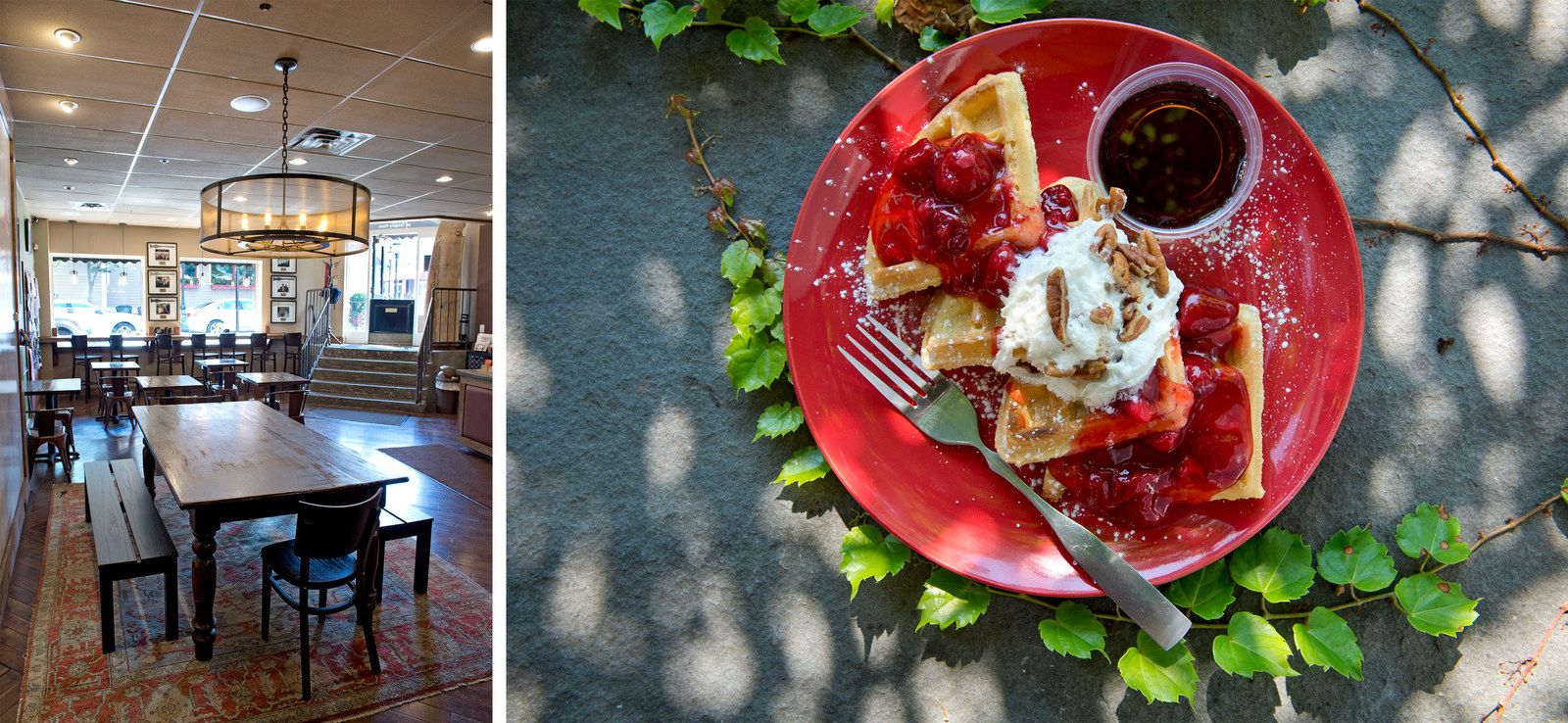 We were even more invested in its tearjerking philanthropic backstory. The cafe was founded in 2010 after Kunta Littlejohn, a close friend of owner and former football star Dhani Jones, was diagnosed with non-Hodgkin lymphoma in 2010. Its namesake fund, The Bow Tie Cause, raises funds for charities like the Leukemia & Lymphoma Society.
BRB, weeping.
One of the best parts about Mt. Adams is the amazing view of Cincinnati you get when you're up there, and City View Tavern was the perfect spot to take it all in after we finished breakfast. The entrance might be a little inconspicuous, with a demure exterior that tells little of the city view it claims, but don't be fooled — once we were up there, we found it to be the perfect place to look over Cincinnati and fuel up with some classic tavern digs (made by Silas, who, based on his familiarity with customers and casual wisecracking, I have a feeling is a bit of a local legend). And this place has history: It's been in Mt. Adams for 143 years (!!!).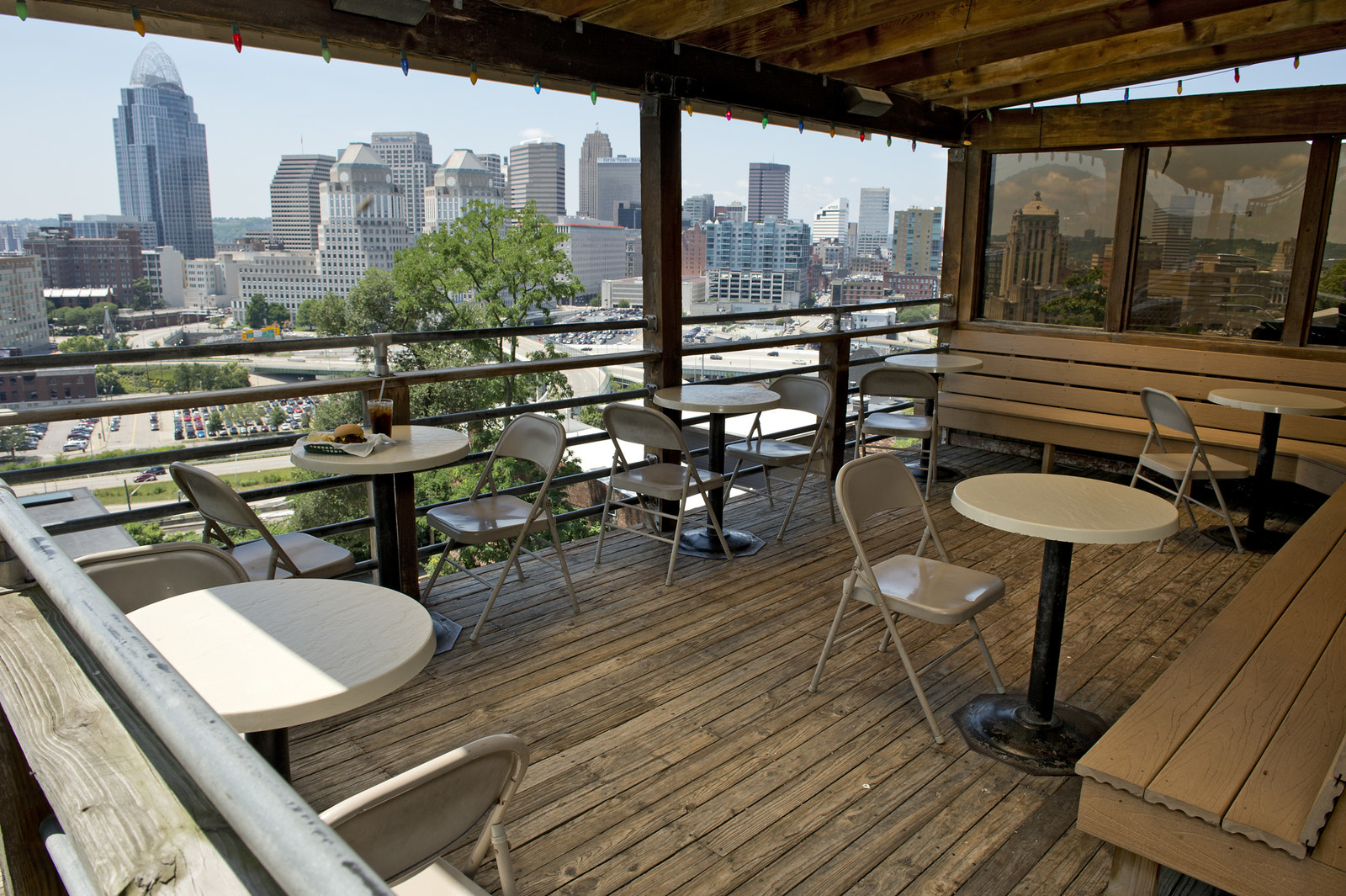 An Apothecary Soul Garden at Krohn Conservatory | 950 Eden Park Drive
After breakfast, we drove over to Krohn Conservatory in Eden Park for what felt like a quick getaway to a gorgeous green naturescape. I'm really into herbal medicine, so our visit to the conservatory's apothecary soul garden was a highly anticipated visit.
The apothecary is scattered with healing plants and informational posts that herald the antioxidant properties of rosemary and memory-boosting powers of citrine, with recipes for different ailments (and, of course, the caveat that they do not replace the advice of a medical provider).
I joked to Dana that I felt healthier just being there, but it was kind of true. It's a really calm space, and just learning about the many ways nature is there to help you heal and find balance is de-stressing in itself.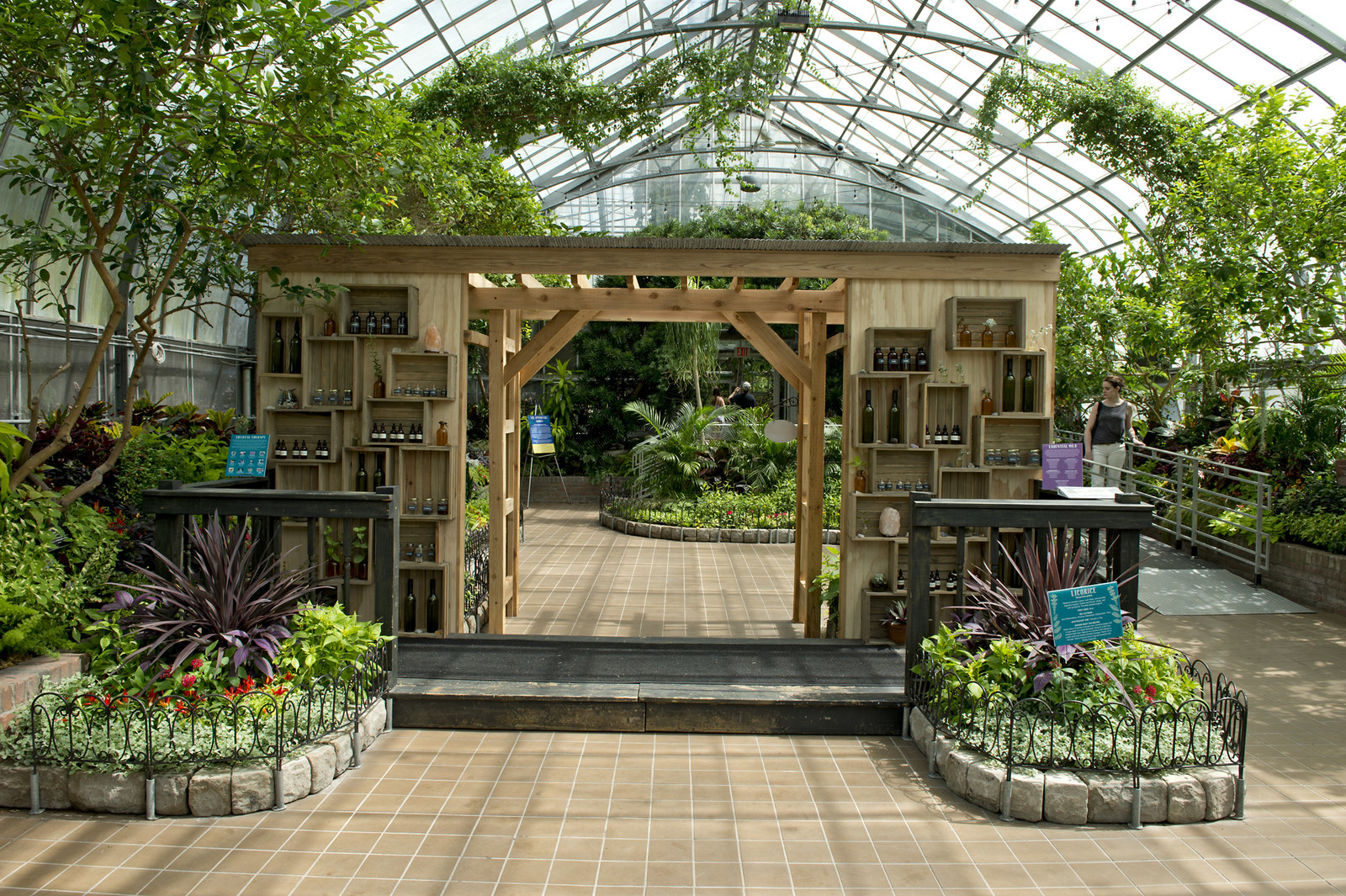 While it's got less of the hustle and bustle of downtown and OTR, Walnut Hills is accented with some pretty unique establishments offering one-of-a-kind experiences.
Dana and I needed a quick pick-me-up after bouncing around Mt. Adams and Eden Park, so we made our way toward Landlocked Social House for some caffeine. Our photographer, David, used to moonlight as a barista, and he had been giving us the rundown of what makes coffee good during our visit to Cincinnati. We all agreed that Landlocked has it, and their beautiful latte art makes it even better.
Owned by Andrew and Anne Decker, a young and ambitious husband-and-wife team, Landlocked serves up a dynamic duo of coffee and craft beers. The ambience is just as advertised: social with funky music playing and a casual and hip layout. Come here to bang out some work or catch up with some friends.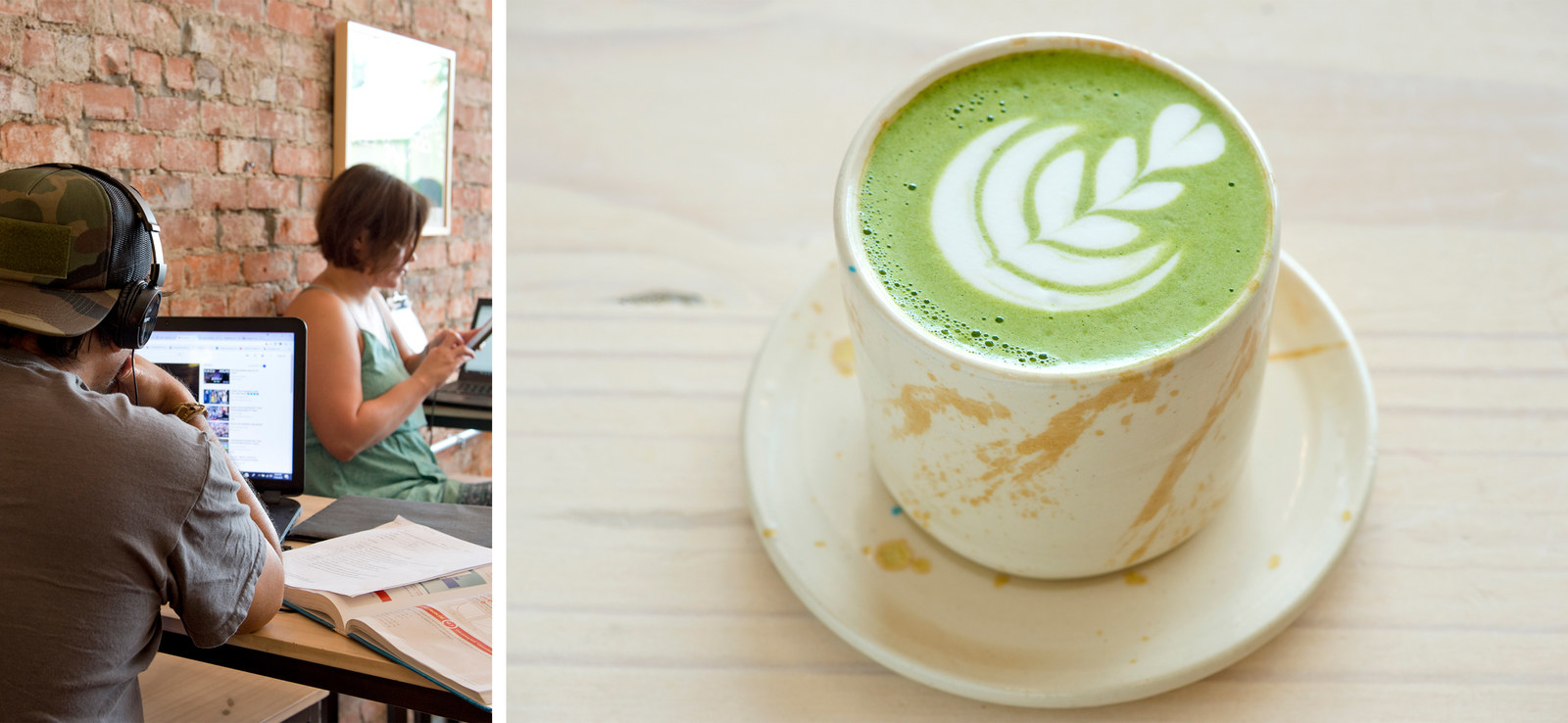 Before leaving Cincinnati, we made a midafternoon stop to Lucky Cat Museum at Essex Studios, and, my, if it didn't capture the eclectic essence of this city. Run by Micha Robertson, this museum contains over a thousand models of the maneki neko, the lucky cat, a popular Japanese luck symbol.
There are so many cats. SO. MANY. CATS. Dana, who's the proud owner of a cat named Habanero, was probably more obsessed than I was. We had to give ourselves time to wander aimlessly and let our eyes dart from corner to corner to take it all in before asking any questions. And, boy, did we have questions.
First and foremost, I wanted to know how and from where Micha acquired all these cats. She explained she's been operating this museum pretty much by herself, hunting down basically all of the pieces in it from Japanese auctions, a sometimes arduous labor of love.
I watched as she tinkered away a giant mosaic cat head, and I realized this is more than just a project to her; it's her passion, and she's dedicated to it.
All things considered, the Lucky Cat Museum was an unforgettable visit and the perfect last stop before we wrapped up our three days in Cincinnati.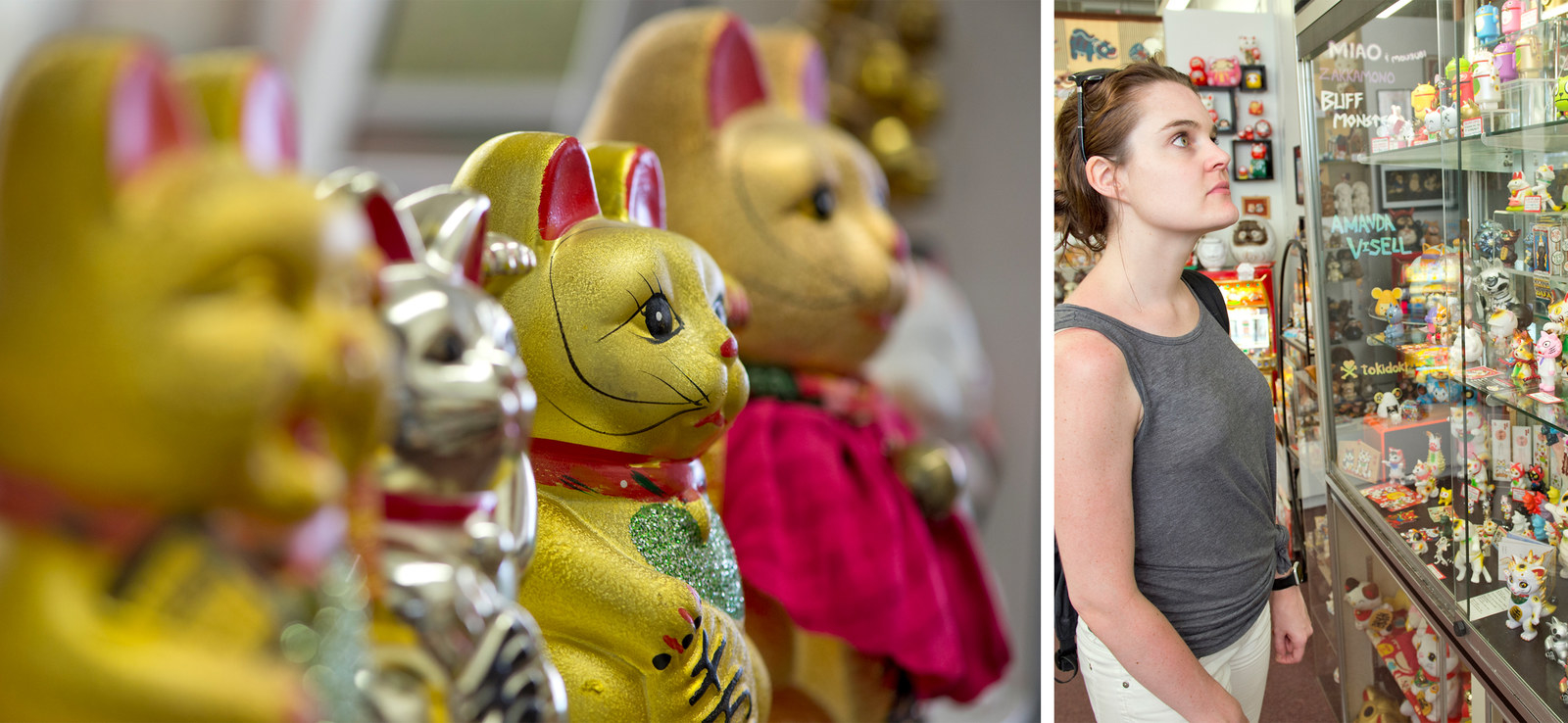 Cincinnati is a city of duality: of down-home sentimentality and urban ingenuity. A city with artistic talent pumping through its veins, spunky local businesses sprouting from corner to corner, and faithful inhabitants proudly welcoming us to the city they know and love. Cincinnati has so much to offer, and it's evolving with each passing day.
Don't overlook it.
Photographs by David Sorcher / Illustrations by Victoria Reyes / © BuzzFeed
U.S. Bank is proud to support Cincinnati communities and the individuals within them by helping them find their possible.
Take this survey. It's almost like taking a quiz!