We are late. Sarah and I show up in the Quarterback Lot at about 7:30 a.m. feeling prepared and punctual, but the parking lots around U.S. Bank Stadium are already filling steadily with throngs of Vikings faithful who are erecting tents, parking RVs, wiring sound equipment, and unloading coolers. The sounds of Gjallarhorn calls and party music waft through the air.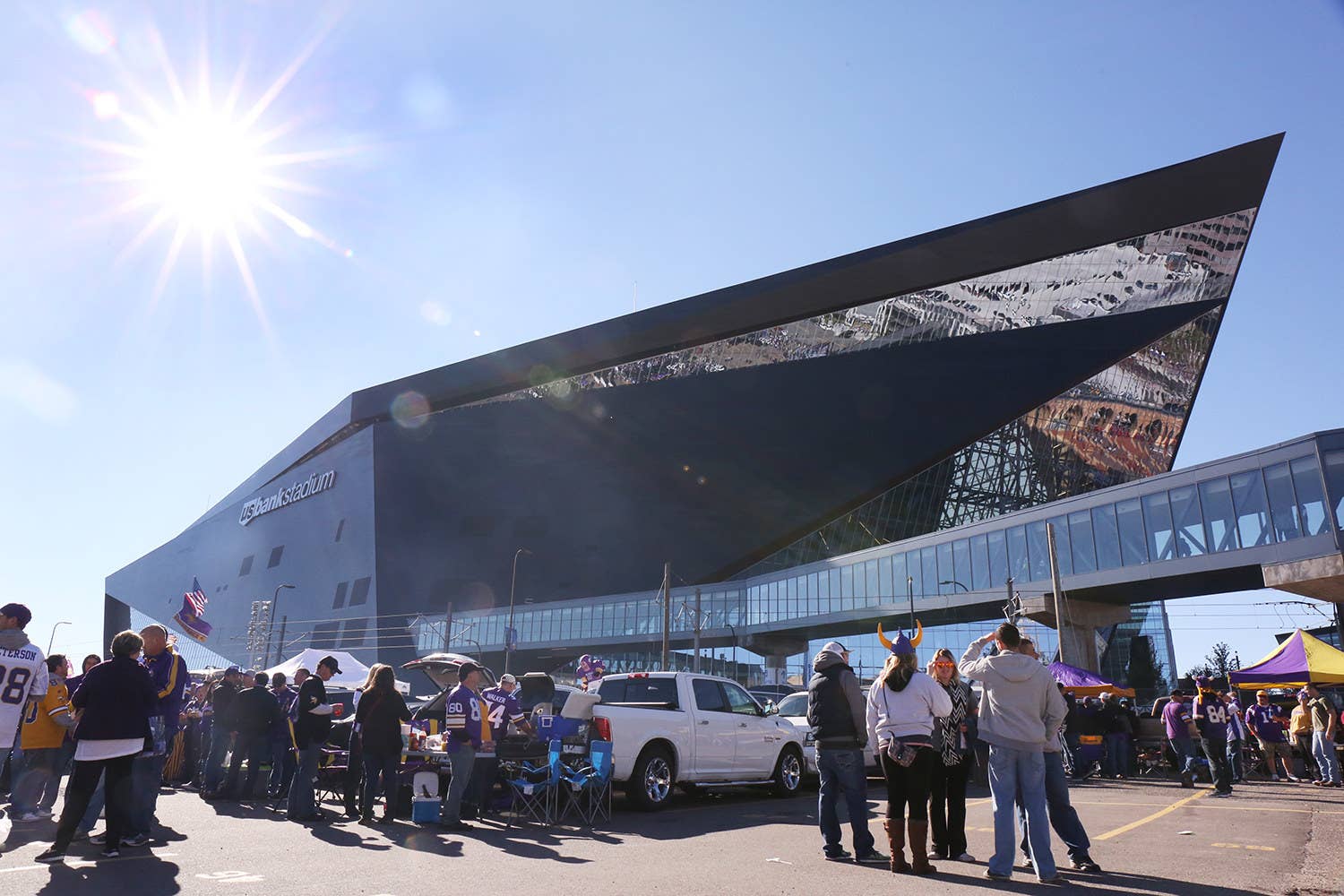 So yeah, we show up to the party almost a full five hours before kickoff time, and we are already late. After exchanging "what did we get ourselves into?" looks, we venture into the growing crowd to talk to these folks. No time to waste, apparently.

"Our crew is pretty hardcore. We get here at 7, rain, shine, snow, sleet. ... On an average week, [our group has] about 20–25 people. ... We try to get set up within 15 minutes of getting here in the morning."

—Josh D.
"We got here at 6 a.m. and probably won't leave the lot until about 6 p.m."

—Tony B.
"People are up at 4 a.m., lining up outside the lots, waiting to get in."

—Connie
Okay, lesson number one learned. We're already a little behind. But looking around at the people still streaming in and the ones who have already been here for hours, I know there's still a lot of tailgating left to do.

I'll hear several different translations of the Nordic word "skol" during my time in Vikings nation. Depending on who you talk to, it means everything from "Victory!!" to "Cheers!" to "Hey, how's it going?" No matter the actual definition, though, everyone in the Purple and Gold lots knows it as a rallying cry for their beloved Vikings and uses it liberally (and loudly) to cheer or greet their friends.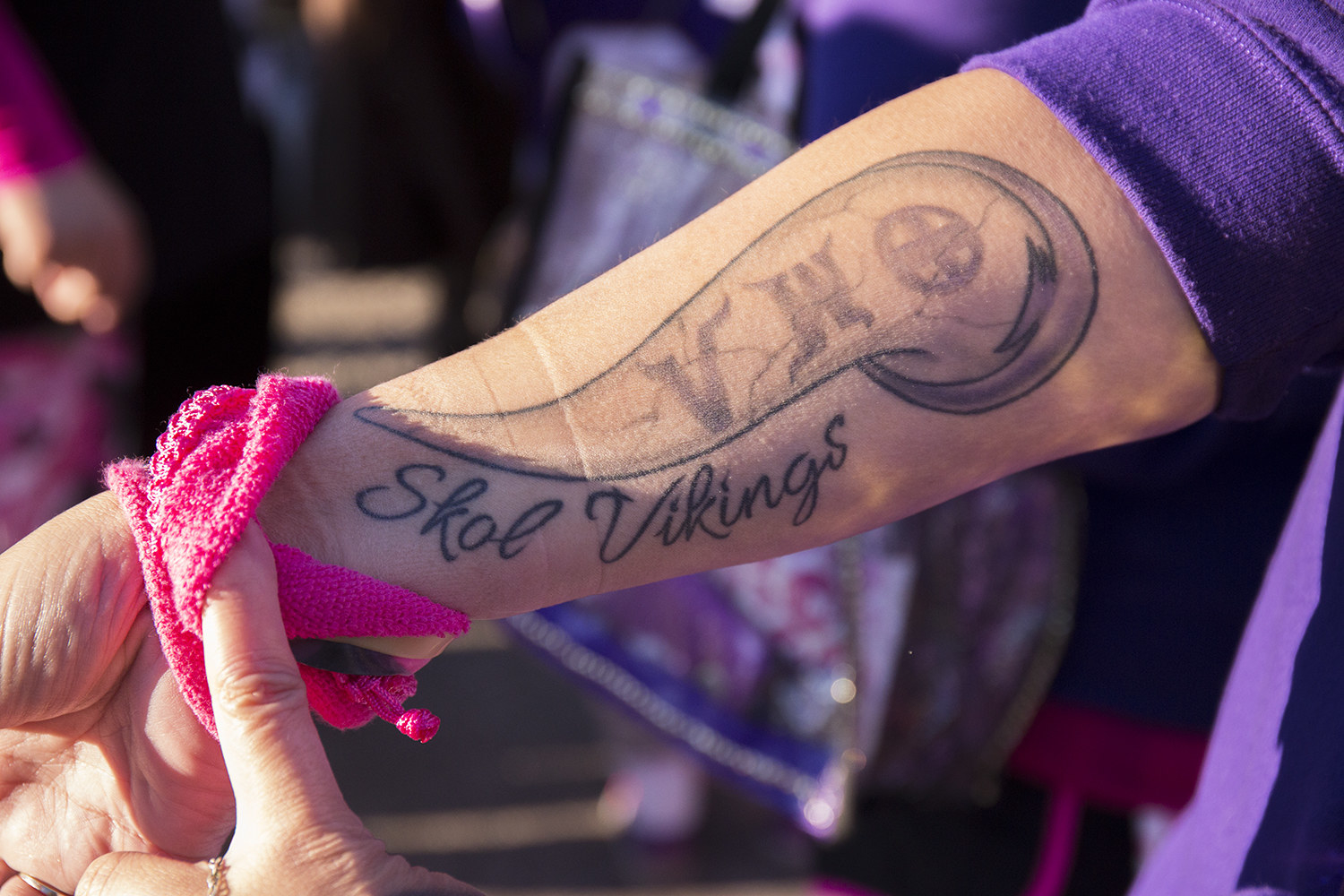 The word has been a part of Vikings lore forever, but in an effort to christen their new stadium, the Vikings have introduced a new "skol chant" that takes place before games. We ask people what they thought of the chant and how "skol" fits into their identity as Vikings fans.

"I like the idea of trying to start a new tradition [with the skol chant]. The first go around...was a little awkward, but I think the fans are getting it. It's pretty cool when you see 60,000 people all in unison doing it."

—Tony B.
A few hours later, we will see 60,000 people doing the skol chant in unison, just before the team takes the field via a replica Viking ship with a prow shaped like a dragon that shoots a gout of flame 50 feet into the air. Sarah and I will literally feel the heat of it on our faces. Tony is right — it is pretty cool.
Not the average Sunday-morning church service with regular hymns and sermons, though. No, this is the meat-grilling, pigskin-chuckin', hymn-singin', opponent-taunting Church of the Purple Brethren. We find some congregants and the church's founder, known simply as "The Rev," and ask them to reveal the tenets of the faith.

"I did a wedding for 200 VWO [members] ... and I had the bride delivered to her wedding in my fire-breathing chariot. ... Do you know why I have a fire-breathing chariot? Because I can."

—Steinarr
Yes, there are weddings. Yes, they have a real pulpit. Yes, the Rev preaches a real sermon/pep talk (at 7:00 a.m. sharp). Yes, they even sing hymns out of purple steno-pad hymnals, one of which — "The Bears Still Suck" — they are gracious enough to sing for us.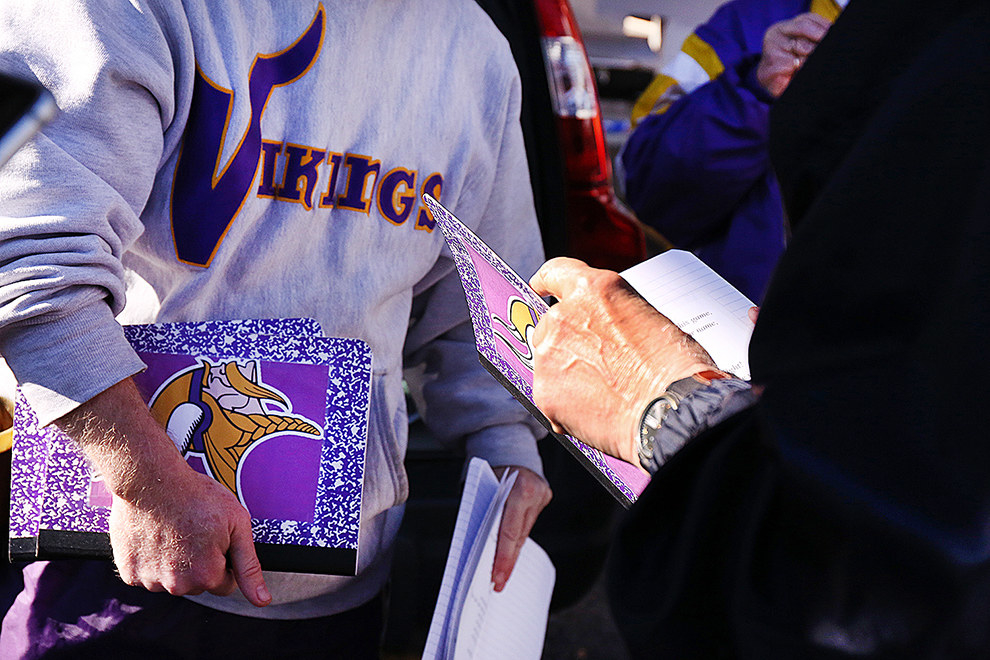 "At the old stadium, the Metrodome, there was so much traffic in the parking lot after the game that some of the players would come out and tailgate with us until the traffic cleared."

—The Rev

I see a large group of people gathering at the edge of the Purple Lot, dressed half in purple Vikings regalia and half in what appear to be various colors of army fatigues. Sarah and I agree that these are people we should be talking to. Boy, are we glad we did.
"I walked the [perimeter of the] grounds of the stadium every Saturday while it was being built. I would wear different outfits that I wear on game days. That was 198 times."

—Sir Gunnar
The VWO, or Viking World Order, is a fan collective unlike any other in professional sports, an intensely regimented outfit complete with code names, ranks, badges, a fleet of purple-and-yellow vans, loyalty oaths, and a real live knighting ceremony to initiate new members. Sword on both shoulders and everything. Simply put, the VWO is serious business.
"We've all been knighted. You have to have a tattoo to get into the VWO. A VWO tattoo. Everyone does — you don't get in without one."

—Connie
"I started the VWO in 1997. But that was just me back then. ... We started looking for the most hardcore Viking fans we could find. ... Now we have over 300 members."

—Syd Davy 100% Cheese Free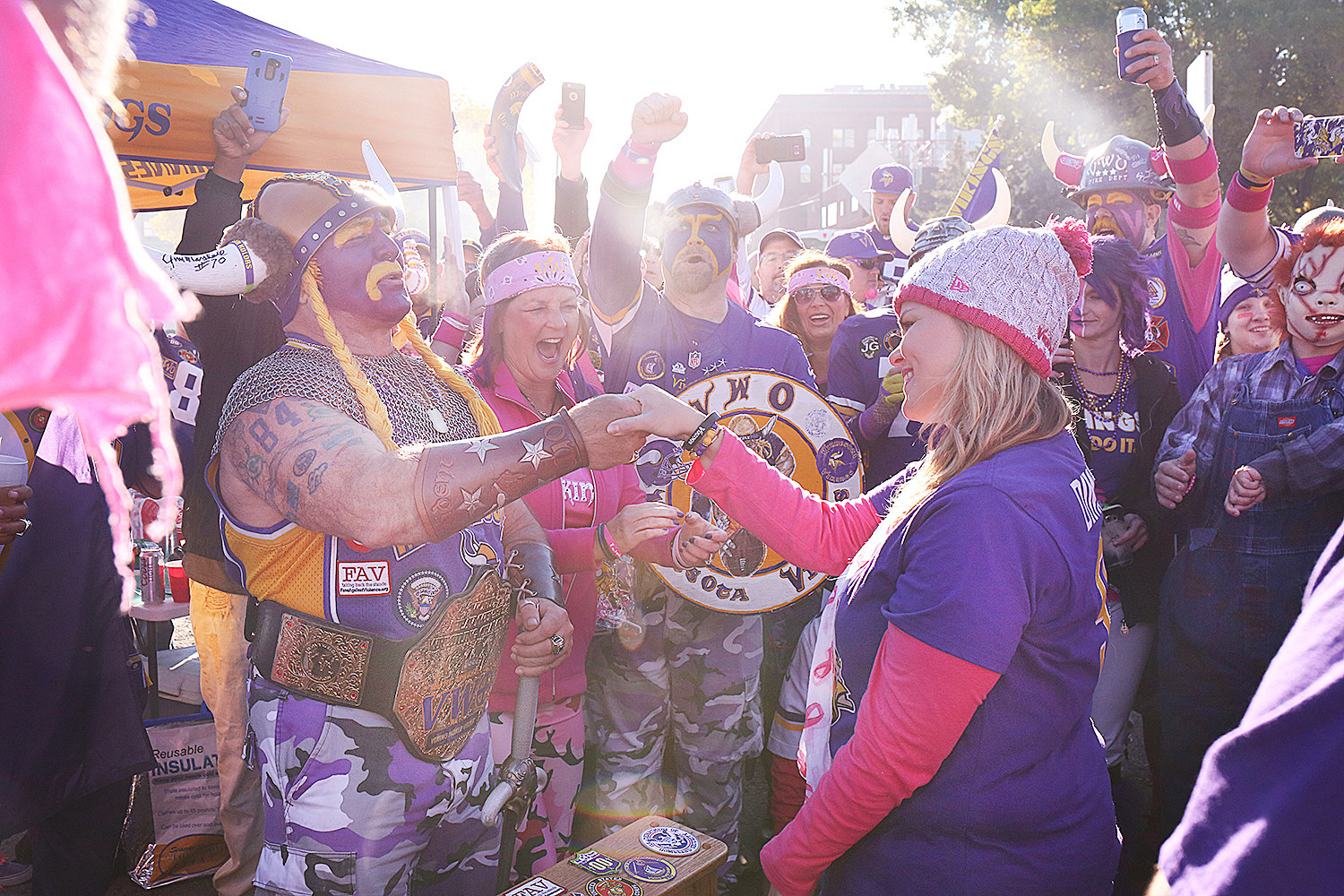 So the VWO turns out to be not just a fan club or a tailgating collective but a tight-knit community of friends and comrades formed around a single vision: Vikings domination. It's clear that this fanaticism goes well beyond Sunday mornings and the occasional Monday night. Another tailgate lesson: What happens in the lot on Sundays is only part of the story.

Football fans are famously loyal to their team, and some form of tradition is ubiquitous in tailgating lots and sports bars around the country. Again, though, Vikings fans take these attributes to the extreme.

Take Sir Barticus, a longtime Navy man now serving active duty in the VWO. For Barticus, VWO loyalty goes deeper than just cheering on the team.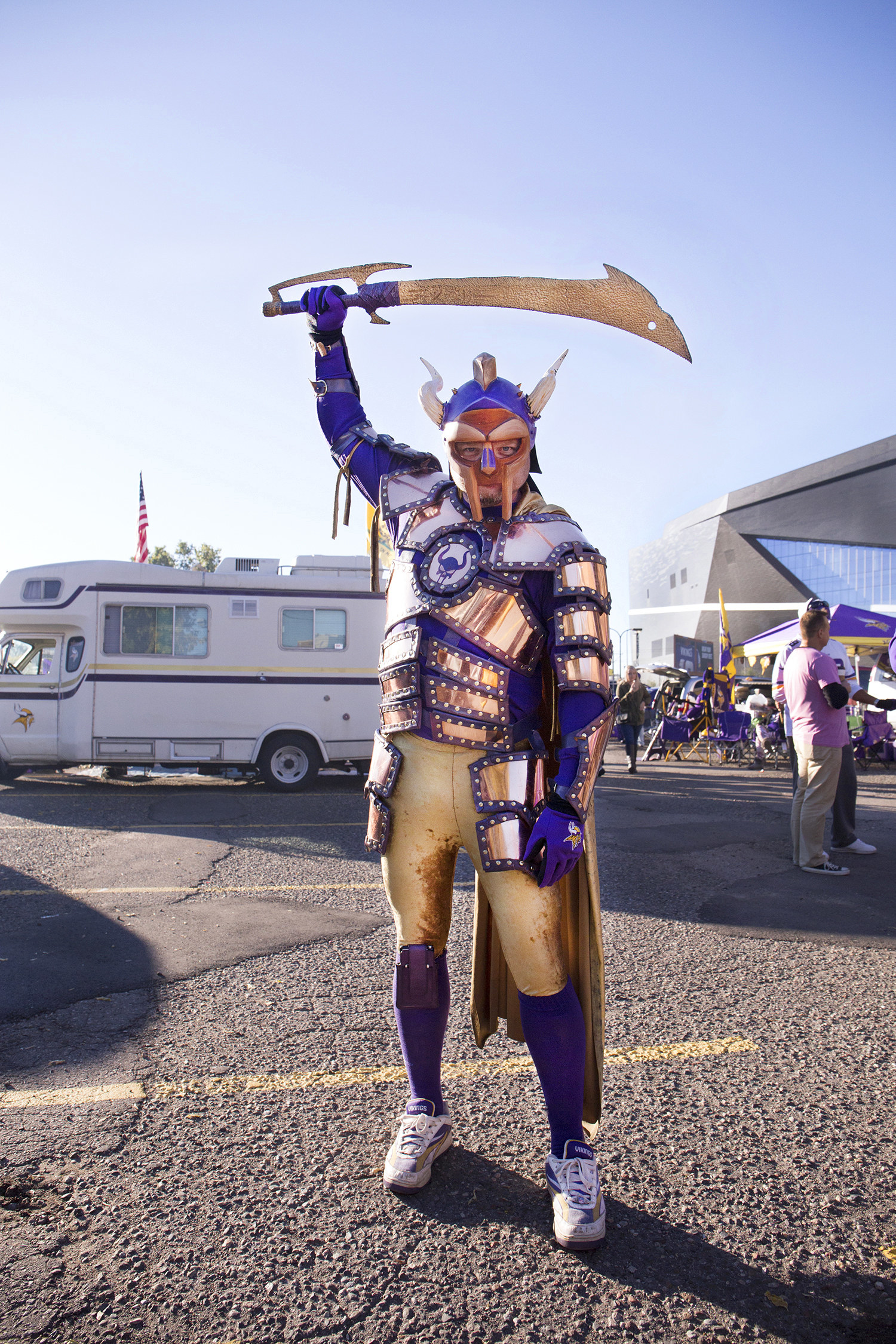 "One of my buddies passed away last June from cancer, so I carry his shield with me everywhere I go. ... He was in the VWO, [and] he was my best friend. [The shield] will always be in the stadium for game day. I carry him with me."

—Sir Barticus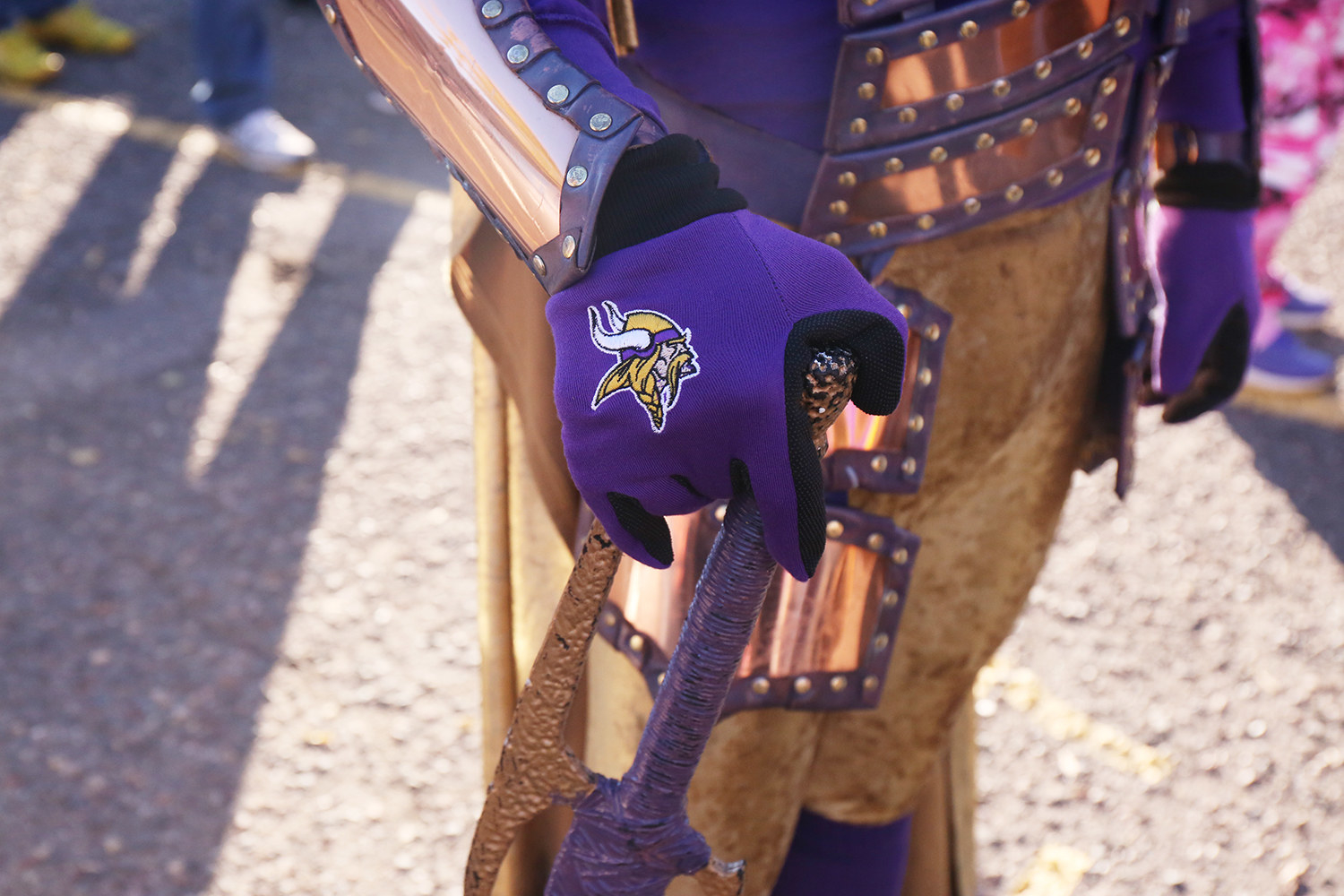 Barticus also ran a 5K in that outfit, just the week before, all so he could carry the memory and shield of his friend across the 50-yard line of the new stadium — to make an introduction between the past and the future.
Probably no one more embodies the rich traditions of Viking nation than Queen Hell-gah. A matriarchal figure within the VWO, Hell-gah tells me her outfit, one of three, has been assembled over 20 years and incorporates mementos from pivotal moments in her life.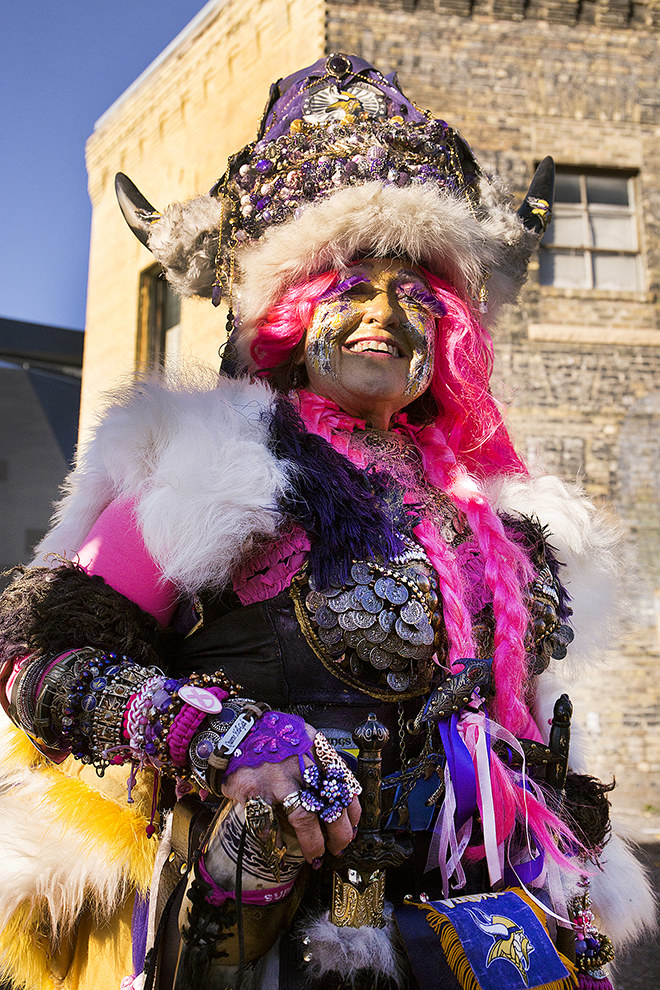 "[The details of the outfit] depends on my mood in the morning. I have a whole bunch of stuff. ... And I have three outfits: I have a summer, a fall, and a winter. ... The whole outfit takes about two hours to get on. ... So 4:30 a.m. I got up this morning."

—Queen Hell-gah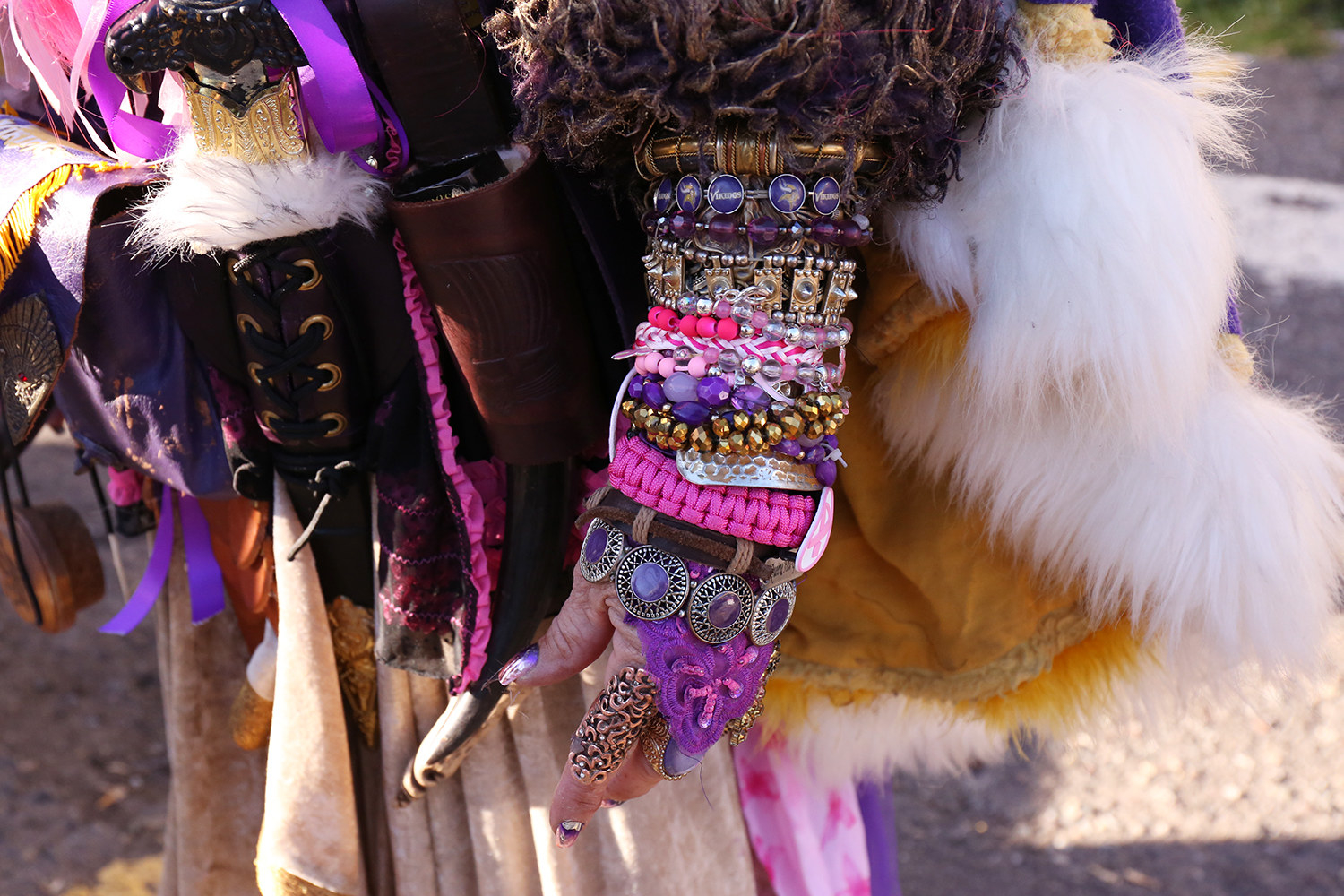 One example of how Hell-gah's life comprises her costume can be found trailing down the back of her ornate Viking crown, she tells us. It's her wedding veil. Her husband is here too, readying for the VWO knighting ceremony to take place at 9:30.

Hearing stories like these, it starts to dawn on me that the people I'm talking to are not simply a "tailgating community" but a strong, vibrant, fascinating community that happens to tailgate.

Grilling and tailgating are as natural a pairing as cotton candy and the state fair; one just doesn't seem complete without the other. Even if you couldn't see or hear anything in these parking lots, you would know you were at a tailgate just by the smell. Sarah and I asked some of the grill masters questions about their secrets and traditions in a thinly veiled attempt to be offered food.
"I think our biggest tradition is that [our hosts] put a huge spread together. They're great hosts. People come by and grab food whether they know us or not."

—Dan B.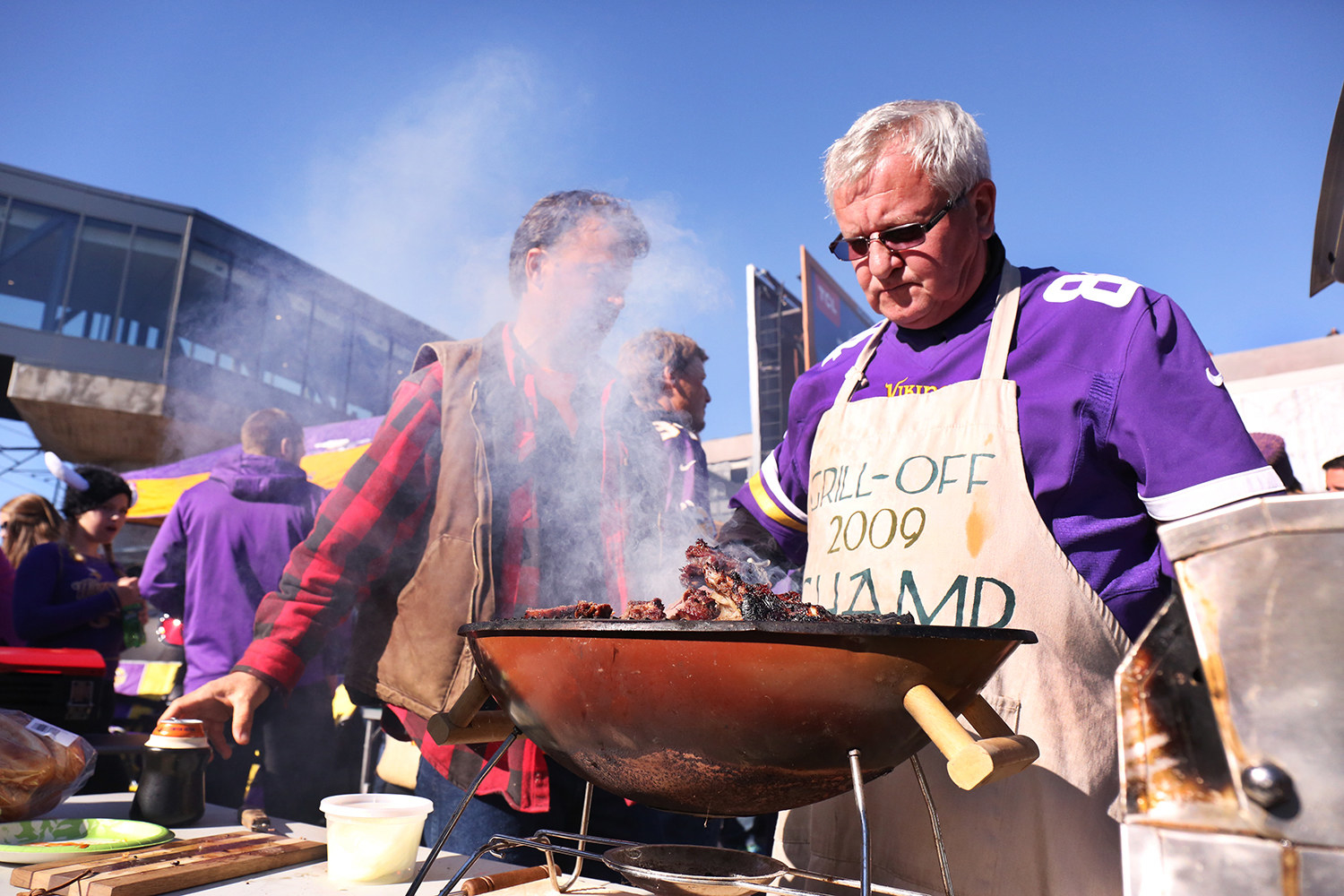 "I got ribs on that [grill], those are about ready to be cut. ... Those are venison [ribs], and I'll be making venison chops here in a little bit, for like a steak sandwich."

—Rick P.
"Bacon-wrapped anything."

—Connie
With a belly full of Minnesota tailgate food, the temptation to post up somewhere and people-watch is strong, but we have a job to do. We came here to learn some lessons, and our next tutor does not disappoint.
Having a team mascot you can dress up as without looking silly has obvious advantages. It's not so easy to make a cardinal or a ram outfit into an intimidating symbol, in other words. But when you're the Vikings, your fan base has a whole aesthetic to grab hold of and run with. And the people of Minnesota have run. with. it.
This is Steinarr (Sty-Nar).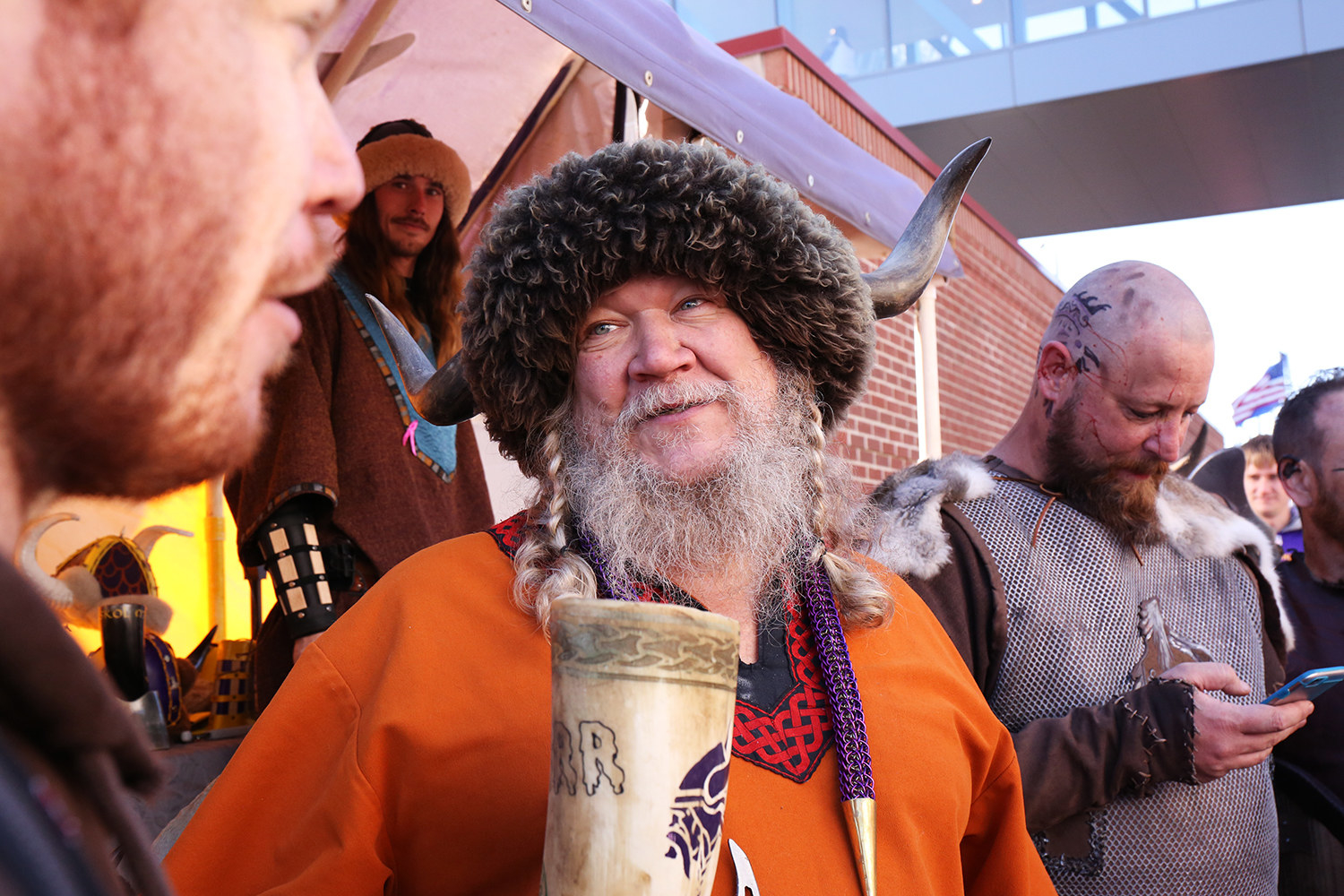 "Twenty years ago, I quit my job, bought an old church, and made it into a Viking inn. So you can sleep in a longship suspended over the Great Room. ... I create severe memories for people ... because you don't go through life saying, 'Hey, honey, remember those AVERAGE times.'"

—Steinarr
Steinarr displays Vikings' helmets just next door to the Church of Purple, but his helmets are not the ones the team wears on the field. Steinarr's helmets are a good deal more "authentic." These helmets are the real deal, and so is Steinarr.

But Steinarr is far from the only one who's adopted Viking culture (the Minnesota version, anyway) as a way of life. Moving through the lots, we encounter a sea of horns curling out from the sides of Viking helmets. Long hair and long beards of all colors abound, rough-hewn brown and grey tunics dot the ocean of purple, and every few seconds the air is pierced with the blast of a battle horn. It really does feel like being amid a Viking horde mustering for battle.

And the people at a Minnesota tailgate are as good as they come. The fans we encountered were a special blend of intense and good-natured — tight-knit but welcoming. Time and again they were quick to stop what they were doing to cheerfully tell us a story, pose for a picture, or offer us a brat or burger.

"The secret ingredient to any event, no matter what it is, is good people. Friends."

—Rick P.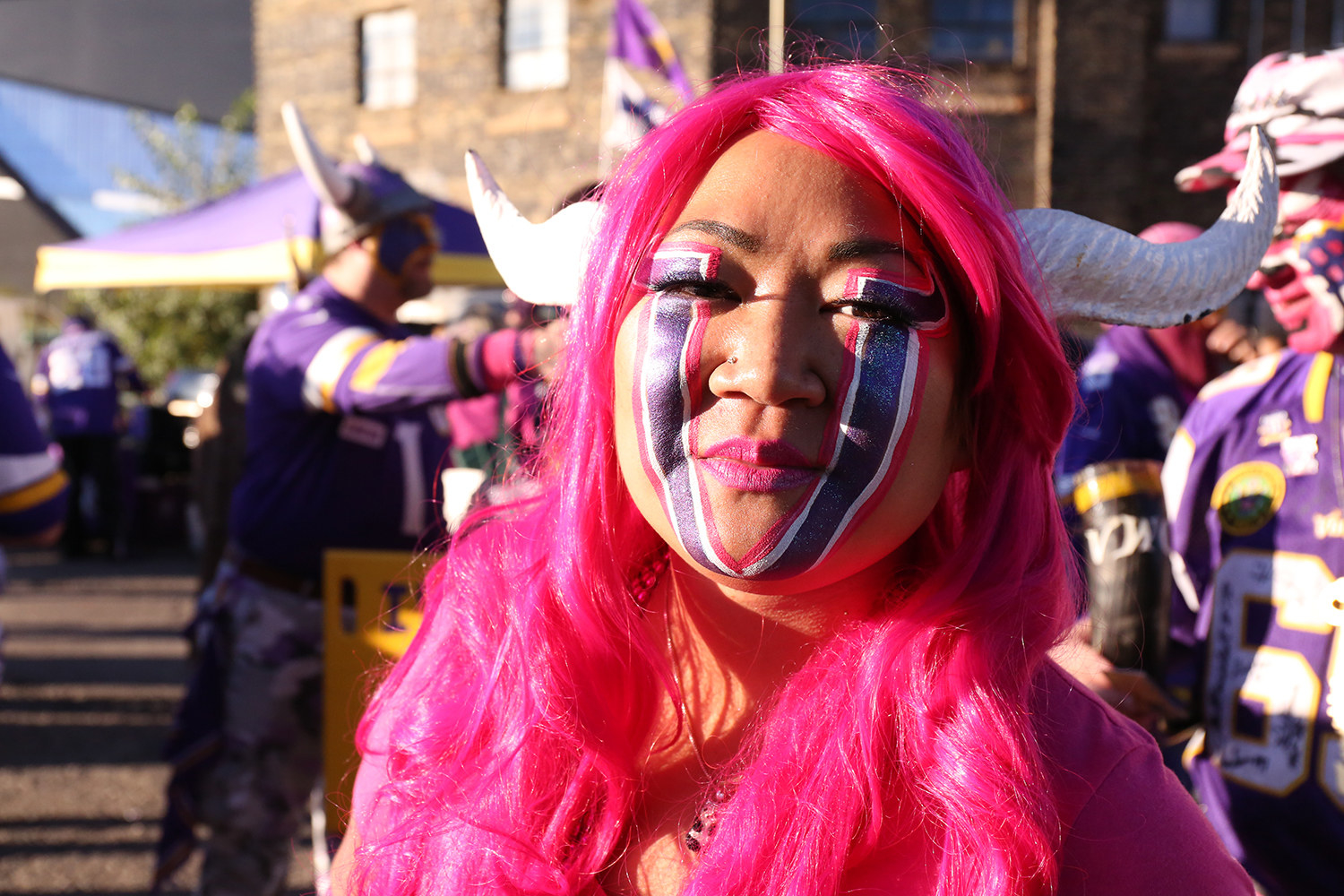 "I walk around [the lots], and I recognize a lot of people because I've been coming here since I was just a little kid."

—Sir Gunnar
The paradox of a great tailgate is that it almost seems like a shame to break it down and head into the game, but it's almost kickoff time. For the people in the lots, the prelude is ending, and the main event is about to begin. For us, though, there is a feeling that we already got what we came for: a glimpse into a culture few people outside of Minnesota know well. And with a community like this behind them...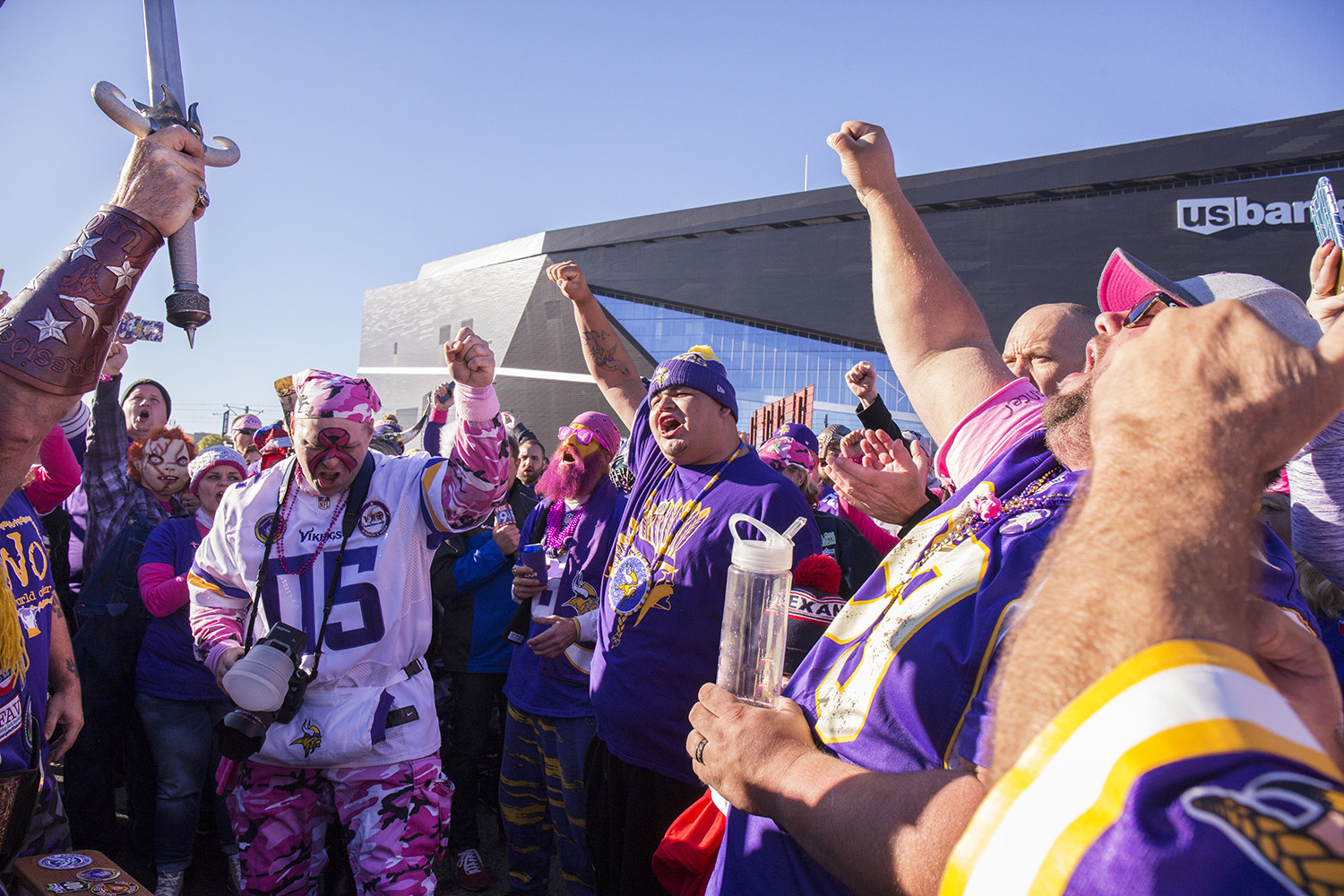 ...it's hard to imagine anything but a Vikings win.