Check off what you HAVE done.

Posted a bad picture of a friend because I looked good in it.

Cropped a friend out of a picture because they looked better than me.

Read a friend's messages when they left their profile logged on.

Posted comments from a friend's account when they left their profile logged on.

Posted a mean review of a restaurant to get someone fired.

BCCd people on an invite to keep them from seeing who is and is not invited.

BCCd someone's boss on an email.

Reposted someone else's joke online and passed it off as my own.

Photo corrected a selfie before posting it.

Liked the picture of a friend's ex from their account.

Lied in my dating site profile.

Posted passive-aggressive hashtags about someone I know.

Left a nasty comment on a celebrity's post.

Argued with a friend about politics on their status update.

Corrected someone's grammatical errors they made in a post.

Torrented music or movies online.

Gotten legit mad at someone for unfollowing me.

Made an embarrassing meme out of a friend's picture.

Used someone's geotags to stalk them.

Purchased something on the Dark Web.

Unfollowed a friend because their hashtagging was annoying.

Written celebrity fanfiction.

Sent a nudie to a stranger over direct message.

Led someone to believe I was interested in them on a dating site just for fun.

Started an alternate email account to have an affair.

Masturbated to a friend's profile picture.

Shared an article about STDs on a friend's wall.

Watched pornography at work.

Called someone out for being drunk in a photo.

Shared an embarrassing drunk video of a friend.
Be careful what you post online. Unfriended in theaters April 17.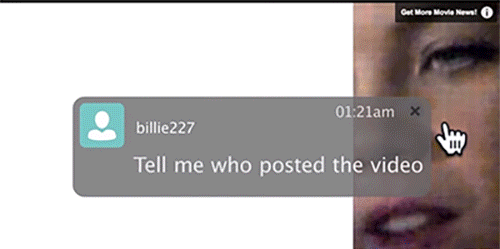 All images courtesy of Universal Pictures or BuzzFeed.