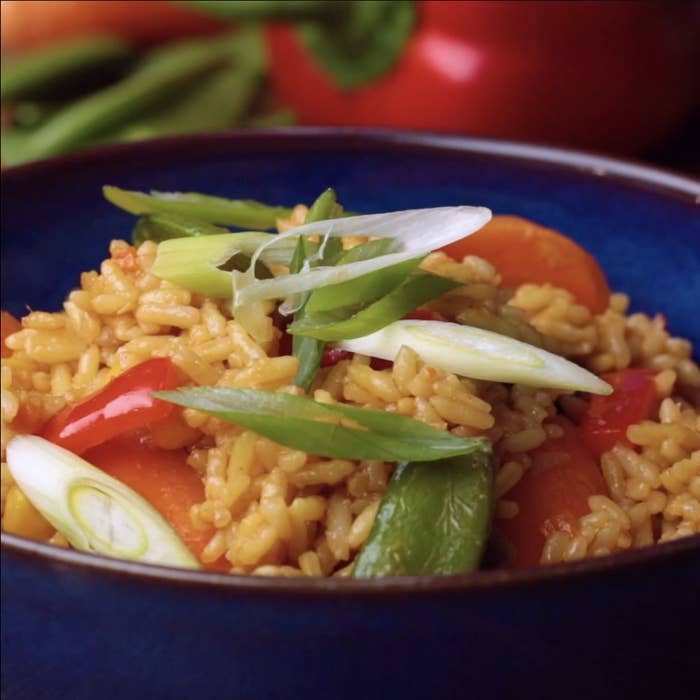 Ingredients
½ tablespoon oil
1 red pepper, sliced
1 carrot, thinly sliced
150g sugar snap peas, ends trimmed
1 package Uncle Ben's Golden Vegetable Rice
1 spring onion, chopped, to garnish
Sweet & Sticky Sauce
80ml pineapple juice
1 teaspoon corn flour
1 teaspoon honey
2 teaspoons low sodium soy sauce
1 tablespoon sesame oil
1 teaspoon sriracha sauce
1 clove garlic, chopped
2 teaspoons ginger, chopped
Preparation
1. Whisk together all sweet & sticky sauce ingredients. Set aside.
2. Heat oil in a wok over medium-high heat.
3. Add red pepper, carrots, and sugar snap peas, cooking for 1–2 minutes.
4. Next add the Uncle Ben's Golden Vegetable Rice to the pan and cook for a further 2 minutes.
5. Pour sauce into the wok. Stir thoroughly and cook for a further 2–3 minutes.
6. Serve, top with spring onions and enjoy!