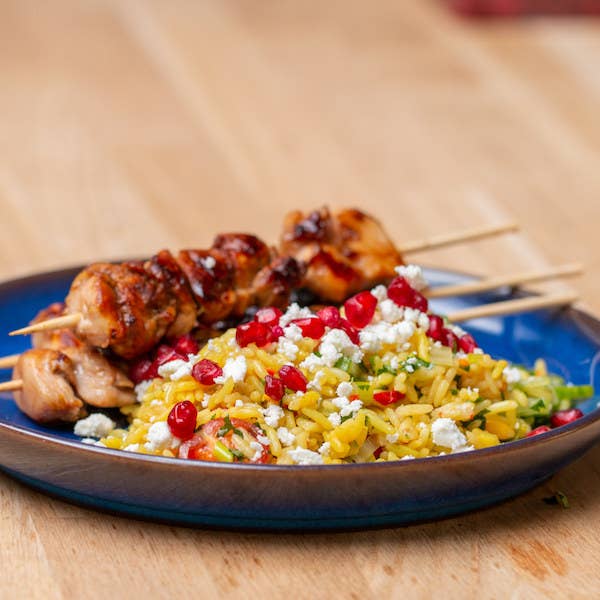 Serves: 4

INGREDIENTS SKEWERS
600 grams boneless skinless chicken thighs, cut into evenly diced pieces
2 tablespoons balsamic vinegar
3 tablespoons honey
2 tablespoons olive oil
2 tablespoons flaky sea salt
1 lemon, juice and zest
Wooden or metal skewers
SALAD
2 sachets of Uncle Ben's Special Golden Vegetable Rice
1/2 cucumber, finely sliced
125 grams cherry tomatoes, halved
4 spring onions, finely sliced
2 tablespoons olive oil
20 grams parsley and/or coriander
100 grams pomegranate seeds
50 grams feta cheese
PREPARATION
1. In a large bowl, toss the chicken thighs with balsamic vinegar, honey, olive oil, flaky sea salt, and lemon zest, until evenly coated. Put 4–5 pieces of chicken onto each skewer and leave to marinade.
2. Cook the Uncle Ben's Rice as per the instructions, and mix with the cucumber, cherry tomatoes, spring onions, olive oil, and herbs. Set aside.
3. Preheat a griddle pan or BBQ and cook the chicken skewers until the juices run clear and the meat is browned and cooked through.
4. To serve, scatter pomegranate seeds and feta cheese over the salad, Enjoy