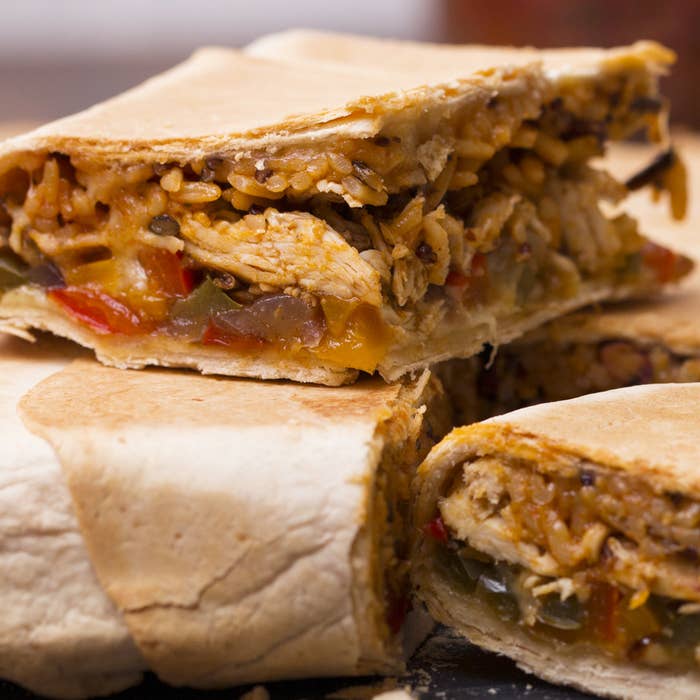 Crunchy oven burrito
Portions: 6
ingredients
Mexican spice mix
1 teaspoon of cumin
1 teaspoon of mild chilli powder
1 teaspoon dried oregano
1/2 teaspoon salt
1/2 teaspoon garlic granules
1/2 teaspoon smoked paprika powder
1/2 teaspoon ground black pepper
2 tablespoons of oil
3 pieces of chicken breast, without skin and bones
1 red pepper, cut into strips
1 green pepper, cut into strips
1 yellow pepper, cut into strips
1 red onion, cut into strips
250 grams of cheese, grated
2 packs Uncle Ben's 3 grain mix with Mexican quinoa
Serve with
guacamole
Salsa
Fresh lime pieces
preparation
1. Preheat the oven to 190˚C.
2. Füge die Hühnchenbrust, mexikanische Gewürzmischung und 1 Esslöffel Pflanzenöl in einer Schüssel zusammen. Alles gut vermischen bis das Hühnchen komplett bedeckt ist.
3. Leg das Hühnchen auf ein mit Folie ausgelegtes Backblech und backe es für 30 Minuten bzw. bis es durch ist. Dann zur Seite stellen.
4. Gib das übrige Öl, die Paprika und die Zwiebeln bei mittlerer Hitze in eine große Pfanne und lass alles einige Minuten köcheln. Dann zur Seite stellen.
5. Benutze 2 Gabeln, um das Hühnchen zu zerkleinern. Dann zur Seite stellen.
6. Fette ein großes Backblech ein. Platziere 4 Tortillas auf den Ecken des Backblechs, sodass jeweils die Hälfte der Tortilla über dem Backblech rüberhängt. Dann lege eine Tortilla in die Mitte, damit die freien Flächen abgedeckt werden. Halbiere 2 der 3 übrigen Tortillas und platziere die Hälften jeweils auf den freien Flächen oben, unten, links und rechts.
7. Danach wird es Zeit für die Füllung des Burritos! Verteile zunächst die Hälfte vom Käse gleichmäßig über die Tortillas, dann streue gleichmäßig Uncle Ben's 3 Korn-Mix mit Quinoa Mexikanisch darüber und lege darüber dann noch eine Schicht des zerkleinerten Hühnchens.
8. Verteile auf dem Hühnchen die angebratene Paprika und Zwiebeln und decke alles mit dem übrigen Käse ab.
9. Platziere die letzte Tortilla mittig auf dem Käse.
10. Fold the tortillas together at the corners so that the filling is completely covered.
11. Place another baking tray on the folded burrito. Finally, place an oven-safe weight, such as a cast-iron pan, on the top baking sheet.
12. Bake everything for 20 minutes. Then take the weight from the top baking tray. Then bake for another 15 minutes until the tortillas are golden brown and crispy. Remove from the oven.
13. Place a chopping board on the tortillas and turn everything over.
14. Cut and serve with salsa, guacamole and fresh lime pieces.