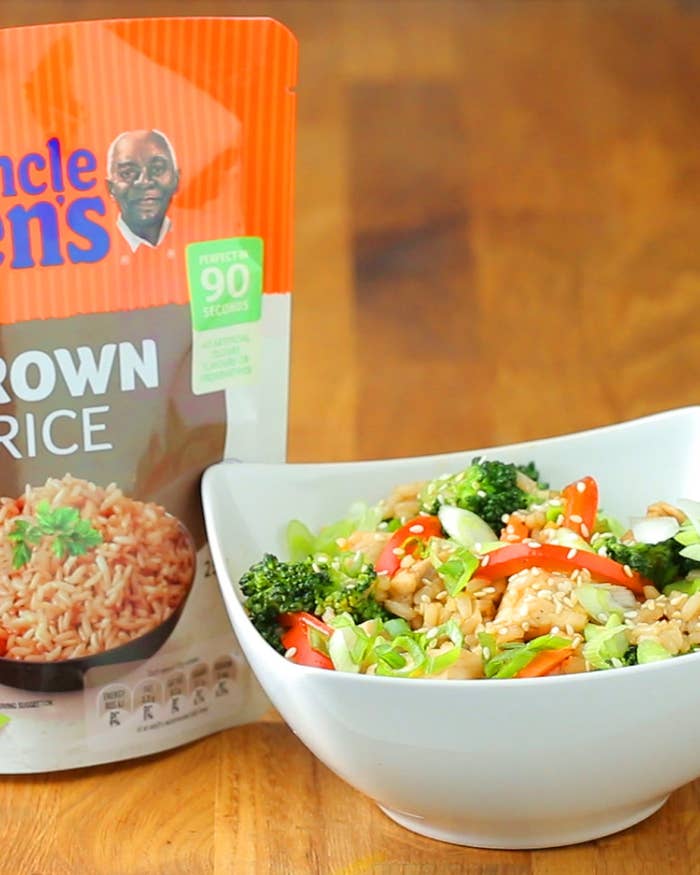 INGREDIENTS
Servings: 3
2 cups broccoli florets
1 large carrot, peeled and sliced
2 cloves crushed garlic
2 teaspoons crushed ginger
2 tablespoons sodium reduced soy sauce
2 teaspoons honey
3 tablespoons fresh orange juice
1 teaspoon orange zest
1 teaspoon cornflour
2 teaspoons olive oil
½ red capsicum, sliced
225g boneless, skinless chicken breast, diced
Salt and pepper to taste
1 packet Uncle Ben's Brown Rice
¼ cup sliced Spring Onions
1-2 teaspoons toasted sesame seeds (optional)
PREPARATION
STEP 1. Heat 1 cup of water in a large saute pan over high heat until simmering. Add the broccoli and carrots and cook 2-3 minutes. Drain and set aside.

STEP 2. In a small bowl, stir together the garlic, ginger, soy sauce, honey, orange juice and zest. Reserve.

STEP 3. Put the same large saute pan back on the heat over medium-high. Add the olive oil, red capsicum and chicken pieces. Season with salt and pepper. Stir occasionally until chicken is almost cooked through, about 3-5 minutes.
STEP 4. Pour the reserved sauce over the chicken and capsicum and stir until sauce thickens, about 2 minutes. Fold in the reserved broccoli and carrots and heat until warm. 

STEP 5. Remove the chicken, broccoli and vegetables from the pan, reserving some of the sauce.

STEP 6. Add the packet of Uncle Ben's Ready Rice and half of the spring onions. Stir to combine and to warm the rice through. 

STEP 7. Add some rice to 2 bowls. Top with chicken and vegetable mixture. Garnish with remaining spring onions and toasted sesame seeds.