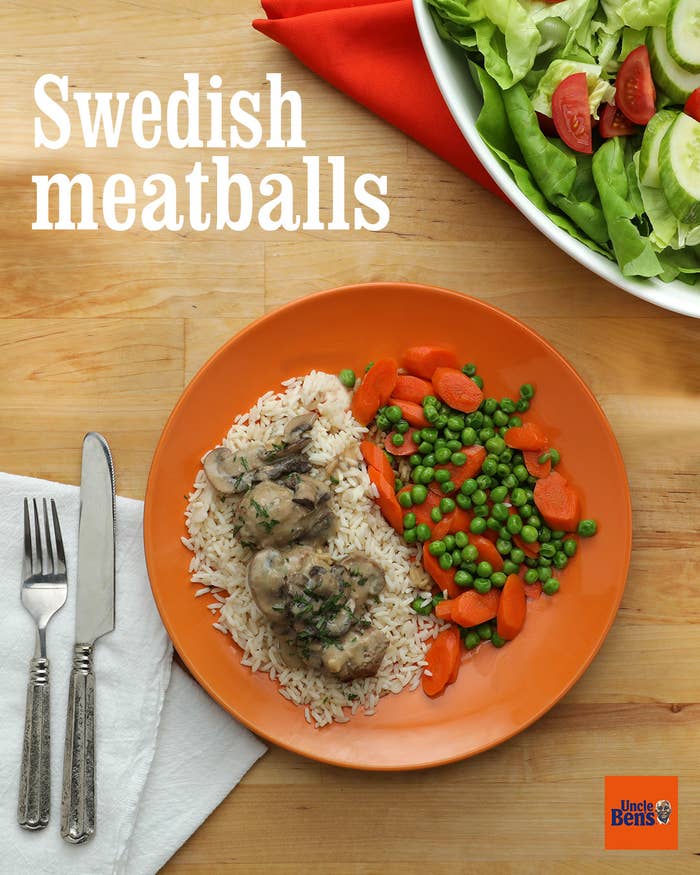 SWEDISH MEATBALLS
Servings: 4
INGREDIENTS:
1 package Uncle Ben's Long Grain Rice
1⁄4 cup minced onion
2 cloves garlic, minced
1 egg
1 tablespoon parsley, minced plus extra for garnish 1⁄2 teaspoon garlic powder
1 teaspoon ground pepper, divided
1⁄4 teaspoon allspice
1⁄2 teaspoon nutmeg, divided
1 pound ground turkey
1 teaspoon olive oil
8 ounces mushrooms, sliced
11⁄2 tablespoons cornstarch
2 cups unsalted chicken broth
1⁄2 tablespoon Dijon mustard
1⁄4 cup low-fat sour cream
PREPARATION:
Heat Uncle Ben's Long Grain Rice in a skillet.

In a large bowl, place a 1⁄4 cup of rice, the minced onion, garlic, egg, parsley, garlic

powder, 1⁄2 teaspoon pepper, allspice, and 1⁄4 teaspoon nutmeg. Stir together until well

combined. Add in ground turkey and mix all together.

Shape turkey into golf ball–sized meatballs.

Heat 1 teaspoon of olive oil in a large (non-stick) pan. Add meatballs and brown on all

sides. Cover pan and continue to cook for 3–4 minutes. Remove meatballs and set

aside.

Add mushrooms to pan and cook for 7–10 minutes, stirring occasionally, until

mushrooms are browned. Remove mushrooms and set aside.

Add sour cream, Dijon mustard, and broth to the skillet, then whisk together and bring to

a simmer. Remove about 1⁄4 cup of the mixture and combine with cornstarch (form a

"slurry"). Slowly whisk slurry mixture back into the skillet and continue to simmer.

Add mushrooms and meatballs back into the sauce. Stir together and let simmer for 3–4

minutes.

Serve meatballs on top of Uncle Ben's Long Grain Rice. Garnish with parsley.