One-Pot Chicken and Rice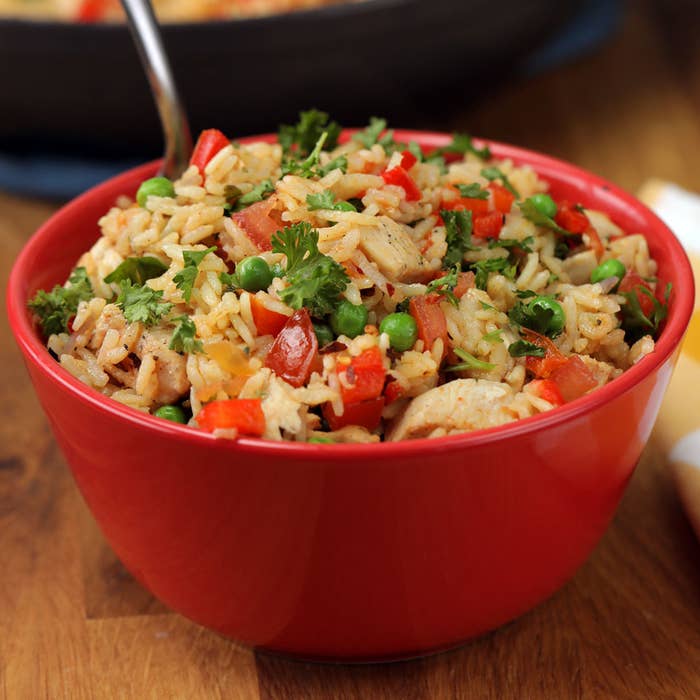 INGREDIENTS
Servings: 6
2 tablespoons vegetable oil
2 chicken breasts, diced
Salt and pepper, to taste
½ cup red onion, diced
1 tablespoon garlic, minced
½  teaspoon paprika
1 tablespoon fresh thyme
1 tablespoon fresh parsley
1 tablespoon butter (optional)
1 packet (12.9 oz) Uncle Ben's® Flavor Infusion Chicken and Herb
3½ cups water
1 red bell pepper, diced
2 cups tomatoes, diced
½ cup peas
1 tablespoon fresh parsley, chopped
1 tablespoon fresh thyme, chopped
Optional garnish
Chili flakes
PREPARATION
1. Heat a large skillet over medium-high heat. Add the oil. Add the chicken, and season with salt and pepper.  

2. Cook chicken for about 2 minutes on each side. Add the onions, garlic, paprika, thyme, parsley. Cook 1 additional minute.  

3. Add the water, butter, and contents of Uncle Ben's Flavor Infusion Chicken and Herb.

4. Bring to a boil, and then add bell peppers and tomatoes. Lower the heat, cover, and simmer for 10 minutes. 

5. Remove from heat and add the green peas. Rest for about 5 minutes. 

6. Garnish with fresh parsley, tomato, and chilli flakes.

7. Enjoy!