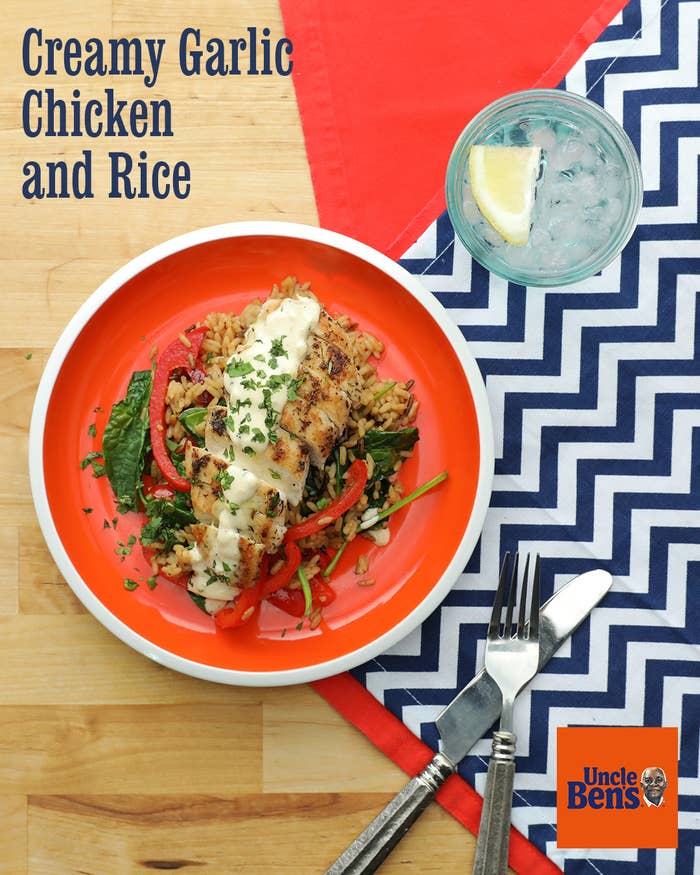 Servings: 4–6
INGREDIENTS:
3 cups seasonal vegetables (spinach, peppers, asparagus, mushrooms)
2 teaspoons olive oil
1 package Uncle Ben's Ready Rice Long Grain & Wild
4 chicken breasts, boneless skinless
2 teaspoons salt
½ teaspoon pepper
1 teaspoon dried thyme
1 teaspoon onion powder
4 cloves garlic, minced
¼ cup chicken broth
½ cup heavy cream
Zest of 1 lemon
Juice of half a lemon
1½ teaspoons dijon mustard
Minced parsley, for garnish
PREPARATION:
Slice
vegetables into bite-sized pieces. Heat the olive oil in a medium pan and
add the vegetables. Sprinkle with salt and pepper and saute for 3–4
minutes.

Add
Uncle Ben's Ready Rice Long Grain & Wild and mix with vegetables, then
remove from pan and set aside.

Rub
chicken breasts with a drizzle of olive oil, then evenly coat with the
salt, pepper, thyme, and onion powder. Sear chicken in the pan for 3–4
minutes per side, then remove and set aside.

In
the same pan, heat another teaspoon of olive oil. Add minced garlic and
saute for a minute. Add chicken broth, heavy cream, ½ teaspoon of salt,
and a pinch of pepper. Bring to a light simmer, then stir in the lemon
zest, lemon juice, and the dijon. Let simmer for a minute.

Add
the chicken breasts into the sauce, cover with a lid, and cook until the
chicken's internal temperature reaches 165ºF. Remove chicken, let rest for
a few minutes, then slice and add back into the sauce.

Arrange
the rice and vegetable mixture on a plate and top with chicken, then
drizzle extra sauce on top.

Garnish
with parsley and enjoy!