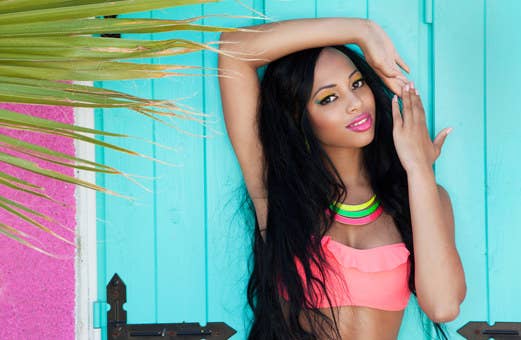 Warmer temperatures are finally here as we transition into summer; but, one change we certainly won't be making is any compromise to our health for hot summer looks. So, here are my 5 top picks to help you make various changes to your beauty routine, colors, and products. Ready? Here we go:
1)Supergoop - The product that many IT girls are raving about and is an ideal choice for complexion protection during the summer. Why? Coverage against UVA/UVB rays is important so that you ensure that your skin is fully protected whether just walking down the street or spending hours on the beach. Apart from the SPF 50 quality of Supergoop Defense Refresh Setting Mist, this product sets make-up like a superstar and provides a great pick-me-up to skin (thanks to the rosemary and mint) during the work day or right before leaving work to attend an event. It truly does absorb oil, even in the Florida humidity (yup, I tried it!- shout out to silica silylate which acts as a mattifying agent). But perhaps the best part is that the product is formulated without the dreaded oxybenzone, a synthetic estrogen that penetrates the skin and can disrupt the hormone system. In short, it's sublime. Whether the one ounce or the 3.4 ounce version, this light-weight, sheer mist that simply goes on right over the top of your make-up is one of the best in class.
2)Soapwallla deodorant – We can all get locked into our fave organic brands, but our bodies can sometimes benefit from cycling products. New season, new product: enter Soapwalla's Deodorant Cream. Soapwalla founder Rachel Winard spent over six months refining her deodorant cream recipe, testing it on herself and friends until it was perfected. Soapwalla's deodorant cream has been heavily tested in Europe and US labs for effectiveness, sensitivity, antibacterial and anti-fungal properties, as well as durability, and their deodorant creams passed with flying colors. Both the Original and Citrus Deodorant Creams utilize superfine vegetable powders and clays to absorb moisture, while essential oils that inhibit bacteria and ensure a long-lasting and highly effective experience. The essential oils work to stop odor rather than masking it with a fragrance, and the powders and clays keep you feeling drier. The frosting-like consistency allows for easy manual application and rapid absorption and is ideal for all skin types. Best part? Soapwalla's deodorant creams do not contain questionables such as sodium lauryl sulfate, parabens, harsh and harmful derivatives, petroleum, or aluminum compounds that are frequently found in commercial antiperspirants, and is never tested on animals. They come in the cutest travel sizes, and remember, you can use deodorant anywhere you perspire (i.e. feet, back) as you rock those cute summer outfits.
3)TenOverTen Nail Polish Remover Cloths – Okay, so there is a lot of info on nail polish and health care concerns, but real culprit could actually be the nail polish remover, itself, whose ingredients typically read like a chemical lab. Worry no more with TenOverTen's nail polish remover cloths. These non-acetone Polish Remover + Finishing Hand Cleanser cloth sets are so amazing, you may feel like you just came from a top nail salon. Not only are they perfect for travel (given the individually sealed packaging), but they really work and smell amazing! The company's core values center on healthy nails and long-term nail health. And it shows. First, the products are paraben and cruelty free. The remover not only omits but includes hydrating essentials oils, Aloe and Vitamin E. And it is completely odorless!!!! It contains a heavenly rose extract and leaves no chalky residue. Follow the Remover Cloths with the Finishing cloths to put a wonderful anti-bacterial seal over hands that also promotes full hydration. How does this product accomplish this? Via Rosehip extract and horsetail leaf extract. These are not only anti-inflammatory goodies but also anti-oxidant in nature while also promoting collagen formation. What more can you ask for? Scoop up the 8"x6", 100% biodegradable cloths now.
4)Colorscience – If you're looking for a spray or cream alternative to your sun protection game, think Colorscience Sunforgettable Mineral Powder Brush. This mineral powder offers an SPF 30 made for summer days or anytime. Now, this is not a beach product, but rather a nice everyday protectant. It is sweat resistant up to 2 hours and includes the super-hero UVA/UVB fighters titanium dioxide and zinc oxide (meaning - no health culprits because it is a mineral product). But perhaps the coolest thing about Colorscience powder is its packaging. The company has thought of everything. It is a portable, self-dispensing brush that is re-fillable and easy-to-clean. It also has a more "approachable" price that other brands in the space. The Brush On Block comes in one translucent color and can be used by women, men and children of all shades and hues. Colorescience is more like a makeup product in that it comes in four shades that you need to color match to your skin. Additionally, Brush On Block is the only product on the market where the brush head detaches from the powder cartridge, so you can wash the brush regularly, even if you haven't used all the powder. Brush on sunscreens make protecting your skin quick, portable and easy. Yay!
5)Jamberry - Summer is great for travel, but travel is hard on manicures. Who wants to arrive at a great resort with chips. You could go for a gel manicure but the verdict still seems to be out on the link to cancer-causing processes, LED light or not. A great alternative is the nail wrap! Jamberry is a leader in this category offering everything from college mascot to bold patterns – a total of 300 options in all. Think high-level sticker for your nail. It's a total revelation. Jamberry nail wraps are made with durable materials, so smudges and streaks are never an issue, and they can last for up to two weeks on fingernails and four weeks on toes. The application kit includes a mini-Heater and hand and nail care items. You basically Peel off nail wrap and warm with a mini heater or blow-dryer for 3-5 seconds or until soft and flexible. Then press. Removal is basically the reverse process. It's also kinda fun to apply, too.
Now you are set for the summer!
# # #